Saison De La Ceinture Fléchée
| Half Pints Brewing Company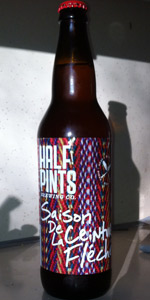 BEER INFO
Brewed by:
Half Pints Brewing Company
Manitoba
,
Canada
halfpintsbrewing.com
Style:
Saison / Farmhouse Ale
Alcohol by volume (ABV):
5.50%
Availability:
Limited (brewed once)
Notes / Commercial Description:
No notes at this time.
Added by kjyost on 02-16-2012
This beer is retired; no longer brewed.
Reviews: 13 | Ratings: 29
4.07
/5
rDev
+6%
look: 4.25 | smell: 4 | taste: 4.25 | feel: 3.5 | overall: 4
A - just slightly hazy golden, very bubbly, tower of head retained endlessly
S - strong phenol aroma with some bananas, sour apricots, touch of spice and grain
T - crisp clean flavours of fresh pepper and apricot, followed by a nice mix of tart phenols and spicy esters, solid backbone of grain that really brings home the 'farmhouse' aspect
M - starts bubbly and tart with some spice, but I found that it thinned out quickly, which makes this definitely sessionable but not quite what I llike in the style in terms of fullness
O - big flavour, easty drinking for a beer advocate, always happy to get a chance to try something from this brewer
643 characters

4.06
/5
rDev
+5.7%
look: 4.5 | smell: 4 | taste: 4 | feel: 4.25 | overall: 4
From a 650 ml brown bottle. Pours out a gorgeous clear copper hue, minimal carbonation however tall spongy white head that retains well and eventually settles to a one finger width cap.
White pepper phenols on the nose, followed by bright spritzy orchard fruit esters, as well as some milder citrus esters.
Flavour is clean and dry. Dry pepper up front, mild sweet orchard fruit esters in the middle checked by a bitter yeasty twang and some spicy, earthy hops, while finishing with more peppery phenols and some dry grains. Clean, dry finish, although some phenols perk up in the aftertaste after a while.
The lighter side of medium-bodied for the mouthfeel, silky smooth texture, with some brisk, effervescent carbonation.
Very enjoyable Saison, and quite quenching, it hits all the key points of the style to varying degrees, although for sure leaning heavily towards the dry, phenolic side of the spectrum.
914 characters
3.99
/5
rDev
+3.9%
look: 4.25 | smell: 4 | taste: 4 | feel: 3.75 | overall: 4
Thanks to kjyost for this one.
Poured from a 650ml. date, no freshness info.
Appearance: Voluminous head, tiny bubbles rapidly racing up, chilled haze, great retention with spider-web lacing.
Smell: Mandarins, peaches, sweet fruit, some spices.
Taste: Like a sweet fruit cocktail. Tropical fruit, peaches, herbs, kiss of honey, fruit syrup.
Mouthfeel: Carbonation tad high but otherwise a real good feel.
Overall: I liked it. Easy to drink, packs good flavor. Thanks Ken!
477 characters
3.98
/5
rDev
+3.6%
look: 4 | smell: 4 | taste: 4 | feel: 3.75 | overall: 4
Appearance - Pours a hazy dark amber with two fingers of bubbly, fluffy white head.
Smell - Banana, clove, spicy yeast, orange peel. Reminds slightly of a Hefeweizen.
Taste - All the same flavours as the smell suggests. Well balanced and not overpowered by banana and clove. Light bitterness at the finish.
Mouthfeel - Medium bodied with moderate carbonation.
Overall - Another successful seasonal by Half Pints (happy to see it in Calgary). A good Saison to see where you stand with the style.
499 characters
3.95
/5
rDev
+2.9%
look: 4 | smell: 4 | taste: 3.75 | feel: 4.5 | overall: 4
Pours a slightly hazy pale orange, with snow-white head and hints of 'Belgian lace'. The yeast and fruity esters lean toward peppery, orange-peel notes of moderate intensity. Similar flavours follow, but the mouthfeel is the star here: less carbonation than many saisons, v. balanced alcohol, and a crisp, drying finish. Loving the 2015 batch. Half Pints is on a roll this year.
378 characters

3.9
/5
rDev
+1.6%
look: 4 | smell: 4 | taste: 4 | feel: 3 | overall: 4
650ml bottle from kjyost, into a tulip. Thanks Ken!
Unfiltered orange, with an offwhite head. OK retention and light lace. Nose of wheat, banana, good spicing notes and some light citrus. Taste has more wheat, lots of saison yeast character, some ginger-like flavours, more spicing and citrus-y hopping. Lightly drying finish, medium mouthfeel but the carbonation is a little lower than I normally dig. Still, a fairly good saison.
432 characters

3.88
/5
rDev
+1%
look: 4.5 | smell: 4 | taste: 3.5 | feel: 4.5 | overall: 4
650 mL botle with an awesome looking ceinture fléchée background. Poured ~5C into a Perfect Pint glass.
A: Slightly hazy golden body with a great white head and beautiful lacing.
S: A very estery nose that is nice, though stylistically odd. Some black pepper and clove in the nose along with fruit, though an odd banana / hefeweizen character comes on strong at times.
T: Light bready malt sweetness that quickly dries out. Lots of spice, especially pepper though the odd banana character is very prevalent in the body. I am enjoying the beer well enough, though the banana doesn't make me think saison (though the dryness does)
M: Pepper lingers on a dry finish. Little banana lingers.
O: Some mouthfuls seemed great on the palate an very saison-like. When the banana came to play though, it was a whole different beer...
831 characters

3.87
/5
rDev
+0.8%
look: 4 | smell: 3.75 | taste: 3.75 | feel: 4.25 | overall: 4
650ml bomber poured into tulip 14/2/13
A hazed golden yellow body with just a few streams of bubbles and a finger of foam that sticks around for a couple sips leaving a single partial ring of lace
S cereals, spice, sour fruit, sponge toffee, and almost a German Hefe thing going on with some banana, clove and bubble gum
T marmalade I didn't smell and other then that it mimics the nose quite well, as it warms the spice come out but I can't quite place it
M prickly at first then quickly creams up almost to the point of foam, on the lighter side of medium bodied with some slickness after the fact with some spicy cereal lingering on the finish
O I could have another but would prefer to drink it under a hot sun opposed to this chilly evening.
fairly refreshing and I could drink another without getting board
Decent example of the style but missing that little something to put it with the big boys, that being said for 6ish bucks I could see myself drinking a few bottles of this one before its gone
1,014 characters
3.83
/5
rDev
-0.3%
look: 4 | smell: 4 | taste: 3.75 | feel: 3.75 | overall: 3.75
Thanks Wordemupg!
Appearance. Pours a hazy rich gold with three fingers of frothy white head.
Smell. Spicy belgian yeast, some cloves and tart lemon (maybe some other citrus fruits as well), with just a trace of banana.
Taste. Spicy belgian yeast and some cloves again, a little bit of citrus fruits, this time more oranges and lime, and a bit of sweet light grains. Just a little bitterness in the finish.
Mouthfeel. Medium body, maybe on the lighter side, with medium-strong carbonation.
Overall. A tasty, easy drinker with some nice flavours, just not on par with some of the saisons being offered these days.
617 characters

3.75
/5
rDev
-2.3%
look: 3.75 | smell: 3.75 | taste: 3.75 | feel: 3.75 | overall: 3.75
A: Apricot color, good clarity, medium-ish carbonation. Nice looking beer, wish it had more carb and head.
S: Delicate phenolics - clove and a bit of smoke. Fruitiness (banana), and an herbal touch. Biscuity malt. Nice, mellow.
T: Dry, spicy, complex. This is a nice if somewhat restrained saison. More phenolic yeast character than a hefeweizen, but less than your average Belgian saison. Has a slight acidity.
413 characters
3.74
/5
rDev
-2.6%
look: 4 | smell: 3.75 | taste: 3.75 | feel: 3.5 | overall: 3.75
650ml bottle. Thoroughly weird to see a label produced in western Canada, with the whole description in nothing but French, but I can see this as being a nice tribute to the Metis heritage in Manitoba, and their traditional arrow sashes, as depicted in the label background.
This beer pours a hazy dark golden yellow hue, with three fingers of aggressively foamy, tightly puffy eggshell white head, which leaves some loopy, stringy lace around the glass as it slowly ebbs away.
It smells of grainy, semi-sweet wheat malt, sharp, astringent yeast, old bubblegum, a bit of banana chips and muddled clove, some middling citrus notes, and musty, earthy hops. The taste is very raw cereal-like barley and wheat malt, lightly tangy citrus and drupe fruit, spicy clove, ginger and black pepper, sassy yeast, and perky leafy, earthy hops. A mild stoney flintiness murmurs quietly below it all.
The carbonation is kind of tight and edgy, the body a wavering medium weight, and mostly smooth, the high-palate scratchiness taking a chink out of that armor. It finishes mostly dry, the sweetness of the malt burning off, and the spice, yeast, and fruits secs holding down the fort.
A nicely sharp saison, all the better to keep us on our toes, I suppose, not to mention the sort of Hefe-like essences. Anyways, a tasty enough interpretation of the style, released at just the polar opposite time of year as one might reasonably expect.
1,427 characters

3.55
/5
rDev
-7.6%
look: 3.5 | smell: 3.5 | taste: 3.5 | feel: 4 | overall: 3.5
Pours hazy and around 8 SRM with a nice eggshell/off white, fully diminishing head consisting of large bubbles. Very sweet aroma with some apricot, with a musty smell. Pulling sugar/caramel/toffee.
Smooth mouthfeel with a thick yet soft feeling. Very low bitterness only found in the aftertaste. Wheat beer character, with sweet malts dominant in the flavor.
Perfect beer release for the Festival du Voyager currently going on in Winnipeg.
441 characters
2.68
/5
rDev
-30.2%
look: 4.75 | smell: 2.25 | taste: 2.5 | feel: 3.5 | overall: 2.5
Bottle form kjyost. Thanks man.
A - Pours an ultra cloudy dark orange colour. Fluffy off white head seems a bit loose with big bubbles and an off white colour. Good carbonation. Great finger of retention and a whole bunch of spotty lace. Good lookin' beer.
S - Sweet baking spices, orange. Spice really dominates this one. Aroma moves towards orange peel later on and spice is nearly gone. Strange.
T - Whole bunch of the same. Tons of spice. Some sweet malt. Pretty aggressively spicy. Banana.
M - Strong carbonation, medium body, baking spice finish.
O/D - Not really a fan of this one. Didn't expect so much spice. As an element I really don't enjoy in beers, I didn't really like it's presence all that much. Far too one dimensional, and not at all a beer I enjoyed. Always want to try stuff by Half Pints, but this one wasn't something I should have sought out. My bad. Although it's well crafted, and does nothing to really offend too much, I just don't like beers with this much spice quality.
1,009 characters
Saison De La Ceinture Fléchée from Half Pints Brewing Company
3.84
out of
5
based on
29
ratings.