George Inn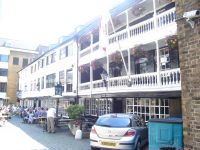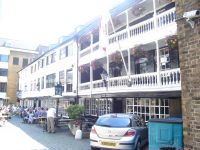 Bar, Eatery
77 Borough High Street, Borough
London
,
England
, SE1 1NH
United Kingdom
+44 (0)20 7407 2056 |
map
greeneking-pubs.co.uk
Notes: Opening Hours: 11:00-23:00 Mon-Sat; 12:00-22:30 Sun
Rail: London Bridge (0.2 miles)
Tube: London Bridge (0.2 miles) - Northern, Jubilee Line (Zone 1)
Dating from 1676, the George Inn is London's last remaining galleried Coaching Inn.
A National Trust property.
Reviews by TheLongBeachBum:
TheLongBeachBum from California
2.73
/5
rDev
-23.3%
vibe: 4.5 | quality: 2 | service: 3 | selection: 2.5
After stops at the Market Porter & Brew Wharf; LondonPorter, RichLightWeight & I continued our Saturday crawl. Stop #3 would be a short detour, we had plans to head back to the London Bridge Station & hit up the Dog & Bell in Deptford. However, RichLightWeight wanted to show me the marvelous architecture of the nearby 19th Century Hop Exchange on Southwark Street, a large building with a central atrium which was the main trading area for Hops (& in fact Malt too) for the Brewers of the area at the time. It was opened in 1868 but after fire damaged it in 1918 it lay empty. It has recently been meticulously restored & is now a restaurant called the 'Hop Cellars'.
With all this beery architecture flowing through our veins, it seemed only natural to pop into the nearby George Inn before catching the Tube to Deptford as this too is well worthy of a visit for those who are interested in their beer history & architecture.
The George Inn is London's last surviving galleried Coaching Inn, & mighty impressive it is too. Entrance is gained from Borough High Street, just to the right of the building that houses the Lloyds Bank at #69-73. A steel fretwork sign bridges the gap between buildings & has the words 'The George' painted in gold either side of a large antique street lamp fitting which has the number 77 proudly backlit. Below this, a pair of large wooden gates is usually open allowing access into the yard area.
Once in this yard area, it is hard to miss the George Inn, it takes up the entire right hand side of the cobbled yard & faces down on the punters sitting outside at the many tables & benchseats that litter the courtyard area that fronts the George. Rebuilt in 1676 after a fire, the design was, in its time, a typical sight across parts of London. Now it is the sole survivor & in the responsible hands of the National Trust, so it will hopefully survive for many generations of beer drinkers to come, allowing them to witness this unique slice of history also. Two partially galleried upper stories are all painted white with black window frames, these sit above a ground floor which is painted all black & is festooned with white painted latticed windows. The whole of the ground floor appears to be a warren of interconnecting bars, some of which seemed to be unused during my visit. Standing at one end of the frontage, it seems a miracle that it still stands, the front seems to twist top to bottom, side to side & lean forward slightly - it would be difficult to find just one straight line here!
After taking pictures outside, I managed to join LP & RLW inside the middle bar on the ground floor; they were still ordering the beers & looked frustrated. 4 Real Ales: Greedy King IPA & Abbot plus a beer called 'George', most likely a re-badged Greedy King beer of some kind. We opted for the fourth of the Real Ales; Wadsworth 6X, maybe it was the guest brew. As this was just a quick to pit stop to see the Pub more than anything else we just got halves. How fortuitous! I am so GLAD we did because the 6X had a lovely perfume of Scotch Eggs & Sulphur that would not go amiss in Burton. Something was not quite right with the brew, but I didn't have the patience to complain, nor get it changed, especially as Greedy King was the only alternative, so there did not seem to be much point in doing so. The 2.0 for Quality relates directly to the beer, not the building.
We all decided to stay indoors, so we took our brews from the middle bar outside & then back inside to a separate ground floor room closest to Borough High Street. Cool, dark & bedecked with a plethora of original fittings, the atmosphere in here was remarkable; an original fireplace, lots of old seats & bench pews watched over by a large but seemingly ancient Clock face. It felt out of place not have a hunting dog lying nearby or a clay pipe.
Sadly, for all the heritage that the George Inn imbues, it cannot make up for the limited beer range or iffy quality. But for those, like me, that are equally interested in the heritage, architecture & history of old London Pubs as much as the beer they serve – then this is a MUST SEE. You really should not pass up the opportunity to visit this last surviving galleried Pub, especially if you visit the highly recommended Market Porter nearby for it is only a short walk away. But don't expect a great pint of beer here, they have Real Ale but it wasn't all that good on my visit, so I recommend that you do what I did, just get a half here whilst enjoying the splendor of this national treasure. Oh & be sure to check out the marvelous 'Hop Cellars' on Southwark Street too. In fact, be sure to also see the awesome frontage of the 'WH & H LeMay Hop Factors' at #67 Borough High Street, just a few doors up from the Lloyds Bank at #69-73 which is in turn just to the left of the entranceway that leads into the George Inn yard.
Do not miss the George Inn, it's well worth seeing, but don't bank on a great Pint.
Last Visit: Saturday 24th June, 2006.
Jul 03, 2006
More User Reviews:
Bruno74200 from France
3.9
/5
rDev
+9.6%
vibe: 5 | quality: 4 | service: 3.75 | selection: 3.75 | food: 3.25
Jan 05, 2016
californiakulak from California
3.99
/5
rDev
+12.1%
vibe: 5 | quality: 4 | service: 4 | selection: 3.5
This is a wonderful old pub across the river from the main tourist attractions. They have a decent selection of cask ales to choose from. I had three pints and my wife had two and our bill was very reasonable.
The pub had low ceilings and a very nice courtyard. William Shakespeare is reputed to have frequented the pub.
It was pretty cold when we were there but I bet it would be fun to sit outside in the summer evenings.
So if you find yourself in London make sure to visit the George Inn. Try the house ale, it is fantastic.
Nov 01, 2009
JohnW from England
3.3
/5
rDev
-7.3%
vibe: 4 | quality: 3.5 | service: 3 | selection: 3 | food: 3.5
Cannot add much to the other reviews here, only to confirm their impressions! This is an amazing place to visit (almost opposite Borough Markets) for its historic qualities and little old bar rooms low ceilings and wood panelling. However, it also beginning to look a bit worn, the furniture battered and not very clean (not just old!) and the beer selection limited to Green King (which were OK but not the best) and the food looked good, but typically expensive as a tourist destination. A great shame that the pubs ancient setting is then ruined when you look out of the windows to an ultra modern glass and concrete building with up-market bar/cafe and stainless steel seating and patio area!
If you are in this area it is definately worth seeing, just for its unique qualities, but come here first for a look THEN go to the Royal Oak and Market Porter for their beers!
JohnW
B'ham UK August 2007
Aug 14, 2007
BlackHaddock from England
3.49
/5
rDev
-2%
vibe: 4.5 | quality: 3.5 | service: 3.5 | selection: 3
My review is short because the first review is so comprehensive and I agree with most of what has been written. I like to drink in interesting and pleasant surroundings, this inn fits the bill nicely.
A short walk from the famous and expensive Borough Market, it is well worth finding. Sit outside in the sun (if you are lucky) and just stare at the whole magnificent lenght of the frontage. It is owned by the National Trust and they have produced a book laying out its history (I haven't read it).
I have been three times and my beer has got better each time.
While in the area, if it is daytime, visit 'Neils Yard', it is the most expensive cheese shop on the planet. It is almost opposite the Market Porter, another famous pub, next to Borough Market.
Aug 17, 2006
George Inn in London, GB2, United Kingdom
Place rating:
3.56
out of
5
with
7
ratings