Smuttynose Short Batch #21 - Straw - Barb Short Weisse
| Smuttynose Brewing Company
BA SCORE
81
good
12
Reviews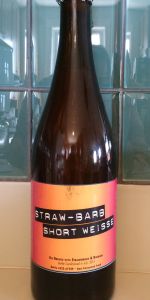 BEER INFO
Brewed by:
Smuttynose Brewing Company
New Hampshire
,
United States
smuttynose.com
Style:
Berliner Weissbier
Alcohol by volume (ABV):
3.50%
Availability:
Limited (brewed once)
Notes / Commercial Description:
No notes at this time.
Added by johnnnniee on 10-11-2013
This beer is retired; no longer brewed.
Reviews: 12 | Ratings: 59
3.72
/5
rDev
+6.6%
look: 3.75 | smell: 3.5 | taste: 3.75 | feel: 4 | overall: 3.75
On-tap 11/20/2013 at Track 84, in Warwick, RI served in a tulip glass.
A: The beer is a murky gold/amber color, with a thin white head that fades slowly and leaves a thin lace on the glass.
S: The aroma contains strawberries and light malts, but not much else as you would expect from the style.
T: The taste starts out with a burst of sourness followed by tart flavors of strawberries and other fruits. The malt character is thin and there is very little hops presence as it should be in this type of beer but there's still a good balance. The after-taste is slightly tart.
M: Smooth and very crisp, light-to-medium body, medium carbonation, finish is clean.
O: Tasty, goes down easily, not too filling, very mild kick, good representation of style, this is a solid beer to drink for a while if you're in the mood for the style.
838 characters

2.26
/5
rDev
-35.2%
look: 3.75 | smell: 2.75 | taste: 1.25 | feel: 3.75 | overall: 2.5
Bottle from The Drinkery
Pours a turbid deep straw color with a smallish bone white head that slowly dissipates to a cap on top. Smells of light grapefruit, strawberry, and a bit of plastic phenol. Very disappointing aroma! The flavor is light and tart with hints of lemon grapefruit and definitely a strawberry presence. There is that phenol there that reminds me of melted plastic. Medium body with a moderate to high level of carbonation and a tart almost puckering mouthfeel. Huge disappointment for me here. If not for the plastic this would be a fantastic beer.
567 characters

2.44
/5
rDev
-30.1%
look: 3.25 | smell: 1 | taste: 2.75 | feel: 3.5 | overall: 2.75
From notes. Draft at the Pour House in Westmont, NJ.
Pours an extremely cloudy fluorescent pink color which kind of looks like a cross between grapefruit juice and a bloody Mary. One finger frothy white head that quickly settles into thin, lasting ring. Streaks of soapy lacing left behind.
The aroma of his beer is really bland. All I'm picking up is water until it warms up considerably. After a while there's very faint lactic funk and a touch of strawberry and cream. Other than that, the nose on this beer is severely lacking. Very disappointing.
Full body with strong acidic sourness up front that lingers over bready yeast and sweet fruit into a dry finish. Pretty tart and puckering but taste strongly of runts/sweetheart candy. Subtle lactic funk but more creamy/cheesy than musty. Lots of jammy, seedy strawberry and cream flavor countered by sourdough bread and very faint citrus peel. An interesting take to use strawberry and rhubarb in this style but something feels off here. Tartness/acidity level is okay but it has an artificial candy taste to it. Not much wheat beer character with only subtle bread/yeast and citrus flavor. Strawbery and cream is the most pleasant thing going on here. Adds a unique flavor to the style but I wish it had stronger traditional Berliner flavor.
1,319 characters

4.06
/5
rDev
+16.3%
look: 4.5 | smell: 4 | taste: 4 | feel: 4.75 | overall: 3.75
A-Pours an interesting pinky, off-white color. Looks like a strawberry milk with not enough strawberry syrup. Bigger, white sudsy head.
S-Smells of light strawberries and wheat. Hints of tartness. Organic, natural aroma. Underripe berry and rhubarbs.
T-I enjoyed this. It's a buzzy Berliner with fruit accentuations. Not aggressively fruity or tart, it just manages to work. Dry wheat, lightly sour. Soft but vibrant.
M-Supremely easy to drink. Pleasant bubbles and body. Obviously no alcohol whatsoever.
O/D-I really like this one. I heard better things about the original Strawberry only version but this one I thought wasa treat on its own. Smuttynose has been killing their Short Batch series.
701 characters

3.71
/5
rDev
+6.3%
look: 3 | smell: 3.75 | taste: 3.75 | feel: 3.75 | overall: 3.75
This beer looks... strange, opaque milky pink-tinged yellow. Decent head and lacing. The beer has a scent that fits it's name, but style? Rhubarb pie or strawberry-kiwi notes, but missing a sour bite.
The same could be said of the taste. The sour hints are there; they lead you to the edge, but throw up a barrier to save your palate from the puckering crash of thrilling free-fall. If it could have just let you fall, even with a lifeline, it would have gotten a tick or two higher. Even so, I could have this as a sour-ish substitute were the real thing not available.
571 characters
3.54
/5
rDev
+1.4%
look: 3.75 | smell: 3.5 | taste: 3.5 | feel: 3.75 | overall: 3.5
750ml cork and cage bottle poured into a gueuze glass.
A: Pond water murky. Head is surprisingly creamy and persistent. Thin rings of lacing.
S: strawberries and rhubarb. Thin suggestion of tart lactic acid. Very wheaty. A simple and quiet nose.
T: Creamy wheat up front. Lactic sour taste remains a background constant. Strawberries come on middle to end and add a touch of juicy flavor. Rhubarb brings up the rear with a little tartness of its own. Strawberry rhubarb finish with a very mild tartness.
M: Light bodied. Full and frothy thanks to the wheat. Mild scrubbing carbonation.
O: The lactic acid character that should be the focal point of a good Berliner Weisse takes a back seat here, presumably to let the strawberries and rhubarb shine through more. It's a refreshing and crushable beer with some good and fresh strawberry/rhubarb flavor, but don't expect it to compare with the more traditional Berliner Weisse beers out there.
956 characters

4.23
/5
rDev
+21.2%
look: 4.25 | smell: 4.25 | taste: 4.25 | feel: 4 | overall: 4.25
From notes (On-tap at Meadhall)
Appearance: It has a nice really hazy peache/orange (cream-sickle like) color to it. It has a nice light orange head that dies down moderately and leaves little lacing.
Smell: The aromas definitely give out hints of ripe strawberries, rhubarb, some tartness, wheat malts and a faint breadiness.
Taste: Like the aromas, it has some strawberries, rhubarb, a slight acidity, some lemon tartness, a slight breadiness and wheat.
Mouthfeel: It has a low/medium carbonation with a nice overall balance and feel.
Drinkability: It's a very smooth drinkable beer accompanied with great flavors and aromas.
636 characters
3.62
/5
rDev
+3.7%
look: 4 | smell: 3.75 | taste: 3.5 | feel: 3.75 | overall: 3.5
Cheers to Goblinmunkey7 for sharing this beer
Consumed 12/11/13
Appearance: Pours somewhere between medium amber and gold - with some nice orange - kind of an apricot color overall - pours hazy , cloudy - big, frothy, white head, retains a small cap
Smell: Light, mild strawberries and some tart funkiness - extremely floral - nice strawberry aroma - lightly tart, lightly funky, rather clean for the style - some sourness and weirdness, almost reminiscent of strawberry yogurt
Taste: A notably pleasant, funky strawberry concoction - not a ton of strawberry, but it's definitely there, and it's definitely nice - rhubarb is here too, and it's pretty nice - some nice tart notes, and some nice, clean sourness - light, pale malts, and some light grains - lightly sweet, nicely refreshing
Mouthfeel: Light body, nicely carbonated, finishes nicely tart
Overall: Straw, meet Barb
This is quite interesting. One odd thing about this beer is that it doesn't quite taste like a Smuttynose beer (and that is not an insult). It's quite unique. It has some great strawberry and rhubarb flavors. It could be more funky and sour, but it works forwhat it is.
1,153 characters
3.78
/5
rDev
+8.3%
look: 3.75 | smell: 3.75 | taste: 3.75 | feel: 4 | overall: 3.75
750ml, 7/2013 Bottle 656 of 929
Hill Farmstead glass
A: Looks like cloudy pink grapefruit juice in the glass. Faint layer of bright white thin bubbled head. Basically a collar. No real lacing.
S: Smells like a fruit beer. Not getting as much Berliner as I was expecting. Some lactic notes but doesn't smell overly tart. Mild strawberry.
T: Up front you get some mild tartness. Not sure if that is the lactic character or from the rhubarb. You get some strawberry flavors but muted. Thought fruit to work with. Prickly carbonation. Finish is fairly dry. Very easy to drink. Low abv.
M: Lighter side of medium.
612 characters
2.69
/5
rDev
-22.9%
look: 3 | smell: 2.75 | taste: 2.5 | feel: 3 | overall: 2.75
Appearance: Super hazed dusky peachish. Bright-white rocky head. Drops to a tiny bubbly collar in short order. Light carbonation.
Smell: Very light push of strawberry. A small bitterness. Incredibly light and pale malts. Slight hints of cracker and something bready. Tiny hint of some lactic tartness, but it's buried deep. A touch phenolic on the back as well. Rhubarb is minimal at best. Very mellow and very mild. Warming adds a bit more strawberry juice to the mix.
Taste: Slightly lactic. Finishes almost plasticy with a tiny hint of phenols. Clean light malts. A touch of wheat thrown in the mix. Incredibly light and easy drinking. A touch of something almost damp, but it's minimal. Muted strawberry fruitiness. A touch of bitter and slightly sour rhubarb laced through the back. A bit more lactic push as it warms, but it's still pretty mild. Slightly sweet pale maltiness.
Mouthfeel: Light body with a moderate bubbly carbonation. Clean and light. Drinks like it should.
Overall: Stick with what you know.
It's a decent berliner, but it has some off-flavors that hurt it. Strawberry and rhubarb is a solid combo and it's the proper kind of light for the style, but it just doesn't get there.
1,206 characters

4.28
/5
rDev
+22.6%
look: 4.75 | smell: 3.5 | taste: 4.75 | feel: 4.5 | overall: 4
The beer pours a cloudy, pinkish yellow with a very deep, opaque murk and medium sized head of soft white bubbles that slowly filter away to a scrim. The strawberries in the beer seem to give it a bit more viscosity than the traditional Berliner Weisse. On the nose, the beer smells of plastic with strong twinges of strawberry jam and chalk. The plastic is fresh and strays towards paint-like scents as you throw your nose into it. Light citric acidity can also be sensed on the nose. The strawberry, when it shines through is delicious and fresh, but the plastic scents get in the way. On the tongue, the beer tastes softly tart with strong fruit-sweetness and a sweet wheat flake finish. The sweetness is kept nicely in line by the citric acidity. Bitterness is little to nonexistent. In flavor, the beer begins with tart lactic lemon, chalk, and a touch of the plastic from the scent. This plastic, however, quickly morphs into unripe strawberries, then fresh picked strawberries, and then strawberry jam with a strong wheat flake flavor in the finish. Light lemon does stick with the flavor, as well as a touch of orange juice, giving this beer a delicious, citrus-fruit juice feel to it. The strawberry on the finish lasts beautifully on the tongue and even lingers in the aftertaste, which is sublime as far fruit flavors in beer go. In the mouth, the beer feels medium in body, with a soft effervescence and a creamy mouthfeel that nearly reminds me of fresh fruit juice. The mouth is left clean and slightly wet from the acidity. Overall, this is a hell of an American Weisse, and a hell of a fruit beer. The strawberry flavors are fresh, and develop with the sip, and the acidity is completely under control, helping to add to the beer instead of killing all the other flavors. This beer is a fine example of the balance an American/Fruited Weisse should have. The plastic aroma is a little offputting, but the flavor more than makes up for it. This is a beer to try, and hopefully it is brewed again.
2,011 characters
3.15
/5
rDev
-9.7%
look: 3.5 | smell: 2.75 | taste: 3.25 | feel: 3.75 | overall: 3
750ml from ProperPinter, thanks!
Bottle reads Bottle Conditioned in July 2013, #768 of 929 - Best Consumed Fresh.
I'm an unabashed Smuttynose homer and I seriously dislike rhubarb. Fun.
S: This smells very strongly of plastic. There are notes of berry but the plastic was strong enough that I instinctively thought "oh, I'm going to get a headache". Once it was out of the bottle, the frust was much more present and there was more fruit and a good deal of rhubarb.
T: Thin flavor. After having found the strawberry short weiss to be very enjoyable this was a let down. It is fine. Nothing more. Dominated by rhubarb with very little strawberry at the end.
M: very nice, light and crisp. The flavor may not be great but it is delivered well.
O: It's a modest, low abv, uniquely flavored option, but not one I would have again.
(214th)
843 characters
Smuttynose Short Batch #21 - Straw - Barb Short Weisse from Smuttynose Brewing Company
3.49
out of
5
based on
59
ratings.