Smuttlabs Hugs 'N Rainbows
| Smuttynose Brewing Company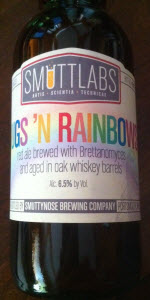 BEER INFO
Brewed by:
Smuttynose Brewing Company
New Hampshire
,
United States
smuttynose.com
Style:
American Wild Ale
Alcohol by volume (ABV):
6.50%
Availability:
Limited (brewed once)
Notes / Commercial Description:
No notes at this time.
Added by DiscLizard on 05-20-2014
This beer is retired; no longer brewed.
Reviews: 7 | Ratings: 70
3.96
/5
rDev
+0.5%
Thanks to Wowcoolman for sharing this one at drewone's tasting.
Bottle # 208 of 848.
Pours a murky orange-brown with a foamy orange-tan head that settles to wisps of film on top of the beer. Foamy swaths of lace form around the glass on the drink down. Smell is sour with malt, grain, fruit, and acidic aromas. Taste is much the same with sour malt, fruit, funk, and acidic flavors on the finish. There is a mild amount of acidity on the palate with each sip. This beer has a good level of carbonation with a crisp mouthfeel. Overall, this is a good beer that is tasty and easy to drink.
Serving type: bottle.
612 characters

3.98
/5
rDev
+1%
375ml bottle shared by Dan - thanks. Bottle # 208 of 848.
A: Pours a hazy orange with just faint carbonation which is extremely thin and white at the rim and leaves only a few spots of lace.
N: Lemony citrus, tart, fruity, tannic.
T: Mild funk, citrusy acidity, oak tannins, earthy, faint dark cherries/stone fruit.
M: Light body and light carbonation. Finishes tart, funky and fruity.
O: Glad to try this.
414 characters
3.65
/5
rDev
-7.4%
look: 3 | smell: 3.5 | taste: 3.75 | feel: 4.25 | overall: 3.5
Small head that settles rim bubbles and leaves absolutely no lace. Reddish, dark amber color with a decent amount of cloudiness.
I detect a sour smell reminiscent of vinegar--not something I'd expect from a beer. Think Easter eggs.
This is a tart beer that fits into the Belgian family of sour beers. Similar to a Gueuze. The finish has a nearly lip-puckering acidity. The low carbonation enhances the strong flavors. Good aftertaste.
438 characters
3.46
/5
rDev
-12.2%
look: 3.25 | smell: 3.5 | taste: 3.5 | feel: 3.25 | overall: 3.5
On tap at Worthy Burger. Served in a snifter.
Appearance - Deep red. Small off white head. Settles quickly. Thin collar and nothing else.
Smell - Fruity acidity. Vanilla and oak. A little whiskey pushes through. Caramel malt.
Taste - Sour cherries and a little bit vinous. Caramel malt. Vanilla and oak in the back end, again with just a hint of bourbon. Woody finish.
Mouthfeel - Moderate sourness. Medium body, but it drops out in the back. Medium carbonation.
Overall - Good flavors that drop off in the back leaving you wanting something more.
553 characters

4
/5
rDev
+1.5%
Bottle from Bert's
Pours a hazy medium golden orange color with a decent sized bubbly white head that slowly dissipates to a cap. Aromas of tart cherry and earthy funk with hints of vanilla and oak tannin. Very light whiffs of brown sugar and mineral water round out the aroma. The flavor holds some nice lightly tart fruit flavors offset with a solid hit of earthy funk and just a hint of wood character. Medium body with a moderate level of carbonation and a tart lightly chalky almost ashy mouthfeel. Quite fruity for a sour ale, I was a hater when I first poured, but this one really grew on me especially as it warmed and opened up.
637 characters

4.24
/5
rDev
+7.6%
look: 4 | smell: 4.25 | taste: 4.25 | feel: 4.25 | overall: 4.25
A-Pours orange and lightly cloudy. Medium sized head. Lacing is merely speckles along the glass.
S-Quite funky and tart. Tart cherries and Brett. Caramel and some woody notes. I don't actually pick up clear whiskey aromas but I do ice up some barrel influence. Has some Flanders Red/Oud Bruin characteristics to it. As it warms I do pick up the genuine whiskey aroma.
T-Tart right off the bat. Sour cherries with caramel drizzle. Dried out oak. Malt vinegar. The Brett is especially wild here. As it warms I get a toffee flavor after the tartness. Like the nose, the actual whiskey flavor is preceded by oak before it finally becomes noticeable with warmth. Tastes much better as the temperature rises. Gets sweeter but funkier as it warms.
M-Medium bodied. Tannic. Tartness lingers. Softer carbonation. Very easy to drink. I attribute its drinkability to the maltiness that balances out the tart acidity.
O-Flavorful and interesting. One of those beers that I found hard to specifically describe but I enjoyed it very much. A beer that shouldn't be missed.
1,061 characters

4.18
/5
rDev
+6.1%
look: 4 | smell: 4.75 | taste: 4 | feel: 4 | overall: 4
The beer pours a hazy, fiery orange, and sits in the glass as a candied maroon. A smaller head of creamy, yellowing bubbles forms above the glass with slight retention. When splashed against the glass, the beer leaves a thin, drizzly lacing. In body, the beer is a dark and hazy murk with total opacity. I detect no particles floating in this glass. On the nose, the beer is a beautiful funk. Think: caramelly whiskey, tart cherry pie, barnyard funk, pineapple, and oak. There's a smooth toffee and vanilla note running underneath the other scents. Cherry funk and caramel sweet whiskey are the two big players, though the whiskey has no booziness at all in the scent. This beer has got a killer nose, reminiscent of Cerise Cassee from Cambridge Brewing Company, only less boozy. As it opens up in the glass I start to get leather notes and more barnyard funk. Subtle horse blanket even tickles the nostrils, but is instantly mellowed by the sweet tail end of this beer's scent. On the tongue, the beer doesn't quite deliver the promises of the nose. It begins oddly muted in flavor before opening into more expected flavors. As it warms, the beer loses that muted note. It tastes smoothly tart, moving into a fruity sweetness and a tannic bitter at the finish. Soft earthiness from the barrel is dying to come out to play, but is kept soft by the sweetness of the beer. In flavor, the beer begins as tart cherries, moving into cherry pie surrounded by tannic oak with a soft roast to it. Soft pineapple sneaks in, as well as a touch of salinity, but sweet cherry seems to be the big flavor here. On the finish there is just the ghost of the succulent toffee and vanilla that was in the smell. The finish also carries the strongest blast of barnyard funk and barrel character. The aftertaste is of earthy oak and soft cherry. In body, the beer is on the light side of medium with a decided thinness to the beginning. The end of the sip carries some oomf but the beginning seems a little thin too me. Carbonation is middling with a small snap on the palate. Mouthfeel is slightly gelling, but also a little lifeless. After the beer leaves, the cheeks are coated with saliva while the tongue is left sticky and tannic. Overall, the beer is quite tasty, but it lacks the supreme complexity that the nose offered. I actually think a late dose of lacto would help to spice things up a little. This beer has some wonderful flavors and complexity, though, and should age in the bottle supremely. It opens into a more coherent sip as it sits in the glass and is a great picture of the things to come from Smuttlabs. Good tartness for a brett only fermentation, too. Nice balance, though it could use a little drier of an overall character. Age will probably do just that.
2,769 characters
Smuttlabs Hugs 'N Rainbows from Smuttynose Brewing Company
3.94
out of
5
based on
70
ratings.