Smuttynose Maibock (Big Beer Series)
| Smuttynose Brewing Company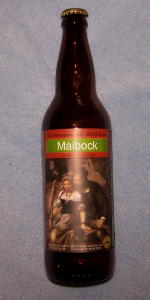 BEER INFO
Brewed by:
Smuttynose Brewing Company
New Hampshire
,
United States
smuttynose.com
Style:
Maibock / Helles Bock
Alcohol by volume (ABV):
8.70%
Availability:
Spring
Notes / Commercial Description:
We brew our Maibock to be hugely malty & subtly finished with a variety of continental hops, with an eye-pleasing russet brown color. Prosit!
2007 - 7.0%
2008 - 6.2%
2009 - 8.4%
2010 - 8.7%
Added by Bierman9 on 04-30-1998
This beer is retired; no longer brewed.
Reviews: 286 | Ratings: 368
3.24
/5
rDev
-18.8%
look: 3 | smell: 4 | taste: 3 | feel: 4 | overall: 2.5
Appearance: Yellowish-brown colored, sort of reminiscent of honey in color. It pours with two fingers of thick, bubbly, foamy white head that quickly reduces in volume within 30 seconds down to about a half of a finger's worth.
Aroma: Spicey and yeasty with fruity/estery alcohol coming through and some hints of carmalized toast and funk
Taste/Mouthfeel: Tastes a lot like it smells: lots of spice and fruity sweet alcohol up front, followed by hints of carmelly malts and finally a bitter hoppy finish. Medium mouth feel, nice carbonation.
Notes: Not really drinkable to me. It's a little too heavy on spice, bitterness and alcohol for my personal taste. Interesting to try though.
★
689 characters

3.23
/5
rDev
-19%
look: 3.5 | smell: 3 | taste: 3 | feel: 4 | overall: 3.5
Amber honey colored with a light beige head that disappears quickly. Very light aroma of malt and fruit. Flavor is not too complex, very light. A little biscuity, a little doughey, not hoppy at all. Some hints of floral flavors, and some butter. Smooth mouthfeel. The alcohol definitely makes itself known.
★
306 characters

3.16
/5
rDev
-20.8%
look: 3.5 | smell: 2.5 | taste: 3.5 | feel: 3.5 | overall: 3
Poured from a bomber into a tulip glass.
A: Slightly hazy, medium golden color with one finger of diminishing white foam head. No lacing remains on the glass.
S: Surprisingly fruity, with bright but light malt contributions and unrestrained carbon dioxide. There is a fairly grassy, but passive, presence of hops that seems thin and dominated by the CO2. No alcohol is detected.
T: Begins sweet, with refined malt that is slightly toasty and some misplaced esters that yield bubble gum through the middle. Spicy herbal hop aromatics develop briefly, along with mild and elevating acidity, but clear out ahead of the surging honeyed esters. The finish is mildly bitter and astringent, with some distinct fennel seed and bitter almond lingering. No alcohol is detected.
M: Medium viscosity, fairly supple on the palate early then giving way to building acidity, with moderate carbonation.
D/O: This strong lager develops some significant intensity in its flavor profile, but the qualities emphasized are not the most appropriate of the bunch. It comes across as a variant sort of tripel, all ripe fruit and honey. Lagering a sort-of tripel only to produce the delivered results seems like a lot of needless effort spent.
★
1,223 characters
3.02
/5
rDev
-24.3%
look: 3 | smell: 3.5 | taste: 3 | feel: 3 | overall: 2.5
Color: Brown to golden, as I've said, I prefer my Maibock's to be gold. This pours nice, with a reasonable head, and a lace that retains for a time. The malt does come through on this, as it should for all Maibock's, but it just doesn't last. Smuttynose does great Ales, but their lagers need improvement. This is a good beer, not a great one. I don't want to drink another, and another, as I do with their ales.
★
416 characters
3
/5
rDev
-24.8%
look: 3 | smell: 3 | taste: 3 | feel: 3 | overall: 3
Bottle says "russet Brown" but the beer is a dark gold. pours with a big head that stays for a while. Aroma - beer, not much there. Malty sweet taste. After drinking the 22 oz bottle, you can tell that there is a nice amount of alcohol. In my opinion, not one of their best beers.
★
280 characters
2.9
/5
rDev
-27.3%
look: 3 | smell: 3 | taste: 3 | feel: 3 | overall: 2.5
Beer #8 sampled at Eastern Oregon DONG (Dudes of Northwest Grog) "We Will Bock You!" tasting @ Barley Brown's, 8.6.11.
Cloudy medium gold body, quite hazy, white head, quick dissipation, significant visible carbonation, color is on the very light end of spectrum for the style. Pretty hoppy nose, floral more than grassy, minimal caramel presence. A pretty hoppy taster, had a hard time discerning much in the way of malts, very boozy. Mouthfeel was medium, not sticky. To be honest, probably the least favorite beer of the tasting, the vast majority of patrons dumped theirs. After all the work my better half went through to bring this back from Massachusetts, a huge disappointment. Evidently this will be one of my biggest deviations from rest of my profile. Not my cup of maibock, err, tea.
★
796 characters

2.8
/5
rDev
-29.8%
look: 3 | smell: 3 | taste: 2.5 | feel: 3 | overall: 3
This beer was given to me by my very generous smuttynose sales rep, thanks Bill. Poured from a bottle into a snifter.
The beer pours a bright and translucent amber with a thick white head that quickly fades to leave moderate, oily, lacing.
The smell is sweet malt and with a slight bubble gum underneath.
The taste is sweet and malty as the nose implied. The alcohol presence is a bit surprising and there is a little bit of acidity that isn't very pleasant.
The beer has a nice crisp and light feel, very well carbonated and goes down smooth aside from the slight alcohol burn. I can imagine that after a few months this beer might become more drinkable. Overall a good lager, not a great one.
★
698 characters
2.71
/5
rDev
-32.1%
look: 3.5 | smell: 2.5 | taste: 2.5 | feel: 3 | overall: 3
A- Dark gold color with a big white head and good lacing.
S- Citric/fir bud resin American hops dominate the aromatics, unfortunately, therefore giving the first evidence that the Maibock tradition has not been observed with this Smuttynose in favor of trendiness.
T- The Noble hops character has regrettably been totally overwhelmed by the grapefruit/fir/pine hops. The thick caramel maltiness is very good -- rich and sweet -- but it is upstaged by the hops more suited to an DIPA. The attack is fruity, the mid palate is grassy, and the finish of bitter grapefruit.
ABV undetectable. CO2 just right.
Lager? Maibock? Sorry, just another version of a whatever which has been turned into an overblown, overhopped IPA-type in fad-following fashion.
If you want a traditional Maibock, keep looking, preferably on its native land.
Had this beer been labeled more appropriately, I could have rated it more appropriately.
Note to brewers: hops balance often involves restraint.
★
980 characters

2.57
/5
rDev
-35.6%
look: 2.5 | smell: 3 | taste: 2 | feel: 3 | overall: 3
Poured from a bottle into a great big mug. The pour is apricot-orange in color and very cloudy. It doesn't even look like a Maibock, except that there is a beautiful big head on the mug. I get a nice toffee-like aroma with hits of malt, but there's a citrus-like component that doesn't belong.
The flavor is far too sweet and the mouthfeel is too syrupy. In addition to the malt, I get slight fruit-like notes lingering at mid-palate that seem out of place. There is no trace of bitterness or spiciness to balance out the sweetness. I found it to be borderline undrinkable.
This beer was a huge disappointment. I had read good things about it, but I feel is was vastly inferior to just about every authentic German Maibock I have tried. What exactly is it? An American take on a German Maibock or an attempt to duplicate a classic style? No way I'm buying this again. It doesn't even deserve to be called a Maibock. It tastes more like Sunny D and Everclear.
★
960 characters
2.52
/5
rDev
-36.8%
look: 3.5 | smell: 1.5 | taste: 2.5 | feel: 3.5 | overall: 3
Appearance - Pours a golden straw yellow. Very well carbonated. A cloudy, opaque orange-yellow. Laces to the glass quite well.
Smell - Grassy and earthy overall. A bit unwelcoming.
Taste - Some wheat and grass tones. Quite alcoholic tasting. Full of hay, straw and light berries. I feel like a horse.
Mouthfeel / Drinkability - Quite alcoholic tasting and a bit unbalanced. Light bodied and easily drinkable. Very natural tasting overall. It was okay overall, but just wasn't one of my favorites at all.
★
506 characters
2.29
/5
rDev
-42.6%
look: 2 | smell: 3 | taste: 2 | feel: 2.5 | overall: 2
Pours a 7 finger yellowed head over a murky straw colored liquid. The meragnue-like head had a lemon-yellow tint to it. Smells of lightly honeyed toast with aromatic hops. Light caramel, biscuit malt, and a tiny dash of clovey phenolic. I'm very very sensitive to that phenol and I can't imagine anyone else would be able to detect it. It's standard that I get a dash of it in maibocks and octoberfests.
Tastes strong malty of vienna. Comes across a bit worty. The phenol comes through in the flavor and acts to counter some of the thick malt sweet. Floral hop flavor is mild (clover honey) and hop bitter even more so. The finish has a spicy heat that I think is from hops, though could be from a very clean alcohol. DMS rising retronasal in the aftertaste is off-putting.
I'm not digging this one, as it's just too dry and has a few flavors I consider off. Md-thick with moderate carbonation.
★
896 characters
Smuttynose Maibock (Big Beer Series) from Smuttynose Brewing Company
3.99
out of
5
based on
368
ratings.