Smuttynose Short Batch #5 - Schmutzig Hopfen Weisse
| Smuttynose Brewing Company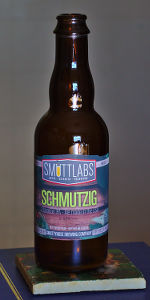 BEER INFO
Brewed by:
Smuttynose Brewing Company
New Hampshire
,
United States
smuttynose.com
Style:
Hefeweizen
Alcohol by volume (ABV):
5.80%
Availability:
Limited (brewed once)
Notes / Commercial Description:
Malt: Pilsner, Wheat, Munich
Hops: Bittering: Magnum
Flavoring: Sterling
Dry Hop: Sterling & Centennial
IBU: 15
S.G. 15° Plato
T.G. 2.6°
ABV 5.8%
Added by Bierman9 on 01-31-2009
This beer is retired; no longer brewed.
Reviews: 15 | Ratings: 33
4.04
/5
rDev
+2.3%
look: 4.25 | smell: 4 | taste: 4 | feel: 4.25 | overall: 4
Served in a pint glass at the Union Brewhouse in Weymouth.
Appearance: This beer poured a one finger head that reduced to a thin layer. It is a hazy pale yellow with some vision of bubbles coming up through the glass.
Smell: Bananas, clove, wheat, vanilla, citrus, and grassy hops.
Taste: Same as above with light bitterness in the rear.
Mouthfeel: Smooth, crisp, refreshing, a little chewy, light to medium bodied, and medium carbonation.
Overall: Pretty nice pale wheat/hefe. If made agsin, I eould get it.
525 characters

3.75
/5
rDev
-5.1%
12.7 oz bottle from the brewery labeled as Smuttlabs Schmutzig
Hazy golden orange color with a decent sized bubbly white head. Bready malt with light citrus and hints of banana and clove. Nice flavorful easy drinking brew.
226 characters

3.38
/5
rDev
-14.4%
look: 3.5 | smell: 3 | taste: 3.5 | feel: 3.5 | overall: 3.5
I had a sixteen ounce draft of this the other day and found it to be the perfect hot afternoon beer, even for a person who's not crazy about Hefeweizen's. Nice aroma, great flavor, expectable large head, an overall good beer that I would recommend if you can find it.
267 characters
4.23
/5
rDev
+7.1%
look: 4.5 | smell: 4 | taste: 4.5 | feel: 4 | overall: 4
Had this on-tap awhile ago at the Brick Store Pub. Pours a cloudy dark golden, with a thick grainy head that leaves some nice lacing. Darker than most hefeweizens. Smells extremely dry and somewhat citrusy. Lacks the banana and the clove that are the hallmark of the style almost completely, and substitutes lemon and orange aromas and some grainy dryness instead. More in the line of an American wheat than a hefe. The taste is a bit prickly and quite unusual for the style- but very tasty. Very dry and hoppy with pine and citrus upfront, followed by restrained banana, and some clove throughout. The whole package is very nice. Very interesting brew, and one I enjoyed quite a bit.
684 characters
4.52
/5
rDev
+14.4%
look: 4 | smell: 4.5 | taste: 4.5 | feel: 4 | overall: 5
On tap at Kickbacks in Jax. Poured into a Unibroue tulip. Keg is one year old, almost to the day. Moderate white head relaxes above a golden hazy body. Slight soapy lacing. Aroma is a fascinating blend of fresh citrus, hops and clove. Taste is of banana, mild grapefruit, orange and clove. Really taste like a hopped up hefeweizen, apparently a great combination. This is a delicious and rare treat.
399 characters
4.42
/5
rDev
+11.9%
look: 4 | smell: 4.5 | taste: 4.5 | feel: 4 | overall: 4.5
Had on tap on 11/7/09 at Track 84 in Warwick, RI
A: This beer pours a murky light gold with a one finger of sudsy whute head. Head retains decently and leave nice thick sheets of lacing.
S: Nose is of citrus and floral hops with a lighter presence of wheat.
T: Taste is of citrus hops up front, that blends in to a nice wheat flavor, some pale malts, a hint of spice, and finishes with a healthy dose of floral hops.
M: Light bodied, medium carbonation, crisp clean feel and finish to the beer.
D: This is a well blended and highly enjoyable beer. It's certainly sessionable and a nice offering for the style.
617 characters
4.47
/5
rDev
+13.2%
look: 4 | smell: 4.5 | taste: 4.5 | feel: 4.5 | overall: 4.5
On-tap 11/7/09 at Track 84, in Warwick, RI, served in a tulip glass.
A: The beer is a light gold color, with a short white head that fades slowly and leaves a spotty lace on the glass.
S: The aroma has a lot of hops for the style along with light malt, citrus and wheat.
T: The taste is very nicely balanced with a strong hops presence for the style but it works well for this beer. There are background flavors of wheat and citrus. The malt character is hearty but not too heavy. The after-taste is slightly hoppy and slightly sweet.
M: Smooth and very crisp, medium body, medium carbonation, finish is clean.
D: Very tasty, goes down quite easily, not too filling, decent kick, good representation of style while enhancing the hops content, this is a good beer to drink for a whole evening.
798 characters
3.95
/5
rDev 0%
look: 4 | smell: 4 | taste: 4 | feel: 3.5 | overall: 4
On tap at Blind Tiger. Pours a cloudy light orange with a thick white head. Aroma of citrusy hops and some spices. It doesn't smell like a hefe--lots of hop oils in the aroma. Flavor is hoppy initially with a wheaty finish. Clove and citrus present too. Very tasty. A very unique hoppy hefe. Well done!
8/4/8/4/15 (3.9/5)
321 characters
4
/5
rDev
+1.3%
look: 4 | smell: 4 | taste: 4 | feel: 4 | overall: 4
Pours pale straw, with a creamy white head.
Nose is dominated by citrusy c hops, bit of clean, crisp wheat pokes through to let you know this isn't a standard IPA you're dealing with. Not a lot in the way of yeast.
taste is a nice combination of crisp wheat and big, citrusy hops. Cascade seems to be the call here. Lightly bitter, clean, very little yeast presence. Long, bitter, mildly astringent finish.
Mouthfeel is crisp but clean carbonation, light body.
465 characters
3.56
/5
rDev
-9.9%
look: 4 | smell: 3 | taste: 3.5 | feel: 3 | overall: 4.5
Had this while at the brewery, the Imperial Stout keg kicked, and the Brewmaster put this on as a replacement. Sweet. First Short batch.
Pours a hazy golden color, topped with a nice foamy white to cream colored head.
Spicyness from the obvious hops and banana dominate, followed up by nice untoasted grain.
Feel was good for a Hefe nice body from being unfiltered.
Drinkable most definately, good session beer. Brewmaster said that there was some coriander there, I didn't taste it though. Would have added more depth to the flavor. Wish I had gotten another couple samples, it was tasty.
Thanks for the tips.
616 characters
4.3
/5
rDev
+8.9%
look: 4 | smell: 4 | taste: 4.5 | feel: 4 | overall: 4.5
Had this on-tap at the Brick Store in Atlanta.
Pours a cloudy yellow-orange color with a one-finger white head. The head recedes into a thin pancake on top leaving decent lacing.
Smells of herbal hops more than anything, but leaves plenty of room for banana and citrus aromas with a hint of grassiness.
Tastes similar to how it smells. Typical hefeweizen flavors kick things off - banana and bubblegum - before the hops take over. More citrus flavors than in the smell with a decent amount of raw hop flavor. Bitterness is on par with an average Belgian IPA.
Mouthfeel is good. It's got a good thickness with active carbonation that goes down pretty smoothly.
Drinkability is good. I'm a fan of hops in general so I really enjoyed this one. I could have quite a few of these, especially at only 5.8%.
Overall I was impressed by this beer, though I can't think of any other heavily hopped Hefe's that I've tried to compare it to. Worth a shot if you can find it.
967 characters
3.14
/5
rDev
-20.5%
look: 4 | smell: 2.5 | taste: 3.5 | feel: 3 | overall: 3
On-tap at the Farmhouse, served in a pint glass is a hazy bright yellow with a white head. This is a nice beer, but overall I'm not a fan. I think the dry-hopping is overdone. There are some great citrus and pine hops flavors in the taste, but the aroma is a perfumed floral mess, too strong for it's own good. The sweetness of the wheat also doesn't mesh with the hops. The Brooklyn hoppy hefe gets this sort of beer right, but this example falls short.
454 characters

3.73
/5
rDev
-5.6%
look: 4 | smell: 3.5 | taste: 4 | feel: 3.5 | overall: 3.5
On tap at at Taco Mac Metropolis.
Pours an extremely hazy bright yellow with a smallish white head that doesn't stick around long and leaves no lacing.
The nose surprised me a little bit as it was dominated by citrus hops, lemons especially. The wheat smells were there but definitely overshadowed by the hops.
The initial taste is of the same citrus hops with lemons and some grapefruits. The wheat presence is a little more evident in the taste with the bubblegum and banana sweetness one would expect in the style. The finish was definitely on the bitter side for a hefe.
The mouthfeel is light to medium bodied and had lower carbonation than I was expecting.
This is a unique take on the hefe with lots of hops and less of the traditional hefe characteristics. Overall a good beer but not one of my favorites from Smuttynose.
834 characters

4.05
/5
rDev
+2.5%
look: 3.5 | smell: 3.5 | taste: 4.5 | feel: 4 | overall: 4
On tap at the Old Milton Parkway Taco Mac. Poured into a dimpled mug.
A: Pours a hazy cloudy orangish yellow with a very minimal head. No lacing left by the tiny ring of bubbles.
S: Classic wheat aroma with a bit of booze and hops mixed in. I am surprised by the boozy aroma with the listed ABV.
T: A lot of flavor for the style. A very full flavored Hefe. The alcohol is surprisingly present for an under 6% beer. Nice hop character to balance the sweetness of the wheat. This one really packs a punch for a Hefe.
M: Mouthfeel has a nice spicy character. Decent medium body for the style.
D: Drinkability suffers a bit for the style due to alcohol and hop bitterness.
This is definitely a unique Hefe, I was impressed with my first Smuttynose experience.
762 characters

3.93
/5
rDev
-0.5%
look: 4.5 | smell: 4 | taste: 4 | feel: 3 | overall: 4
On tap at Taco Mac Metropolis - Pours a beautiful very cloudy yellow/orange with an extremely small white head. Obviously not filtered. Smells mostly of large quantities of hops with some wheat notes present in the nose. First sip is sweet, malty, and hoppy with the wheat balancing well with the hops. It is not nearly as hoppy as the aroma indicated. Mouthfeel is good bordering on the light side. Very tasty indeed.
418 characters
Smuttynose Short Batch #5 - Schmutzig Hopfen Weisse from Smuttynose Brewing Company
3.95
out of
5
based on
33
ratings.