Smuttynose Bloom
| Smuttynose Brewing Company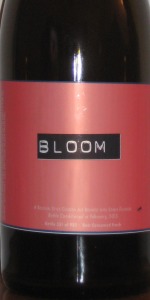 BEER INFO
Brewed by:
Smuttynose Brewing Company
New Hampshire
,
United States
smuttynose.com
Style:
Belgian Pale Ale
Alcohol by volume (ABV):
6.50%
Availability:
Limited (brewed once)
Notes / Commercial Description:
Belgian Golden brewed with Edible Flowers
Added by Jason on 01-16-2013
This beer is retired; no longer brewed.
Reviews: 6 | Ratings: 44
3.73
/5
rDev
-5.1%
look: 4 | smell: 4 | taste: 3.5 | feel: 3.75 | overall: 3.75
Bottle 780 of 950. Poured into a snifter, the beer is a vibrant, slightly hazed, deep caramel-copper coloring with a thin, sparse layer of surface film and a very rapid, steady flow of carbonation bubbling. Lots of pressure when the cork was popped, also. Aromas of evergreen, mint, rose, and hyacinth. More layers on the nose as you drink, but I'm not that well versed in the world of flower and fauna. Very floral is the only way to sum it all up. Flavors are well blended, but almost muting of each other. There is a deep honey sweet backbone, with some peppery and oregano notes, and highlights of rose, jasmine, and lavender. Drinking this reminds me of all of the characteristics you are inundated with when you step into a greenhouse at a flower shop. It's a very layered blast to your taste and smell, and it works. There are some funky notes throughout, reminiscent of a Belgian yeast strain, with cherry and fig sweetness sprinkled throughout, as well. Very bold flavors on a body that starts sharp on the tongue, but smooths out across the palate. Peppery and roasty aftertaste, with a blast of chai at the very end. A fairly quick, clean finish. Very interesting beer. Tasty and unique.
1,198 characters
3.85
/5
rDev
-2%
look: 3.75 | smell: 3.75 | taste: 4 | feel: 3.75 | overall: 3.75
From BeerAdvocate Magazine #76 (May 2013):
We had bottle #540 of the 950 made. This Belgian-style Golden Ale was brewed with edible flowers (yarrow, lavender, chamomile, rose buds, elderflowers, calendula, nasturtium and dianthus) and bottle conditioned in February 2013. In our books, this is less of a "Belgian" ale and more of a Gruit; a damn fine and unique one at that.
STYLE: Belgian Pale Ale
ABV: 6.5%
AVAILABILITY: Limited
LOOK: Rich, bright amber; lively, foamy head
SMELL: Floral, lavender, herbal tea, bubble gum
TASTE: Light bodied, sweet bready grains, fruity, spicy, pithy, floral, lavender, chamomile, tangy, bitter herbs, earthy, dry
658 characters
3.79
/5
rDev
-3.6%
look: 4 | smell: 3.75 | taste: 3.75 | feel: 4 | overall: 3.75
750ml, 782 of 950 bottles (2/13 release)
HF stemmed wine glass
A: Slighty hazy orange. Good carbonation. Thin layer of off white head. Forms a collar. Sticky lacing sheeting is left on the glass.
S: Smells like a golden ale. Belgian yeast. But also those floral notes. Good amount of really spring like smells.
T: It's a nice Belgian golden ale. Nothing more nothing less. Some spice on the tip of the tongue from the yeast. Some soft bready notes. Some floral flavors. Dry and refreshing finish. Clean.
M: Medium bodied. High carbo.
538 characters

4.44
/5
rDev
+13%
look: 3.75 | smell: 4.75 | taste: 4.5 | feel: 3.75 | overall: 4.5
Bottle 213 of 950. Bottled february 2013.
Poured into a wine glass.
Appearance is dark copper. White head is a touch fizzy and fades to a ring.
Aroma is wonderful. Great for spring. A potourri of flowers and spice. Lavender is noticeable among other flowers i dont know the name of.
The flavor matches the aroma. A touch of belgian candi-malt sweetness hits first, but is quickly taken over by spices and the sense of dry earthy herbs. Lavender noticeable again, but the sense of sage comes through as well (though i know it's not in the recipe). Slight fruity malt rears its head again at the end.
Mouthfeel is refreshing and dry, though once it sits for 5 minutes it gets a touch watery and thin.
Overall, this doesnt taste like a belgian pale...it tastes much more like a gruit. Frankly its very enjoyable and delicious. All the flowers used really meld well without adding too much bitterness. Rather, they provide layers of interesting flavor and some dryness.
Recomended.
990 characters

3.87
/5
rDev
-1.5%
look: 4.5 | smell: 4.25 | taste: 3.5 | feel: 4.25 | overall: 3.75
Straight pour from a 1L swing-top growler filled at the Syracuse Real Food Co-op less than an hour before to my nice Tired Hands oversized wine glass; sixtel was tapped this morning, I believe. A BPA brewed with edible flowers, eh?
Appearance (4.5): What a lovely pour: a good three fingers of rocky, mixed fat and small bubbles composing a custard-colored foam rises off the pour, dying down to a patchy film on the surface of the beer, leaving thin patches of suds, arcs, and splotchy collars of lace around the glass early on, and a solid sheet on the far side later on. The body is a rich, auburn-amber color with a chill haze.
Smell (4.25): Lavender and chamomile are the most obvious notes right off the bat, but there's also an interesting, almost watery-smelling vegetable note in there, like fresh cucumber—not a gross "vegetable" scent whatsoever, and in fact it's lovely and refreshing.
Taste (3.5): Chamomile is immediately evident, along with a very light, peppery spiciness that hangs out in back; the malt comes off with a rich, spicy, bready, almost rye-like character that's very understated (rich, but veeery restrained), along with a molasses sweetness underpinning the whole affair. There's also a (not surprisingly) unidentified floral note that goes through the whole thing, that's slightly lemony and tastes slightly like oregano. Very interesting.
Mouthfeel (4.25): Quite nice, with a restrained carbonation that tingles very lightly and dissipates quietly and a medium-weight body that finishes juuust on the dry side. Very quaffable, and does not drink like 6+% ABV—more like in the 4% range.
Overall (3.75): This is a pretty good beer, essentially a decent Belgian Amber with strong floral characteristics, though the chamomile seems to come off a bit stronger than I'd like. Definitely enjoyed drinking it and I appreciate the experiment, but it's not quite as magical as I admit I was hoping. Worth a shot, if you see it somewhere and like Belgian Ambers.
2,016 characters
4.13
/5
rDev
+5.1%
look: 4 | smell: 4 | taste: 4.25 | feel: 4.25 | overall: 4
Both the smell and taste start with familiar clove and spice flavors but then you get the floral notes to follow. The Belgian yeast spice flavor is nicely balanced with the edible flowers. It is almost like the floral flavors chance the belgian spice and give you just as much as you want without overloading.
A tremendous brew in my opinion and something I hope they do again next year.
390 characters
Smuttynose Bloom from Smuttynose Brewing Company
3.93
out of
5
based on
44
ratings.