Pirate's Gold
| Wooden Hand Brewery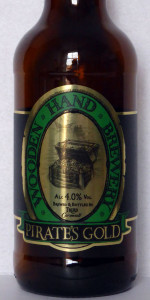 BEER INFO
Brewed by:
Wooden Hand Brewery
England
,
United Kingdom
woodenhand.co.uk
Style:
English Bitter
Alcohol by volume (ABV):
4.00%
Availability:
Year-round
Notes / Commercial Description:
No notes at this time.
Added by BlackHaddock on 12-09-2008
Ratings: 7 | Reviews: 6
Reviews by aidanskinner:
2.67
/5
rDev
-6.6%
look: 2 | smell: 2.5 | taste: 3 | feel: 2.5 | overall: 2.5
a - Bottle says "pirate's gold", has a yellow label. Beer is generic brown ale colour. If you hold it up to the light and squint real hard I guess you can maybe see a yellow tinge at the edges.
s - generic beer smell. The thing it reminds me of is driving past the old S&N brewery in Edinburgh, but without the unpleasent bits.
t - bit of yeast, bit of hops, not a lot going on. Inoffensive, but heading towards being offensively inoffensive.
m - eh. bit thin, bit lifeless.
o - given the choice between this and nothing, this. Between this and Amstel? Amstel...
568 characters
More User Reviews:

3.28
/5
rDev
+14.7%
look: 3.25 | smell: 3.25 | taste: 3.25 | feel: 3.5 | overall: 3.25
A 500ml bottle with a BB of Oct 2017. Acquired recently from Home Bargains. Described on the label as an easy drinking pale ale.
A: Poured into a tulip pint glass. A rich marmalade-amber colour with good clarity and moderate carbonation. Forms a decent head of creamy off-white foam that lasts for a minute or two before reducing to a patchy surface layer. Slight lacing.
S: Aroma of caramel malt with hints of grain, ale yeast, vague leafy hops and husks. A whisper of cardboard in the background. Pretty average.
T: Tastes of mild caramel malt with notes of husky grain, ale yeast, leafy hops, faint hay and a subtle harshness in the background. Dry, followed by a restrained bitterness upon swallowing.
M: Mouthfeel is smooth, tingly and dry, with spritzy carbonation and decent body. Aftertaste of grainy malt, stewed leaves and yeast.
O: OK but conventional. Looks alright, if rather darker than the name might suggest. Aroma and flavour are an unimaginative blend of grainy malt, subtle hops and yeast notes. Reasonable body. No glaring flaws but not very interesting either - it's simply drinkable. No need to hunt it down.
1,135 characters
2.76
/5
rDev
-3.5%
look: 3.5 | smell: 2.5 | taste: 3 | feel: 2.5 | overall: 2.5
Brown 500ml bottle, well in date and poured into an English pint sleeve. Served slightly chilled as asked for on the label.
Like all the beers from this brewery, it is well packaged with a pleasant pirate scene on the front and information on the rear of the bottle.
A good amber colour, not the golden liquid i was expecting from its name! It looks like an English Bitter in every sence (not much head and not completely clear).
The aroma reminded me of cider apples (not good in a bitter, in my eyes) a wiff of toffee sweetness stops the smell from ruining the whole experience. There is also a hint of hops within the smells coming from the beer.
Basic bitter flavours, yeast, hops and a mixed bag of fruits (apples, pears and peaches?).
Conditioning seemed a little poor, not flat, but not lively either. If it was a cask beer I would say it was past its best and the barrel had been open for over a week.
I am having trouble enjoying beers from this brewery. Designer labels drag your eyes to the bottles, but it is what is inside that decides if I return for more. I wont be buying any again.
1,116 characters
3.27
/5
rDev
+14.3%
look: 3.5 | smell: 3.25 | taste: 3.25 | feel: 3.25 | overall: 3.25
Clear light copper coloured ale. Thin head.
Sweet malt. Toffee notes.
Taste reflects the smell. Distant leafy hops. Toffee apple. Slightly metallic.
Light to moderate body. Lacks any complexity.
194 characters

3.16
/5
rDev
+10.5%
look: 3.5 | smell: 3 | taste: 3.25 | feel: 2.75 | overall: 3.25
Bottled
Pours a crystal clear body with decent enough frothy white head
Big bran like malt aroma
Cracker like taste with slightly greasy mainstay and ver slight bitter finish
Quite dull
188 characters

2.6
/5
rDev
-9.1%
look: 3.25 | smell: 2.5 | taste: 2.5 | feel: 3 | overall: 2.5
Served cool from 500ml bottle into straight pint glass.
L) Deep amber colour, clear, little carbonation evident. Almost no head, just a line of bubbles.
S) Not much, except for a bit of a whiff of stale tobacco. Erm...
T) Erf, stale trumpy flavour. The tobacco was right. No distinct malty or hoppy flavours, just a general meh.
F) Very little carbonation. Easy drinking enough, quite watery. No bitter after tastes.
O) Rubbish, don't buy this one.
459 characters
2.47
/5
rDev
-13.6%
look: 3.25 | smell: 2.5 | taste: 2.5 | feel: 2.25 | overall: 2.25
Pirate's Gold from Wooden Hand Brewery
2.86
out of
5
based on
7
ratings.