The Graduate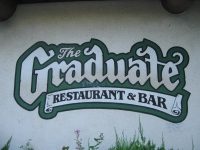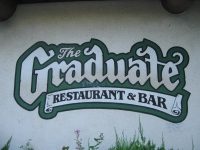 Bar, Eatery
344 W 8th St
Chico
,
California
, 95928-5521
United States
(530) 343-2790 |
map
Notes:
Reviews by Beerandraiderfan:
Beerandraiderfan from Nevada
3.4
/5
rDev
+4.3%
vibe: 3.5 | quality: 3.5 | service: 2.75 | selection: 3.75 | food: 3.75
Located on or very near campus, the Graduate has always been one of the mainstays for CSU-Chico. For better and for worse.
The atmosphere just depends on what and who is going on. I prefer the place somewhere between crazy busy and weekday dead. Its usually either one or the other. I like the college atmosphere, but not some of the college drink 'specials' that are the farthest thing from craft. Tap lines are suspect at times. Same with the age of the good stuff. 1/2 their taps, 9/10 of the energy is towards BMC, or worse, malternabeverages. Gotta like all the games available to play, if you wanna have fun outside of the beer scene, this is a good vibe.
Prices are good, service is clueless and often inattentive and understaffed. Selection, better than most, but chalk full of lessers too. Food is good for what it is, hearty.
Jul 17, 2013
More User Reviews:

31Sam13 from New Hampshire
3.16
/5
rDev
-3.1%
vibe: 3.25 | quality: 3.25 | service: 3.25 | selection: 3 | food: 3
Mar 12, 2015


VegasBill from Nevada
3.21
/5
rDev
-1.5%
vibe: 2.5 | quality: 3 | service: 3 | selection: 4
I stayed at a motel close to the Campus so I was able to walk to the local pubs. I was not prepared for this place, see the previous review, I have never seen anything like it before. All I can say is that The Graduate has been here for a long time and it is very successfull so it works somehow. This was a Monday nite and I was worried about Monday Nite Football and the crowds but I got lucky as this was the first day back after the Thanksgiving break and the "studends" were very subdued. Great beer selection lots of BMC but lots of craft beer also.
They have tons of specials both drink and food and one of the specials this nite was dollar shots so I had to swing into high level self control mode. So one Deschutes and one shot and I was off to the next pub.
If I lived in Chico I would not return, as I said I got lucky but the loud crowds would chase me away.
Dec 16, 2012

ThreeWiseMen from California
2.45
/5
rDev
-24.8%
vibe: 2.5 | quality: 1.5 | service: 2.5 | selection: 3.5
I stopped by here for the first time this afternoon to watch the end of the Niners-Cardinals game. I couldn't believe how packed it was with 49ers fans! Everyone was screaming, yelling, high-fiving - it was pretty cool if you were rootin' for the Niners (which I was). Anyway, that's (kinda) beside the point. Onto the review:
The Graduate sucks. I wish I could just stop there, but [sigh] I can't. So here goes: imagine a place that's part bar, part picnic area, and part family fun center. Kids run around playing arcade games and air hockey while the parents get tossed at picnic tables and swear at TV's. No joke - that's it (at least on this NFL Sunday). I'm sure it's different at night, but "good" different? I'm guessing not. I read in a previous review that this place teems with douchey frat boys. I saw my fair share of them today, and I bet it only gets worse at night.
There are no bar stools in The Graduate. There are no booths either. In fact, they don't even have chairs. What do they have? Wooden benches. Loads of 'em. And for each pair of wooden benches, there's a wooden picnic table. It's the only form of seating in the entire place. They're all lined up together in the center of the establishment, school cafeteria-like. Yippee.
Now, the beer selection is actually pretty decent. I won't go into details, but take a look at the "Beer List" section of the profile if you're interested. I just listed ~30 of the beers I saw there today. There are a total of 50 taps.
While the selection is indeed decent, the quality of the beer is hit and miss. I started things off with an Indica IPA from Lost Coast. It was smooth and very tasty. The second beer I ordered was an Arrogant Bastard. The smell and taste were almost unrecognizable. It almost tasted like it had been blended with a witbier. Bleh.
The service was average. The only beef I had was that the guy would overflow my beer when he filled it and not wipe it up before handing it to me. Thus, my glass and my hands were always sticky.
I didn't try the food only because I didn't want to. The food, as it was described on the menu, looked like sub-par, overpriced, pub grub.
That is all. I won't be returning.
Sep 14, 2009
HopHeadLouie from California
2.83
/5
rDev
-13.2%
vibe: 2.5 | quality: 2 | service: 3 | selection: 3.5 | food: 3.5
Finely found a place in Chico that is not packed with College kids, unfortunately they are wall to wall with High School kids instead, must be the noisy videogames or even noisier garage band murdering some old Social Distortion tune that brings them in. I could have put up with all of that if I could have gotten a good beer. The 40ish taps on the wall looked promising for Chico. After you get past the 8 or so Sierra Nevada taps that you would be better off getting at the brewery from nice clean tap lines and the Bud-High Life-PBR-Silver Bullet A-thon you are left with a few "interesting for Chico" options, Arrogant Bastard, Mad River, Lost Coast. I went with a Mad River Steelhead Extra Pale and was surprised that it had so much berry on the nose??? Hey wait a minute that ain't right!!! The barman informed me that they had Purple Haze on that tap recently and apparently clean tap lines are not a priority here. I was told that they contract out to have their taps and tap lines serviced. What's the point in having good beer on tap if you don't keep your tap lines clean? I hate to go for the obvious here, but I think The Graduate needs to go back to beer school.
Nov 05, 2008
flexabull from California
3.23
/5
rDev
-0.9%
vibe: 2 | quality: 3.5 | service: 2 | selection: 4.5 | food: 3.5
The Grad certainly has it's good points and bad points.
I'll start with the good. Excellent selection. There must be 60+ taps here, and at least 1/2 of them are set aside for craft beer. Being Chico, Sierra Nevada gets a good chunk of those taps, but you will see a lot of other good craft beers represented here.
The food is also pretty good, and inexpensive.
Bad Points? Atmosphere. This place is often super crowded, and before 8:00 PM it is crawling with kids playing video games and running around. It takes forever to get your food if you go during dinner time.
The service is often quite poor. One night I went with a friend, and they had "Micro Beers" for $2.00 a pint. Great, so my friend got a couple of Anderson Valley beers for us. But according to the bartender these weren't considered Micros, so we had to pay full price. Ok...
Nov 11, 2006
rayjay from Hawaii
2.55
/5
rDev
-21.8%
vibe: 2 | quality: 2 | service: 3 | selection: 3
I had to review this place because of the high rating so far...don't fall for it. It's a *good* place to grab a drink, nothing more.
Expect frosty mugs (boo!!) of ice ice cold beer (major boo!) in a frat-boy like setting (ouch). 50 taps, some decent but nothing to go out of your way for (Arrogant Bastard, Pyramid Hefe, Anchor Liberty, etc). 10 or so taps devoted to Sierra Nevada and Butte Creek, the local brews; never anywhere near as fresh as they tasted from the brewery. Lots of BMC crap taps, along with the usual imports like Guiness and Stella.
Tap lines are dirty for beer geeks; on the other hand, they are releatively clean for Chico standards. Many kegs taste like they've been online for quite a while. Thanks to this, and the 50-tap selection, I've concluded that they are trying to appeal to the beer crowd without actually trying very hard. Bartenders are friendly, but completely clueless about beer.
I'm not saying don't go here, just expect a dive bar.
Aug 22, 2006
IntriqKen from California
4.5
/5
rDev
+38%
vibe: 4.5 | quality: 4.5 | service: 4.5 | selection: 4.5 | food: 4.5
Located in Chico Ca, I actually enjoyed this place much more than Sierra Nevada Brewery. Although, SN has a higher class food selection and an incredible ambience.
Besides a wonderful beer bar menu of everything from dozens of sandwitches to dozens of pizzas and salads, The Graduate also boasts a full bar, pool tables, air hockey, video games, and 13 video screens, 4 of which are 6 ft projection screens.
The main attraction (for me) though, was that The Graduate has 50 taps featuring everything from SN as well as rotating selections from Sac Brew, Stone, Red Hook, Avery, and I can't remember what all. I enjoyed 4 Arrogant Bastards at $2.50 ea and a lot of the rest was a blur. Enough so that I had to return the following night and try out some more.
Pitchers are cheap...drafts are cheap...food is abundant and reasonable....smoking patio outside....seats over 300....great place for families....Thursday night movies from 9 til Midnight...
I cannot say enough about this place.
Cheers in a pizza parlor with tons more beer.
This is fun place.
Jun 14, 2006
The Graduate in Chico, CA
Place rating:
3.26
out of
5
with
10
ratings