La Laiterie Bistro at Farmstead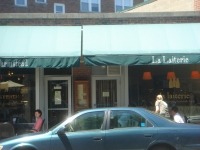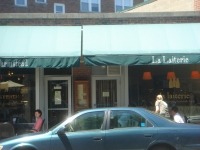 PLACE INFO
Type:
Bar, Eatery
188 Wayland Ave
Providence
,
Rhode Island
, 02906-4308
United States
(401) 274-7177
// CLOSED //
Notes:
No notes at this time.
Added by Beerguy on 06-14-2006
PLACE STATS
Reviews:

8

Ratings:

pDev:

4.83%
HISTOGRAM
Ratings: 10 | Reviews: 8
Reviews by Hobbz:

4.2
/5
rDev
-3.4%
vibe: 4 | quality: 4.5 | service: 4 | selection: 4 | food: 4.5
Been awaiting the opening of this establishment for quite awhile, since there are no other locations in Providence of this sort. [Edit: When they first opened they had carried four dedicated draft lines to beers from Stowe, Vermont's The Shed Restaurant & Brewery... now replaced with mainly rotating, applicably tasty offerings]
La Laiterie is found directly in the heart of Providence's Wayland Square East Side district, adjacent to the Farmstead cheese shop. The space, recently refurbished into the intimately sized restaurant it now is (from the salon parlor that it was), has been well utilized and decorated. The nicely constructed bar is situated at the back of the room and can accommodate up to 9 or 10 comfortably. I found the degree of lighting inside to be pretty much perfect to match the decor.
On the floor, there are variously-sized tables aligned in three rows, with the smaller tables for one or two customers in the middle paralleled with those to each side along the walls. There is also a cozy space for a few who might want to face the window view.
The food menu is just about the right size in number of selections, corresponding to physical dimensions, and is varied in terms of substance and price. A soup of the day, salad selections, burgers and grilled cheese options with a couple of twists round out some of the menu, while more to the laiterie theme are various sizes, selection and accompaniments of cheese plates. There are also a few dessert options, with and without cheese.
To perfectly compliment any food item (or simply enjoying without), the folks at La Laiterie offer a pretty substantial line up of wine and beer choices, by glass & bottle, in all manner of style. As for the beer selection, there were many qualified and enticing ranges. For example, in bottles were Orval, Traquair, Ayinger Celebrator, Schneider Aventinus, Rapscallion Premier, Schlenkerla Rauchbier (Heller Märzen), a Dupont Cider, Victory Prima Pils among others. On draft were Shed's Curds 'n Whey Double IPA, Aryshire Brown ale, a Farmstead Wit's End and Saison Au Point. Delectable! Beer prices ranged from $4-22, served in proper glassware, with even a "flght of beers" possible (draft, 4x4oz.). I was much impressed with the selections, given its size.
Great place and very much worthy the wait. Another small gap in the Providence total food & beer scene has been met - filling a niche with the whole gestalt of things around my city.
Also, there are cheese and wine/beer pairing classes held on the 3rd Sunday of each month, 5-7 pm, with space limited and reservations required.
Generally open 5 - 11 pm, with food 'till 9:30, 10:00 on Fridays & Saturdays. (PS - would place value overall at $$--$$$ considering all, including location, if it were one of the options)
2,797 characters
More User Reviews:

4.58
/5
rDev
+5.3%
vibe: 4.5 | quality: 5 | service: 4.5 | selection: 4 | food: 5
I've visited La Laiterie At Farmstead twice and have been impressed both times. I went last night specifically to try the Hill Farmstaed beers that were on tap left from the new year's eve dinner which was done in collaboration with Hill Farmstead. The beers were amazing. I had a sampler of all four Hill Farmstead beers that were on tap-Twilghlight of the Idols, Jim, Harlan, and Arthur. After the sampler, I was fortunate enough to try the beer George which I had never tried before. As a fan of Hill Farmstead beers, it was a special treat to find them locally in Providence.
The service was great. The bartender was very friendly and knowledgable about the beers.The atmosphere feels very much like a french bistro and is very relaxing.
The food was incredible. We split a cheese plate which I would highly recommend. We also split an Autumn salad and two desserts which were great as well.
897 characters

4.7
/5
rDev
+8%
vibe: 4.5 | quality: 5 | service: 5 | selection: 4 | food: 5
this place just gets it. quality, local, fresh food can be paired with quality craft beer choices just as it can be with wine (don't worry, they have plenty of that too).
i had seen on BA and Twitter that Cisco Cherry Woods was available here, which gave me a good excuse for dinner at the bar while the wife was out with friends. this place doesn't take reservations for less than six people, so i got there right at 5pm for opening. by 5:20, i counted 32 of the 39 seats in the dining room (including the bar) filled. if you sit at the bar, be sure to check out chef's two Prince of Porc trophies.
beer choices: four rotating draught choices. tonight it was ST Gemini, GUBNA, Berkshire Hefeweizen and Palm. bottes have EKU Pils and a couple of German hefes, plus Orval, Thirsty Dog, Smuttynose (IPA & Porter), Allagash White, Nøgne Ø Brown, and Achel. The menu accurately described Young's DCS as "chocolate-y but not weird" and also offered Porkslap in cans, aka "space age containers." along with the Cherry Woods big bottle that i was there for, they had Hoppin' to Heaven for about $20.
but of course, the food is where Matt Jennings has made his name. this place has the very best burger in town, so i went with that. although my medium was a tad undercooked, the cheddar and bun were great companions and both held up in flavor and texture to the 1/2 pound of beef. my side salad was perfectly lightly dressed and tasted very fresh.
menu items run from the grilled cheese at around $12 up to tonight's $30 lamb offering. in between were mussels, shrimp and branzini, which i learned is an environmentally friendly type of European seabass. there is also a chef's tasting menu, which i believe was $45 for 3-4 courses ($60 if you pair each course with wine).
obviously, i am a big fan of this place. it's fresh, it's local, it's damn good, and it doesn't have to be prohibitively expensive. you should check it out... in a few years when Matt Jennings is a household name, you'll be able to say you knew him back when. besides, by then you won't be able to get a table here anyway.
2,095 characters
4.58
/5
rDev
+5.3%
vibe: 4.5 | quality: 5 | service: 4.5 | selection: 4 | food: 5
Awesome spot. My girlfriend and I loved this spot, sadly it was often crowded with a long wait, but if you can get a table then you're in for a treat. Small laid back dining area with a small bar at the back with some stools. They only have 5 or so taps, but they seem to always have good stuff on. Often they have a good belgian or two, a DIPA/IPA, and a couple other interesting beers. They also have a good lineup of bottles if nothing suits your fancy on tap. They seem to know their beer pretty well, and have helped me make my decision. Be sure to get a cheese plate, they sure know their cheese there. The food is all local sustainable farm raised stuff, with always some interesting dishes to choose from. The burgers are awesome and the mac and cheese is to die for. Get there early and put your name down for a table, you won't be disappointed.
854 characters

4.38
/5
rDev
+0.7%
vibe: 4.5 | quality: 4.5 | service: 4.5 | selection: 4 | food: 4.5
I went here for the Weyerbacher Imperial Pumpkin which they have on tap. Now mind you a pint of this cost $7, but I had to try it on tap as I'm a big fan of this style. They had 4 taps with Stone's Bastard, Circus Boy and one other beer that I cannot remember.
In bottle they have Brooklyn Brown, Orval, Ayinger Celebrator, Victory Prima Pils and many other Belgian and German imports.
I only had dessert. The wife and I shared an apple cobbler which was excellent.
I highly recommend this place. They rotate their beers often with only four taps.
550 characters
4.08
/5
rDev
-6.2%
vibe: 4 | quality: 4.5 | service: 4 | selection: 3.5 | food: 4.5
I went here for dinner on St. Patrick's day. The restaurant is small and cozy (not much room for the wait staff to walk around), but the atmosphere is fantastic. It's very simply furnished and decorated, but still classy. I didn't feel like I was walking into a high-class restaurant.
The waitress we had was very knowledgeable about the cheese and beer. They had some Irish specials that night and in addition to their 4 beers on tap, they also had Guinness, Harp, and Smithwick's in bottles (that night only). The beers they had on tap were Golden Carolus, an imperial stout, a double IPA, and something else that I can't remember (ESB maybe?). I had the Carolus and stout. I imagine the other beers were brewed by the Shed. The bar only had beer and wine.
The food was prepared quite well and the amount of food was more than expected (many fine restaurants give small servings). I had the pork shank which was excellent. The menu is small, but this allows them to make everything quite well. My fiancee had the chicken, which also was excellent.
The only thing I was a bit disappointed in was the cheese board. You only get a small amount of cheese and it costs quite a bit ($12 for 3 cheeses and $18 for 5). The cheese and accompaniments were excellent, but I thought the price was a bit much.
All in all, a great experience. I will be back.
1,358 characters
4.05
/5
rDev
-6.9%
vibe: 3.5 | quality: 4 | service: 4 | selection: 4 | food: 5
La Laiterie is a tiny little bistro/cafe next to Farmstead Cheeses, a small cheese and gourmet food shop in the Wayland Square neighborhood of Providence. The restaurant is has about 12 or 15 tables at the most and a small bar at the back. It's directly attached to the shop, which is worth a browse!
They had four beers on tap when i visited: Golden Carolus, plus three beers brewed apparently by The Shedd... an ESB, porter and oatmeal stout. All were excellent beers. They also had a very nice bottled beer selection that features many new england microbrews and some german and belgian imports. You can tell that the beer selection is really chosen for its ability to pair with the food. The menu is focused on cheese, so expect a dairy-centric experience. yay! The quality and attention to detail was top-notch. The place is sophisticated without being pretentious at all.
Definitely the kind of place we need more of... they really pay attention to pairing beer with food and are even sponsoring monday night cheese + beer pairing classes.
1,050 characters
4.2
/5
rDev
-3.4%
vibe: 4 | quality: 4.5 | service: 4 | selection: 4 | food: 4.5
La Laiterie at Farmstead is right next to the Farmstead cheese shop. I love the cheese shop and this bistro is a wonderful addition to the Providence scene. The beers (which is what initially drew me in) are all brewed by Shaun Hill of the Shed for Farmstead. Being the only place outside of VT that these beers are available is a really cool thing for this restaurant. The beers were excellent. I tried the "flight of beers" which was a half a wine glass full of all four beers they were pouring. The $10 for this flight sounds a little high at first but I felt that it was well worth it and that you recieved quite a bit for your money. The four brews were a double IPA, a brown, a blonde, and a saison. All four were delicious. I knew I would like the dIPA but I was suprised by how much I liked the brown. A lot of brown ales are just ok, nothing special. But this one had a really nice taste and mouthfeel. With dinner I had a pint of the dIPA but it was hard not to get the brown.
The menu was very interesting. A selection of cheese platers was available and cheese plays a central roll in the majority of the dishes. My wife and I had the chedder and chive biscuits with a crunchy topped mac and cheese, and a grilled cheese. The mac and cheese was one of the best mac and cheese's we have ever had....so creamy and rich it was unreal. Not sure what cheese they use but it was increadible. The griled cheese was built on thick rustic artisinal bread with fig, field greens, and bacon, again excellent. The burger looked really huge and delicious. They have a pizzeta some seafood dishes and a few other offerings.
Overall the atmosphere feels very sophisticated but is quite relaxed and casual. Our server was excited by the beers and told us about the trip she had just taken up to the brewery. The value is really more $$-$$$ that straight $$$. Quality was very high and the food and beers were excelent. Highly recommended and I will be back.
1,959 characters
La Laiterie Bistro at Farmstead in Providence, RI
Place rating:
4.35
out of
5
with
10
ratings