Pizza Orgasmica & Brewing Co.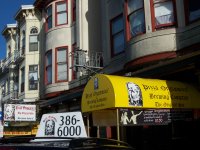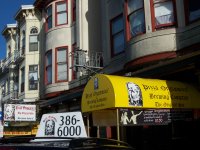 Bar, Eatery
823 Clement St
San Francisco
,
California
, 94118-2218
United States
// CLOSED //
The house brews are private label beers brewed at Devils Canyon BOP in Belmont, CA. To review these beers from Pizza Orgasmica, please add them to the Devils Canyon listing. http://beeradvocate.com/beer/profile/4950
Recent ratings and reviews.
| Log in to view more ratings + sorting options.

Reviewed by ThreeWiseMen from California
3.78
/5
rDev 0%
vibe: 3.5 | quality: 3.5 | service: 4 | selection: 3.5 | food: 5
Stopped in here early Sunday evening (08-22-2010) with my girlfriend. The crowd was really light when we arrived, but slowly filled up with time. We sat in the back left corner of the restaurant, where the old decor meets the new.

According to my girlfriend (who was born and raised five blocks from here), the interior of Pizza Orgasmica was originally modeled after a Catholic church. Polished wood and stained glass covered nearly every surface. For the most part, that's still true. However, a new owner came in around ten years ago and decided to add his own flare to the establishment. Enter flamboyantly bright (and wobbly) tables, ribbons, and tapestries. Our area looked a lot like the Gothic church meets Chuck E. Cheese's. Yippee. According to her, the bar area has remained essentially intact, and it looked and felt a lot nicer, richer, etc. Wish we would have sat there.

I've heard A LOT about this pizza, and it certainly lived up to the hype. The prices are high, but the quality is impeccable: delicious ingredients, great texture, just the right amount of grease; perfect! Liz and I polished off a medium artichoke-mushroom-pesto pizza in a few minutes. Deeeelish!

As for the beer, we decided to stick with the house brews. I ordered the amber and IPA; Liz got the porter. All three beers were a little too sweet and lacked complexity, but they weren't too bad overall. I didn't take a look at the rest of their beer list, but I'm pretty sure they keep six or seven local craft beers on-tap as well.

Our server was timely and kind, and even gave us a break on the beer when our bill came out. I've never been here when it's crowded, but this was a nice overall experience at Pizza O.
Aug 24, 2010

Reviewed by DaveHS from California
4.14
/5
rDev
+9.5%
vibe: 4 | quality: 4 | service: 4.5 | selection: 4
Been hearing about this place for a long time, but it's a bit of a hike for me. Finally checked it out, and I was glad I did.

A- It straddles a sports bar/family restaurant feel. It's HUGE. A bar in front, and at least 2 rooms in the back, one heated by a large fireplace. Lots of tables.

S-The bartender/manager was very accomodating and talkative. He poured me samples of everything on draught and seemed to know his stuff.

S-The 4 grain hefe is a hell of a beer. To call this beer unfiltered is an understatement. It's so cloudy I thought it might have been poured from the bottom of the keg! And delicious. Really, if you go and only have one beer, the 4 grain is the one to try. The IPA wasn't so hot. And their peach beer was a bit watery. But in general, they hold their own with most brewpubs in the Bay Area.

F-Didn't try it.

V-Pints are competitively priced. And as I mentioned before, they are happy to give you samples of anything, so it all works out.
Aug 18, 2010

Reviewed by woodychandler from Pennsylvania
4.15
/5
rDev
+9.8%
vibe: 4.5 | quality: 4 | service: 4 | selection: 4 | food: 5
On Clement, between 9th and 10th Avenues, this was the first of what was now three locations in a chain on the occasion of my visit. Theirs was a really wide space running east to west along Clement not far from Green Apple Books. Why, oh why, did none of this exist when I was out here?

The west end of the space had an entryway under a long yellow awning. The entry was right facing with a left facing window hung with heavy curtains. Coming in, the left side was filled with an eclectric mix of upholstered furniture, including loveseats, couches, high-backed royalty chairs and a color chalkboard above it all. A neon outlined swordfish hung above a recessed area for a flat screen monitor. Further aft was the varnished, "U"-shaped, dark wood bar with an extensive mirror and carved wood back bar. Replica Tiffany lamps hung over both the bar and back bar. A small seating area of high tables and chairs was aft left with a projection screen against the wall. Down the right wall was a suit of armor, a non-working fireplace, and a line of high tables and chairs fronting an extensive mural. The mural depicted The Original Sin, but in a twist, Adam held the apple behind his back in his left hand and tempted Eve with a slice of pizza as The Serpent, entwined in a nearby tree, put his forked tongue into a foamy mug of beer. Beyond that was a medium sized stained glass window and hanging over most of the bar area was a huge stained glass panel. An archway aft, left, led to the lavs right, past the other fire place.

Had I entered on the East end, a semi-private dining area was left, behind diaphanous curtains. Aladdin and 101 Nights with cushions for seats. Right wall was kitchen with a series of stained glass windows. Overhead were gold crescent moons. And stars. Left side had a bunch of standard tables and chairs. Rope work on right side just before re-entry to bar area. Lavs were all of the way aft, slightly left, on restaurant side. Even a little bit of Alaska on the walls back aft by the lav (masks, mostly).

My dry-humored server was Mia. Be sure to ask for a magnet.

Food: Well, it was mainly pizzas, but in every striipe imaginable and all themed to sex (gasp!). "Doggie Style"; "Hot Mama"; "Inspiration Point"; "Farmer's Daughter"; "Sweet Valentine"; and "Divorce" for those who cannot get their act together, just to name a few. Get the cornmeal crust!

Beers: Golden Ale; IPA; Peach PA; Raspberry Hefeweizen; Amber Ale; 4-Grain Hefeweizen; Porter (N2); Blueberry Best Bitter.

I liked the IPA best, but fruit-beer lovers rejoice! This is your place. Some thumbnail reviews for yinz.

Peach PA (2): Nose was peachy. Slight bitterness on finish. After taste was like biting into a big, ripe peach.

Blueberry (3): Blueberry pancakes!

Rasp. Hef (4): Like round dimpled chewing gum followed by explosive banana.

4-G Hef (5): Not much different from regular Hef, but muted banana. Not sure.
Dec 25, 2009
Reviewed by 1759Girl from California
3.25
/5
rDev
-14%
vibe: 3.5 | quality: 4 | service: 2 | selection: 3 | food: 4.5
I love and hate how this place is near a university. Love it because I'm a student and there is a student discount day for beer. Also I love that customers are also pretty cool in general. Clement street is the next hipster spot, I believe.
However, the staff is often lame college kids who take frequent smoking breaks and seem like you 'are totally ruining their day' if you want to order a beer or food.
The pizza is expensive but I've never had a bad one. The beer is pretty decent. I love having it local. Wish that I didn't always seem to go there at the same time the fish shop next door is doing their daily hosedown. stinky!
As for selection goes.. its a shame that they are often out of more than one type of beer. :(
Anyhoo...
Good food, good beer, good place to watch the game. Nice daily specials.
Jul 23, 2008

Reviewed by francisweizen from Washington
3.95
/5
rDev
+4.5%
vibe: 3.5 | quality: 4 | service: 4 | selection: 4 | food: 4
This place is kind of a trip. Located in the inner richmond district of SF it's a bit of a hike for us downtown dwellers, but in my opinion it is definately worth the trek out. Hey, if it's a nice day just take a 30 minute stroll down geary and than drink some good beer and eat some decent cali-style pizza. Atmosphere is pretty good with some tables and ovens in the back room and a veryyyy long bar in the front room with a bunch of TVs for sports and what-not. The beer quality is good with the 4 grain hefe a personal fave. They seem to always have 2 unfiltered hefes flowing as long as a pale ale and ipa and some nice seasonals. The baltic porter last winter was great at 8.1% a real ball buster. Anyways, I digress...the pizza is thin crust cali style, but decent enough and the toppings are fresh. Service has also been good on all of my visits as well. For a small pizza chain that has a contract brewing agreement, they are doing pretty f;ing good if you ask me...
May 21, 2007
Reviewed by clickpush from Pennsylvania
4.03
/5
rDev
+6.6%
vibe: 3 | quality: 4.5 | service: 5 | selection: 3.5 | food: 2.5
I pass this place very frequently and needed to finally stop in and see what it's all about. At about 2 in the afternoon the restaurant was dead. One other table in the entire place (which is large). I chose a table next to their attractive fireplace - even though it was warm outside, the a.c. was pretty strong - and spent my meal admiring the wood paneling along the walls and questioning the sincerity of the collage of World Cup decor they had hanging everywhere. Service was quick and friendly, but I'm not sure what that's worth in an empty restaurant. The pints were nicely priced at $3.50 each but their pizza prices were a bit of a rip. Luckily they were still serving their lunch specials and I was able to get a small 2-topping pizza, side salad, and pint all for $8.50. Good deal, really, considering that at dinner the small pizzas cost that much or more by themselves. The beer menu consisted of 7 brews, of which I tried two. Beers were okay and the food was just alright. Salad of iceberg lettuce and a flavorless dressing. Pizza is very thin crust, not my style, but some might love it. Worth checking out, over all.... at least for the beer.
Jul 20, 2006
Reviewed by klewis from Ohio
4.03
/5
rDev
+6.6%
vibe: 5 | quality: 4 | service: 4.5 | selection: 3 | food: 4.5
My party and I went to this establishment primarily for the pizza, but it turns out that it is also a brewery. The atmosphere is much classier than your average pizza place, with a fireplace, gentle lighting, and a Japanese style room with low tables and plush cushions to sit on (eat here if possible). About 6 or 7 of their brews were offered along with some standard imports and domestic beers. I only had the chance to sample two of their beers, which were decent. The pizza was quite delicious, and the name of the restaurant is somewhat fitting. Service was friendly and excellent. I was more impressed with the food than the beer, but the overall experience is worth making a trip here. (For a kick, ask to see the drink menu.)
Jun 17, 2006
Pizza Orgasmica & Brewing Co. in San Francisco, CA
Place rating:
3.78
out of
5
with
13
ratings