Kennedy's Irish Pub And Curry House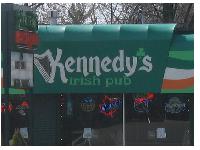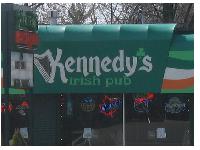 PLACE INFO
Type:
Bar, Eatery
1040 Columbus Avenue
San Francisco
,
California
, 94133
United States
(415) 441-8855 |
map
kennedyscurry.com
Notes:
No notes at this time.
Added by klewis on 06-17-2006
Ratings: 13 | Reviews: 10
Reviews by hotglassmama:

3.99
/5
rDev
+2.8%
vibe: 3 | quality: 3.5 | service: 4.5 | selection: 4.5
I literally stumbled upon this place while exploring the outskirts of the North Beach area. It was a strange walk from the back deck door to the bar area, an infusion of India's bright colors and the darkness of an Irish pub, somewhat inviting but I decided that the outdoor deck offered a nice place to take a break with a $2 Guinness. In short order I moved on to the Lagunitas IPA on tap and found it to be just as the bartender had described it. The service was very friendly and helpful. After a bit, my friends caught up with me there and we chatted on the deck until it was time to move on to our next bar. I might return on my next visit not just for the $2 Guinness and the deck, but for more recommendations from the friendly bartender.
746 characters
More User Reviews:
3.75
/5
rDev
-3.4%
vibe: 3.75 | quality: 3.75 | service: 3.5 | selection: 4
3.91
/5
rDev
+0.8%
vibe: 4 | quality: 3.75 | service: 3.75 | selection: 4 | food: 4.5

3.9
/5
rDev
+0.5%
vibe: 3.5 | quality: 4 | service: 4 | selection: 4 | food: 3.5
What does Indian food have to do with an Irish style pub? No, there isn't a punch line coming. I'm asking because I personally have no idea. But hey, whatever works. We've got a ton of taps here to choose from. I wouldn't say I was particularly blown away by anything I saw available, but the list was decently solid. At least enough to merit the visit. The overall vibe of the place is, shall we say, scruffy. A view of the bathrooms will showcase this best. There's a pool table here, also, if that matters to you. Bottom line is this is kind of a dive that serves a good variety of nice beer. It's a bit of a walk from the north beach hub, but if you do make it down here you'll find enough to keep yourself occupied.
720 characters

4.31
/5
rDev
+11.1%
vibe: 3 | quality: 4.5 | service: 4.5 | selection: 4.5
This place has over 50 beers on draft so I figured I would stop in. This place has no atmosphere as it is dark and can be used in a dictionary as a definition of a dive bar. Several large TVs provide entertainment. Taps are located in different areas around the odd shaped bar that almost is like the letter Z. Three glass refridgerators contain all the bottle selections, probably upwards of 75 or so.
The tap list was nice as they had beers from St. Bernardus, LaChouffe, Avery, Anchor, Bear Republic, Sierra Nevada, and Lagunitas. Pitchers of SNPA are $15, and most pints were $5. I had a few pints here, each one was fresh which is always a concern with a large number of taps. The bottle list was also loaded with local micros.
Service was very friendly and prompt. I did not try any food, but it is Indian-centric with only some basic pub appetizers like wings and mozzerella sticks. The restaurant is kind of separated from the bar in a weird way too.
If you want some good beer choices and don't care about atmosphere, this place is for you.
1,054 characters

3.85
/5
rDev
-0.8%
vibe: 2.5 | quality: 4 | service: 4 | selection: 4 | food: 4
Atmosphere: A bit of a dive really. Nothing special, although the bar says high quality beer when there are Chimay goblets lined up along with plenty of other specialized glasses for whatever beer you may ask for on tap vs. bottle.
Quality: The beers here are good quality craft beers, with a lot of California beers showcased, but imports are in abundance as well, as is Dogfish head in bottle form. Mostly west coast and European, but all high quality choices from what I saw.
Service: Friendly, good pours in the glasses, and helpful in answering questions when they didn't have something in stock.
Selection: As alluded to in selection - very good. Lots of stuff on tap and a very large selection in the cooler behind the bar for bottle choices. I'm quite impressed and will have to visit this place again next time I'm in town.
Food: I've eaten in the Indian restaurant next door on a previous trip but not on this one, and on that trip it was good stuff. The restaurant side was getting patronage while I was there on the bar side this time, and the smells were wonderful. Had I not had dinner earlier I would have picked something up.
Prices are very reasonable here: $3 Guinness and the Indian food isn't too expensive either. Not sure what the range of prices are on the wider range of beers, but the two beers I had tonight I though were very reasonable for the selection I was getting.
1,402 characters
3.75
/5
rDev
-3.4%
vibe: 3.5 | quality: 4 | service: 2.5 | selection: 4.5 | food: 4.5
Stopped in here on a Saturday night about 8PM and it was pretty busy. Now granted, the pub is on one side and the curry house on the other. I found it faster to just get up and walk over t the pub side for my beer. Service was slow at first but once I got on them they picked it up. Beer selection was good. Lagunitas, Anchor, Oskar Blues, Avery, North Coast, Big Sky, Allagash, Ommegang, Bear Republic and on and on. I had a Brother Thelonius and Laguniatas Pils on draft. About 35 handles and 30 bottles. All were pretty solid. The food was very good. We had alot of food for $30 and I was impressed minus the hit and miss ervice.
632 characters

3.58
/5
rDev
-7.7%
vibe: 3 | quality: 3.5 | service: 3.5 | selection: 4 | food: 3.5
My girlfriend has been telling me about this place for the past couple of weeks. She and her coworkers like to come here and wind down after long shifts. I visited Kennedy's for the first time this past Saturday night. I got shit-housed. Still, I believe I can write a pretty decent review for the place. Here goes:
Liz and I rolled in here around 10:30pm to meet up with some friends. We were the first two there so we grabbed a couple of pints (actually, she got a 12oz. bottle) and parked it on a bench seat near the pool tables. I was surprised to see the place so empty on a Saturday night. "Oh well, maybe it'll pick up", I thought to myself. Unfortunately, it never did. Luckily, a lot of her friends showed up and we all had a really good time on our own. I guess that's what it's all about, right?
Kennedy's is certainly one of the stranger bars I've been in. Irish clashes with Indian in a very bizarre, aesthetically unsound, and yet harmonious sort of way. The restaurant is separated from the pub area only by a half-wall with flimsy curtains. The bar itself is located in a small room in the corner of the establishment, and doesn't offer a whole lot of seating. There are two billiards tables, a jukebox, and a TV in the section we sat in, which was adjacent to the bar room and the Indian restaurant. All in all, this place felt a bit like a dive bar - a dive bar that serves tasty Indian food.
The tap selection at Kennedy's was nice. There were probably thirty or so offerings (though five or six of the beers were out), nearly all of which were either popular west coast micros or British pub ales. The bottle selection was more diverse and impressive, though I stuck to the draft beers. BMC still took up a lot of space on the tap line and in the coolers, but there were enough good craft beers that it didn't bother me. Also, every beer I ordered tasted fresh and clean; no dirty tap lines here.
As mentioned above, I got pretty trashed at Kennedy's. I had a good time, though I think it was more of a result of the alcohol and the people I was with. I wasn't too impressed by the establishment itself, but if that same group (or a similar group) wants to meet up there again, I'll be down.
The Indian food was pretty good - not great, but solid. It went very well with the couple of IPAs and ambers that I ordered. Pub grub is also available for those that want it, but I think Indian food and beer is a much more exciting combo. A very cool idea.
Between 11:00 and 11:30pm, there's a happy hour deal where you buy one beer and get another free. The free beer is redeemable with a token they give you, and you can use it any time (only on draft offerings).
2,684 characters
4.1
/5
rDev
+5.7%
vibe: 4 | quality: 4 | service: 3 | selection: 5 | food: 5
This is a first, and I love it. Makes me wonder why more bars can't serve non-American/British food. Or conversely... why that awesome Thai or Indian or Mexican restaurant down the street can't start brewing their own beer :)
The food quality itself is average, compared to other Indian places. However a HUGE bonus is that they serve both north and south indian style of Indian food. Meaning you get your typical tandooris, naans, and curries... in addition to the less common Indian vegetarian dosas, idlis, etc... This combo of Indian food styles is rare indeed for most stand-alone Indian cuisines.
This plus that fact that this happens to be the ONLY bar/brewpub I know where for once a burger, calamari, chicken strips, is not on the menu - is a huge plus, and what sets them apart despite the average food and mediocre service.
Beer selection is pretty good. I had a Racer 5, and Lagunitas Censored on tap. Followed by a bottle of Eye of the Hawk.
Good atmosphere as well. Casual restaurant. Pool tables, TVs, bar. A mix of families just there to eat, and younger people drinking some beer and playing pool.
1,120 characters
3.48
/5
rDev
-10.3%
vibe: 4 | quality: 4 | service: 1.5 | selection: 4 | food: 5
Bizarre. The ambiance is part student bar, part cheap curry house. I liked it because it was so oddly schizophrenic. The bottled beer selection is extensive and inexpensive - I had an Old Rasputin for $3.50, while the wife plumped for the Racer 5 on tap. The tapp pour was definitely not a pint, and just a little more than the amount of liquid that came from my bottle, so I think the bottles represent best value.
The food menu was enticing and the vegetable korma and eggplant curries we had were both very well done. Service on the other hand was pretty cold and tough to come by. While not exactly rude, the encyclopedia would not have had a picture of our server under the entry for friendly. Never mind - doesn't bother me as long as they serve up good beer and food!
776 characters

3.43
/5
rDev
-11.6%
vibe: 3.5 | quality: 3.5 | service: 3.5 | selection: 3 | food: 4
This isa good place with a decent irish pub and indian restaurant combined atmosphere. The beer selection is pretty good with many micro bottles, a good draught selection, and crazy prices on guinness pints and pitchers of pabst. The food is really good and the service and quality are good as well. The Indian food here is a bit more fancy than my normal TL haunts with less grease and more fine spices. All in all a nice place to get some curry or tikka masal and some pbr or guinness...Decent enough.
503 characters
4.08
/5
rDev
+5.2%
vibe: 2 | quality: 4.5 | service: 4 | selection: 4.5 | food: 4
I've been told that many share my bewilderment of the concept of an "Irish pub/Indian curry house." Fortunately, the combination works well in this case. The atmosphere left much to be desired. Promotional decorations from Corona and Bud fill much of the establishment with some Guinness advertisements understandably making a few appearances, and the bathrooms are pretty gross and smell like the dog kennels in the animal shelter that I once worked at. If you can get past this, however, you will be rewarded with an excellent selection of draft and bottled beer and some great Indian food. Service was fast and friendly and prices were very reasonable. Worth checking out.
675 characters
Kennedy's Irish Pub And Curry House in San Francisco, CA
Place rating:
76.9%
out of
100
with
13
ratings