Red Rock Elephino
| Red Rock Brewing Company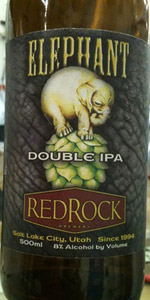 BEER INFO
Brewed by:
Red Rock Brewing Company
Utah
,
United States
redrockbrewing.com
Style:
American Double / Imperial IPA
Alcohol by volume (ABV):
8.00%
Availability:
Year-round
Notes / Commercial Description:
Red Rock's Elephino (el-uh-fine-oh) Double India Pale Ale is an American style IPA. Its intense citrus, floral and perfume-like, resinous and piney aroma come from the use of a copious amount of American hops. This beer is double dry-hopped on whole leaf Amarillo hops for a vivid, fresh aroma. The huge hop profile is backed up by a malty sweetness that lends a hand in this fine creation's balance.
Added by Wasatch on 08-18-2010
Reviews: 34 | Ratings: 149
4.5
/5
rDev
+14.8%
look: 4.5 | smell: 4.5 | taste: 4.5 | feel: 4.5 | overall: 4.5
Acquired via trade from Wasatch so a big "Thank You" goes out to him. Poured from a 16.9oz bottle into an imperial pint glass.
A: The beer is a deep golden brown color, with a short off-white head that fades slowly and leaves a thick lace on the glass.
S: The aroma contains a lot of fruity citrus, grassy hops and caramelized malts.
T: The taste starts out with strong sweet flavors of citrus and caramel. Then a strong but not over-powering hops bitterness comes in. The malt character is hearty but not too heavy and provides a good balance to the big sweetness. The after-taste is slightly sweet.
M: Crisp and very smooth, medium body, medium carbonation, finish is slightly sticky.
D: Very tasty, goes down quite easily, not too filling, good kick, very good representation of style, this is an excellent 2IPA worth drinking for a whole evening.
859 characters
4.37
/5
rDev
+11.5%
look: 4 | smell: 4.5 | taste: 4.5 | feel: 4.5 | overall: 4
very citrusy and piney. not overly bitter or hoppy for a double IPA. crisp, sweet flavor. very drinkable, but more enjoyable in smaller sips. currently my favorite IPA.
my only complaint might be that $3.50 seems a bit pricey. granted it is a 500ml bottle. i might rather see a 12oz bottle for $2.50
300 characters

4.37
/5
rDev
+11.5%
look: 4 | smell: 4.5 | taste: 4.5 | feel: 4.5 | overall: 4
I really should swing by RedRock to get one that I know is fresh. This one is from a state store here in SLC. Poured into my IPA goblet.
Appearance: A rather hazy burnished golden color. The head settles fairly quickly and leaves a small amount of lacing.
Smell: There is a sweet maltiness behind all of the hops. For the hops I sense herbs, pine, and citrus and tropical fruits. Really nice.
Taste: Hoppy bitterness all through the taste. The maltiness is on the front end of the taste. This is a really intense beer and the maltiness stands up to the hoppiness. The taste of the hops mirrors that of the smell.
Mouthfeel: This is a smooth beer. The finish is fairly long with intense hop flavors. The carbonation is soft allowing the flavors to linger even longer than they otherwise would.
Drinkability: This a is a big hoppy beer in a 500 ml bottle with a fairly high ABV (8.0), so I probably would not drink more than one of these in a sitting. That being said, it is really good and one that I would seek out.
1,021 characters

3.77
/5
rDev
-3.8%
look: 4 | smell: 4.5 | taste: 3.5 | feel: 3.5 | overall: 3.5
Wasatch threw this bomber in as an extra in our most recent trade. Thanks, John.
Elephant IIPA has an orange colored body with a stick off-white head that has good retention and lacing.
The aroma is very good, with all kinds of bright citrus aroma, some bitterness, and a good bit of pine and resin. A bit of sticky caramel malts.
After a very promising aroma, I was looking forward to my first sip of Elephant, but it disappointed a little bit. The malt profile is much bigger and sweeter than the aroma suggests. Up front comes citrus hops followed by a sticky caramel flavor, with more hops following. The second dose of hops has pine and resin flavors. The malt is about as big as the hops.
Pretty dry finish and above average carbonation. Maybe a little bit light also.
Elephant is pretty good. I'd say the aroma is the best part.
840 characters

3.63
/5
rDev
-7.4%
look: 4 | smell: 3.5 | taste: 3.5 | feel: 3.5 | overall: 4
A-pours a cloudy golden amber color with a creamy off white head, thick and robust leaving a pretty thick lace on the glass.
S-the nose is piney with sticky malts. notes of caramel and cooked brown sugar. piney resignous hops, light citrus and orange.
T-the taste is much of the same, sticky malts of caramel and caramelized brown sugar. piney resignous hops and orange citrus light behind. a light lingering bitterness in the finish.
M-medium to light body that falls off slightly in the finish. a touch thin with a fair bit of carbonation and semi dry.
D-solid double IPA, well balanced with a tasty hop profile and nothing too over the top. the bitterness lingers slightly but not offensively in any way. quite drinkable.
728 characters

4.25
/5
rDev
+8.4%
look: 4.5 | smell: 4.5 | taste: 4 | feel: 4 | overall: 4.5
Whoa, this is a serious DIPA to be reckoned with, from RedRock. Pours a gorgeous amber color with enormous pillowy head that has a nice silky meringue-like character. Nose has a candied mixed fruit quality that is seductive to say the least. It's complex, but I'm still thinking maybe apricot and peach. It delivers a nice balance of malt and big hop flavors on the palate, with the candied quality present again, in addition to a lovely pine cone quality. Bitterness hits late on the finish, and the aftertaste is pleasantly bitter. Love this beer.
549 characters

4
/5
rDev
+2%
look: 4 | smell: 4 | taste: 4 | feel: 4 | overall: 4
500 ml bottle at the brewpub. Pours a deep cloudy orange color with a thick white head. The aroma is great; rich simcoe, fruity, apricots and pine. The flavor is very nice; slightly bitter, citrus, quite fruity, light pine. A raw bitterness lingers in the finish. Very enjoyable. Keep these beers coming Red Rock!
313 characters

4.1
/5
rDev
+4.6%
look: 4 | smell: 4 | taste: 4 | feel: 4 | overall: 4.5
A: The pour is an amber sort of color with a nice finger's worth of off-white head.
S: A very pleasant citrus hop aroma of grapefruits and oranges along with a very nice pine note. A bit of sweet caramel malt underneath.
T: There is a bit more malt sweetness than I generally prefer for an IPA, but the piney hops provide a really excellent bitterness to the beer. The citrus notes are more subtle, but quite pleasant.
M: Medium both in terms of body and carbonation with a nice bitter finish.
D: This was really nice and I always enjoy trying a beer from a (new to me) brewery. I would definitely give this one another go.
627 characters

3.95
/5
rDev
+0.8%
look: 4 | smell: 4 | taste: 4 | feel: 3.5 | overall: 4
500ml Bottle
Pours a nice cloudy amber/orange color, nice carbonation, nice one-finger off-white creamy head, which quickly dissappears, leaving some sticky lacing behind. The nose is hoppy, with a slight malt note, some citrus, slight pine note. The taste is sweet, hoppy, nice little malt blend, citrusy, and some pine notes. Medium body, the finish is slighty dry/bitter. Drinkable, a pretty nice DIPA at only 8% ABV.
423 characters
Red Rock Elephino from Red Rock Brewing Company
3.92
out of
5
based on
149
ratings.