Fallen Apple
| Furthermore Beer
BA SCORE
77
okay
67
Reviews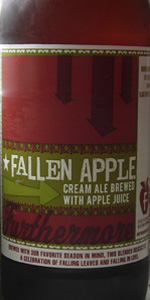 BEER INFO
Brewed by:
Furthermore Beer
Wisconsin
,
United States
furthermorebeer.com
Style:
Cream Ale
Alcohol by volume (ABV):
6.20%
Availability:
Year-round
Notes / Commercial Description:
No notes at this time.
Added by Golden2wenty1 on 10-25-2006
Reviews: 67 | Ratings: 114
3.12
/5
rDev
-5.2%
look: 3 | smell: 3.5 | taste: 3 | feel: 3 | overall: 3
Light, crisp, clear orangish, coppery amber color, active carbonation with a just off white head that drops quickly to a ring. Light grainy malt aroma, a bit caramelly and quite sweet. Apple is there too, spicy like an apple pie might be, maybe a little cinnemon and nutmeg.
The taste is of a thin pale and caramel malt, plenty of apple flavor but not overwhelming or obtrusive, and spicy notes from it bring up the rear. Sweet to the point of cloying, not gross like a flavored malt beverage like Mikes Hard or something, but enough to keep the drinkability down. The mouthfeel ends up quite dry.
Overall: sweet and simple. I didn't have a bad experience drinking this, but its not something I would recomend a friend to spend money on. The malt body was a bit too thin for me, but did like the spicey notes that came with the apple flavor.
843 characters

3.12
/5
rDev
-5.2%
look: 3 | smell: 3.5 | taste: 3 | feel: 3 | overall: 3
Not a bad apple beer, but not a very good cream ale. But the drinking experience was decently pleasant, so where all this nets out in my mind is with a pretty average rating, but should earn extra consideration from those looking for something unique and different to try.
It poured a pretty dark caramel color, with decent white head formation. Aroma was definitely apple...and cidery, with some caramel maltiness under it all. Flavor was rather caramel-y up front which I didn't find particular appropriate for a cream ale but tasted pretty good. The apple character was notable but not overpowering. In the taste (versus the smell) aroma was less like cider and more like bitter apple. Mouthfeel was pretty unremarkable. Not bad.
I'd weakly recommend it.
759 characters

2.97
/5
rDev
-9.7%
look: 3 | smell: 3.5 | taste: 3 | feel: 2.5 | overall: 2.5
Fallen Apple, Cream Ale brewed with Apple Juice, Further Brewing Company, Black River Falls, WI, 12 oz brown bottle.
"Brewed with our favorite season in mind, this blended delicacy is a celebration of falling leaves and falling in love." Aw, sweet.
Clear and tawny red appearance, small to nil for the head. Apple-y.
Nose is tart at first, then comes the apple. A little sweet, a little sour.
Taste: big sour snap at the front, then fading. Pucker, pucker, smack, smack. A little wine-y, cider-ish. The body's thin, though, and I can't find any hops. Maybe I'm not supposed to...it's a cream ale, after all.
I've got a problem. It's too much apple flavor, for me, personally...and not enough any other flavor to make it interesting. Can't finish this very easily. No joy slips through my lips. Bracingly tart, but too thin in the body, with nothing in the finish.
Got to admit that that works fine for some people. Not me. Bit one-dimensional.
Glad I was able to pick up a single of this. Only $1.49 down the drain.
1,024 characters
2.91
/5
rDev
-11.6%
look: 3.5 | smell: 2.5 | taste: 3 | feel: 3 | overall: 3
Pours into a sparkling, bubbling, apple juice color with a small beige head.
Aroma was mostly bread. Is this what apples spells like? Barely.
Flavor is quite creamy with some caramel and crackers. The aftertaste finally brings forth some apple flavors. They're sweet, tangy, and seems to tie a knot in the back of the throat. Just a bit too little, a bit too late.
Mouthfeel is quite carbonated, which adds something refreshing to this light beer, and pairs well with the attempted apple flavors. Slightly syrupy.
Drinkability is fine due to its lightness and light flavors. However, it isn't very intriguing and won't compell you to drink more and more.
I wasn't really paying attention with this beer. It's just everywhere I turn, a late fall release, and when my wife made a comment about it, I decided to get a single. I THOUGHT I was going to get a localized Woodchuck version of Cider Ale. Turns out this is just a beer with apple tendancies. Cream Ale is a decent style category. I was initially disappointed when trying this because I was geared up for some apple cider. After readjusting my expectations, I was still disappointed because the apple flavor isn't very forthcoming.
1,203 characters
3.48
/5
rDev
+5.8%
look: 3.5 | smell: 3 | taste: 3.5 | feel: 3.5 | overall: 4
12 oz bottle at Natt Spil poored into a pint glass
The partners from this brewery must be great hustlers because their beers keep appearing everywhere I turn in south central Wisconsin.
Appearance: Apple juice with a thin beige head. Good lacing.
Aroma: sweet apple bread but not potently
Taste: sweet apples, biscuits, slight back of the palate tartness
Mouthfeel: sweet, wet front. Creamy middle. Dry, grainy finish
Tastes like a light English ale blended with apple juice
Very drinkable but not very exciting
533 characters
3.48
/5
rDev
+5.8%
look: 3.5 | smell: 3 | taste: 3.5 | feel: 3.5 | overall: 4
12oz single, Riley's
Props have to be given to furthermore...in a saturated market they keep brewing obscure styles
appearance: pours into a sweetwater pint glass, hazy golden amber body with a creamy beige head and pretty nice lacing...looks a bit like apple juice i'd say
smell: bready malt structure injected with apple juice, a little tart and sugary...not too exciting
taste: I wont have a problem drinking this beer because i like apples and eat at least 1 a day, but i dont think its a particularly well made beer (unlike knot stock, which i very much liked). It just tastes too much like motts apple juice on top of bready malt, which i guess isnt that bad of a thing. Perhaps i just expected more a fresh apple compliment.
mouthfeel: syrupy, medium body
drinkability: fine
800 characters
3.4
/5
rDev
+3.3%
look: 3 | smell: 3 | taste: 3.5 | feel: 4 | overall: 3.5
Picked up a single at Riley's here in Madison. Described as a "Cream Ale Brewed With Apple Juice" so I entered it as a Cream Ale. Sue me.
Pour: apple juice/macro yellow under a cm of off-white head that fizzles quickly to a ring.
Nose: musty cracker malts, hint of tart apple. Not a whole lot going on.
Taste: solid cream ale base - smooth biscuit malts and some grain, tart apple juice comes in the middle, though subtly. The finish is cracker dry with a lingering grain finish.
Feel: light and bubbly, on the thin side but standard for a cream ale.
Drinkability/Overall: another solid if not underwhelming beer from Furthermore. The apple is present but restrained as was the pepper in their Knot Stock. I like what they're trying to do, I just feel all of their beers are too...safe. It's hard to find shelf space around here if you're not going to do something to garner interest. Best of luck to them, however.
930 characters
Fallen Apple from Furthermore Beer
3.29
out of
5
based on
114
ratings.