Makeweight
| Furthermore Beer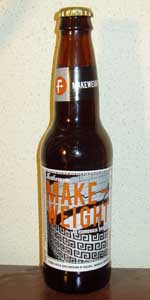 BEER INFO
Brewed by:
Furthermore Beer
Wisconsin
,
United States
furthermorebeer.com
Style:
Belgian IPA
Alcohol by volume (ABV):
8.50%
Availability:
Year-round
Notes / Commercial Description:
No notes at this time.
Added by Golden2wenty1 on 01-11-2008
Ratings: 140 | Reviews: 97
4
/5
rDev
+4.2%
look: 4 | smell: 4 | taste: 4 | feel: 4 | overall: 4
Grabbed this one as an extra recently, needless to say I was thrilled to get such a nice extra! Twelve ounce bottle served at cellar temp and poured into a snifter. Consumed on 08/11/2008.
Poured a very dark brown, very hazy with some light reddish highlights on the side. Nice head about one inch high faded quickly but left behind some nice side glass lace a good amount of broken crown.
The aroma was mixed, started out almost like a triple, with that deep yeast like grain aroma, mixed with some fruits and a light touch of alcohol. As it warmed a little, lots of light hoppy notes started to filter through. Hints of light citrus with touches of fruit The flavor was more of the same, except in reverse. It started with some nice light hop notes, hints of lemon and tangerine. Some nice bready malts in the middle and a nice overall profile. Medium body was slightly chewey at times, but still very solid with good carbonation throughout. No real sense of the alcohol here at all, as this was remarkably refreshing.
Overall I thought this was a very solid beer. Not sure quite what the style was, but very solid all around. I would have no issue in trying this one again anytime, really a solid beer all arounnd.
1,220 characters
3.78
/5
rDev
-1.6%
look: 4 | smell: 3.5 | taste: 4 | feel: 3 | overall: 4
Deep brownish garnet with a quickly rising light tan head. Malty nose with candied sugar, some caramel and alcohol. The mouthfeel is medium with airy carbonation. Interseting blend of malts. There's a spiciness from the yeast that's noticed right away. This definitely reminds me of a Belgian Pale ale the most in its flavor profile. Warming alcohol toward the back. Finish is dry with a very light hopping. A different kind of brew that hits the mark. I'd definitely try this again.
483 characters
3.97
/5
rDev
+3.4%
look: 3.5 | smell: 4 | taste: 4 | feel: 4 | overall: 4
A 12 oz bottle courtesy of JAYW.
A: The ale is darker than most Belgian IPAs that I've seen. The label calls it a hybrid of the Belgian, English and American pale ale styles, so it seems that the darker, fuller English malts are at play here. The color is dark amber, a rich brown-red meld. A finger or so of head has laced in spots around the glass.
S: The nose has a solid malt backbone, caramel and touches of toffee. The Belgian aspect is dark candi sugar with lots of equally dark fruits.
T: As I ruminate on the beer, the Belgian influences strike me as yeast and sugar. The mouth has the full, happening taste of dark alefruits, raisins et al, and tart green apple. The caramel malts aren't nearly as pronounced as in the nose. Dark candi sugars further push the BSDA aspect. The American contribution, I surmise, is hoppiness. Unfortunately that element never really stands out. This is no Hop-It but I like that it veers far off of the path.
M: The mouthfeel is complex, packing the flavor of a Belgian dark ale and an English pale ale together.
D: The 8.5% is a little high but one bottle to sip over several hours will do you good.
1,148 characters

4.22
/5
rDev
+9.9%
look: 4 | smell: 4.5 | taste: 4.5 | feel: 4 | overall: 3.5
Pours a caramel redish brown hue just short of ruby with a fluffy khaki head. Smells just lovely. Biscuit and toffee, apples and tropical fruit. Perhaps tea of some sort? Taking a sip I'm getting a caramel apple sweetened with candi sugar. Some softly bittering hops kicking in with very little citrus flavoring contribution, contrary to the nose. Green apple holds court at the back of the tongue. Sweet, crisp and dry, not overly so on any count. Letting this warm a touch to see what other flavors emerge: It grows a bit creamier, revealing some nutty notes, a touch more peppery spice and maybe lime in lieu of the pineapple I was smelling. The alcohol becomes a bit more evident on the back end as well, though not in an obtrusive way, lending some whiskey-like qualities before being overtaken with bubble gum and orange zest. I should revise that as it sounds gross, but hey, thats what I'm tasting and I kinda like it. Warmer, the mouthfeel begins to resemble a tripel more than anything to me. Just a touch too sweet overall - a bit of a hit to the drinkability tally, but its such a joy to taste the evolution of this beer I can't take too much off.
Seems like the Belgian pale is winning out in the end in this three-way battle, but even as it emerges victorious, the grainy malt of the American pale seems to want to drag it back into the ring. A wild ride of a complex beer. Really hard to peg just what this should be classified as. Several characteristics do point to Belgian IPA, but award points to Furthermore for stylebusting. Creative effort, and a great introduction to a brewery I'll be seeking out more from. Thanks to autumnaldave for this highly karmic extra. Very tasty unclassifiable brew.
1,718 characters
4.02
/5
rDev
+4.7%
look: 4 | smell: 4.5 | taste: 4 | feel: 4 | overall: 3.5
a: Low head with decent retention over a pretty, ruby-brown colored beer.
s: Intoxicating aroma, a complex "mash-up" of contrasting scents. Sweet, sugary malts fermented with an estery strain carry aromas of dark, concentrated and caramelized fruit sugars on, as another reviewer observantly mentioned, a base of black tea. Big presence of somewhat pulpy hops...papery English with a touch of lemony American. Herbal aromas include dried sage and thyme. Alcohol becomes a bit fumy as it warms, maybe some hot high-order alcohols (might be misidentifying, but in any case I enjoy how it works here), and contributes to a tart green apple aroma...the Flanders influence? Even a little bourbony with the blend of spicy alcohol and fruity tobacco.
m: lively medium carbonation and body
t: Not as complex as the aroma might suggest, but quite nice. Pale grains steeped in black tea; deeply accented with a range of dry, dark and light fruits. Green apple, white grape. Herbal flavors similar to those in the aroma. Dries very quickly. Alcohol a little hot. A variety of hop flavors, with the bulk being English and a nice balancing citrus from the Americans. A moderate bitterness comes in the long, dry finish.
d: very enjoyable, but limited...I'll let the drinkability take the hit for what may or may not be off alcohols
shipped Southward by dirtylou, and consumed over the course of a lovely Kansas U vs. UNC-CH match
1,421 characters
3.8
/5
rDev
-1%
look: 4 | smell: 4 | taste: 3.5 | feel: 4 | overall: 4
A - Pours a medium brown with a tan head and spotty lacing.
S - Pineapple and tropical, fruity hops, Belgian candi sugar, pale malt and toffee.
T - Fruit flavored black tea, touch of alcohol, slight taste of caramel and toffee, sweet Belgian candi sugar and a touch of fruity hops.
M - Medium body and slightly bubbly with a slight tea like astringency, a dry finish and a slight alcohol hotness.
D - Another very unique and tasty beer from Furthermore. Like most of their beers this one is very difficult to squeeze into a style. I look forward to more of their creative creations.
586 characters

3.69
/5
rDev
-3.9%
look: 5 | smell: 3.5 | taste: 3.5 | feel: 3.5 | overall: 4
I didn't really expect much from this beer as a brief review of its packaging led me to believe that it was somehow a collection of spare bits from around the brewery, but I picked it up because I'd enjoyed other Furthermore beers. And I was glad I did, as I enjoyed this beer, but also found it quite interesting because it was unique and hard to classify or compare to other beers I've had.
This beer is beautiful. It is a deep red color with brilliant clarity and a thick creamy head of tightly packed tiny bubbles that didn't overflow the rim of the glass but was durable enough to leave great lacing on the glass and insulate the underlying liquid from first sip to the last. Aroma and flavor were pleasant and not overpowering, but kind of puzzling. It is kind of as described. I didn't detect the English influence as it was the mildest of the three included recipes, but I definitely got an APA type hoppiness in both the flavor and aroma and a Belgian spiciness. There was something else going on here that I couldn't quite put my finger on; a maltiness that was a bit cerealy but not unpleasant. I wish I'd purchased two bottles of this stuff so I could've continued my investigation into some of the flavors therein.
This is a good (not great beer), but an extremely interesting one. There's a lot of flavors in that bottle.
I would recommend this beer. I bought a 12oz single at 3 Cellars in Franklin, WI.
1,420 characters
3.98
/5
rDev
+3.6%
look: 4.5 | smell: 4 | taste: 4 | feel: 3.5 | overall: 4
Poured this into a fluted Bokrijk tulip, and it produced a rising cylinder of tan foam that worked it's way above the rim, forming a convex bow. The fluffy cap stayed in place long enough to be impressive. Color was a deep crimson, with slow upward carbonation. Hazy suspended sediment in the glass, but nothing residual in the bottle. Patches of lace hang around the glass.
Mild nose of toffee and light apple. Some Belgian character from the yeast.
Caramel and apple flavors, with moderate carbonation that is welcome. It was a little fizzy at first but has mellowed after sitting a few minutes. Mildly bitter hops are detected in the background, but understated. Lightly spicy phenols suggest a higher alcohol content. Notion of tea or berry linger in the background too, more of a dried cherry. The fruit and spice character reminds me most of a Dubbel. Glad I tried the single, might look for it on tap when in Wisconsin.
Thanks to malcontent for snagging this in WI...
978 characters
3.92
/5
rDev
+2.1%
look: 5 | smell: 3 | taste: 4 | feel: 5 | overall: 4
Creativity is one of the most important things I look for in a brewer, and Furthermore is starting to climb up my list. This strikes me essentially as a brown ale, which is usually another way of saying "boring" -- but not in this case. It looks absolutely beautiful in the glass, with a ruby brown color that really catches the light nicely. Fair head. It has a great toasty malt character and a wonderful bittersweet brown sugar undertone throughout. And yet surprisingly dry and crisp, with a mildly hoppy finish. Highly recommended.
536 characters
4.05
/5
rDev
+5.5%
look: 4 | smell: 4 | taste: 4 | feel: 4.5 | overall: 4
Pour is a ruby red with an off white head. The head had nice retention.
I really love the nose here - so complex. Tropical fruits, belgian yeast, hops. Pinapple.
Smooth entry, velvety mouthfeel. Flavors of pinapple, macintosh apple, yeast, a hint of caramel.
Balanced finish with plenty of bitterness hitting at the sweet malts.
Long fruity finish.
Complex and flavorful beer.
382 characters
4.32
/5
rDev
+12.5%
look: 4 | smell: 4.5 | taste: 4.5 | feel: 4 | overall: 4
From the Brewery: Our triple pale is a bastardization of three regionally distinctive recipes that were stacked in unequal measure in order to make a beefy beer which highlights each recipe's finer points: Esters from a dominant Flanders yeast are reigned-in by cleaner American and London strains; Kent Golding hops provide mild bitterness, giving English and Belgian specialty malts room to breath; Oregonian hops offer a fragrant nose; Belgian candy sugar boosts the strength of this mash-up to 8.5% ABV.
A triple pale ale??? Ok.
Furthermore is known for unclassifiable brews like the peppered pale ale Knot Stock and its Irish dry rauch stout Three-Feet Deep but this brew takes the cake when it comes to difficult to place within a set style parameter.
Appearance: Medium brown body with amber or perhaps mahogony highlights and a healthy beige foam. Not a common color for beer, especially an ale such as this.
Aroma: Damned complicated and kind of playful. As the beer warms dramatically different things start to happen. Each sniff brings new notes of interest. Let's begin with black tea since that is what I first noticed and that is the aroma stays most consistent over the course of the beer's short life in my glass. As the beer warms tobacco notes come out but before that come a slew of hop and yeast inspired fruits, herbs and spices: pineapple, ginger, rum, passion fruit, kiwi, and some raw iron for good measure.
Flavor: Like a bitter cup of tea cut with sugar and lemon or a lime wedge drizzled in simple syrup and topped with a mint leaf, or maybe crushed tobacco and a shot of rye. Complex and as changing with the temperature as the aroma.
Mouthfeel: A steady astringent tea leafy-herbal hopped quality lasts throughout. Full bodied. Notably boozy at times. Highly effervescent.
Drinkability: High. This beer changes so much from start to finish that by the time you down your last ounce you are ready to start all over again.
A hard beer to define, an easy beer to drink.
2,006 characters

4.37
/5
rDev
+13.8%
look: 4 | smell: 4.5 | taste: 4.5 | feel: 4.5 | overall: 4
Thanks to autumnaldave for this amazing extra! He recommended drinking it first as it has a good kick to it, and I'd have to agree with him.
Pours a nice copper color with a decent size, creamy looking head.
Smell is predominately hoppy, large amount of citrus, with a surprisingly strong sugary malt backing. Very well balanced aroma. There are hints of alcohol though, but faint.
Wow, the alcohol is fairly evident, I get a good warming sensation in my mouth and belly, but it doesn't distract from the taste at all. As hoppy as the aroma was, it doesn't translate to the taste as much, instead we get a very sweet tasting beer. Lots going on, malt, caramel, other spices mixed in but not overwhelming.
My first Furthermore ale, if their other beers are as delicious as this one, I've certainly been made a fan.
817 characters
4.15
/5
rDev
+8.1%
look: 4 | smell: 4 | taste: 4.5 | feel: 4.5 | overall: 3.5
12oz single, riley's
always excited for a new furthermore release, consumed during giants-packers q2
appearance: poured into a bells tulip glass, dark garnet body, shines in the light of the tv and candles, nice beige froth head with decent lacing
smell: aromas favor the belgian side of this belgian/american/uk hybrid, yeasty and candy sugar, crisp floral hops, smooth malts and alcohol noticed
taste: served this up at a warmer temp on the advice of Cokes' review...not sure what to make of this interesting concept beer. there is a whole lot of complexity in this beer that really defies any classification...its big and boozy - the alcohol smacked me right in the face...belgian characteristics drive the flavor profile - brown candy sugar, lots of belgian sweetness, floral hops, smooth malt. A very nice beer from furthermore who continues to earn high marks in my book
mouthfeel: smooth and full bodied, strong alcohol
drinkability: ok
949 characters
4.69
/5
rDev
+22.1%
look: 4 | smell: 5 | taste: 4.5 | feel: 4.5 | overall: 5
This really isn't a Belgian IPA, and doesn't claim to be, but that's the nearest jumping off point here on BA. This would otherwise squarely fit in the "experimental" category. Also, this needs to warm up to at least 50 degrees for full effect..straight out of the fridge doesn't work as well.
It pours ominously dark for a cross examination of three types of pale ales, a barely translucent deep mahogany trimmed with a trim and sticky beige foam.
The nose is broad and seems to bring a kaleidoscopic array of aromas with each sniff. Pineapple, plantain, rusted tin, black tea, lime leaves, almonds, mushrooms, aged sugar cane rum, liquorice, crystallized ginger... It's more obtuse than acute, and specific flavors are blurred, but it smells delicious. And it does smell strong, but that's not a turn off here.
Into the mouth, there a swelling rock candy sweetness that ebbs fruitier towards clementines, star fruit, underipe bananas, and kiwi. It transitions towards grain, but meanders first through something that seems barrel aged (though it absolutely is not, and thus is a thousand times more impressive), with it distinct notions of vanilla, toasted coconut, burnt caramel, and hazelnuts...and booze itself, and I'll get back to this in a bit. Grain takes over with doughy and nutty and spicy qualities that moderate the middle sections, and the booze starts to flare, giving it a rye whiskey lean. Likemind hops hit with spearmint, evergreen sap, lime juice, metallics, and dried herbs. The continuing lime and mint hop traits mingle with a transformed and forward rum-like booziness to create a lasting Mojito impression. It's 8.5% is worn up front, and is entirely integral to the taste.
It's medium-full build with small-beaded steady carbonation makes this drinkable despite the insistence of its ABV. It coats the mouth, then begs to be coated anew. Make no mistake, the strength is tasted. But like a great liquor, when it tastes this good, it only matters in how much trouble you'll get into.
As experiments go, this is a Platinum medal. All my preconceived notions were way off. I've never had anything like it, and I love it. This isn't a Belgian IPA, it's not Farmhouse anything, it's not even what they call it "a mash up of English American,and Belgian Pales".
It is what it is.
Perhaps "Ridiculously Fucking Innovative" and "a Motherfucking Revelation" could not be approved for the label, so they had to tag it somewhat lamer.
But as such, it succeeds tremendously and is an absolute must try for everyone that can find it (even at about $11-$12 a sixer). And don't let sticker shock balk you, buy all you can find.
With all this discovery, I'm not even sure how to rate it, and my initial numbers calculated out to a 4.85. That seemed high at first, now the present 4.55 seems embarrassingly conservative. This could be the jewel in any brewery's crown.
Whatever the math works out to, it is fantastic, and certainly cements Furthermore as a brewery to watch for (and buy from) amongst its better known regional peers.
Update 5/26/08:
5 months have seen the hops wither some and more familiar fruits (yellow apples and pears and figs) take control. It has moved past most of the raw rogueness that made me love it so much and melded into something akin to a well-hopped Dubbel. For those that thought the alcohol was a bit rough, it has begun to smooth out and will enjoy it more now.
But I was stricken with its brashness and I feel like it's losing its edge.
Still, though, it's very good, and I'm only nitpicking.
Update 11/24/08:
Trying one of this year's batch alongside one that's been aged a year. The fresh stuff is phenomenal and affirms my initial thoughts and ratings...the older stuff just good-ish at this point, and something like a dubbel / old ale cross...but without some of the depth that that description might hint at.
The hops seem to die quickly here, and they truly make this beer.
Don't bother aging any and get it as fresh as you can. It's a mindfuck then...and only then.
4,034 characters
4.32
/5
rDev
+12.5%
look: 4 | smell: 4.5 | taste: 4.5 | feel: 4 | overall: 4
Picked up a six at Riley's here in Madison for $11.99. Always a pleasure to see a new one from Furthermore, who have put together a pretty impressive line-up in its short time on the market.
Described as "A single-batch conflagration of English-, American-, and Belgian-Style Pales".
Pour: dark amber-mahogany, nearly opaque under a finger of khaki foam that fades to a spotty coating and ring.
Nose: fragrant and floral hops, sweet, sugary, passion fruit esters, light musty yeast and whiff of alcoholic vapor.
Taste: herbal/metallic English hops, citrusy American varieties, syrupy sweet candy sugar, spicy Belgian yeast and a hearty alcohol burn.
Feel: viscous with a biting effervescence typical of many American-Belgians.
Drinkability/Overall: a cool concept from an innovative local brewery. Brash and rough around the edges, there's a lot going on here and I like most of it. Truly blurs the boundaries of style in a way we will be seeing more and more in the future of American craft beer.
1,003 characters
Makeweight from Furthermore Beer
3.84
out of
5
based on
140
ratings.