The Galway Tribes Irish Pub & Ale House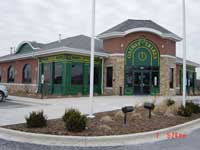 PLACE INFO
Type:
Bar, Eatery
9680 Lincolnway Lane
Frankfort
,
Illinois
, 60423
United States
(815) 464-9881
// CLOSED //
Notes:
No notes at this time.
Added by BeerAdvocate on 06-27-2006
Ratings: 7 | Reviews: 7
Reviews by reallyhoppie:
4.15
/5
rDev
-0.7%
vibe: 5 | quality: 4 | service: 4 | selection: 4 | food: 4.5
My favorite bar, no doubt about it.
Most of the staff is knowledgeable and friendly. The food is great and has been featured on a local restaurant review show (Check Please). Good live music on many nights. Beer garden with a bar in the summer and an outdoor fireplace for the smokers during the winter. If you aren't into beer that day, they have a good selection of wine, Irish whiskey, and even meade. Their beer selection is not what it was a couple of years ago, but it's still the best around, and not a BMC handle in sight.
531 characters
More User Reviews:
4.75
/5
rDev
+13.6%
vibe: 4.5 | quality: 4.5 | service: 5 | selection: 5 | food: 4.5
I went to this place today for lunch and had a great expericence. Walked in, not too many people in around 2pm but still a good amount. Nice wooden tables with tall chairs for sit down, tall bar with tall bar stools for those who want to sit at the bar. This place is fairly open and with big windows that make it seem bigger then it is, not that it is small but they expand the horizon a bit. Sat at the bar and was immediately asked what I wanted, as I researched the list before I came I asked if they still had the Surly 16 Grit on tap and lucky for me they did. By the way, if you have no had this beer it is a fantastic Double IPA with a great citrusy lemony smell and flavor. Not too many places around Chicagoland have Surly on tap. Between small talk with the bartender he ends up giving me two samples, one of Laganitus Hairy Eye Ball and New Holland Dragons Milk. Both decent brews but I am glad I stuck with the Surly and Alagash I had.
Turns out Two Brothers made a mistake on one of their orders (suppose to ship 10 barrels for St. Pattys but only shipped one). Well to their surprise, the Surly 16 grit showed up, and as the bartender put it, it worked out because his manager was not very happy with Two Brothers for their mistake. He said one of the distribution managers bought it but when he found out about the mistake, helped Two Brothers out and gave Galway Tribes the keg instead of taking it himself. Man to be a distribution manager...
Regardless of all of that nonsense the service was great, food was pretty good and beer selection stellar for a south west location.
I would definitely recommend this to anybody within a 30 mile radius who likes good beer and digs good music (live music on the weekends)
1,736 characters

3.88
/5
rDev
-7.2%
vibe: 4.5 | quality: 4 | service: 4 | selection: 3.5 | food: 3.5
I've been coming here for a couple of years now. This place is really gorgeous...it looks like someone built it by hand, stone by stone. Huge room with plenty of tables, a good sized stage for (yikes) Irish music, and a very large porch. Interesting architectural touches that make it cozy though. The bar is an "L" with several towers. Full liquor and a nice Irish whiskey selection. Beer...here's where this place has been really up and down over the last couple of years. Generally a good selection of Three Floyds, Bell's (again finally), some west coast things like Mendocino, and a Surly thrown in. Had a 16 Grit recently. Wow. However, it seems like the selection has dwindled from its peak. That's probably good because there was a tendency towards some dirty lines occasionally, but not anymore. The food has also sort of regressed to the mean. They serve a proper Guiness. In fact, all their beers are served in Imperial pints by default.
I generally go there during the day/afternoon when there is a decent group of people there and you can talk with the bartenders (they're all really professional and knowledgeable). However, I was "treated" to an evening crowd there this weekend. A bunch of loud, young, REALLY drunk asswipes overtook the place. I don't know about you, but I'm not a huge fan of bathroom pukers of BOTH genders.
Don't get me wrong... like the Tribes a lot. But I'll stick to day drinking there from now on. I still suggest stopping there...heck, you're on your way to Flossmoor anyway so you might as well stop.
1,545 characters
4.03
/5
rDev
-3.6%
vibe: 4.5 | quality: 4 | service: 4 | selection: 4.5 | food: 2.5
This place is about a half hour down the road from where I live and my wife and I have tried it a couple of times.
First the Good:
- The decor and atmosphere was decently authentic for the Irish pub feel they are attempting to create here. The bar is set back from the front a bit and the sizable dining area wraps around the bar.
- This place has a very large and decently diverse beer list. I have had some outstanding Belgian style ales on tap here and am always thrilled by their bottle list.
- They occasionally host brewer dinners with brewers coming from all over to host. I have not attended one of these but I give kudos to anyone who brings in the guy from North Coast Brewing for a dinner!
The Not so Good:
- The beers are a bit pricey compared to other local sources.
- Both my wife and I found the food to be ho-hum at best and in one case just not good. The fish and chips was ok, but for the price of this dinner, there should be two pieces of fish. The shepherd's pie was plain awful. It was intended to be a "modern" take on this classic and it was not good at all.
- The food prices are REALLY high for what you get. I recommend coming in for the beer alone and skipping the food altogether.
1,220 characters
3.83
/5
rDev
-8.4%
vibe: 1 | quality: 4 | service: 3.5 | selection: 5 | food: 4
I had a good time at this place. Their draft selection is amazing, especially given their location in the south suburbs. In addition, they pour a full pint of barleywine whereas other bars greedily pour it in tiny bourbon snifters for the same price.
However, the TVs were blaring so loudly that it interfered with my appreciation (that's *really* loud). We mentioned it to the manager, and he said he would turn it down, but I couldn't tell if he did. The customers all seemed to be into the game, so it looks like the bar is just pleasing its patrons. I would have a hard time recommending this bar due to the poor atmosphere.
630 characters
4.43
/5
rDev
+6%
vibe: 4.5 | quality: 4 | service: 4.5 | selection: 5 | food: 4
My wife took me to Galway Tribes this evening for my birthday. The restaurant is an attractive looking building in amongst the suburban sprawl of Frankfort. Dark and cozy atmosphere inside, with two fireplaces. We arrived at 6:00 and were seated immediately. Our server was friendly and helpful, answering a few questions about food and beer with no hesitation. The beer list is awesome. Plenty of top notch brews. They were out of DFH 90 minute on tap, so I went with the 60 minute for my first brew. We shared an appetizer of potatoes skins stuffed with corned beer and kraut, kind of small, but very tasty. My wife had the Rueben; it was a healthy sized offering that she really enjoyed. I went with the corned beef and cabbage which was also a generous portion and again very tasty. I had a Great Divide Titan IPA with my meal. We finished up with a Baileys topped cheese cake slice. Great desert to wrap up a great dining experience.
938 characters
4.2
/5
rDev
+0.5%
vibe: 4.5 | quality: 4.5 | service: 4 | selection: 4 | food: 4
This is the kind of pub I've been looking for close to home. It's usually a drive to Chicago for this sort of beer selection. This is an "Irish pub" with an extremely nice horseshoe bar with little knicknacks all around the top and what reminds me of old Country Irish carved furniture. Good sized place. Open floor plan so you can see most of the bar/restaurant from anywhere you sit.
The quality of everything was about as good as it gets. Everything was immaculately clean. The beer all tastes like it was really well taken care of and the food uses all quality ingredients.
The service was truly top notch. The bartenders are super friendly, talkative and beer knowledgable. The owner has been around each time I've been there and has greeted me each time I walked in the door.
The selection is the best I've found, in Illinois, outside of Chicago. 25 Taps and, I believe I was told, 75 bottles. This all goes with their beer engine. None of the 25 taps were bmc. 3 Floyds and Rogue had a couple handles along with Unibroue, Victory, Dogfish Head had 3 along with all kinds of others that slip my mind at this moment. Flossmoor Station sends their newest creation here as well. Last time I was there Doppelganger IPA was on tap. The bottle selections were all very good as well.
I've only eaten here once and it was an appitizer but it was very good. Lamb lolli-chops. With some sort of fresh mint dipping sauce. Everything was very fresh and top quality. Great big menu with a lot of dishes that made my mouth water.
Pints are $5 except for a few of the high ABV beers. which are mostly $6. Monday nights all the $5 pints are sold for $3 all night. A great deal if you ask me. Some of the bottles seemed a little steep but most of them were reasonable.
Music every Thursday, Friday and Saturday. I was there once for the music and it was someone playing the guitar in front of the fireplace. "Irish reebel rock" they called it but he played all kinds of good quality sing-along good vibe music. Everyone is friendly and gets along great.
2,048 characters
The Galway Tribes Irish Pub & Ale House in Frankfort, IL
4.18
out of
5
based on
7
ratings.