Dismiss Notice
Dunk'l Amber Wheat Beer
| Uinta Brewing Company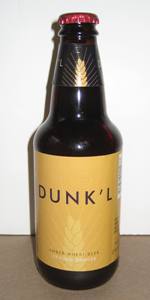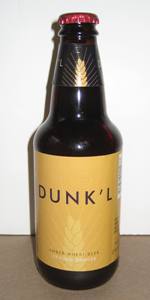 BEER INFO
Brewed by:
Uinta Brewing Company
Utah
,
United States
uintabrewing.com
Style:
Dunkelweizen
Alcohol by volume (ABV):
4.00%
Availability:
Year-round
Notes / Commercial Description:
No notes at this time.
Added by warmstorage on 12-19-2006
This beer is retired; no longer brewed.
HISTOGRAM
Ratings: 10 | Reviews: 9
Reviews by Bones54:
3.35
/5
rDev
-0.6%
look: 3 | smell: 3 | taste: 3.5 | feel: 3.5 | overall: 3.5
Recieved this one in the "Beer of the Month" package. I didn't realize there were any breweries in Utah- I thought they had odd brew laws that would prevent a brewery from opening. Anyway- overall this is a nice beer from Four +. It fits its style well. Yet there is nothing about it that will have me searching it out. Its one of those "nice to try" beers.
357 characters
More User Reviews:
3.8
/5
rDev
+12.8%
look: 3.5 | smell: 3.5 | taste: 4 | feel: 3.5 | overall: 4
Four +'s Dunk'l is a moderately dark American wheat ale. It pours a mostly clear deep amber body with orange highlights beneath a creamy head of off-white. The head dwindles fairly readily given the style, but it does leave behind some nice sheets of thin lace. The nose is limited with just some mild caramelish malt, but the flavor is fuller and richer. It's biscuity, gently toasty, wheatish, and caramelish with just a light touch of sweetness. A neutral yeast strain is used, and it's clean, and not at all fruity. A firm bitterness balances it, and it finishes fairly short and dry. Some bitterness lingers. Well brewed but somewhat lackluster.
650 characters
3.45
/5
rDev
+2.4%
look: 3 | smell: 3 | taste: 3.5 | feel: 3.5 | overall: 4
A 12 oz bottle courtesy of Wasatch. This Four + Brewing bottle has an Uinta cap on it.
A: The ale is a brown amber color, quite clear with a thin band of head that neither rises nor falls at all, it just is.
S: The aroma is a cereal grain with some caramel richness and a bit of nutty dryness.
T: The ale is a very malty brew, not malty in the doppelbock sense though. The maltiness is caramel and nuttiness, adding a sweeter flavor to the grain body. Hops are not present here, clearly only to bitter and not to add flavor. This is no dunkel weizen, it lacks the esters and concentrated alcohol strength, but for a dark wheat ale is does alright.
M: The mouthfeel is at times dry and sweet with nuts and caramel.
D: The ale's restrained flavor and darker malt richness make this a good session ale, two or three would not be too much.
850 characters

3.5
/5
rDev
+3.9%
look: 3.5 | smell: 3.5 | taste: 3.5 | feel: 3.5 | overall: 3.5
Poured a dark amber hue with a three finger foamy tan head. There was decent retention and good lacing.
The smell featured a light wheat malt with some otherwise husky grain and a mild sweetness.
The taste was extremely light with some caramel malt characteristics. Not much detectable wheat spice or yeast esters.
The mouthfeel was clean and light.
Overall, while very drinkable, not an impressive beer. However, nothing offensive either.
451 characters
2.92
/5
rDev
-13.4%
look: 3.5 | smell: 1.5 | taste: 3.5 | feel: 3.5 | overall: 3
Acquired via trade from Wasatch, so a big "Thank you" goes out to him.
Poured from a 12oz bottle into a US tumbler pint glass.
A: The beer is a bright golden brown color with a decent-sized white head that fades quickly and leaves a thick lace on the glass.
S: The aroma is very pungent and heavy with wheat and just a little bit of caramelized malt.
T: The taste is of wheat, caramelized malt and some spice. It's decently balanced with a mild hops presence. The after-taste is bready and slightly sweet.
M: Crisp and smooth, light-to-medium body, medium-to-high carbonation, clean finish.
D: It's a little tasty, not very filling, goes down ok, but to be honest it really didn't do much for me. I'd prefer something with a little more flavor, a little more kick and much better smell.
808 characters
3.35
/5
rDev
-0.6%
look: 3.5 | smell: 3.5 | taste: 3 | feel: 3 | overall: 4
I split a cold 12 oz bottle with Stopper.
poured into a snifter. The beer pours a slightly hazy amber color with very minimal edge layer of off white head, recedes to almost nothing quickly.
Aroma is grainy malt with caramel and some apricot scents as well. Overall fairly mild but sweet.
First sip reveals an average to lite body with very fine and spacious carbonation. The flavor is mild and fairly sweet like the nose advertises.
The beer is very easy to drink and clean and well crafted. Not the most complex brew, but solid and simple and what I expected from the label, and Utah.
590 characters

3.13
/5
rDev
-7.1%
look: 3.5 | smell: 3 | taste: 3 | feel: 3 | overall: 3.5
12 ounce bottle, states bottled 12/1/06, no ABV stated, but this is a Utah beer sold in grocery stores, so by definition it's 3.2% ABW (~4.0% ABV) or less. $1.29 for a single at the Wild Oats on 4th South in Salt Lake City.
Four+ is ostensibly the experimental wing of Uinta Brewing, though it's difficult to find much more information about them online.
Pours a bright medium amber, light carbonation noticeable, dense light tan head that leaves low lacing.
Aroma is limited, but some bready, malty notes.
Taste is fruity and a little tangy, with some grainy and sweet bread notes. Hops are muted, bordering on unnoticeable. The wheat isn't really detectable.
Mouth is average, a little tingly carbonation, just barely thicker than average, low ABV beer.
A drinkable, if unremarkable beer.
814 characters

3.83
/5
rDev
+13.6%
look: 4 | smell: 3.5 | taste: 4 | feel: 3.5 | overall: 4
Pours a nice clear golden amber color, nice carbonation, nice creamy tan head which stays a very long time, the lacing is basically all head. The scents are of sweet malts, and caramel. The taste is slightly bitter/sweet/malty with a under tone of caramel. The body is on the light-medium side. Drinkable, a nice little brew from Four +.
337 characters
3.38
/5
rDev
+0.3%
look: 3.5 | smell: 3 | taste: 3.5 | feel: 3.5 | overall: 3.5
Another Utah brew courtesy of Wasatch - this Four+ Amber Wheat. Poured from a 12 oz. bottle with a twist-off cap. Love the simple yet elegant label design...bottled on date: 12/01/06.
A: Light amber, clear & with few carbonation bubbles. Thin white film of a head but nice sheeting lacing.
S: Toasted grainy malt, faintly sweet & cereal-like.
T: A little bitter and sour, nutty and full of grain. Something like wheat bread but with a hint of lemon. Not as dark as I'd expected but not bad flavors.
M: A little tingly from a mild spiciness and a definite crisp, mildly hopped bitterness. Mouthfeel is light, but carbonation is medium. Refreshing.
D: Though ABV is "unknown", I'm guessing this is another of those 4%-ish light-yet-drinkable Utah beers. It doesn't 'wow' you but doesn't offend either. Good for more than one and worth a try. Thanks again, John, for sending it.
890 characters
Dunk'l Amber Wheat Beer from Uinta Brewing Company
Beer rating:
3.37
out of
5
with
10
ratings