19th Anniversary Birthday Suit
| Uinta Brewing Company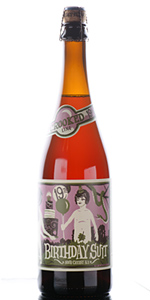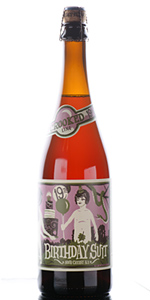 BEER INFO
Brewed by:
Uinta Brewing Company
Utah
,
United States
uintabrewing.com
Style:
American Wild Ale
Alcohol by volume (ABV):
5.70%
Availability:
Limited (brewed once)
Notes / Commercial Description:
No notes at this time.
Added by JohnGalt1 on 03-19-2012
This beer is retired; no longer brewed.
HISTOGRAM
Ratings: 165 | Reviews: 48

2.83
/5
rDev
-13.2%
look: 4 | smell: 3.5 | taste: 2.5 | feel: 2.5 | overall: 2.5
Picked up at my local store. I knew the ratings were somewhat lackluster but curiosity got the best of me.
Appearance – Pours into a tulip with a lighter red, dark orange hue with lots of fizz and about a half finger of bright white head that dissipates almost immediately leaving very little lacing.
Smell – A rather muted aroma. There is obvious cherry aromas, though not strong and more juice like than anything. A bit of raspberry comes through as the beer warms. A very subtle tartness at the end. That's about it.
Taste – Yikes. Holy metallic. There is a cherry punch up front but this fades to a rather metallic, tinny horrible aftertaste. This tastes like carbonated cherry juice mixed with pennies. Just the slightest of tartness.
Mouthfeel – Light bodied, too much carbonation. Finishes dry.
Overall – I will not be finishing this beer. This is not good, which is sad, because this brewery has put out some other solid offerings. No way I'm going to buy one to see how it ages.
1,007 characters

3.5
/5
rDev
+7.4%
look: 3.5 | smell: 3.5 | taste: 3.5 | feel: 3.5 | overall: 3.5
Poured from a 750ml into a piece of MBC stemware.
A: Pours a reddish-orange with a white head, which recedes quickly.
S: Very sweet, syrupy cherry, grape, slight yeastiness.
T: Slightly tart cherry builds, and then fades into a coarse, yeasty graininess. A tiny note of funk. Tart apple, grape.
M: Light-bodied with lively carbonation.
O: Not bad, but a bit bland and one-noted.
383 characters
3.58
/5
rDev
+9.8%
look: 3.5 | smell: 3 | taste: 4 | feel: 3.5 | overall: 3.5
Split a 750 ml. Poured into a duvel glass
A: pours a light red with hints of punk with a finger of fluffy pinkish white head that leaves no lacing to speak of.
S: cherry, cherry skins, almost a hint of raspberry. A light hint of earthy tartness but doesnt smell nearly as sour as I had hoped, Honestly the aroma is a bit more subtle in all ways then I had hoped for.
T: loads of while cherry flavor.... With a tartness on the finish that almost brings a hint of raspberry... This beer is not incredibly sour... Reminds me of a cherry flavored dfh which is a Berliner Weiss if I remember correctly. But again a lot of good cherry flavor.
I am also not getting any oak to speak of
M: a light medium body with high medium crisp carbonation. Not a bad mouthfeel but nothing rally exciting either... Good for the style.
O: a good cherry beer.... Not the best kriek I've ever had though.... But I suppose they don't call it a kriek, they call it a sour chery ale. Which I suppose it is... The sour is a bit more subdued then I would have liked... And the beer seems to me like it would have been more accurately labeled a cherry Berliner Weiss.
1,144 characters

3.76
/5
rDev
+15.3%
look: 4 | smell: 3 | taste: 4 | feel: 4 | overall: 4
750 bottle, bottled on 3/29/12,
A: Pours pink to blood orange red with a fizzy white head, light lace.
S: Cherries and raspberries, mildly fragrant.
T: Real nice true cherry flavour, some lemon zest as well. Eating chocolate with the beer, really opened up the fruit flavours and made the beer considerably better, so I'd suggest that pairing.
M: Light-bodied, crisp, bubbly/sparkling wine like. Mild acidity, sour but not lambic sour.
O: A good beer, a tad overpriced, but a sour beer for $12 is still a good value. Hoping for the poor man's Belgian Red, that it wasn't, but worth a try.
593 characters



2.83
/5
rDev
-13.2%
look: 3.5 | smell: 3 | taste: 2.5 | feel: 4 | overall: 2.5
750 ml bottle
Served into a snifter
A: Clear pale ruby/pink colored body with a small soft white head that perhaps has an undertone of pink. No retention nor lacing really at all, but that's fairly typical for the style.
S: Pale malts, wheat, faint cherry, cherry juice and some dry floral notes. It's not really anything you'd expect or anticipate for being a "wild ale" or the labeled "sour cherry ale" that the bottle states. Not bad but nothing outstanding.
T: Wheat, pale malt, bread, faint cherry flavor though quite crisp. Honestly, this is pretty bland. Their a faint tartness you'd get from something along the lines of a Berliner Weisse but this is not reminiscent of any wild ales I've had before. It doesn't have enough character. Really disappointing.
M: Extremely bubbly, high carbonation but quite dry in the finish. Essentially what you'd want for this type of beer, not much to fault it for.
For $15 this was a huge disappointment. Nothing I'd need to purchase again, even if it was offered much cheaper. In a nation full of quality American Wild Ales, this doesn't even come close to scratching the surface of a good quality one.
1,152 characters
3.77
/5
rDev
+15.6%
look: 3.5 | smell: 4 | taste: 3.5 | feel: 4 | overall: 4
newest addition to their crooked line. a sour cherry ale for their 19th anniversary. enjoyed at the beer hive on main street in salt lake. pours a mostly clear pink grapefruit color with effervescent bubbles into a chalice with a tall rising white bubbly head. smells fruit sour, not brett or lacto sour. the fruit really dominated the nose, and the champaigne style carbonation prevents a deeper sniff. flavor is qute different, not sweet at all, crisp. almost like a raspberry ginger ale (do they still make those?). some sourness in the finish, tart and tannic, light body. surprisingly low abv for this series, but a rather clever brew overall. a bomber of this felt like a lot to me, so maybe a good one to share with some mates.
734 characters
3.48
/5
rDev
+6.7%
look: 3.5 | smell: 3 | taste: 3.5 | feel: 3.5 | overall: 4
Picked up at the COOP over the weekend... Paid a pricey $13ish... poured into my little CC goblet... The brew is a hazed orange with a definite red/pink tint and pinkish head. The head really doesn't last that long and leaves little in the way of cap or lacing.
Nose shows some minor Belgian qualities.. bit of spice with plenty of fruity notes... some sorta grainy malt comes through and helps bring the aromas up and out of the glass.
The flavor shows hints of a lactic bite (maybe?), but it seems minor... sour cherries are definitely the big player.. dusty pale malt/wheaty element brings the brew together a bit... a bit of tannin shows with warmth... I think I may be associating the tannins with the lactic acid...
Body is a light/medium with a medium carbonation that helps the drinkability..
Honestly not sure that this one should be in the "wild" category, but conversations with a couple of well informed buddies made me believe... I think.
3.5/3/3.5/3.5/4
974 characters
19th Anniversary Birthday Suit from Uinta Brewing Company
Beer rating:
3.26
out of
5
with
165
ratings