Sea Legs Baltic Porter
| Uinta Brewing Company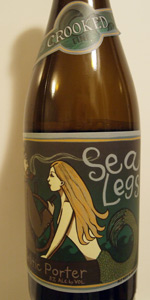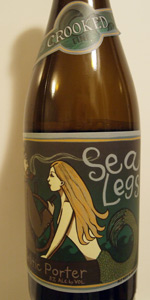 BEER INFO
Brewed by:
Uinta Brewing Company
Utah
,
United States
uintabrewing.com
Style:
Baltic Porter
Alcohol by volume (ABV):
8.00%
Availability:
Rotating
Notes / Commercial Description:
Complex and drinkable, Sea Legs delivers flavors of roasted malt and chocolate. Sea Legs was aged in Bourbon Barrels for nearly 12 months adding toasted vanilla and bourbon notes to the flavor profile. This Medium-bodied Baltic Porter has a complex malt profile and mild hop bitterness. With a hidden ABV of 8%, Sea Legs is a siren of a beer.
This beer is retired; no longer brewed.
Reviews: 106 | Ratings: 510
4.03
/5
rDev
-1.2%
look: 4.5 | smell: 4 | taste: 4 | feel: 4 | overall: 4
A - black with a thick, brown head that has great retention
S - roasted malts, citrus, coffee
T - creamy, citrusy, coffee, roasted malts, sugary
M - full bodied, smooth, well carbonated
This is an interesting beer. It has most of the typical notes that one would expect from the style, but there is an intense citrus character throughout. I won't say I didn't like it, but it wasn't what I was expecting. Once I came around to the blend of coffee, citrus, and some burnt sugar notes all blended together, I really enjoyed this beer. It's worth checking out.
561 characters

3.57
/5
rDev
-12.5%
look: 4.25 | smell: 2.75 | taste: 3.75 | feel: 4 | overall: 3.75
Quite attractive dark chestnut brown color with lots of beige head. I finally get to use my Crooked Line slender tulip on a new beer. Appealing malty, roasty aroma. Just a whiff of plastic detracts from the nose.
Rather nice mouthfeel, on the creamier side. Some chocolate and winey flavors. Dark roast malt in every shade of black. Slightly sweet, and some nutty flavors. Some woody flavor that is hard to place seems to account for the oak. Bitter twang for the ending with a charred edge. Some bitterish fruit like currants, pomegranate, pear skins. Interesting example of the style.
From the 500 ml corked bottle bought at Bine and Vine in San Diego.
12/18/2013 update: On tap at Tiger Tiger. Not so tasty as I remember. A hint of plastic. Woody.
754 characters
3.78
/5
rDev
-7.4%
look: 4 | smell: 3.5 | taste: 4 | feel: 4 | overall: 3.5
750ml. Nice looking black pour, nearly a finger of tanish head. Retained pretty well. Looks like there might be a high level of carbonation to this...
Aroma, some roast malt, dark chocolate and a woody note. The nose is not real strong.
Taste, roast malt, dark chocolate and woody cocoa. Oak is nice in the finish. Some coffee/anise. Just a little bit thin throughout.
Mid bodied, carbonation a tick too high to feel creamy. Very easy to drink. Just seemed a little thin, maybe still a bit too fresh.
Lack of boldness in any way is the only thing holding this back from the upper eschelon. So far my least favorite of the crooked line, which have all been excellent.
670 characters
3.68
/5
rDev
-9.8%
look: 4 | smell: 3.5 | taste: 3.5 | feel: 4 | overall: 4
Bottle served in a tulip glass.
Appearance: Deep opaque black, with a caramel colored head that dissipates to a thin foam covering on top of the beer. Slight lacing, but most of the head stays on top of the beer.
Smell: Chocolate, Vanilla, Licorice, and hints from the oak barrels in which it was aged.
Taste: The overall taste is very light and balanced - definitely not a flavor bomb like an imperial stout. Notes of chocolate, licorice, vanilla and oak, with a very subtle astringency coming from the oak (perhaps due to the rye whiskey).
Mouthfeel: Thin to medium mouthfeel. Very smooth drinking for such a big beer. Could easily finish the whole bottle.
Overall: A very smooth and refined beer, great for a light desert sipping beer.
743 characters

4.38
/5
rDev
+7.4%
look: 4.5 | smell: 4 | taste: 4.5 | feel: 4.5 | overall: 4.5
A-black with a thin tan head
S-dark bitter grains. Licorice. Coffee. Syrupy. Medium strength
T-comes in with a great flavor of espresso beans. Has a hint of licorice. Definitely has an aged barrel flavor. Decent matching after-taste.
M-creamy medium carbonation with a dry finish
O-really good Baltic porter. It's a bit sweeter an maybe more artificial than a typical Baltic porter, but it's still amazing and I definitely recommend it!
441 characters
4.2
/5
rDev
+2.9%
look: 4 | smell: 4 | taste: 4.5 | feel: 4 | overall: 4
The label describes the brew as "complex and drinkable, this barrel aged Baltic style porter exhibits chocolate and smokey malt flavors, with hints of vanilla and oak. A seductive offering, Sea Legs is a siren of a beer."
My 750 ml corked and caged beauty was bottled 11/23/12.
Poured into a Spaten Octoberfest nonic, the first thing I notice is the massive tan colored frothy seas foam head (3 fingers+, the brew may have been poured a touch cold @ 40°). Nice heavy spider web lacing as the head eventually subsides to leave a 1/4" layer atop the brew. Great head retention. Tipping the nonic and holding it up to the ceiling light reveals a dark brown brew that no light enters except faintly if tipped.
The aroma is dark toasty lightly smoked malts with slight elements of oak (perhaps).
The flavor is dark roasted malts, chocolate that's neither sweet nor bitter, a bit of #2 moleasses (not the harsh blackstrap nor the barely detectable #1), with very restrained smokiness, vanilla (again with nice restraint), and a touch of oak. I could swear the smokiness comes through more on the lips than the tongue, but then; I'm just a redneck.
Finishes with a medium body, near perfect carbination for this style, slightly creamy, and with a slight stickyness on the lips.
Overall, a well balanced Baltic style Porter with nice complexity and easy drinkability. If you are into the harsh, slap you in the face Barrel Aged Porters you probably want to pass this one by. If you like balance and complexity in your Barrel Aged beautys this is a must try.
To me it's an easy 4.2 brew.
1,593 characters
Sea Legs Baltic Porter from Uinta Brewing Company
Beer rating:
4.08
out of
5
with
510
ratings