Emmerdale
| Black Sheep Brewery PLC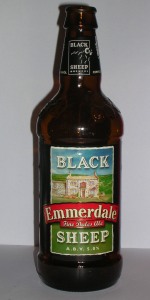 BEER INFO
Brewed by:
Black Sheep Brewery PLC
England
,
United Kingdom
blacksheepbrewery.com
Style:
Extra Special / Strong Bitter (ESB)
Alcohol by volume (ABV):
5.00%
Availability:
Year-round
Notes / Commercial Description:
No notes at this time.
Added by BeerAdvocate on 08-21-2003
This beer is retired; no longer brewed.
Ratings: 9 | Reviews: 7
Reviews by cypressbob:
3.8
/5
rDev
+8.6%
look: 3.5 | smell: 3.5 | taste: 4 | feel: 3.5 | overall: 4
500ml bottle
Pours with a light amber hue. Decent head, foamy, you can see the nice yeasty particles in the head
Smell, very strong fruity aroma, apples come through very strongly, malty aroma
Taste, thick malty kick, generally not a fan of very malty english ales but this is an expection, good hop kick also, tonnes of apple, coming through very strongly, fantastic depth of flavours
Very suprising, after trying their standard black sheep ale and found it a fair ale, this is a very good, and very interesting brew
529 characters
More User Reviews:

3.23
/5
rDev
-7.7%
look: 4 | smell: 3.5 | taste: 3 | feel: 3.5 | overall: 3
Faintly hazy (mostly clear), amber-gold in hue with a slightly dull bronze influence; off-white head, at the apex the foam was a healthy two fingers tall. Head retention was excellent; the bubbles were slow to collapse on themselves. Lacing started before I even took a drink; I like that. After a few sips the subsequent lacing was prevalent, organized patchy rings anointed the side of my glass. The appearance, overall, is attractive.
Citrus plants, fresh cut grass, hay; faint general fruitiness… airy, the nose reminds me of a spring day in a meadow. How poetic. The malt profile is soft and quite secondary. Aromas of red apples are becoming more apparent, so are hints of caramel. Pleasant. IMO, the nose doesn't seem like an ESB and I'm going to assume this really isn't an ESB. For an English Bitter, the nose is soft-spoken and pleasant. Inviting.
Faint bitterness, earthy, kind of sweet, the malt profile this weak and not all the flavorful, IMO. Flowery, grassy… very empty at the finish; metallic hints. I get a rustic vibe, which I don't mind. Suggestion of leather, oak, and fruit round out the palate. Overall, there is a twang that is off-putting and hard to describe, it is kind of sweet/sour and earthy. I don't find much noteworthy about the palate.
About medium in body, low but natural carbonation; the mouthfeel is adequate but does nothing to help this beer.
This really isn't a beer I'd drink again… not that is found in the US anyway. I can't say Black Sheep's beers have ever wowed me but I thought maybe they just sent the mainstream stuff to the US; I guess not. Anyway, something about this beer just doesn't jive with me; oh well. I still need to thank Hanna, Holly, Hope, Rose, Dave, and Kathy for lugging this beer across the pond.
1,790 characters

3.63
/5
rDev
+3.7%
look: 4 | smell: 3.5 | taste: 3.5 | feel: 3.5 | overall: 4
500 ml bottle, courtesy of Cardinal, Stavanger. ABV on the label is 4.2%, also confirmed by the brewery website. Has the ABV really been 5% before and changed? or has the ABV at BA simply been incorrect all the time? Clear amber colour, large off-white lasting head. Moderate carbonation. Moderate but pleasant hoppy aroma, hints of fruits, oak and leather. Flavour is mildly spicy and fruity, slightly acidic. Tolerable hops in the finish. Refreshing and easy drinking. Not too bad for a pasteurised moderate-ABV bitter.
521 characters
3.46
/5
rDev
-1.1%
look: 4 | smell: 3 | taste: 3.5 | feel: 4 | overall: 3.5
Pours a mid amber colour with a big creamy off-white head.
Aroma is hoppy and malty, but largely unexciting.
Taste is a little better, with fruity esters, clean and refreshing malty notes, with a dry and powdery hop finish.
Mouthfeel is light and fluffy, drinkability is quite good.
291 characters
3.38
/5
rDev
-3.4%
look: 3.5 | smell: 3 | taste: 3.5 | feel: 3.5 | overall: 3.5
a: golden/brown w/ minimal off-white head; light lace
s: light bitter hops w/ some light malts; real subtle though in terms of scents
t: light caramel malts w/ some raw wheat; a light hoppiness at the end; no fuller's esb
m: ok; smooth with light carb
d: ok but not something that i would have again
303 characters
3.26
/5
rDev
-6.9%
look: 4 | smell: 3 | taste: 3 | feel: 3 | overall: 4
I had this beer beer in a 500 mil bottle while I was in England for work.
A - Pours a golden amer color with about a inch head that qucikly disapeared to a thin layer of foam that lasted most of the beer.
S - Citrusy and Fruity hop aroma with a bisciuty malt aroma
T - Better sweet Fruity hoppiness and with a finish of bisciuty maltness
M - Was about the the same as most British beers, which is a little thin for me with low carbonation
D - As for most British beer the flavor is not to strong and the ABV was low so it is a pretty drink able beer
554 characters
3.28
/5
rDev
-6.3%
look: 3.5 | smell: 3 | taste: 3.5 | feel: 3.5 | overall: 3
Purchased at the Morrison's supermarket. 500ml brown bottle, filtered, now at 4.2%abv. instead of the reported 5%.
BB 28/01/2007, served cool in a straight imperial-pint glass.
A: pours a bright and clear amber hue; a foamy beer head settles slowly to a thin cap and leaves pretty tight, uneven sheets of lacing; gentle and constant carbonation.
S: a little hop resins, Goldings' slightly citrussy fruitiness, refreshing grassy note, on top of a surprisingly understated Marris Otter biscuity maltiness with a faint hint of honey. Pretty smooth, but much milder than expected.
T: richly biscuity malts along with a bitter-sweet, intense floral and hayish hoppyness magnifying on the palate; slightly dry, grassy and pronounced floral aftertaste, leaving only a restrained touch of bitterness plus a sweet malty aftertone. Overall the malt-hop ratio is presented quite well, although the flavour falls a bit short of the usual standards of Black Sheep's medium-full flavoured ales.
M&D: quite refreshing, softly fizzy on the mouthfeel and light-medium bodied, this pale ale is not the best Black Sheep could do but still shows some good quality. A rather simplistic and easy-drinking one.
1,195 characters
Emmerdale from Black Sheep Brewery PLC
3.5
out of
5
based on
9
ratings.