Beverages & more!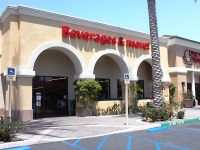 PLACE INFO
Type:
Store
15315 Culver Dr.
Irvine
,
California
, 92604
United States
(949) 551-3377 |
map
bevmo.com
Notes:
No notes at this time.
Added by BeerAdvocate
Reviews: 13 | Ratings: 18
3.8
/5
rDev
-4%
vibe: 3.5 | quality: 4 | service: 3.5 | selection: 4
While laid out a little different than other BevMos I've been to, they seemed to also have a slightly better selection. The store felt a little empty, but that could just be due to the size of it.
You'll find a pretty reasonable assortment of west coast brews as well as te typical imports. They've got a couple coolers in the back and then shelves of beers in the back left. I was surprised to find a couple of beers that I'd been looking for and a few more that Iloile interesting.
There were not a lot of employees working and I didn't get the best or friendliest of service.
You can definitely find something there worth while. My friends that loves New Belgiums (maybe a little too much) was surprised to see their Lips of Faith brews in store (La Follie 2010 amongst others). Overall I'd say the selection is worth stopping in for if you're in the area.
862 characters

4
/5
rDev
+1%
Stopped in here today to pick up a couple bottles of Parabola. The store is laid out a bit differently than other BevMos that I've been to.
A large somewhat open tasting area to the left of the entrance with the wine and beer toward the back of the store and the liquor to the right of the entrance.
The service was good, as you would expect from a corporate deal like BevMo. And the store was clean as well.
The selection was pretty standard as far as BevMo goes. Lots of California selections, some assorted imports (the usual suspects from Germany, Belgium, England, and a smattering of Asian beers).
As usual, nothing to go out of your way for, but always a safe choice to pick up a few good beers.
706 characters
3.8
/5
rDev
-4%
This BevMo seemed to have a slighly better selection of brews than the typical one. In fact, the store itself seems slighly bigger than the rest, highlighted by a wine-tasting section to the left as you walk in (for you wine drinkers out there). Oh, back to the beer. They had a few extra beers of each country compared to other BevMo's, and although their beer selection is kept away from direct sunlight, traces of dust on a good portion of the bottles wasn't pretty. At least dust the bottles so they look better to the consumer. As usual, checkout was quick, and I walked away satisfied with bombers of Full Sail Brown Ale and Owyhee Amber.
644 characters
4.5
/5
rDev
+13.6%
The beer selection was quite good: I managed to find all the (reasonably unusual) beers I was looking for, and I wasn't expecting to. I didn't look too closely at the prices since I was buying for a party and the money wasn't mine, but I was quite surprised at how much I had left.
The service was nice, a really cute girl had some good picks, which is always a plus. The people were hands-off for the most part, but helpful when asked.
I don't know much about wine, so I can't comment on that selection, but their hard liquors were unbelievable. They had every Irish whiskey from every brand. I mean, stuff I couldn't even find in Ireland without a roadtrip to the distillery. And the prices, strangely, seemed to be less than they were back there, but that's probably because I cocked up the exchange rates. Any way you slice it, a nice selection at a good price.
867 characters
4
/5
rDev
+1%
i've been to many bevmo's and this by far is the best bevmo i've seen to date. happen to just see this on the road on the way to back street/lamppost so, after dinner made a backtrack to check out this bevmo.
i've been frustrated walking into many bevmo's on the hunt for beer. with this place, i did not know where to begin. many local varities of pizza port i don't see at other bevmos. cases of krait prestige which i have not seen in almost a year. many solid west coast brews represented. let's just say for once, i really left a bevmo feeling satisfied only to which i could buy more.
this one bevmo i know i'll always make to sure to visit when in the area.
666 characters
3.5
/5
rDev
-11.6%
BevMo Irvine is situated in the back of a large strip mall, if you turn on to it from Culver, be careful since it can be hard to find, drive straight to the back. Inside the beer is to the right, a pretty standard BevMo selection. Didn't find anything out of the ordinary, but they had summer Yulesmith which was cool, so I give them a plus for that. A nice little store if you're in the area, but I wouldn't drive out of my way to get to it. Prices and service were both reasonable, a good choice in Irvine.
508 characters
4
/5
rDev
+1%
Your standard Bevmo with a SoCal twist. All of the SoCal/San Diego breweries were well represented here; Stone (they still have IRS), Alesmith, Pizza Port, Ballast, etc. All of the imports that you normally see at a Bevmo were here as well. They also had Russian River Damnation which I found somewhat surprising. The cooler was a little smaller than I'd like to see. Like most Bevmo's 95% of their stock is on the floor or on shelves. All in all, it's a good Bevmo. Clean, well-stocked, and well layed out. I'd recommend it, but only if you can't make it down to Hi Times.
573 characters

4.15
/5
rDev
+4.8%
So i finally decided to review this one since l live close by.
As you walk in, the beer is towards the rear right. About 6 rows shelve no refrigerated beer with about 7 coolers of chilled brew. I've never had a skunked or bad beer from this one and the stock seems to churn.
The service is very friendly and everyone says hi when i go in. Maybe because i'm in there at least once a week. (on my way to or from Backstreet Brewing). Overall, the folks are friendly and while most dont know about beer, they'll always try and help.
The selection is of course typical Bevmo but that means it's consistently better than anywhere else except for maybe Hi-Times. What i like is looking at their inventory online. YOu can request an email notice if your beer arrives. Like when Stone Oaked AB arrived, i got an email. I then ordered a case online, and picked it up a month later... didnt even have to worry about not being able to order some. Did this with hopsickle as well, not a case though.
All in all, Bevmo is a cool place and i'm glad there's one by my house. (going to check online now :)
1,100 characters
3.55
/5
rDev
-10.4%
First and foremost, this is not primarily a beer store. Liquor and wine are at the forefront and it shows. More friendly to American Micros, particularly of the Left Coast variety, than to imports. And that's OK. It's just not what I was looking for at the time. You'll find something here, and probably on sale too. Prices were not really over the top, esp for local brews, but imports were about a dollar more per bottle. Items arraged by country.
I was pleased to finally get to try some Lost Abbey and Russian River, but dissappointed to find that the Belgian selection at Green's in Atlanta GA truly is in a class by itself.
632 characters
4.15
/5
rDev
+4.8%
Beverages & More!
Store #: 29
After a few beers at the Steelhead Brewing Company on my 2006 Columbus Day tour of Irvine, it was time to head North and stop off at the Irvine Beverages and More! before I hit up the BJ's further up on Jamboree.
Wedged right in the far corner of the Culver Plaza, and forming the end stop of a strip mall, the Irvine BevMo is situated on the Irvine Center Drive side.
Having been to a couple of BevMo's to date, I was half expecting a perfectly replicated "cookie-cutter" set-up, but this one was a little different to the previous ones that I had toured. However, the familiar dark green plastic baskets were ever faithful so I nabbed one as I headed in through the automatic sliding doors and into a perfectly air-conditioned interior.
The beer at the Irvine store is off to the right hand side at the back corner, heavy duty stacker shelves are filled with lots of 6-Packs, 7, 11.2, 12 and 22 oz, 650 & 750mls bottles as well as many cans…..aside from this, stacks of cardboard boxes contain 12 and 24 bottle packs and these are located against the walls. Coolers nearby chill a range of the more popular brews for immediate take-out. The range in here is pretty much in line with the other BevMo's that I have tried, and reflect the Websites list, so no surprises but a damn good range though. I have to say that a few of the imports had some weary dates on them though! Caveat Emptor!!!
The supporting role played by Glasses, Drinking gadgets, craft Cheeses, cold meats, specialist candies, snacks and overseas novelty foods alongside the wines, liquors and spirits all complement the beer and keep BevMo high in the dependable one stop shop for all things good alcohol related.
Service was extremely polite and the interior was exceptionally clean and the shelves well-stocked, presentation of the Irvine BevMo was very good.
My third BevMo and I like the corporate dependability mixed with local individuality of each one that I have so far tried. The prices seem reasonale too. Though there is not much to differentiate between the beer range in each location, I do find that they frequently sneak in the odd special brew and rarely seen SoCal treat, so I always keep my eyes peeled and investigate nonetheless. The Irvine depot is easily accessible and halfway between Irvine's Steelhead Brewing and BJ's - so pop on in if you're passing, I did.
Last Visit: Monday 9th October, 2006.
2,459 characters
4.65
/5
rDev
+17.4%
The first impression that you are struck with is the cleanliness and immaculate organization of this beverage superstore. This chain of stores clearly does a very good job at the business of purveying alcohol. Their import beer selection has really good representation from most parts of the world, with a nice selection of American micros, although there is an obvious lean towards those on the West Coast. You may not always find exactly what you're looking for but they maintain enough variety to never disappoint. And they frequently rotate a nice selection of seasonal beers, especially around the holidays. Very easy to find what you're looking for, and the numerous specials are of good caliber. Anyone that I have ever talked to there has always been more than eager to help you, well-informed, and enthusiastic about their products. The fact that they also carry all the glassware and beer paraphernalia (and even cheese) you need makes it the convenience store of beer shopping. I've really missed these stores since moving back east, and make it a point to stop in whenever I visit.
1,093 characters
3.85
/5
rDev
-2.8%
First time in this store and it was a little hard to find...hidden the back of a large shopping center.
Store is nice, bright, clean and well laid out.
I can honestly say that I didn't even see the Bud Light in the store...I'm sure they had it, but I was so engrossed going over all of the other beers they had, I didn't even see it.
Wonderful selection....more than I've found in any one store before. They don't have everything....but who does. Prices are average...items on sale are great prices....regular items are in the ball park of other stores. What really impressed me was the very, very wide selection. Add that to the ease of shopping via point-and-click on the internet, then having the order ready (and chilled, if requested) when you get there or having it delivered is wonderful.
They could have used at least one more person on the floor, however.
868 characters
3.85
/5
rDev
-2.8%
This is my first of many BevMo stores in Southern California. I have only been to this one and the new one in Rancho Cucamonga at this writing, so I can't do a lot of camparison to the others in the chain. I have read a lot about the various other stores, and they generally seem like a good group of stores. The closest (really good) store to this one is Hi Times in Costa Mesa, and so this is probably a good comparison point.
A large, well lit, specious store. By floor space, it's probably 40% wine, 20% liquor, 20% beer, and 20% glassware, foodstuffs, high-end sodas and party supplies (for lack of a better term). Generally a well stocked store with lots of good, upscale stuff (European chocolate, wine glasses, etc.) Atmospshere is an odd mix of industrial warehouse store and upscale items- that's kind of weird. Alcohol-related quotes painted along the walls around the store. But overall ok.
The beer. A very nice selection, probably half US made, half foreign. 6 or 8 half-aisles of beer on plain heavy duty industrial shelves from floor to head hight. A moderate sized set of refrigerators (glass doors), with some beer and some wine. Selection is pretty good, in fact better than most. But not as good as Hi-Times. Prices were pretty good for southern California, but nothing outstanding.
A very nice glassware selection (overall) with a moderate beer-brand specific set of glassware. Probably 10-15 different goblets, etc. for Belgian, German, and English beers. Good, but not huge. The best I've seen outside of Belgium. Definetely better than Hi-Times glassware selection.
Service was fine, nothing to write home about.
Overall a good place.
1,673 characters
Beverages & more! in Irvine, CA
3.96
out of
5
based on
18
ratings.