Sycamore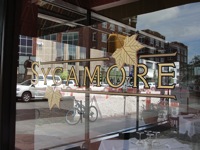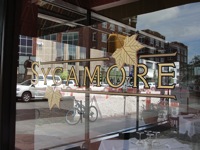 PLACE INFO
Type:
Bar, Eatery
800 E Broadway
Columbia
,
Missouri
, 65201-4856
United States
(573) 874-8090 |
map
sycamorerestaurant.com
Notes:
No notes at this time.
Added by zeff80 on 07-02-2006
PLACE STATS
Reviews:

11

Ratings:

pDev:

5.71%
HISTOGRAM
Ratings: 13 | Reviews: 11
Reviews by Tone:
4.38
/5
rDev
-3.7%
vibe: 4.5 | quality: 4.5 | service: 4 | selection: 4.5 | food: 4.5
Went here for a late Sunday supper and was very much impressed. First impression was an upscale bar because of the dress attire of all the patrons we could see inside from the outside. Turns out to be a little more casual, but I would have felt out of place in anything less than at least a polo shirt. Decent sized bar (probably could hold 20-30 easily) and at least a hundred in dining seating. The bar and dining area are all connected in a 30ft X 100ft space "estimate". There was an old style building decor with modern lights that were dimmed and set a slightly romantic ambiance. Service was attentive and personable. The menu is rather selective, but if the rest of the selections are anything like what we had,it is still worth it. I had a flank steak and my girlfriend had some duck - both were outstanding. The beer menu (they have multiple single sheet alcohol menus that they are willing to leave at your table!). This was a major plus for me, I've been to too many places that it was annoying just to try to order a good beer. They didn't have a huge draft selection, but the quality was amazing New Belgium Lips of Faith series selections for example! The rest of the beer menu was pretty great; ranging from Bell's, Left Hand, and Chimay to an unheard of beer by me, Caldera IPA (in a can!). It is hands down the best canned beer I've ever had in my entire life and might just have changed my opinion on canned beer forever. For the quality of the food it was not that expensive (good estimate for an average entree price is $15). I have to agree with previous reviewers that this is the best overall beer experience (beer + food) in Columbia, MO.
1,663 characters
More User Reviews:

4.13
/5
rDev
-9.2%
vibe: 4 | quality: 4 | service: 4 | selection: 4.5 | food: 4
I should have listened to "giventofly", as I came here after eating at Addisons for one more, and I only had one night in Columbia, and this should have been it. Nice upscale atmosphere, whithout being snobby, small number of but high quality drafts and lots of great bottles, and a great happy hour menu of specials. I think getting another 5-10 quality drafts would really make this the beer/food place to go in Columbia, MO. The Thai beef kabobs I had were great along with some Souther Tier Creme Brulee on draft.
517 characters
4.88
/5
rDev
+7.3%
vibe: 5 | quality: 5 | service: 5 | selection: 4.5 | food: 5
I was passing through Colombia on a road trip from Tennessee to California and I made a point to stop in here after researching it on BA. The restaurant was put together very nicely with attention to detail and the service backed up my initial impressions that I had just entered a fine establishment. The draft list included Bells, Goose Island, Boulevard, and other good craft beers. A nice bottle list also featured these breweries as well as some Belgian (Cantillon included) and west coast brews. The food was moderately priced as I enjoyed a fried oyster sandwich with Bells Two Hearted IPA...amazing. The beer was four dollars for 16oz I believe. I asked the bartender some questions about acquiring certain beers I couldn't get in CA so she introduced me to Sanford who I believe was a manager of some sort (I didn't get his exact title). He was knowledgeable and kindly informative. Next to my hometown spot, this place offered me the best craft beer dining experience ever. Thanks again Sanford.
1,005 characters

4.88
/5
rDev
+7.3%
vibe: 5 | quality: 5 | service: 5 | selection: 4.5 | food: 5
Sycamore is a diamond in "The District" (Downtown).
The atmosphere was a bit upscale but I felt at home sitting at the bar or being seated at one of their many tables. It would be nice to get a table at the front and be able to people watch while enjoying a beer. No TV's is a huge plus for me!
The quality was great. Each beer was served at the proper temp and in an appropriate glass.
The service was great and very attentive. Sanford (one of the owners) was very helpful and we could have talked for hours about beer alone. It was nice to see/interact with an owner that was obviously passionate about beer.
The selection was good. And while they only have 6 taps, they all were pouring a good beer.
Their bottle selection is also a great addition. I love the amount of Belgian beers they carry while still representing some of the local breweries. They did a great job representing quite a few different styles and regions. (60+ different bottles)
Now about their food. PHENOMENAL!
The Brandade is great and the steamed scallops (steamed in Bigfoot barleywine!) are two great appetizers.
If they have it (their menu changes often) try the short ribs (that they braise in an abbey ale) and the duck was perfect.
The value was reasonable. Most drafts were between $3-5 and the bottle selections were priced decently.
I've lived in Columbia for the last 20 years and I've yet to find a place in Columbia that has better selection, service, atmosphere and food than Sycamore!
1,485 characters

5
/5
rDev
+9.9%
vibe: 5 | quality: 5 | service: 5 | selection: 5 | food: 5
Sycamore has the best beer selection in Columbia, hands down. If you are only going to be in Columbia for a night or two, forget going anywhere else in town, their beer lists won't stand up to whatever Sycamore currently has on tap (6 total) or within it's coolers (likes of Cantillon, Boulevard Smokestacks, Mikkeller, etc...). Sanford (co-owner) goes out of his way to make the beer geeks in this town very happy. The food is fantastic (A+) thanks to Mike (James Beard finalist) and I've never left the restaurant without being completely satisfied.
551 characters
4.47
/5
rDev
-1.8%
vibe: 4.5 | quality: 4 | service: 5 | selection: 4.5
Went here on a recent visit to Columbia.
Atmosphere is upscale but without being stuffy. I went here at about 3:00 and the inside was dimly lit like it was already dinner time. There's a solid amount of seating at the bar with tables strewn all around, most of which are near windows. No TV's and it was certainly a conversation-oriented place.
Quality is good. The only beer I had here was served in a room temperature, unmarked pint glass with the proper amount of head.
Service was great. I asked the bartender if they had anything else special coming up on-tap in the next few days and he sent Sanford down to talk to me. We spoke for a while and it was obvious that he was into beer as much as the tap list and bottle list would indicate.
Selection was good. I missed the Boulevard Single-Wide by a day but still had O'Fallon's smoked porter which I've been itching to try for some time. Others include offerings from Bell's, Founders, New Belgium, and New Holland. The bottle list is extensive, with a large amount of breweries represented.
Value is good. The food was a bit on the expensive side but I can't speak as to whether it's worth it. The beer was priced fairly.
Overall I'm glad this place was recommended to me and I urge anyone going through Columbia to stop in for a beer or three.
1,307 characters
4.45
/5
rDev
-2.2%
vibe: 4 | quality: 4.5 | service: 5 | selection: 4 | food: 4.5
went here with my girlfriend, another BA, and sat at the bar.
One of the owners Sanford talked to us almost the whole time we were there, which was about 3 hours, and the bartender Damien did as well. They were both extremely nice and knowledgeable. I had made a post in the midwest forum and said what beers i was looking forward to trying, and sanford had them pulled out of the cellar and ready at the bar when we got there, as well as a recommendation he had based on my post.
They have an amazing beer menu. We drank 2 jolly pumpkins, a souther tier choklat, and a belgian lambic, oud beersel framboise i believe.
there was more beer there i wanted to try than my body would let me, which is always disappointing when you have to leave.
we also ate the mussels and the scallops which were incredible and totally worth the money.
i feel their beer is very well priced,and while the food is a bit pricey, i feel it is worth every penny. so i would say at least go to enjoy some beer, and split an appetizer if you are watching the budget.
anytime i am in columbia this is going to be the first place i go.
1,120 characters
4.63
/5
rDev
+1.8%
vibe: 5 | quality: 5 | service: 4.5 | selection: 4 | food: 5
This is the best place to eat in Columbia right now, and they have some great beers on tap too. They usually have a belgian, a nice hoppy beer (I have had Hop Ottin and unearthly IPA their recently), and some locals (Ofallon, schlafly, or Boulevard) on tap. They are always rotating their selection, so don't trust their online menu as it is not always current.
Entrees are 15 and up, so it can be a little pricey. As an alternative, we often get a mix of their small plates, appetizers, soups, and salads. They also recently started doing beer dinners every two months or so. Basically a tasting menu and each course is paired with a beer. Haven't had a chance to get to one, but they look interesting and are reasonably priced.
If you are in town, definitely hit this place. I have never left disappointed.
812 characters
4.65
/5
rDev
+2.2%
vibe: 4.5 | quality: 5 | service: 5 | selection: 4 | food: 4.5
Whenever I'm in Columbia I try to make a stop at Sycamore because of its unbelievable approach to beer. The place is upscale, no big screen TV's or music blaring on the overhead. The bar is definitely second to the restaurant but its nice and cozy and the bar tenders are always informative and attentive. They have only a couple of taps but the quality of the beers that they have on it remarkable. They only put on great beers. It was really awesome. While I cant remark on the actually cuisine, (I've only eaten a couple appetizers) the food I have had was very good and matched the beers very well. I think this is definitely the #1 or #2 beer spot in Columbia.
665 characters
4.75
/5
rDev
+4.4%
vibe: 5 | quality: 5 | service: 4.5 | selection: 4.5 | food: 5
Sycamore always has great beers on tap and a large and reasonably priced selection of bottles.
The food is excellent and the staff is friendly and attentive. They have been increasing the variety of sandwiches they offer at lunch and all of the sandwiches have been good. I can visit this restaurant once a week, and almost always try something new. They also make some very interesting soups. I used to have a side salad with my sandwich, but have enjoyed the soups so much that I have switched.
The restaurant is long and narrow and is separated into 3 sections. The front has lots of natural light from large windows. Next is the bar section where several more tables are located. The back is made up of several booths with a short staircase leading up to the kitchen. The atmosphere is great, whether you are having a business lunch or a romantic dinner.
861 characters
4.39
/5
rDev
-3.5%
vibe: 4 | quality: 4.75 | service: 4.5 | selection: 3.75 | food: 5
UPDATE!! They now have 5 taps. One will carry the New Belgium Lips of Faith series brews. Currently - La Fleur Misseur.
Update - Visit Aug. 16, 2007 Increased Belgian list and more great craft beers. Including Koningshoeven Quad, Brasserie des Rocs Triple Imperiale, etc. As for the beers listed in the original review they have changed, but rest assured they have a great list.
I've been to Sycamore 3 times and have enjoyed it very much each time. The food is outstanding. It is a little more pricey but it is great gourmet food. The beef short ribs braised in Duvel is amazing. All other food is high quality, as well.
The beer list is very good. They always have 4 tap beers. Boulevard Wheat is always one of them. The others tend to be somewhat local. They've had a couple Schlafly selections and once they had one from the Augusta (MO) Brewery. Once they had Anchor Summer on tap, too.
As for bottles, there are a few highlights. Duvel (in Duvel glasses), Bell's, St. Bernardus Abt 12, Kwak Belgian, Anchor Steam and Guinness.
Beer prices are very good. All tap beers are $2.25!! With the exception of Kwak, St. Bernardus, and Guinness all bottles are $2.50 or $3.
Once I was there and our waitress thought that she had been slow (I didn't think so because it is an elegant restaurant), so she let my wife and I get desert for free. Which was also outstanding.
1,374 characters
Sycamore in Columbia, MO
Place rating:
4.55
out of
5
with
13
ratings