Goat Hill Tavern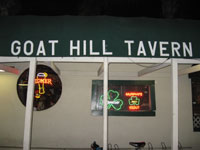 PLACE INFO
Type:
Bar, Eatery
1830 Newport Blvd
Costa Mesa
,
California
, 92627-2710
United States
(949) 548-8428 |
map
goathilltavern.com
Notes:
Instagram: http://www.instagram.com/goathilltavern
Facebook: http://www.facebook.com/goathilltavern
Added by BeerAdvocate
Reviews: 39 | Ratings: 54
3.85
/5
rDev
-3.8%
vibe: 4 | quality: 4 | service: 3.5 | selection: 4.5 | food: 2.5
Grimy, filthy, and fantastic! From the sawdust floors to the plastic mugs and junk hanging from every possible surface of the interior, there are absolutely no frills to this establishment. It's a down and dirty dive bar with a kick ass beer selection. This is not a place for sipping beers; this is a place for throwing them back gregariously. A young beach crowd dominates the scene, which is always lively any night of the week. I don't know what the food tastes like because I can't recall ever eating anything other than peanuts. Lots of CA beers to choose from: North Coast, Lagunitas, Stone, Lost Coast, Marin, etc. Some bottled offerings but not much worth talking about. Taps are a bit unorganized and often kicked. But then again they don't offer any pretense of being a great beer bar, so expectations are kept in check. It's a decent place just as it is. Bar staff is fairly prompt despite the crowds, and serves up a bit of friendly attitude.
955 characters

3.8
/5
rDev
-5%
vibe: 4.5 | quality: 4 | service: 3 | selection: 4 | food: 4
This is one of the places where I drank when I first started drinking good beer. It isn't a hardcore beer geek bar but it is great as an entry level place to take friends that want to drink better beer.
Totally different vibe compared with Yardhouse across the street. There are peanut shells all over the floor, people smoke in here, and the tables are a bit sticky.
Very few beers above 8%, with about half the taps dedicated to BMC, heinken, newcastle, pyramid, etc. There are a few decent IPA's on tap but sadly they seem to be past their prime as most of the clientele order pitchers of bud light.
Typical pub food, occasional eye candy, decent prices. I would prefer yardhouse for happy hour but late at night goat hill is a good place.
748 characters
3.71
/5
rDev
-7.3%
vibe: 1.5 | quality: 4.5 | service: 3.5 | selection: 4
Ah, the Goat Hill, never been here before, but I've been meaning to try it out. Cigarette smoke is what you smell walking in. It reeks of of this shit; I don't know how they got around the CA smoking laws, but there are people clearly smoking in the tavern which sucks because I like this place a lot. Hung out with DoubleJ and played some pool on the North end where the smoke was light, but there was still a hint of it in the air. But going to buy a beer at the bar you're pretty much punched in the face with that revolting putrid stench. A 4/4.5 atmosphere score plummets because of that. I actually ended up liking the plastic mugs, made me feel strong when I picked up the beer.
The quality of the tap beer was exemplary with the consideration of how much they had on-tap. I had a #9, Murphy's and Black Butte Porter, all tasted as they should, can't really vouch for the 9 as I've never seen it before, but the other 2 I've had, and they were great.
Service is solid, quick if they were at tad slow to pick up on me, but all around nice.
Selection is good, nothing super rare, but anyone will find something here they like, even saw Chimay for $17 a pint, but the rest of the brews are much more reasonable. Tons of pints under $5, saw Racer 5 which I didn't get for $5.75 which is outstanding in Orange County.
I liked this bar a lot when I moved to the North corner and didn't have to deal with the smoke. We're not in Texas, we're in CA, it's not 1975, get the smoke out of the bar, and I'll come back. Goat Hill, I like you a lot, but there are a lot of great beer spots in Orange County, including Heroe's, which this really reminded me a lot of with the peanuts on the floor/down to Earth feel, where I don't have to deal with cigarette smoke, so they're going to get my money in the future.
1,809 characters
3.44
/5
rDev
-14%
vibe: 4.5 | quality: 2.5 | service: 3.5 | selection: 4
Update 5/5/10: The atmosphere is starting to grow on me. Come on a weeknight to avoid the crowds, but there is still some size of a crown to play pool with. However, I did have a really nasty experience with Young's Double Chocolate Stout here; clean those tap lines better! Despite that one time, I haven't really had much issue with quality control.
This is like a cheaper, crampt, and older version of Heroe's (Fullerton). There are lots of drafts to choose from at the bar, but there are also some disadvantages about the place. I'll go through the aspects of the place one by one.
Although the place is big, me and my friend could not find a seat in the building, nor did it feel that big. Walls seperate the tavern at three different places, making it tougher to move around. All over the place are lots of raised "table benches" and wood shaving adorning the floor. If you look up to look at the ceiling, you will see old tap handles from decades past. Despite the overcrowding factor, the bar is easily accessible and there will be bartender to help you out shortly.
At the bar sit about 140 taps. It's true they have a portion being mass-produced beer, but you still have 70-80 or so good taps available. Don't expect me to run down the enitre list, but I will spit out some examples available during my visit: Chimay, Oaked Arrogant Bastard, Abbot Ale, Hacker Pschorr, Weihenstephaner, Full Sail, Mardesous, and many others. Essentailly, lots of British, German, and American beer, sprinkled with a few Belgians. Personally, I ended up grabbing some Kona Pipeline Porter. Prices are on the cheap side, many pints for less than $5. Most of the beers I've sampled have been in good shape, but a bit too cold from the tap.
My single biggest complaint were the cheap-ass plastic mugs used to serve the beer in. What the hell?! That reminded me of a late 90's Michelob commerical, where a bartender in training failed the course because the instructor told him "we don't serve (Michelob) in a plastic cup!" I understand that practice might keep their prices down, but come on, those plastic mugs are tacky.
All in all, you can expect to find some solid brews here, even if most of the taps aren't world class. But beware of those plastic mugs.
2,258 characters
3.34
/5
rDev
-16.5%
vibe: 2 | quality: 4 | service: 1.5 | selection: 5
I used to work around the corner from the Goat and I would stop in for pint on the way home. Lousy atmosphere and service. Rude and short bartenders and a filthy bar. The restroom is just as bad. The local customers are rude and unfriendly. But the beer selection is excellent. I'm a big steam beer fan. My only complaint is the tap lines are not flushed so you get stale beer at times and if you take it back to the bartender he acts like you're trying to rob him. The keg room is impressive. A good place for a beer in a dirty glass just like a sailor likes, don't bring a date though.
587 characters
3.28
/5
rDev
-18%
vibe: 3 | quality: 3 | service: 3.5 | selection: 3.5
This was a tough place to review. I'm not sure how I exactly feel about this place, the truth is I'm conflicted.
The positives: They have 141 beers on tap and the prices are good. Most of them are $4-5 for a pint and ~$15 for a pitcher. It is a grungy dive bar, if that's what you're looking for. There is sawdust on the floor, tons of miscellaneous crap on the walls, and the bathrooms haven't been cleaned in months.
The negatives: The vast majority of the beers on tap are macros, there is very little on the tap list that wold excite a beer geek. I would say less than a dozen beers that would really interest me and even then none of those could be considered rare or very hard to find. The beers are served in plastic mugs. The place is an absolute dumb. It is also very smokey since they somehow get around the smoking ban by allowing smoking in a covered "patio" that is not at all separated from the main bar. I went on a Saturday night and it was absolutely packed. There was little to no "respecting beer" going on. I bet 95% of the beer being sold was Bud Light and everyone seemed like they came to get totally f---ed up. Even with 141 beers on tap I can't really call this place a "beer bar".
So I guess, I found more negatives than positives in "The Goat".
1,276 characters
2.8
/5
rDev
-30%
vibe: 2.5 | quality: 3 | service: 3.5 | selection: 2
I stopped here before going to Hi-Time Wines today in Costa Mesa
Located right on Newport Blvd. at the end of the 55 Freeway across from the Yardhouse and a BevMo
Walked into this place and noticed sawdust all over the ground, looked around a little bit and realized this place was kind of a dive
Had over one hundred taps from what it looked like, but nothing special or really worth mentioning
Some of the harder to find beers were Fuller's London Porter, Stone 11th Anniversary, and Lost Coast Oktoberfest, but those are all easily accessible at other places right now
Pints ranged from about four to five dollars and happy hour was all day before 7 pm
This place was overrated to me with a poor selection for how many different tap handles I saw
No Belgians or anything very high in alcohol
Left this place pretty quickly because it was more of a letdown that anything, would not recommend this place over the YardHouse across the street, much better brews over there, go to Hollingshead's or Beachwood BBQ if in this general area
Hi-Times was great afterwards though, found a 2006 Hair of the Dog Doggie Claws Barleywine and a Collaboration Signature Ale featuring Port Brewing's Tomme Arthur and a Belgian brewer
1,227 characters
2.6
/5
rDev
-35%
vibe: 1.5 | quality: 1.5 | service: 3 | selection: 4
I was visitng Santa Ana for a conference and decided to head down the road for a cold one prior to checking into my hotel. The place is easy to find, just take 55 south until it turns into Newport Avenue. After you pass the first traffic light keep your eye out for the place on the left along a fairly unimpressive strip of businesses: Gas Station, Psychic, Mattress Store, Excercise Equipment Dealer, Pizza Joint. After turning around I was able to park in front. I noticed two bicycles locked to a front post (customers who lost their drivers license?), a few missing window panes in the front and loud music vibrations reverberating prior to entering. I entered the place around 11:00 PM on a Wed night. In the small vestibule in front I noticed a stack of the current issue of BA free for the taking. Upon entering the bar I noticed the place was crammed with a twenty something crowd and the music was blaring. The doorman (tattooed and pierced like a pin cushion) did not even give me a 2nd look after noticing I was probably older than his father. The bar area is off to your left from the entrance. Three young bartenders were very busy pouring from an amazing number of taps. As I was standing in front of the bar looking up at an overhead greaseboard beer menu some young punk had the audacity to request that I move because I was blocking his view of a tall blond also waiting for a brew. I felt like taking him behind the woodshed and for a thrashin but merely ignored the request while waiting behind three giggly girls with spaghetti straps showing cleavage.
The place is an absolute dump, the kind where the doormat should be on the inside in order to wipe your feet on the way out. It has the decor of a motorcycle gang clubhouse- where knives are thrown into the wall and members piss, puke, or spit anywhere. I cannot imagine that anything is sanitary in this joint. It blew my mind the place was full of women. The floor was covered with sawdust and peanut shells. The furniture looked like the type you would see inside a 12 year olds tree house (old car seats and dimensional lumber crudely nailed together). The bathroom was appalling, probably not cleaned in the last year. Lots of graffiti referencing mothers, BJ's, and orifices. And the odor singed the hairs in my nostrils- bring something to filter your intake air. Stickers and graffiti (magic marker and carved with knives) adorned the rest of the place as well. They have stashed a bunch of junk in the ceiling rafters, not sure if this was for effect or the need to get rid of old crap. Needless to say it looks horrible and is covered with dust. The place has fooseball, pool, and shuffle tables; a couple of old TV's were tuned to surfing and professional wrestling. Music was loud punk/indie.
There was a very good selection of draft beer however it is only served in plastic mugs. This must reduce the amount of medical care needed by patrons after they bash in each others heads. I requested a Stone Arrogant Bastard however the tender did not realize the keg was kicked until my mug was in position. I settled for a Stone IPA which was fresh, cold, and delicious. After seeing the rest of the place I wonder how well the beer lines are maintained.
I do not recommend this bar, despite the good beer selection it is impossible to ignore all of the bad stuff, do not waste your time- you wouldn't stop to inspect road kill by the side of the road, why stop here?
3,458 characters
1.69
/5
rDev
-57.8%
vibe: 1 | quality: 1 | service: 1 | selection: 3.5
What a dump! ("Dive" is reserved for more classy establishments.)
We could not determine what was more filthy - the patrons, restrooms or manners of their less than charming bar concierge, "Ian." (The latter has fully embraced the career option of pandering exclusively to losers for dollar tips in a jar.)
PS: When you arrive to see a line of cabs in the carpark waiting for the inevitable fares, you kinda get the hint you are about to enter Drunk Central.
Enjoy - if you've had all your shots and consider slumming with trash more than a spectator sport.
560 characters
Goat Hill Tavern in Costa Mesa, CA
4
out of
5
based on
54
ratings.