Goat Hill Tavern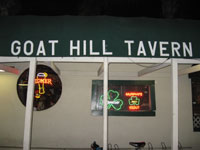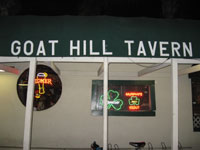 PLACE INFO
Type:
Bar, Eatery
1830 Newport Blvd
Costa Mesa
,
California
, 92627-2710
United States
(949) 548-8428 |
map
goathilltavern.com
Notes:
Instagram: http://www.instagram.com/goathilltavern
Facebook: http://www.facebook.com/goathilltavern
Added by BeerAdvocate
PLACE STATS
Reviews:

40

Ratings:

pDev:

14.94%
HISTOGRAM
View: Place Reviews
Ratings: 55 | Reviews: 40
4.14
/5
rDev
+4.8%
vibe: 4 | quality: 4 | service: 4 | selection: 4.5
This place is a dump. That being said, this is as good as a dump gets. I mean that in the most positive way. The beer selection is truly great if you are a fan of American microbrews. They have well over 100 beers on tap, and while they do waste a few taps on the typical AB/Miller/Coors beers, there is a lot of great stuff to try. I had my first experience drinking Double Bastard here and it was everything I had hoped it would be. I also tried Old Foghorn and Sierra Nevada Celebration Ale (it was a night in which I felt it necessary to stick to west coast brews). As far as this place being a dump, it is. The seats are sticky and the floor is covered in sawdust and peanut shells. Of course, if you are willing to overlook that (and I am), this is a great place to have a few pints. The prices are really great, as almost everything is about $4, $4.75 if you are feeling saucy. The crowd is unpretentious and the jukebox is filled with sing-a-long hits (heard during the visit were Weezer, Men Without Hats, Outkast, and G'N'R just to name a few). If you enjoy selection, you appreciate a bar where appearance is not important, and you are in the LA area, this is a great bar for you.
1,191 characters
4.61
/5
rDev
+16.7%
vibe: 4.5 | quality: 4 | service: 5 | selection: 5
I stopped by after visiting Hi-Times wine cellar a couple blocks away with my brother on the way back from our cousin's wedding.
Atmosphere was cool, lots of taps everywhere, shit all over the walls, sawduct on the floor, plastic(unbreakable) mugs, chained down bar stools, Raiders on tv, holes in the ceiling to facilitate cigarette smoke.
Quality was good. A shit ton of taps with some pretty good stuff on. I had a Weihenstaphaner Hefe, Anchor Old Foghorn, and a Stone Oaked Bastard at 11 in the morning.
The one bartender working was earning tips. The kid was cleaning, bussing, pulling pints, being friendly, and was extremely fast and friendly
Selection was gret. With 141 taps, you're bound to find something worthwhile, and the Goat has a lot.
I didnt see any food, except peanuts, and the prices were fair. 4.25-4.75 per pint of hard to find goodies and 16 per pitccher for craft beer, Highly, highly recommended
921 characters

4.13
/5
rDev
+4.6%
vibe: 4.5 | quality: 4 | service: 4.5 | selection: 3.75
The Goat Hill Tavern opened in the 1940s, which is well before Orange County was "Orange County". And ironically, for being one of the older establishments in Orange County, it is one of the least "Orange County" bars you're likely to stumble into (or out of). There are no $15 martinis on the menu. They do no serve endangered dolphin sushi rolls over julienned baby seal breast. There is no glam or glitz. Its beer and peanuts. And a lot if weird shit on the walls. That's pretty much it.
This place is the type of dive bar that relishes in being a dive bar (in fact, it is on a number of "best dive bar" lists). It's extremely dusty, kind of smelly, and the floor is covered in peanut shells. The building is split into three nearly equal parts. The center section hosts the bar and all 141 of their tap handles. There are also a few high tables surrounded by stools. One side has additional seating, billiards, and a shuffleboard table. The other is a sort of covered patio with about a half dozen televisions, benches, more pool tables, and some foosball. It is in this area that patrons can smoke, so it gets even smellier in here.
The bartender that poured for me was extremely friendly. We talked beer for a bit and he even gave my friend and I a guided tour of their amazing keg room. He also shared a little bit of the history of the bar with us, which included an old story about them having both Budweiser and Coors on draft at the very same time. This may seem like nothing now, but it was completely unheard of a few decades ago.
The beer selection today is very respectable. A lot of the 141 handles were everyday drafts, but they had a lot of imports, a number of locals, and a few special releases. Stone's Götterdämmerung and Valiant's Jericho ended up in front of me.
Another interesting little piece of information is that the Goat Hill Tavern is a popular hang out spot for Angel fans. There are signed uniforms framed on the wall, and apparently some of the players are commonly seen enjoying a pint there. Jared Weaver even came here to celebrate his no-hitter last year. These are my people.
Ultimately, I don't believe anything I write could fully describe this bar. Imagine a place that provides equal real estate for model airplanes, animal heads, street signs, brewery propaganda, and completely random light fixtures. On top of that they have great beer, friendly people, and dirty bathrooms. In a nutshell… I love it.
2,483 characters
4.22
/5
rDev
+6.8%
vibe: 4.5 | quality: 4.5 | service: 4 | selection: 4
I love this place. They've got a handful of good beers, Stone, Port, Anderson Valley, Bear Republic.... nothing fancy, but better than beers that you're going to get at other "divey-type" bars. The covered patio is great, we'll meet there for cigars and a few beers every so often. I recommend weekday visits as it tends to really get crowded Friday and Saturday nights.
The real jewel here is the 50's era shuffleboard arcade game. Good beer and shuffleboard, it doesn't get much better than that.
500 characters
4.4
/5
rDev
+11.4%
vibe: 5 | quality: 4 | service: 4 | selection: 5
This is one of those places where you go drink with your buddies in the morning right when they open. No one is there, you can enjoy a good conversation, a good beer(or 6 pitchers) play some pool, smoke indoors, blah blah blah. Oh and the beef jerky from celestinos, a local place right down the street! I hate coming here at night when all the frat boys and bro hoes take over. It seems that when i go i always see at least one of the following, a fight inside, a fight outside, chicks throwing up. Yet, it still does not stop me from coming back to this place over and over again.
582 characters

4.18
/5
rDev
+5.8%
vibe: 4.5 | quality: 3.5 | service: 4.5 | selection: 4.5
this is a definite must stop if you're passing through orange county.. they've got about 175 beers on tap, which is reason alone to stop. the decor is what i really love about this place; everything from the fire hazards due to the wiring hanging from every corner to the more than 500 tap handles attatched to the ceiling throughout the place.
one thing that i have to note, and a complaint about this establishment is the beer selection. while they DO have 175 beers on tap, i'd say about half those beers are what some call "fizzy clear beer", lagers take up a huge section of those 175 taps.. from every variety of budweiser to coors to miller to pabst.. there are quite a few horrid brews taking up precious space in their keg room. imagine.. you have 175 taps.. why not fill them up with great beer?
either way.. hit up the goat hill tavern..
then stumble across the street and hit up the Yard House..
which has about 200 taps. yes, i'm not joking. 200 taps across the street from 175. and the yard house actually has quite a few more rare beers on tap than the goat hill, but the ambience there leaves a lot to be desired.
:)
1,141 characters


4.21
/5
rDev
+6.6%
vibe: 3.5 | quality: 4 | service: 4 | selection: 5
This is one of my old hangouts. I have always loved this place. In the mid 80's, this place introdused me to great beers beyond what you get in grocery stores. My favorites there are (since the 80's) are Murpheys irish stout and wattneys on tap.This is where I had my frist Sierra nevada winter welcome...on tap, and many other cult classics I have had on tap there. Today, there are many many ales to choose from. I think there have always been over 144 taps.
Sure, this place is a total dump! But I still love it.
On weekend nights...this place crawls with "the beautiful people" of OC. I have always enjoyed drinking my beer in this atmosphere.
I love this place! My only regret I have for it..I wish they had better glassware to drink my stouts and porters out of there.
777 characters
4.58
/5
rDev
+15.9%
vibe: 4.5 | quality: 4.5 | service: 4.5 | selection: 5 | food: 4
You got to love the Goat. More beers on tap than you will know what to do with. The prices are reasonable, especially during happy hour. The baskets of peanuts are super cheap and you can throw the shells on the ground. The shuffle board table is in pretty good shape and it is free to play. There are also pool tables, a bunch of tv's, and some random other stuff. You have to admire the huge amount of tap handles hanging from the ceiling. The Goat Hill Tavern is on of my favorite places to hangout. I don't smoke, but it is smoker friendly on the covered patio.
565 characters
2.6
/5
rDev
-34.2%
vibe: 1.5 | quality: 1.5 | service: 3 | selection: 4
I was visitng Santa Ana for a conference and decided to head down the road for a cold one prior to checking into my hotel. The place is easy to find, just take 55 south until it turns into Newport Avenue. After you pass the first traffic light keep your eye out for the place on the left along a fairly unimpressive strip of businesses: Gas Station, Psychic, Mattress Store, Excercise Equipment Dealer, Pizza Joint. After turning around I was able to park in front. I noticed two bicycles locked to a front post (customers who lost their drivers license?), a few missing window panes in the front and loud music vibrations reverberating prior to entering. I entered the place around 11:00 PM on a Wed night. In the small vestibule in front I noticed a stack of the current issue of BA free for the taking. Upon entering the bar I noticed the place was crammed with a twenty something crowd and the music was blaring. The doorman (tattooed and pierced like a pin cushion) did not even give me a 2nd look after noticing I was probably older than his father. The bar area is off to your left from the entrance. Three young bartenders were very busy pouring from an amazing number of taps. As I was standing in front of the bar looking up at an overhead greaseboard beer menu some young punk had the audacity to request that I move because I was blocking his view of a tall blond also waiting for a brew. I felt like taking him behind the woodshed and for a thrashin but merely ignored the request while waiting behind three giggly girls with spaghetti straps showing cleavage.
The place is an absolute dump, the kind where the doormat should be on the inside in order to wipe your feet on the way out. It has the decor of a motorcycle gang clubhouse- where knives are thrown into the wall and members piss, puke, or spit anywhere. I cannot imagine that anything is sanitary in this joint. It blew my mind the place was full of women. The floor was covered with sawdust and peanut shells. The furniture looked like the type you would see inside a 12 year olds tree house (old car seats and dimensional lumber crudely nailed together). The bathroom was appalling, probably not cleaned in the last year. Lots of graffiti referencing mothers, BJ's, and orifices. And the odor singed the hairs in my nostrils- bring something to filter your intake air. Stickers and graffiti (magic marker and carved with knives) adorned the rest of the place as well. They have stashed a bunch of junk in the ceiling rafters, not sure if this was for effect or the need to get rid of old crap. Needless to say it looks horrible and is covered with dust. The place has fooseball, pool, and shuffle tables; a couple of old TV's were tuned to surfing and professional wrestling. Music was loud punk/indie.
There was a very good selection of draft beer however it is only served in plastic mugs. This must reduce the amount of medical care needed by patrons after they bash in each others heads. I requested a Stone Arrogant Bastard however the tender did not realize the keg was kicked until my mug was in position. I settled for a Stone IPA which was fresh, cold, and delicious. After seeing the rest of the place I wonder how well the beer lines are maintained.
I do not recommend this bar, despite the good beer selection it is impossible to ignore all of the bad stuff, do not waste your time- you wouldn't stop to inspect road kill by the side of the road, why stop here?
3,458 characters
4.45
/5
rDev
+12.7%
vibe: 5 | quality: 5 | service: 4 | selection: 5 | food: 2
This is a great place to drink beer. They have a ton of different beers on tap and they are reasonably priced. The atmosphere is very relaxed and casual and there are a variety games including shuffleboard, pooltables, Golden Tee, and pinball.
The food choices are nonexistant besides the peanuts, but if you are hungry ask the bartender and you can get a pizza delivered.
375 characters
1.69
/5
rDev
-57.2%
vibe: 1 | quality: 1 | service: 1 | selection: 3.5
What a dump! ("Dive" is reserved for more classy establishments.)
We could not determine what was more filthy - the patrons, restrooms or manners of their less than charming bar concierge, "Ian." (The latter has fully embraced the career option of pandering exclusively to losers for dollar tips in a jar.)
PS: When you arrive to see a line of cabs in the carpark waiting for the inevitable fares, you kinda get the hint you are about to enter Drunk Central.
Enjoy - if you've had all your shots and consider slumming with trash more than a spectator sport.
560 characters
4.69
/5
rDev
+18.7%
vibe: 4.5 | quality: 4.25 | service: 5 | selection: 5
This place is awesome! Its the go to spot for locals and out of townees alike. Even on a Monday this place has great traffic flow and is always ready to serve up some cold ones ! The best part about this bar is not only the selection but the atmosphere as well. They have a ton of old taps,
50's era signs etc, hanging on the walls and ceiling.
The outdoor section has a couple pool tables with ski ball stations to keep the vintage vibe. Overall, on a packed night this place can get crowded but still fun! The staff is always courteous but don't put up with bs at all .
Most if not all of the sloppy crew find their way out by way of the bouncers. They play what they want when they want ans serve you a wide selection of craft beer and the basics in the process. Nothing bad to say about this place . The crowd is always great hours are good and beers cold . LOVE IT!
875 characters
Goat Hill Tavern in Costa Mesa, CA
Place rating:
3.95
out of
5
with
55
ratings