M-X

Melanie Brewing Company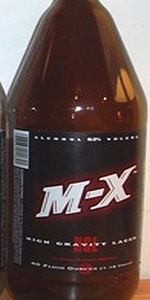 Rate It
Beer Geek Stats
| Print Shelf Talker
From:

Style:

ABV:

8.2%

Score:

70

Avg:

2.18

| pDev:

27.52%

Reviews:

9

Ratings:

Status:

Active

Rated:

Sep 24, 2013

Added:

May 12, 2002

Wants:

Gots: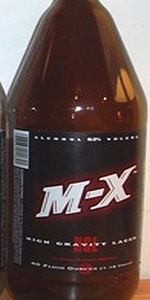 Recent ratings and reviews.
| Log in to view more ratings + sorting options.
Ratings by TastyTaste:
Reviewed by TastyTaste from Minnesota
1.53
/5
rDev
-29.8%
look: 2 | smell: 1.5 | taste: 1.5 | feel: 1.5 | overall: 1.5
I drank this right out of it's can that went for $1.29 for a 24 oz. This beer smelled and tastes of corny adjunct, alcohol and skunk. This beer brought me a disgusting flavor every time I took a sip. There is no real positive aspect to anyone except it's high ABV and low price. Nasty Stuff.
Feb 13, 2004
More User Ratings:
Reviewed by 7beerphil from Maryland
3.38
/5
rDev
+55%
look: 2 | smell: 4 | taste: 3 | feel: 4 | overall: 3.5
Kept in mind other HGLs and Malts when reviewing this.

Pours a dark gold color from the 24oz can. Head immediately dissipates.

Next to no smell, which is a plus with being over 8% for this style.

Taste is rather bland. No metallic or fusel alcohol notes. If anything, I'm picking up some apple flavor.

Mouthfeel is very thin, but highly carbonated. The beer is almost micro-carbonated. (With the slightest shake, a small head of tiny bubbles re-appears halfway through the glass).

Overall, this is a surprisingly decent beer coming from Melanie. I received it on a trade, but I'd assume it couldn't have cost more than $1.50. If that's the case, this isn't a bad deal at all.
Jun 13, 2012
Reviewed by WVbeergeek from West Virginia
2.4
/5
rDev
+10.1%
look: 3 | smell: 3 | taste: 2 | feel: 2 | overall: 2.5
I'm a sucker for canned beers especially horrible malt liquor. For the record I've had much worse from the same brewer, usually the border or surpass undrinkable. This one however pours a straw pale golden crystal clear hue with a nice foaming white head, dwindles down leaving behind speckled lacing. Aroma has a bit of cooked vegetables, corn, rice, and grainy notes. A touch of fruitiness estery notes sliced apple but not too bad. Flavor sweet cereal notes grainy off tones with a metallic full on finish worse as it warms of course, pretty cloying but still pulls off a better version than comparable high alcohol get effed up cheap ghetto beers. Mouthfeel wasn't as bad as I was expecting, clean palate after each sip some off ness sticks around initially but doesn't stick around. If I really wanted to get drunk I could finish 24 ounces of this but half way through the can I'm bored there's just not much happening other than the norm for this style of beer.
Nov 20, 2010

Reviewed by woodychandler from Pennsylvania
1.32
/5
rDev
-39.4%
look: 3 | smell: 1 | taste: 1 | feel: 3 | overall: 1
The CANQuest (TM) humbly takes a bow on this one, thanks to KeefD. It is rare that our offices get a CANQuest Review ReQuest, but he wants this gem as the next to fall in the ongoing madness. Who would we be to deny a follower and a member of the tribe?

The CAN is a stark black with only "HGL - high gravity lager" as any indication as to what is coming. Music is The Deftones "MX" and I have my seat belt fastened. This is going to be like the end of "Thelma and Louise" as I go over the cliff at 120 per.

C & G, then step away from the CAN! Why are my liver and kidneys shaking in fright and hugging each other? Even my aggro pour style CANnot muster up much of a head. I had a finger of fluffy, bone-white head that fell faster than T & L's automobile. Color was a medium-gold with NE-plus clarity (I could read my neighbor's Sunday comics through it). Nose was Welcome Back to the Plastics Factory! Nooo. Aw man, do I hafta? Mouthfeel was thin-to-medium and the taste was bone-chillingly sweet, like a liquefied bag of sugar. Thank Bob it was cold! Finish set off a riot from my gullet to my stomach. Gag-o-matic! I rarely drainpour, but I may not have the intestinal fortitude to plow through 24 fluid ounces. Dang, what is that taste on the finish? Boiled cabbage? Collard greens? Something earthy and boiled, that's for sure. Is this a prank? Do people actually drink this? Or maybe it is given away free to alcoholics to get them to swear off of booze. This makes me want to swear off of breathing. Warming, I am getting a taste of burnt tobacco, like used ashtray. Wow, what hops and malt did they use for this gem? Now I taste some of that fizzy grape, like Pixie Stix, on the tongue. Curse you, KeefD! Blast you, Melanie B.C.! And don't think that you're off the hook, either, Minhas! As it kicks in, I have unbidden thoughts, like it might be a good idea to get out my handgun and rob the convenience store across the street. What would this be like in the blazing heat of summer?

What's that? An automatic rifle and kill all of my neighbors?!? And blame it on the beer?!? Great! If Twinkies worked for Dan White, imagine the sympathy I would get for this swill. Do the voices in my head bother you? My friend had a frontal lobotomy and now I, I mean, he feels MUCH better. Lovely night out, you CAN almost see the stars. Why don't you drive my Chevy Malibu for a while? I'm feeling a little tired.
Sep 06, 2010

Reviewed by boudreaux from Alabama
2.32
/5
rDev
+6.4%
look: 1 | smell: 1.5 | taste: 2 | feel: 1 | overall: 5
This stuff is pretty nasty, just as a warning. Ironically, it was in the grocery section under the "Great American Microbreweries" sign for about $1, so I figured why not try it. I didn't bother pouring it out of the 24oz. can, but I can bet the appearance was pale-clear straw with carbonated bubbles. It tastes about the same as every other malt liquor: corn up front, with a carbonated fizzy mouthfeel and an in-your-face alcohol flavor that increases as the brew warms to room temp. Definitely drink this one ice cold. Leaves a distinct, hoppy bitter aftertaste that stinks of the corn used in the brewing process. at 8% abv, it does what it was made for - to get you buzzed - but that's about all it's good for. Should be a college frat party staple
May 19, 2010
Reviewed by ChainGangGuy from Georgia
2.21
/5
rDev
+1.4%
look: 3 | smell: 2 | taste: 2 | feel: 3.5 | overall: 2
Appearance: Burps out a clear, yellow body with a foamy, white head.

Smell: Seriously, why do I continue to subject myself to these things? Aroma of countertop cleaner, corn, one chicken bouillon cube, and those malt liquor floral hints that just smell fake and unearthy, like they were hastily cooked up in a lab.

Taste: Off-puttingly sweet corn and chemi-floral flavors. Light alcohol throughout -- thankfully none of the sharp rubbing alcohol taste you find in these things. Another mouthful of corn nibs for the finish.

Mouthfeel: Medium-thin body. Medium carbonation.

Drinkability: This was all kinds of awful, even for a malt liquor.
Feb 13, 2008
Reviewed by TennesseeHusker from Tennessee
2.26
/5
rDev
+3.7%
look: 3 | smell: 2 | taste: 2 | feel: 3 | overall: 2.5
When I lived in KC this was my staple. The Fast Stop on 39th(crack stop!) sold these for $.99. I'd drink these rather than the ice version because it was somehow better tasting.

This is an awful malt liquor. The only reason to drink this is if your a broke alcoholic trying to ward off the shakes. The smell is an awful mix of cooked corn and the unique smell of a heavy industrial district. The flavor and body is suggestive of a light lager with a touch of everclear in it. Buy it if you need it, otherwise stay away. If you can find anyother high grav malt liquor for less money buy that instead.
Oct 02, 2007
Reviewed by Maestro from Pennsylvania
2.88
/5
rDev
+32.1%
look: 3 | smell: 2.5 | taste: 3 | feel: 3 | overall: 3
Considering I really don't like malt liquor and generally don't like lagers of any sort, this one is okay. It comes in a 24oz can that can be purchased for roughly $0.99. The head is white and very thin. The nose is mostly vegetables with little to no hoppiness. The taste is rather smooth considering the alcohol and lack of choice malts. There is some kind of sweetness that is decent and balances with the slight bitterness. I don't know why, but this is okay for the price. Don't ask me why I bought it, but it is decent for what it is.
Oct 12, 2004
Reviewed by Skywave from Oklahoma
1.51
/5
rDev
-30.7%
look: 3 | smell: 2 | taste: 1 | feel: 2.5 | overall: 1
I bought a sixer of M-X out of morbid curiosity. It is possibly named after Ronald Reagan''s pet nuclear missile? Remember that in the mid-1980's? This stuff is too sweet (grossly underhopped) and corny tasting to be enjoyed. It only approaches drinkability after you've already had several Pyramid IPA's (to get that residual bitterness in your mouth to balance it out) or if you are completely blotto on vodka. So, …let's ship this stuff to Russia, sign it "from Ronnie with love." I''ll stop now.
May 12, 2002
M-X from Melanie Brewing Company
Beer rating:
70
out of
100
with
10
ratings