Nighthawk Premium Malt Liquor
| Melanie Brewing Company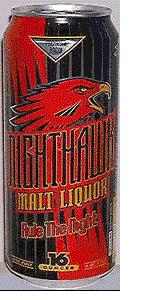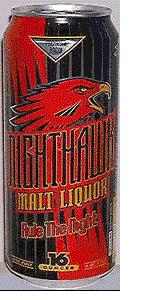 BEER INFO
Brewed by:
Melanie Brewing Company
Wisconsin
,
United States
Style:
American Malt Liquor
Alcohol by volume (ABV):
not listed
Availability:
Year-round
Notes / Commercial Description:
No notes at this time.
Added by BuckeyeNation on 10-15-2005
HISTOGRAM
Ratings: 10 | Reviews: 8
None found.
More User Reviews:
3.26
/5
rDev
+40.5%
look: 4 | smell: 3 | taste: 3 | feel: 4 | overall: 3.5
Time for me to "Rule the Night" says the bottle. Straw colored with a quickly dissipating head, no retention. Grainy and sweet aroma, maybe even a little fruity. Sweet beginning with a touch of burnt sugar cookie, finish is sweet and grainy, maybe a little phenolic. Between medium and full bodied with higher than medium carbonation. Honestly, I don't understand the low scores on this. Yes, yes, malt liquor, but if people were to try this in a blind tasting I wouldn't be surprised if they gave completely different scores.
Warning: If you let this warm up too much the taste will quickly decline and be bad. My review would be much lower if I was going off of the warm taste.
680 characters
1
/5
rDev
-56.9%
look: 1 | smell: 1 | taste: 1 | feel: 1 | overall: 1
Pours like piss water, I can't believe this smells as bad as it does. Tastes like puke in my mouth harsh cereal grains collide this is fucin' terrible beer. The offcial worst beer I've ever had. I can't stomach another swallow. Here's some good advice learn about the Nighthawk malt liquor and then forget about it. This is crackhead champagne.
344 characters
2.32
/5
rDev 0%
look: 1.5 | smell: 2 | taste: 1.5 | feel: 3.5 | overall: 4
didn't even give it the honor of a pour from the 40oz it came in. The bottle says rule the night but i think ruin the night would be more appropriate. the only thing it had going for it was its scary drinkability. It just tasted like a really cheap fruity wine to me though
273 characters
3.01
/5
rDev
+29.7%
look: 3 | smell: 2 | taste: 3 | feel: 3.5 | overall: 4
Poured from a 40 oz. bottle, Nighthawk Malt Liquor has a thick, white creamy head and a very clear straw appearance. Carbonation is high. The aroma is very citrus (lime, I'd say), with a chemical under-aroma (think roofing tar). Taste is very lime-like, with a flat hop bitterness, that seems cheap. Mouth-feel is light and watery, and Nighthawk finishes crisp and surprisingly refreshing. Overall, except for the roofing tar under-aroma, there is nothing really offensive about the drink. It turned out better than expected. I thought it was very similar to Mickey's Fine Malt Liquor, which may be the intention. If one was not told that Nighthawk is a malt liquor, one would not know it. I was happy that my sample was not skunked (clear glass bottle).
RJT
759 characters

2.3
/5
rDev
-0.9%
look: 2 | smell: 2 | taste: 2 | feel: 2 | overall: 3.5
Drank out of a 40oz bottle
Appearance: is a coppery orangish/yellow, litte head, watery, slight carbonation
Smell: smells of metal, coppery, possible skunked
Taste: very metallic, otherwise decent malt flavor
Mouthfeel: pretty standard, slight carbonation, pretty watery
Drinkability: despite not tasting very good and being pretty average, it's overly drinkable, I'd call it the Keystone Light of 40 ouncers
413 characters
2.23
/5
rDev
-3.9%
look: 2.5 | smell: 2 | taste: 2.5 | feel: 2 | overall: 2
Poured from a 40oz bottle into a mug glass.
A: The beer is a light gold color, with a large white head that fades quickly and leaves a thin lace on the glass.
S: The aroma contains adjuncts, light malts and a very faint touch of hops.
T: The taste starts out with a typical light malt and adjunct sweetness. Then a mild grain breadiness comes in. The hops presence is almost undetectable but there is also less boooziness than other beers in the style. The after-taste is slightly sweet.
M: A little crisp and a little smooth, light body, medium carbonation, finish is slightly sticky.
O: Not very flavorful, goes down ok, not too filling, good kick, decent representation of style for whatever that might be worth. It's not completely terrible but my choices would have to be severely limited to ever choose this beer.
828 characters
1.64
/5
rDev
-29.3%
look: 1 | smell: 2 | taste: 1.5 | feel: 2 | overall: 1.5
Another first round loser in Malt Liquorpalooza 2006 (this one lost to King Cobra). pours very watery and thin. smells metallic and skunky. tastes terrible...skunky taste is hard to choke down. cloying malt/alcohol blend. ugh. im glad this didnt make it to round 2.
265 characters
2.22
/5
rDev
-4.3%
look: 2 | smell: 2.5 | taste: 2 | feel: 2 | overall: 2.5
First of all, this review is part of Malt Likkapalooza III. Nighthawk Premium Malt Liquor will be facing off today against a can of Steel Reserve (High Gravity). I'm amazed that this is the first review on this site. I bought my can this past summer and I started seeing it on the shelves of my local grocery several months ago. It's listed on several other beer sites, but then maybe that speaks highly of what BAs are actually interested in. What that says about me, I don't want to contemplate.
As noted in the Steel Reserve review, there isn't a dime's worth of difference between the appearances of these two. Even the size, speed and rate of lessening of the carbonation is the same. I'm not big on conspiracy theories, but both are malt liquors brewed in Wisconsin. Same beer? Let's dig a little deeper before we fire up the black helicopters.
There's some difference in the noses, although it's slight. Nighthawk is the stronger (not in terms of alcohol), the sweeter and the fruitier of the two. But it isn't head and shoulders better and doesn't deserve a higher score. Amazingly, in neither case do I appreciate any raw ethanol.
Unlike the appearance and the smell, Nighthawk tastes radically different from its competitor. If Steel Reserve is the 800 lb. gorilla of the malt liquor world, then this beer is the sickly little monkey. It's fairly sweet (although not out of line for the style), but is probably the weakest version that I've ever had. Weakest in terms of flavor, strength and mouthfeel. Let's face it, fruity and light don't deserve much street cred.
Like the flavor, the mouthfeel is lacking. It's noticeably lighter than Steel Reserve's mouthfeel. As noted above, this may be the lightest malt liquor that I've had yet. The originally acceptable amount of carbonation fades too quickly, yet never completely disappears.
Nighthawk's tagline is 'Rule The Night'. It doesn't. It has been said that in the land of the blind, the one-eyed man is king. It could also be said that in the often ignored land of malt liquor, the merely mediocre is king. Steel Reserve 211 (High Gravity) is clearly the king of this pairing and is one of the best malt liquors that I've ever poured down my gullet. Nighthawk is merely a pretender to the throne.
2,277 characters

Nighthawk Premium Malt Liquor from Melanie Brewing Company
Beer rating:
2.32
out of
5
with
10
ratings