Jaguar Ice
| Melanie Brewing Company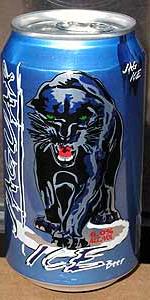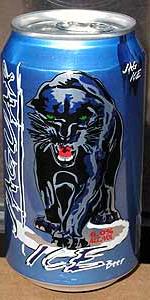 BEER INFO
Brewed by:
Melanie Brewing Company
Wisconsin
,
United States
Style:
American Malt Liquor
Alcohol by volume (ABV):
6.00%
Availability:
Year-round
Notes / Commercial Description:
No notes at this time.
Added by scaliasux on 06-09-2006
HISTOGRAM
Ratings: 7 | Reviews: 5
None found.
More User Reviews:

1.54
/5
rDev
+9.2%
look: 3 | smell: 2 | taste: 1 | feel: 2.75 | overall: 1
Last one to suffer through from the Minhas tour variety pack...one of their contract brews.
Poured into shaker pint; light orange gold color, clear, tiny carbonation feeding a single finger head that fades slowly leaving slimy lacing.
Smells of grainy, metallic malt, and corn.
Taste is sweet sugary corn water, but there's a surprise at the end. The sweetness curls up and dies on the back of your tongue, leaving you with a mealy sickly sweet aftertaste that literally made me gag and spit into the sink.
Mouthfeel is thin and watery, relatively fluffy with carbonation.
Overall, awful stuff. Drinkable I suppose if you want a cheap buzz, but if I was looking for that I'd much rather drink cheap crappy whisky than cheap crappy malt liquor/beer like these abominations from Minhas.
Minhas "craft" Brewery variety pack: 5 brews, 5 drain pours. The best thing I had from them was their utterly hop-less "IPA" at the brewery, where they also somehow managed to make an "all malt" pilsener taste like bud lite.
1,015 characters
1.24
/5
rDev
-12.1%
look: 3 | smell: 1.5 | taste: 1 | feel: 1 | overall: 1
13 243 11 printed on the bottom of the can, maybe August 2013?
Did you hear about that marketing group that wants to promote Wisconsin breweries as "the Napa valley of beer"? They'll have to pay off City/Melanie to pretend they don't exist.
Novelty buy for shits and giggles. $2.49/4-pk. just might be the cheapest 64 oz of beer on the market. The can graphics are pretty great if you're into black light posters and stuff. Somehow I doubt the "Jag Ice" name on the can will catch on, lol.
Hazy orange with murky suspended particles and rapidly rising carbonation. Lots of foam, sticky lace even, and a persistent skim across the top that doesn't break apart.
Smells really hollow, nothing of substance. Library books?
Taste is weird, really sweet like they just dumped in sugar. Corn and metallic notes. Slick and nasty aftertaste that lingers unfortunately. Watery and insipid, gross. This shit is utterly terrible.
925 characters
1.83
/5
rDev
+29.8%
look: 2.5 | smell: 2 | taste: 2 | feel: 2 | overall: 1
Appearance - Light clear gold. Fizzy white head, that surprising doesn't immediately wither. Average.
Smell - Sickly sweet. Similar to most in style, but definitely not good.
Taste - Tastes like it smells. Candy sweet macro-lager flavor. No hoppiness to speak of. Also similar to many malt liquors, but definitely not good.
Mouthfeel - Seems a little flat. Dry.
Drinkability - Ugh. But cheap.
404 characters

1.81
/5
rDev
+28.4%
look: 3 | smell: 2 | taste: 1.5 | feel: 1.5 | overall: 2
After hundreds of requests from all corners of the country (okay, so I made that part up), I've decided to go ahead with Malt Likkapalooza XII. The real reason this bout is being held today is that I finally have two malt liquors to pit against each other. It ain't easy finding these bad boys (unless you live in Wisconsin). Jaguar Ice's competitor today will be Dark Horse Ice, which also has black-and-blue can graphics.
Rich gold that is almost dark enough to be considered orange. The foam is a bit darker as well, verging on pale ecru rather than any shade of white. Not surprisingly, the texture sucks and there isn't much lace on the glass.
At only 6.0%, it isn't surprising that this AML doesn't have a ton of raw alcohol emanating from the glass. Actually, the nose is pretty weak in general and doesn't smell very corny or very sweet.
Despite the snarling Jaguar on the can, Jaguar Ice is pretty wimpy stuff. In fact, it's more of a pussy cat than a fierce jungle cat. Anyone looking to get drunk will need 6-8 cans at least. Flavors include lightly sweet corn, musky hops (not many) and a background blip of ethanol. Boooring.
Without many malt sugars (or added sugar?) the mouthfeel is weak as well. It's too light for the style and has very little carbonation. That makes drinking quickly a breeze if that's your preference. My preference is to avoid drinking this shite again.
Neither one of these so-called American malt liquors is worth a damn. Beer of this style gains what little charm it has by being aggressive, not by being dainty and pussyfooting around on the palate. Jaguar Ice is today's loser, but it's only because of a slightly less appealing appearance. Them's the breaks.
1,707 characters
1.43
/5
rDev
+1.4%
look: 2 | smell: 1.5 | taste: 1.5 | feel: 1.5 | overall: 1
24 oz can.
Jaguar Brewing Company; Lacrosse, Wisconsin.
6% abv.
Clear gold color, slightly fizzy head of white foam..some sticks around on the glass surprisingly.
Aroma is pretty awful really. Stale corn..slightly sweet & musty.
Taste is fairly bland, but not overly offensive...which is not a compliment, but I'm just saying I've had worse. Macro-ish, generic flavoring that really wears on you after a while. Sticky texture...as it warms, it gets to the point of being undrinkable because the sweet corn flavors get extremely stale-tasting.
At $1.19 for a 24oz can, this won't kill your budget...but your palate will not thank you. I'd steer clear from this one, as it does no justice to a style that gets almost zero respect already.
751 characters
Jaguar Ice from Melanie Brewing Company
Beer rating:
1.41
out of
5
with
7
ratings