Beer 30 Light
| Melanie Brewing Company
BA SCORE
51
awful
51
Reviews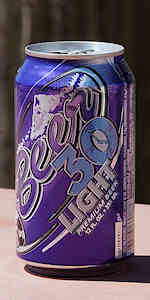 BEER INFO
Brewed by:
Melanie Brewing Company
Wisconsin
,
United States
Style:
Light Lager
Alcohol by volume (ABV):
4.00%
Availability:
Year-round
Notes / Commercial Description:
No notes at this time.
Added by mynie on 09-24-2006
Reviews: 51 | Ratings: 101

2.21
/5
rDev
+26.3%
look: 3 | smell: 2 | taste: 2 | feel: 3.5 | overall: 2
CAN you dig it? I pulled off a major trade in the Heinz Field parking lot a couple of weeks ago before watching Pitt lose (by a missed PAT!) to Cincy. I think that I developed a slight head cold during the snowy weather and so my reviews got put on hold until my sinuses cleared. Let the CAN Quest continue!
I totally get the concept of this beer - it is always Beer:30 when I get home from a day of teaching. I just wish that I could have tried its leaded counterpart first. Onward!
I must be slipping - my pour only produced a little better than a finger's worth of bone-white head with really low retention. Color was a golden-yellow with NE-quality clarity. It looked like sunshine in a glass as I peered into the gloaming through my kitchen window. The nose was sweet, mostly cereal, but also some of that fruity bubblegum. Oof. Mouthfeel was fuller than I might expect in a light beer, but that did not help the cloyingly sweet taste I got on the tongue. Double oof. The finish left me wondering how many more of these kinds of beers I am going to encounter on the CANQuest. I CAN only hope that more craft brewers turn to CANs in the near future.
1,155 characters
1.86
/5
rDev
+6.3%
look: 3 | smell: 2 | taste: 1.5 | feel: 2 | overall: 2
Bought a 30 pack so I could send a can to Woodychandler. I tried to talk him out of it, but he is on a CANquest, so who am I to stand in his way?
A - Color is on the yellow side of water. I got a finger of white head that quickly died to absolutely nothing. The obvious hallmark of a cheap beer.
S - Nothing but cheap malt and adjuncts/corn. Bleh
T - Do I have to? Well, supposing that I do, it actually isn't as bad as some adjunct lagers I have choked down before. Strong adjunct taste, little malt. I assume this is what happens when a brewer replaces every ingredient in reinheitsgebot with just corn.
M/D - Goes down like water...actually, thinner then water, which should discourage any BA's from drinking the water in Cincinnati. Drinkable? Well, I think my plan is to save this for when I am in the mood to get plowed (maybe I'll make some horrible decision like breaking up with my girlfriend) and once I have decided to drink myself into a degenerate stupor, I will reach for the rest of this case.
In the mean time....avoid.
1,041 characters

1.67
/5
rDev
-4.6%
look: 1.5 | smell: 2 | taste: 1.5 | feel: 2 | overall: 1.5
Pale yellow with a quickly disappearing head of large bubbles that burned off super fast with an audible ssss, like a burning fuse. The nose is pure creamed corn with a touch of band aid. This brew tastes like it costs.. cheap as hell and hard to choke down. Cooked corn is the main flavor here. Light and highly carbonated. A pretty bad beer.
343 characters
1.3
/5
rDev
-25.7%
look: 4 | smell: 1.5 | taste: 1 | feel: 1 | overall: 1
Can into clear glass
Bought this beer in a BARGAIN BUCKET: 2 cans for $1. I had to buy it to find out how unbelievably bad beer could be. When I searched for BEER 30 LIGHT and found NO SEARCH results I was a little worried. I thought that everyone who drank this must have died before typing up their review.
Appearance - Surprisingly though, this cheap beer looked great! Thick bubbly foam, golden, opaque color, and great looking carbonation made this one appealing from the get-go. "Holy cow," I thought "is it possible that I have just found beer heaven: an amazing pilsener for 50c a can???!!!" High hopes at this point.
Smell - Hopes were quickly dashed when I smelled this beer. Oh boy. Smells like very very cheap beer. Worse than Milwaukee Beast. Pungent.
Taste - OMG....this beer is absolutely RANCID. Just undrinkable. I am definitely tossing this beer out soon. I can't finish this glass and it's the first time that has ever happenned with a beer.
Mouthfeel - no carbonation....all those appealing bubbles I saw when I poured the beer out must have vanished before finding my mouth.
Drinkability - thank God I only bought two cans. One of the worst dollars I ever spent. Even though it was only a buck, I am seriously thinking about going back to that liquor store in Shelbyville, Kentucky and getting my money back. This beer is downright criminal.
1,370 characters

2.02
/5
rDev
+15.4%
look: 2.5 | smell: 3 | taste: 2 | feel: 1.5 | overall: 1
Review #100. And what better way to do it than with a can of Beer 30 Light? Big thanks to the jokers at Sam's in Lexington for throwing a can of this into April's Beer Club mix six packs. They came up with some story about it being their version of an Easter egg hunt, and how some of the cans had stickers on the bottom that were good for other beer in the store. I personally believe this was their version of an April Fool's prank.
Poured from a can into a pilsner glass, although it would probably be more appropriate to drink straight from the can.
Quick note: Yes, I'm reviewing to style. I know anything BMC, or anything closely resembling BMC, gets shitty reviews that say "It tastes like crap" with all 1's, when most are stylistically average at worst.
Pours a crystal clear pale yellow. If you don't see any head, you're probably not using a clean glass. This one had two fingers, easily. Of course, it lasted for under a minute, leaving practically no foam behind. Ever seen the label on a Smuttynose Imperial Stout? You know the things on the label that look like floating bacterium? That's what the remaining foam from this beer looks like.
Smells like freshman year. Cooked corn and cereal grains. Reminds me of sexual interaction with questionable looking girls, projectile vomit, and passing out, only to wake up with penises drawn all over any exposed skin. It's the typical light lager smell.
I've never eaten creamed corn before a night of heavy drinking that led to me vomiting up booze and said creamed corn, but I imagine it would taste something like this. Meant to be consumed ice cold so it numbs your taste buds so you can't taste the millions of tiny Satans contained in each drop of this beer pissing on your tongue. This is the type of light lager you drink when you're in high school, and pour half of it out when no one's looking so you look cool. I know this is the type of beer designed for pounding, but drinkability is also enjoyment-based, so this gets a 1. Remember all those parties you went to in high school? Remember how people always made awful faces after every gulp? There's no way I'd drink an entire can of this. If I need a buzz that badly, I'll shave my head.
Feels kind of like tap water. Which is appropriate, because, like tap water, this is going down the drain.
2,326 characters

1.73
/5
rDev
-1.1%
look: 1.5 | smell: 1 | taste: 2 | feel: 2 | overall: 2
Appearance: A pale and very light color beer with no head .
Smell Like cookeds corn and bit hint of cereal with hint of yeast.
Taste Cooked corn, cereal and yeast.
Overall: I was given this can of beer and was told to go home and give it a try. This beer is nothing special and not very easy to drink, unless you've had a couple shots of hard alcohol.
353 characters
1
/5
rDev
-42.9%
look: 1 | smell: 1 | taste: 1 | feel: 1 | overall: 1
If you noticed, I gave this beer all ones. In the spirt of being fair while rating beer, i never like to give the extremes, for example i would never give a beer 5's across the board because that would mean that beer was perfect in every way. This beer is however perfectly awful. Take everything you like about your favorite beer and reverse it. (I'm not trying to beer bash but this was at a party once and people were fighting over who got the luxury of drinking Natural Light.) This is the lowest of the low. No head, flavor, aroma, mouthfeel was terrible (carbonated water), almost made me cry. Just no... no... -Dale
622 characters
2.24
/5
rDev
+28%
look: 1.5 | smell: 2.5 | taste: 1 | feel: 1.5 | overall: 5
This beer is great for playing beirut. At 15 dollars for 30 cans, it is an impressive bargain.
It can also be easily disguised as grape soda when the boys in blue are nearby. If you think hard about the purple can, the taste of grape will be infused into your deepest senses.
I would highly recommend this beer for anyone who likes beer that tastes very bad.
362 characters
2
/5
rDev
+14.3%
look: 2 | smell: 2 | taste: 2 | feel: 2 | overall: 2
Well, my local store just started carrying this stuff...Got a 30 pack for $10.99...figured it would be good beer to drink in my garage while working, and I'm not too disappointed....I obviously wasn't expecting much.
I think the best way to rate this stuff is to compare it to its peers; Old Milwaukee, Milwaukee's Best, Old Style. Positive note I can taste just a little more Hop bitterness in this beer to give it ok character...Negative side the malt is dominated by corny taste...the lowest ratio of barley to adjunct malt I'd say I've ever had...also more carbonation would have helped this go down.
My other problem with this stuff is the cans...They are purple and the words "Beer 30 Light" are written in white and purple and in Cursive...It looks like a store bought brand of Purple Soda Pop..Very unappealing....I wish it was a black laber beer look instead.
Well, enjoy.
885 characters
2.23
/5
rDev
+27.4%
look: 2 | smell: 1.5 | taste: 2 | feel: 2.5 | overall: 3.5
12oz Can
Beer Thirty..
Wow.
Picked this up from my local watering hole, even they thought it was humerous.
Pours a light golden hue, typical of macro lagers. Smells of dank malt and a bit of alcohol.
Tastes like Wine n A Box. Grapey taste behind the sweet carbonated beverage that it is. I was dared to buy this. High Life + Grape Juice. This is a refreshing beer, while still remaining offensive.
Super fizzy mouthfeel with a light body. Easy drinking but not because it's so fruity.
502 characters
1.43
/5
rDev
-18.3%
look: 1.5 | smell: 1 | taste: 2 | feel: 1 | overall: 1
Two ways to consider this: I have enough of a sense of humor about beer to drop 2.50 on a six pack of a beer that seems to market itself as something horrible, with its gaudy purple can and, well, name. "Beer" is all it says. "30 Light" is much smaller. That's kind of funny.
The other way is that I'm an idiot who just bought something that is marketed as being horrible and I should expect any pain that this brew may cause me.
Tepid pour. Very light yellow with a small, very short-lived head.
Smells at first of nothing. When it warms it takes on the absolutely repugnant odor of a can of a regular bad macro that's been sitting for a few days. Ya'know, that smell of week old Bud. Well, this was opened ten minutes ago and it smells like that.
Tastes...not half bad, actually. A little metal but a surpising amount of fruit esters, especially for a light lager. Seriously, if the smell wasn't so goddamn horrible this would be a top notch light. Erm... okay as it warms it starts to taste like it smells.
Oh, and it should also work on the mournful dispepsia it causes. And the headache.
1,108 characters
Beer 30 Light from Melanie Brewing Company
1.75
out of
5
based on
101
ratings.