Beer 30 Light
| Melanie Brewing Company
BA SCORE
51
awful
51
Reviews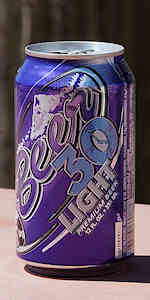 BEER INFO
Brewed by:
Melanie Brewing Company
Wisconsin
,
United States
Style:
Light Lager
Alcohol by volume (ABV):
4.00%
Availability:
Year-round
Notes / Commercial Description:
No notes at this time.
Added by mynie on 09-24-2006
Reviews: 51 | Ratings: 101
3.36
/5
rDev
+92%
look: 3.5 | smell: 3 | taste: 3.75 | feel: 2.25 | overall: 3.5
Look, I don't know what everyone is bashing...this shit costs like $10 for a 30 pack what do you expect? Golden ambrosia served in a chalice while angels whistle on your dong?
For less than $.50 a can, I don't think this is a bad beer at all; perfect for games and casual drinking (and I'd take it over bud light any day of the week). Is this a connoisseur's beer? Hell no! It's made to get a person buzzed and save a few bucks. The taste and carbonation remind me of Miller Lite or Coors light..leaning more towards Coors. There is a slight aftertaste which I don't experience in the pricier pisswater ranges...but honestly; I stopped noticing after the second can. Smells and looks like cheap beer to me! Mouthfeel is right up there with any other light beer. Taste is like I said, somewhere between Miller and Coors slightly sweeter and with a short, dirty aftertaste. Of course it's not top-notch, but look at that price tag! Red Dog isn't even this cheap most of the time and that's one of two beers (along with side pocket) that are undrinkable to me. It's not as sweet nor as nasty and off-putting as some of the ones that there are for the same amount of money in my area (Boxer, Lost Lake, Red Dog, Side Pocket, any HG product, Icehouse, etc). Support a Wisconsin brewery and save a few bucks while your at it for your next drinking game or beer bong-off.
For the record: Fav beers are: Alaskan Amber and Wisconsin Brewery's Porter Joe.
1,445 characters
Beer 30 Light from Melanie Brewing Company
1.75
out of
5
based on
101
ratings.