Lost Lake Ice
| Melanie Brewing Company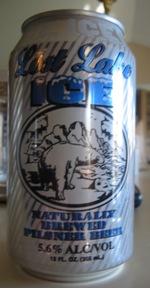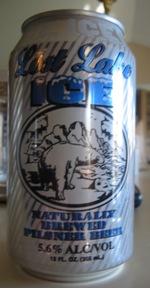 BEER INFO
Brewed by:
Melanie Brewing Company
Wisconsin
,
United States
Style:
American Adjunct Lager
Alcohol by volume (ABV):
5.60%
Availability:
Year-round
Notes / Commercial Description:
No notes at this time.
Added by fizzy on 10-17-2010
HISTOGRAM
Ratings: 13 | Reviews: 6
None found.
More User Reviews:
2.81
/5
rDev
+8.5%
look: 2.75 | smell: 3 | taste: 2.75 | feel: 2.75 | overall: 2.75
Pours to a generous head that goes away completely. Brilliant light gold. Aroma is very weak--what is there is sweet bready grains. Flavor is also not very strong. It has some sweetness to it due to lack of hops. I can taste and smell the alcohol. Feels a bit slick. For the price, you got about what you paid for. The newer version of Icehouse has more %abv bang for the buck and tastes slightly better.
404 characters
2.93
/5
rDev
+13.1%
look: 3 | smell: 3 | taste: 2.75 | feel: 3.25 | overall: 3
Poured from a 12 oz. can. Has a plae yellow color with a 1/2 inch head. Smell is of light grains, not much going on. Taste is mild, light grains, some malts, nothing offensive, but lacking in flavor. Feels medium/light in the mouth and overall, at this price point, not bad, but I wouldn't recommend it.
303 characters

1.42
/5
rDev
-45.2%
look: 2 | smell: 2.5 | taste: 1 | feel: 1 | overall: 1

3.46
/5
rDev
+33.6%
look: 3 | smell: 2 | taste: 4 | feel: 4 | overall: 4
I have never hesitated to admit that I am a sucker for cheap beer. Heck, I grew of age during the years of the "3 cases x $7.50" returnables beer. Some of the cheap ones were made by the same plant that Lost Lake is now made by.
Lost Lake, either Lite, Regular, or the Ice is a lawnmower type beer. Each has the same general taste with a slight twist. No different with the Ice that I am reviewing.
The color is darker than their standard "Pilsner", I don't wish to defame the word "Pilsner", but that is what they call it. Darker sometimes means Malt Liquor-UGH, but in this case they are right on the line.
Smell- HUH?
Taste- like I say, right on the Malt Liquor line, any more lean to the Malt Liquor side and I would not buy again.
Mouthfeel- well, if you do a mouthwash test it still comes up as beer.
Drinkability- well at $9.99/case it has remarkable drinkability. I would go back to the standard "Pilsner" or Lite.
I am just glad that somebody still makes a drinkable beer for $10.00/case. I love the Summit offering and will always chose it at a bar or supper club. But the Lost Lake offering is great for general backyard use.
Opps, forgot to add, at 5.6% it will deliver a buzz ahead of the competition.
1,217 characters
2.85
/5
rDev
+10%
look: 2.75 | smell: 2.75 | taste: 3 | feel: 2.75 | overall: 2.75

2.61
/5
rDev
+0.8%
look: 4 | smell: 3 | taste: 2.5 | feel: 2.5 | overall: 2
The CANQuest (TM) has had a number of CANs on hold while I aligned my bottle numbers, but now I'm back in the saddle atop the high horse that I rode in on, for a lovely mixed metaphor.
Previous reviewers mentioned the CAN's verbiage: "Naturally Brewed Pilsner Beer" and I am a bit dubious my dang self.
The Crack & Glug went off without a hitch, leaving me with just better than a finger of rapidly falling bone-white head. Color was a deep golden-yellow with NE-quality clarity. Nose was slightly vegetal with an underlying lager sweetness. Pretty much the standard for the style. Mouthfeel was thin-to-medium with a big sugary sweetness on the tongue. I have no idea how they achieved this, but it would be hangover-inducing in quantity. I am only having one for entertainment purposes, however, so I should land feet-first. Finish had a strange tartness, totally unexpected, and not really welcomed, either. I would look elsewhere, even at this pricepoint.
963 characters
3.4
/5
rDev
+31.3%
look: 3 | smell: 3 | taste: 3.5 | feel: 3 | overall: 4
This is my favorite "fall back beer" for a number of reasons-
1. At 5.15 a twelver I can always afford the backup [and that's at a high priced local market]
2. The 5.6 is both refreshing and strong
3. The transition from a NB Tripel [for example]
is pretty seamless...I appreciate that.
4. It's a local brew and I've met the owner pouring free samples at local supermarkets [even scored a hat]
394 characters



3.05
/5
rDev
+17.8%
look: 3 | smell: 3 | taste: 3 | feel: 3.5 | overall: 3
Pours a clear golden-straw in color, topped with a white head of average duration and exhibiting minimal lacing.
Nose is reasonably clean, with a sweetish malt-focused character. This is by no means as clean or crisp as a Pilsner*, and is in fact more than a bit vegetal. No hop presence.
Sweet, smooth, and medium full-bodied on the first sip, with rather broad notes of corn. Very minimal bitterness throughout, and just enough to balance the sweetness, and sturdy strength of this beer.
Mouthfeel is definitely better than average, even as this warms -- although admittedly, very few Craft Beer fans will sit still long enough for this one to get warm!
Drinkability is average for the style . . .
This one is worth a try for a budget-priced American beer which straddles the fine line between Malt Liquor and Ice Beer.
*The copy on the can reads "Naturally brewed Pilsner beer", but this is far from any of that style's associated sub-styles, and is much, much more in line with traditional Malt Liquor. As such, Lost Lake Ice is not a bad beer, and is also priced reasonably-well.
1,103 characters

Lost Lake Ice from Melanie Brewing Company
Beer rating:
2.59
out of
5
with
13
ratings