Haskell's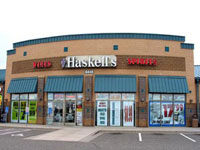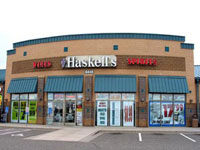 Store
6445 Lake Road Terrace
Woodbury
,
Minnesota
, 55125
United States
(651) 714-4188 |
map
Notes:
hyprlt from Ohio
4.28
/5
rDev
+6.5%
vibe: 4 | quality: 4 | service: 4.5 | selection: 4.5
To be honest, I did not look very far past the awesome refrigerated make your own six pack area and the single bottle door. It was my third disney world (beer store) in as many days and they seemed to get bigger and better. As soon as I entered, I exclaimed my love and appreciation for the care that has been invested into the arrangement and variety or the beer, wine, and spirits. OK, well mostly the beer. But either way, the staff are as pumped up about great beer as you could ask for. I was in the store for almost ten minutes before I was allowed to look because I was so deep in conversation.
Aug 31, 2011
happilysurly from Minnesota
4
/5
rDev
-0.5%
I have noticed that pretty much all Haskell's are the same with a few variations. The nice thing is that they have some decent beer selection and it is growing. When I went here, there was a good supply of Founders including KBS and Nemesis so I, of course, bought what I could. While I was there, the place was a mess because they were in the middle of a remodel. They were expanding their space, but what I saw was more wine racks, not room for more beer. They ARE known for their wine after all. Overall, not too bad, but not a craft beer hub.
Apr 02, 2010
AdmiralDiaz from Minnesota
4
/5
rDev
-0.5%
A nice selection that doesn't fall too short of Cellars but it is a bit pricey, not on everything but some. They have all the regulars that you would expect to find in any quality beer store.
The staff is helpful and friendly. I haven't had any questions that couldn't be answered.
Haskell's is located right off of I94 which makes it much more convenient for those who don't live in Woodbury. If you live nearby and don't have a good liquor store in your town I would recommend stopping by Haskell's for convenience rather than navigating through suburbia to Cellars, but if you have the time definitely check out both.
Jan 03, 2009
happygnome from Minnesota
3.8
/5
rDev
-5.5%
Not too far from 494, which i was traveling and decided to stop in for a 6 pack or whatever.
I walked into this place and was immediatly greeted by one of the staff, I had not been there before so its not like i was a regular that they were just saying hi to. I made my way back to the the beer section and was not overly impressed with the selection but they had a few things that i had not seen before. I made a "make your own 6er" for under $9 which seems a little pricey I was able to include some very nice brews in that. I was there for about 10 - 15 minutes and i believe the 2 employees there each asked me if i needed help with anything, I was the only person in the store so i dont know if theyre always like that. The service is pretty good.
Mar 24, 2008
JeffKrenner from Minnesota
3.85
/5
rDev
-4.2%
This place is only a block away so I make a quick run whenever neccessary. Always someone that greets you as you walk in the door. Willing to help you look for something if asked. Will occasionally ask if you need help. Selection is above average, but not on par with the Cellars chain. Prices seem to be a bit higher too. Good selection of singles to "make your own 6 pack" for 8.99. Overall not bad, but nothing spetacular.
One other thing. My cousin used to buy 2 cases weekly from them for a couple years. Always the same thing, so obviously they knew him. Well, one day he goes in to buy his normal case and they are out of 24 packs, he asks if they will give him two 12s for the case price and they say no. Mind you, they all know him and know he is a regular customer. Since then he has been going to the Cellars.
Jul 08, 2006
Haskell's in Woodbury, MN
Place rating:
4.02
out of
5
with
6
ratings