India Special Reserve Beer
| Manav Breweries Pvt. Ltd.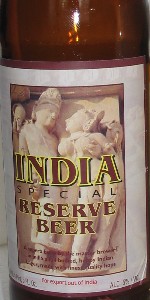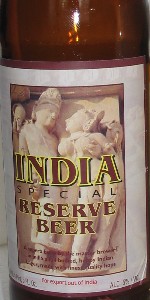 BEER INFO
Brewed by:
Manav Breweries Pvt. Ltd.
India
Style:
Euro Strong Lager
Alcohol by volume (ABV):
6.00%
Availability:
Year-round
Notes / Commercial Description:
No notes at this time.
Added by BeerAdvocate on 07-25-2006
HISTOGRAM
Ratings: 7 | Reviews: 4
Reviews by ChainGangGuy:
3.36
/5
rDev
+27.8%
look: 4 | smell: 3 | taste: 3 | feel: 4 | overall: 4
Appearance: Pours out a slightly hazy, straw-colored body with a frothy white head.
Smell: Lightly floral, sweet aroma of grains and grass.
Taste: First of all, there's a delicate malt body supplemented by some faint grassy notes. Second of all, well, actually that's all there was to this beer.
Mouthfeel: Thin-bodied with a nice effervescent creaminess.
Drinkability: As my pal AndoBrew put it, this one's "absurdly drinkable." Some have accused me of jumping ship any time a brewery dangles a few more ABV percentage points or whacky ingredients in front of my face. This, of course, is not the case, friends! Even I can find some small pleasure in this gift from Ghaziabad, India.
696 characters
More User Reviews:

2.79
/5
rDev
+6.1%
look: 3 | smell: 2.75 | taste: 2.75 | feel: 3 | overall: 2.75
3.35
/5
rDev
+27.4%
look: 3 | smell: 3 | taste: 3.5 | feel: 3.5 | overall: 3.5
Pours bright gold with a white fluffy head that quickly descends and gradually subsides.
The smell is of sweet grain. Some caramel. Earthy undertone.
The taste is of sweet grain and caramel. A gradual underlying smokiness creeps in. Spicy earthiness gives sweetness balance in the finish.
Light-side of medium-bodied. Smooth.
An interesting, if not especially flavorful, brew. I've not been impressed by the several beers I've had from India, but this one, while I would not particularly return to, is not bad.
522 characters

2.66
/5
rDev
+1.1%
look: 3 | smell: 2 | taste: 3 | feel: 3 | overall: 2.5
Poured from a 12 oz bottle into a tulip glass at the Rupee Room in Orange. Reviewed from notes.
A- Pale golden color, like a macro-lager. Finger and a half white head. Bubbly and spotty lacing.
S- Floral hops, hoppiness and some kind of herb mustiness. Not terrible.
T- Light hoppy flavor. Subtle wheatiness in background. Not complex, but not bad.
M- Very light body and low carbonation.
O- A resounding meh. Light and drinkable.
435 characters

1
/5
rDev
-62%
look: 1 | smell: 1 | taste: 1 | feel: 1 | overall: 1
This has joined Samuel Adams Triple Bock and Gluek Ice in my unholy trinity of "utterly undrinkable brews."
Pours a light macro yellow. Big white foam head. I knew something was wrong when I smelled it. Good lord, what the hell is going on here? Medicinally horrid chaff/grass, a weird-o musty smell. The taste is just godawful. Sickly sweet with a terrible, terrible herbal mustiness that just completely overpowers everything.
I don't think I made it a third of the way through the bottle.
493 characters
India Special Reserve Beer from Manav Breweries Pvt. Ltd.
Beer rating:
2.63
out of
5
with
7
ratings