The Grey Parrot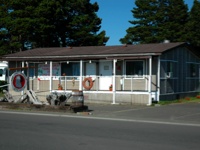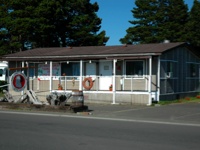 Brewery, Bar, Eatery, Beer-to-go
1504 Pacific Ave N
Long Beach
,
Washington
, 98631
United States
// CLOSED //
Notes:
Reviews by brewandbbq:

brewandbbq from New Hampshire
4
/5
rDev
+16.3%
vibe: 4 | quality: 4 | service: 4 | selection: 4
Called ahead to set up a visit at the Grey Parrot on our PacNW whirlwind tour. The owner agreed to open the doors for us in the morning on the way to Seattle from Seaside.
Located down the strip in "lovely" Long Beach, Washinton, the Grey Parrot is a grey double-wide with a small kitchen and somewhere in there, a small brewery.
At the time of our visit the place was in a state of flux. Beer mugs and knicknacks covering the bar, furniture out of place, etc. You could spy a washer and dryer in the other room, and I wasn't sure if the owners lived in the pub or not. The owner informed me that he will no longer be serving food when he reopens, but rather he will be selling homebrew supplies.
He expected to reopen by the time of this review.
We were there for the spontaneously fermented sours and he did not dissapoint. Drawn from a three tier barrel rack featuring 55 gallon stainless drums, the owner drew us samples of the "Red" and the "Dark", both 3 years old. Great beers and very unique.
We also were able to try the cranberry pale which had hardly a trace of cranberries, and a Dunkle Weizen which was quaffable.
Beer to go is available in 1/2 gal growlers for $20.00, or swing-top pints for $5.00. Great deal for a true lambic-style beer.
A short, enjoyable visit was had before we left, and the owner was quite friendly. I can see how the locals could hang out all night.
A truly unique establishment and certainly a must hit for a sour-head.
Big thanks for the owner to open up for some beer to go, very accomodating and that counts for a lot in my book! Are you listening HOTD?
May 17, 2010
More User Reviews:
RedDiamond from Oregon
2.88
/5
rDev
-16.3%
vibe: 3.5 | quality: 1.5 | service: 4 | selection: 2.5 | food: 4.5
I was initially unconvinced the Grey Parrot was real. I'd heard precious little about the place and was skeptical enough to guess that this was just another cyber pub existing solely on the web with no tangible footprint on terra firma. So I called ahead to make sure and was reassured that the Grey Parrot had opened for business in July 2005 and now served six house ales at their pub in Long Beach. That was in June, 2006.
I showed up several days before the Fourth of July and found a notice on the front door informing me that they'd be closed for a few days. Walking about the place, I noted a house in the backyard recently gutted by fire. I put two and two together and decided the Parrot was experiencing a personal crisis. It didn't look good.
The "few days" they expected to be closed stretched to several months but the Parrot reopened near the end of summer. I knew it would be hard for them to lose all that summer tourist business, but I waited 'till October then paid them a visit when I hoped they might be serving some fresh, post-fire beers. The gutted house had been removed and was now a parking lot, underscoring the notion that the Grey Parrot is one of the smallest brewpubs anywhere. In fact, the signboard near the street boasts that it's the smallest brewery in America. It isn't, but with a brewing capacity of just 1.7 barrels, The Grey Parrot qualifies for that "less-than-micro" brewery sometimes called a pico- or nanobrewery. Though it resides squarely on Long Beach's main avenue, I drove right past it the first time out. It looks nothing like a pub. It is in fact a doublewide mobile home of very modest dimensions with no neon signs, and only a scant few parking spaces. The driftwood ornamentation outside makes the place look like any number of tourist havens on the peninsula.
Inside are five small tables and a peripheral side bar with four stools. The word "cozy" doesn't do justice to the confining immediacy of the house. It's like you're in someone's living room. Actually, it's smaller than most living rooms and conversation isn't restrained to any one given table. It naturally spills out to all patrons including the husband/wife owners.
I ordered some food and got one of the best chicken breast sandwiches I've ever had. Everything was fresh and prepared with attention to detail. The brewer is also the cook and he takes his time and makes the meal count. Sandwiches and burgers dominate the menu, along with a steak, a few salads, and appetizers. The burgers are sizable and quite popular.
Unfortunately, I can't offer similar praise for the beers. With one notable exception nearly all the beers I tried on repeat occasions were fatally flawed by serious brewing problems. The Grey Parrot runs a brewing system so small that the kitchen grill must be detached and removed for the kettle to operate. Sparge water is heated in a homemade heat exchanger on the griddle, and no cooling unit is used to chill the wort. Beer is racked only to corny kegs which then mature in an insulated room that is only air conditioned, not refrigerated. I admire such unconventional, homespun techniques, but the beer clearly suffers for it.
The one standout among GP's otherwise problematic beer roster is a true American wild ale spontaneously fermented with local ambient yeasts. It is sometimes listed as "Red Belgian Ale" on the menu board, and other times as "Red Lambic." Of course, the beer can't properly be called Belgian or Lambic. How ironic that most brewers offering something they call a "wild ale" are actually brewing beers with cultured, Belgian-derived yeasts while this one genuine American wild ale gets tagged as a Belgian. No matter. Take a pass on the nomenclature and pursue this beer with due haste. It is a rare treasure and makes The Grey Parrot worthy of an eager visit.
Of note: six house beers, no cask, nitro or guest taps. No booze or wine. No kids. Closed M-T-W. And if you like coffee, The Grey Parrot also roasts its own beans.
Oct 11, 2006
The Grey Parrot in Long Beach, WA
Brewery rating:
0
out of
5
with
0
ratings