Dismiss Notice
Raasted Pale Ale
| Raasted & Randers Bryghus A/S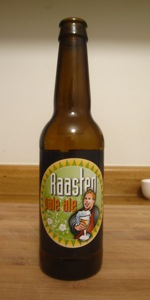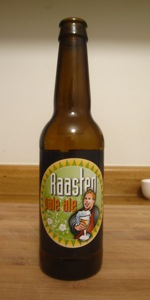 BEER INFO
Brewed by:
Raasted & Randers Bryghus A/S
Denmark
randersbryghus.dk
Style:
American Pale Ale (APA)
Alcohol by volume (ABV):
5.00%
Availability:
Year-round
Notes / Commercial Description:
No notes at this time.
Added by IronDjinn on 02-15-2010
HISTOGRAM
Ratings: 10 | Reviews: 9
Reviews by OskarL:
3.28
/5
rDev
-2.7%
look: 4 | smell: 3.5 | taste: 3 | feel: 3 | overall: 3.5
Pours a hazy pale orange color with a one finger head that has some retention and leaves some lacing.
Smells of exotic fruits, grapefruit, yeast and little sweet malt.
Tastes of grapefruit, spicy yeast, floral hops and a bit caramel malt.
The body is light/medium, it's smooth and has low carbonation.
304 characters
More User Reviews:

3.67
/5
rDev
+8.9%
look: 3.5 | smell: 4 | taste: 3.5 | feel: 3 | overall: 4
330 ml bottle, a mention of American Chinook and Amarillo hops the only thing discernable to me from the label descriptions.
This beer pours a hazy light orange-copper colour, with one finger of creamy, foamy off-white head, which leaves a smattering of lace around the glass as it fades away. It smells quite strongly of aromatic grapefruit hops and a moderate caramel maltiness. The taste is citrus hops, and bready caramel malt. The carbonation is average, the body a bit less than medium weight, but fairly smooth, and it finishes clean, a bit of leafy citrus hops lingering.
All in all, a decent, and above average APA. More akin to a tamer IPA, and it could use a tad more malt backbone, but I'd happlily drink something like this at any watering hole around town, Danish origins notwithstanding.
804 characters
3.72
/5
rDev
+10.4%
look: 3.5 | smell: 4 | taste: 3.5 | feel: 3.5 | overall: 4
Thanks Presario. Pours golden colour with decent head covering. Significant attractive hop aromas. Tad above average mouthfeel, although also noticeable carbonation. Drinkable (I am Ok with pints of this) and refreshing dose of orange-citrus hoppiness.
252 characters
3.48
/5
rDev
+3.3%
look: 4 | smell: 3.5 | taste: 3.5 | feel: 3 | overall: 3.5
A - fully hazy orange, respectable white head dissipated with a wide berth of sticky lacing
S - mix of earthy, citrus, and candy dominate, with some woody and light alcohol support
T - citrus and perfume hops present, but equaled by toasted grain and caramel maltiness, light traces resiny herbal notes to finish
M - smooth, slightly bitter with a heat that builds through the finish, but a bit to flat for an APA
O - interesting flavour mix and definitely drinkable, but just slightly better than middle of the road
516 characters
2.74
/5
rDev
-18.7%
look: 2.5 | smell: 3.5 | taste: 2.5 | feel: 2.5 | overall: 2.5
Hazy dull orange, an aggressive pour only coaxed a thin white head that didn't hold on at all.
Somewhat sweet to the nose, a dose of toffee with an herbal aroma of hops mixed in. Some citric impression, though only faint.
Watery to taste, with a toasted flavour to the malt. Hops come up a touch late, with a lingering sort of flowery taste. Not a great tasting pale ale.
Watery mouthfeel as well, light bodied and lowish carbonation. This was a disappointing beer, especially since it is the first I've tried from this brewery, and I have three of their other brews lined up.
579 characters

3.27
/5
rDev
-3%
look: 3.5 | smell: 4 | taste: 3 | feel: 3 | overall: 3
From a 300 ml brown bottle. Short brief loose white head on the pour, with a hazed coppery body.
The aroma is almost all citrus and leafy green hops, tangerine and grapefruit, faint bready caramel malt in the background. Not very complex, but it hits all the right buttons.
Fairly one-dimensional in the flavour dep't, spicy, floral, citrus hops predominate, light toasted malt is almost completely overwhelmed.
The mouthfeel is somewhat light and watery, almost non-existent carbonation.
If you're looking for a good dose of hops this stuff delivers, but really no character to it beyond that.
606 characters

3.43
/5
rDev
+1.8%
look: 3.5 | smell: 3 | taste: 3.5 | feel: 3 | overall: 4
Found this charming looking bottle at Willow Park in Calgary, and couldn't resist.
It pours a watery, slightly hazy pale orange with a thin wisp of head. Very slight lacing.
Smells are muted compared to other APA's. Light grassy & grapefruity notes with little indication of the malt. If you're hoping for that gust of american-IPA style hoppy air, you'll be disappointed. Very one noted, but nice nonetheless.
It's thin in the mouth with a creamy finish. This is a very easy drinking pale ale, but it's too watery and simple to surpass mediocrity.
552 characters
3.53
/5
rDev
+4.7%
look: 4 | smell: 3.5 | taste: 3.5 | feel: 3.5 | overall: 3.5
A - Pours a hazy golden orange colour, finger of beige head with decent retention and some sporadic lacing.
S - Earthy hops, though also a bit floral, with the caramel coming through strong on the finish.
T - The hops are rather tame and tend to take a back seat, coming through earthy and woody on the finish. The caramel notes are also subtle and are a little overpowered by the bitterness. The bitterness is certainly prominent.
M - A tad thin for my liking and finishes a little too wet for an APA, as I prefer them a bit more dry.
O - A tasty version of the style, but certainly not worth the $5 price tag for a 330ml bottle. I've had much better APA's at a fraction of that price, but I'm not disappointed I gave it a try.
732 characters

3.6
/5
rDev
+6.8%
look: 4 | smell: 4 | taste: 3.5 | feel: 3 | overall: 3.5
330ml bottle poured into pint glass july20 2010
A clear light orange with a few slow moving bubbles feeding a thumbs width of head that hangs around for a couple minuets leaving lace where it existed
S lots of citrus and a little caramel, a hoppy pale ale with a mild floral aspect
T what I smell but slightly toned down
M full for the color but could use a little more carbonation
D a good beer I'd drink it again so that has to say something
almost at its best before date so I imagine this would be quite the hop bomb fresh, give it a go if you get the chance
569 characters
Raasted Pale Ale from Raasted & Randers Bryghus A/S
Beer rating:
3.37
out of
5
with
10
ratings