Shiner Prickly Pear
| Spoetzl Brewery / Shiner
BA SCORE
77
okay
139
Reviews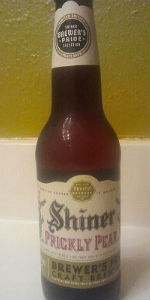 BEER INFO
Brewed by:
Spoetzl Brewery / Shiner
Texas
,
United States
|
website
Style:
Fruit / Vegetable Beer
Alcohol by volume (ABV):
4.90%
Availability:
Rotating
Notes / Commercial Description:
Doubly good in triple digits, our unique summer seasonal is made with the fruit of the prickly pear, a cactus native to Shiner, Texas. With a tart, citrusy flavor and a crisp finish, it's the best use of cactus yet.
Added by EgadBananas on 06-29-2012
Reviews: 139 | Ratings: 753
2.83
/5
rDev
-15%
look: 3.5 | smell: 3 | taste: 2.5 | feel: 3 | overall: 3
In the "Family Reunion" mixed six pack.
Poured aggressively in a 12 ounce hotel tumbler. Liquid the color of strong iced tea, dark brown with red throughout. Clear with a light tan head developing. Retention is weak, dropping to a thin film within 30 seconds. Some decent lace left behind.
Smell is sweet, fruity - kind of raspberry/apple mix, no idea what a prickly pear smells like-, some weak malt and nothing else. Smells a lot like a fruity soda, like a Dayton Redpop.
Taste is strawberry-like fruit, malt and that's it. Fortunately, the overriding sweetness of the nose is well restrained here. Still, it drinks like an under-sweetened soda. Balance is fine but with only two notes how hard is that?
Medium plus body, sharp upfront effervescence (but lighter than anticipated) mellowed quickly. Feels similar to a strawberry lambic in many ways but falls well short of that style. All told, an "interesting" beer but not really worth seeking out.
★
952 characters

3.55
/5
rDev
+6.6%
look: 3.5 | smell: 3.5 | taste: 3.5 | feel: 4 | overall: 3.5
Poured from bottle into pint glass
Appearance – Pours a lighter copper / deep amber color. Upon pouring there is a two finger white head. The head fades over a moderate amount of time to leave a decent level of lacing.
Smell -The smell is very sweet and can be detected from the pour, well before bringing my nose to the glass. In the aroma are huge smells of lighter (in color) fruit aromas with big peach, pear, berry (raspberry and strawberry), kiwi, as well as some citrus. There is also a prickly pear aroma that comes through with the rest. Overall its smell is massive of sweet and smells heavily of candy; it is tasty, but rather strange for a brew.
Taste - The taste begins with a lighter bready flavor and a good dose of pear, peach and berry. These taste remains relativity constant, except for an increasing prickly pear and kiwi flavor that continually grow stronger as the taste advances further on. In the end a sweet fruity flavor is left on the tongue.
Mouthfeel – The body of the beer is on the lighter side while the carbonation level is on the higher side. For the sweeter flavors the body and carbonation are both very fitting for the brew and make it easy drinking and more refreshing (lemonade refreshing as opposed to cold water refreshing).
Overall – It was sweet and had some nice flavors, although for me it was a bit too fruity. It would likely be nice on a warmer day when looking for something sweet as well as refreshing.
★
1,463 characters

2.98
/5
rDev
-10.5%
look: 4 | smell: 3.5 | taste: 2.5 | feel: 3 | overall: 3
Medium sized off white head settles into a pretty decent lacing above a clear copper colored beer.
A very sweet fruity aroma, I guess it's the smell of the prickly pear with maybe some sugar added.
An almost artificial sweetness to the taste of this beer, seems to me that the prickly pear does not transfer well to a good beer taste and they added some additional sugars and fruit taste to fill in what was lacking in the prickly pear fruit taste.
A dryish aftertaste that brings with it some of the sugars and fruit sweetness of the taste on this medium bodied beer.
If somehow they could have make the taste less artificial it might have been a pretty good drink but it just seems to fake for me.
★
703 characters

3.09
/5
rDev
-7.2%
look: 4.5 | smell: 3 | taste: 3 | feel: 3 | overall: 3
Pours a transparent, but delicious-looking rich brown.
The smell is of raspberries. Seems like raspberries to me, anyway. Maybe that's what prickly pears smell like, though. I don't know.
Taste seems kind of like raspberries too. It reminds me of a New Belgium attempt at frambozenbier that I had one time. But this is far better. The beer goes better with the fruit in this. Since I don't know what prickly pears are supposed to taste like, I'm at a loss to know how much impact that exact flavour makes. It's very fruity, though. It just tastes like berries to me. Berries in a light brown ale. Decent stuff.
★
610 characters
2.98
/5
rDev
-10.5%
look: 3.5 | smell: 3 | taste: 3 | feel: 2.5 | overall: 3
Beer reviews usually begin with a discussion of the appearance of the beer under review, but in this case I am compelled to make an exception; not because I wish to break with tradition; not because I want to indulge in some rhetorical flourish. No, I have to begin with smell because that is what this beer demanded of me. As soon as I popped the cap off of this beer, my kitchen filled with the sweet smell of bubble gum and fruit. I stepped a few feet away from the bottle and could still smell its sweet, candy-like aroma.
The beer has a deep amber body and a frothy head that sticks around long enough to lead me to expect a creamy mouthfeel.
The bottle tells us that the beer is made with Citra and U.S. Golding hops. Neither is detectable at first, as the fruity characteristics and sweetness are overwhelming. But as the beer warms, some Citra aromas do come through, and I even manage to detect a bit of the roasted malt.
Overall the taste of this beer is somewhat monochromatic. It taste more or less like it smells, and does not develop very much on the palate. Citra and U.S. Golding (usually Sonnet) hops are known for their sweet characteristics; Citra is often said to produce flavors of tropical fruits such as guava. The toasted malt is sweet, and one can just barely detect its flavor as the beer warms and as one grows accustomed to beer's primary flavors. What this amounts to is a beer that layers sweet, candy-like fruit upon sweet aromatics upon sweet malt. The brewery might have done well to consider developing a more sophisticated flavor profile here. It would have been nice to see how the bubble-gum- and cherry-like flavors of the fruit played with hops that offer floral characteristics as opposed to citrusy or fruity ones.
I regularly eat prickly pears, which come in different colors and varieties. No indication is made of which variety was used here, though I suspect based on strong flavors of bubble-gum and cherry that the purple fruits have been used.
Fruit beers divide the beer drinking community like few other styles. I've met beer enthusiasts who don't care very much for one beer style or another: one may avoid stouts if possible; one usually doesn't find the intensity of an American IPA very appealing. But when it comes to fruit beers, opinions seem to be stronger. I am always curious to try them, but, after the first sip or two, usually find myself wanting to move on to something else. Shiner's Prickly Pear was fine, just fine.
★
2,489 characters
3.77
/5
rDev
+13.2%
look: 4 | smell: 4.5 | taste: 3 | feel: 4.5 | overall: 4
Appearance: This beer pours an amber color and is topped with a good inch of off white head that tends to hang around quite a few sips into the beer.
Smell: The smell is like none that I remember it has an odd tartness to it that is quite intriguing. The blend of hops and that prickly pear tartness has my mouth watering.
Taste: The taste is a bit disappointing in comparison to the taste not that it is bad just not quite as bitter as I had hoped.
Mouthfeel: I love the mouthfeel of this beer it is just what a warm day in Ohio is suppose to be easy drinking but good flavor that keeps you wanting more.
★
607 characters
4.25
/5
rDev
+27.6%
look: 4 | smell: 4 | taste: 4.5 | feel: 4.5 | overall: 4
Bought this brew as part of the SHINER REUNION 6 pack. I believe that is the only way to get this brew as it is one of the BREWERS PRIDE SERIES selections. Was very intrigued by the name and was compelled continuously as I opened it, smelled it, and drank it. Very good flavor and I highly recommend it.
★
303 characters
3.28
/5
rDev
-1.5%
look: 4 | smell: 3.5 | taste: 3 | feel: 3 | overall: 3.5
clear amber body with a thin white head that fizzes out rather quickly, nice sticky lacing left behind. smells sweet and candy like. a lot like many wine coolers and other hard liquor beverages. taste is a little weird, guess i know what cactus tastes like now. some citrus but mainly jolly rancher candy like flavors. mouthfeel is average for a fruit beer, maybe a little too carbonated as it livens up the taste buds. overall not bad, just kinda weird. don't think i would try again.
★
485 characters

3.26
/5
rDev
-2.1%
look: 4 | smell: 3 | taste: 3 | feel: 4 | overall: 3.5
Appearance: crystal clear golden brass color
Smell: Fruity -- almost like Kool-Aid
Taste: The fruit is still dominating the taste, particularly at colder temperatures. But as it warms to around 50 degrees, the hops come out to play. This actually does taste like prickly pear (I grew up in El Paso and have had it many times in many forms): if you've never had this before you might compare it to a cross between a peach and a sweet ruby grapefruit with just a hint of melon. It's sweet but with a pleasing tartness.
Mouthfeel: Good, but not remarkable. I wasn't particularly taken by the carbonation or the head.
Overall: I don't really like fruit beers, but this is one of the better ones I've tasted thus far. I think it might pair well with sweet pork barbecue or something similar. All in all, it's a nice summer beer.
★
837 characters
3.54
/5
rDev
+6.3%
look: 3 | smell: 4 | taste: 3.5 | feel: 3 | overall: 3.5
A - A substantial clear copper color with rather decent head lacing.
S - Sweet and fruity. I get a lot of peach and champagne grapes.
T - I still pick up sweet peach and perhaps what I imagine prickly pear to taste like. A bit artificial to me but not in a way that puts me off.
M - Fizziness bites the tongue right off the bat, in a good way. The beer is light bodied and a very easy drinker.
O - My second 'Brewers Pride' beer from Spoetzl and another winner. Why can't the rest of their lineup be even close to as good?
★
526 characters
3.53
/5
rDev
+6%
look: 4 | smell: 3.5 | taste: 3.5 | feel: 3.5 | overall: 3.5
12oz brown bottle with no freshness date.
LOOK: Clear brassy hue, thick lacing
SMELL: Fruity, hard candy, floral, mild breadiness, sweet
TASTE: Slightly smooth, wet, moderate body, fruity, grass, juicy, earthy, herbal, mild spice, baked apples, cactus, dry finish
I can appreciate the effort for doing a cactus flavored brew, if you can get past to at best ... embrace the fruitiness then this brew will do just fine by you.
★
428 characters
3.9
/5
rDev
+17.1%
look: 4 | smell: 4 | taste: 4 | feel: 3 | overall: 4
Appearance: Copper color with a 1/2" white head that dissipates quickly. Moderate lacing. Good carbonation.
Smell: Fruity. Pears, mangoes, peaches.
Taste: Fruity, pears, much like the smell.
I started to think that all Shiner beers sucked. This is a totally decent fruit beer with a unique character. It's a session beer that is thirst quenching and satisfying. If you're into fruit beers, this is definately worth a shot.
★
425 characters
3.58
/5
rDev
+7.5%
look: 4 | smell: 3.5 | taste: 3.5 | feel: 4 | overall: 3.5
Shiner Prickly Pear Lager is distinctly different from other Shiner beers. Its brewed by Jimmy Mauric with multiple malts including caramel, wheat and two-row barley alongside Citra and Golding hops. The actual red fruit of the prickly pear cactus is used in the brewing process for a unique flavor.
Look: Rich amber color like a summer sunset with a khaki head that billows and sticks around for a while, leaving behind ample lacing.
Smell: Nice aromas of lilac and dried hay.
Taste; Prickly Pear Lager has a bright citrus flavor, with a bit of fleshy fruit and a dry crisp finish. I'm tempted to call it sweet, but it isn't really. It sort of reminds me of Zima, except it tastes a hell of a lot more like beer. This is one easy drinking beer; light and refreshing. My first went down incredibly quickly.
My full review is on my blog: http://whatareyoudrinking.net/2012/07/shiner-introduces-prickly-pear-lager/
★
920 characters

4.05
/5
rDev
+21.6%
look: 4 | smell: 4 | taste: 4 | feel: 4.5 | overall: 4
Sampled from the Family Reunion pack.
Pours a dark amber color, clear, with an eggshell-white head of about a finger. Was creamy and dissipates to a foamy collar. The aroma was sweet and fruity, with a distinct melon aroma. Not sure what prickly pears smell or taste like, but I'll assume that's where it's coming from. Some bubblegum notes, possibly yeast characters. There's a hint of citrus hops in there, most likely the citra, though it's a bit muddled by the fruit. The taste was lightly bitter, with a fruit-like tartness. It's not big, bold or offensive, but it's there. After a few more sips, it becomes a bit more bitter, melding with that soft tartness and a subtle fruitiness. It's...unlike anything I've really had, but it's pretty good. The feel was light, but slick and crisp. It didn't seem highly carbed, but it is nice and bubbly on the tongue, which works well for this beer with the bitterness and mild tart edge.
Shiner's beers are typically average at best, though always very drinkable and cheap, so I always like trying the new Reunion pack when I see it, and thus far, this has been the most interesting and enjoyable. I think this would make a nice summer seasonal, Shiner.
★
1,202 characters
Shiner Prickly Pear from Spoetzl Brewery / Shiner
77
out of
100
based on
139
ratings.