Kyoto White Yuzu

Kizakura Sake Brewing Co., Ltd.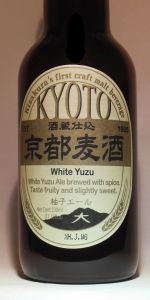 Write a Review
Beer Geek Stats:
| Print Shelf Talker
Style:

ABV:

5%

Score:

Avg:

3.77

| pDev:

10.08%

Reviews:

7

Ratings:

From:

Avail:

Rotating/Seasonal

Wants

Gots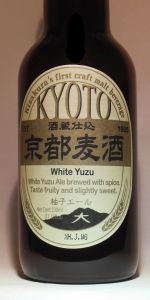 Notes:

aatazebeats from Texas
4
/5
rDev
+6.1%
look: 3.5 | smell: 4 | taste: 4.25 | feel: 3.25 | overall: 4
Look: an extra pale yellow with about a 2 inch head, loads of foam.
Smell: Yuzu, slight hints of a tropical hop
Taste: Wheat, Yuzu, a little bit of what tastes like coriander and some super green romaine lettuce on the finish, really interesting and fresh.
Feel: Light and thin for a witbier, almost like a lager. Not as rich as I remember.
The recipe doesn't taste anything like I remember trying a couple years ago. I was a newbie to beer back then so maybe that's the case as well. Still a great beer, just not what I remember it to be. Used to rate it a 4.51/5, downed it to a 4. Any beer that's in the 4s is still great though, would still recommend
Feb 03, 2019

Thankin_Hank from Texas
3.59
/5
rDev
-4.8%
look: 3.75 | smell: 3.5 | taste: 3.5 | feel: 3.75 | overall: 3.75
Fairly tasty, unfortunately a "real" glass is not available. So I don't get a good look at it or smell. It tastes similar to other Japanese beers. Going to rate giving the benefit of the doubt. From an 11.15 ounce bottle.
Dec 23, 2018

Cthulhusquid from Washington
4.43
/5
rDev
+17.5%
look: 4.75 | smell: 4.25 | taste: 4.25 | feel: 4.75 | overall: 4.75
Look: One finger white head, hazy yellow body.
Smell : See below.
Taste : Pilsner malt, yuzu, a note of wheat, mild belgian yeast.
Feel : Medium-Light body, medium carbonatio, dry finish.
Sep 26, 2018
StonedTrippin from Colorado
3.75
/5
rDev
-0.5%
look: 3.75 | smell: 3.75 | taste: 3.75 | feel: 3.75 | overall: 3.75
interesting stuff here, yuzu seems to be a rather popular ingredient in some japanese craft beer, i feel like i have seen an uncanny amount of it. this is a neat one though, a wit type, with an interesting and aromatic yeast strain, an orange and lemon citrus brightness, and a ton of carbonation. hazy and even a little drab and murky from the bottle, some sediment visible, but a very active white head and tons of bubbles. aroma is fresh and zesty from the yuzu, a little bitter and a little acidic too, but balanced well by the earthy wheat and what sweetness is here from it. there are notes of coriander seeds, white peppercorns, and something oddly herbal, not dill, maybe cardamom, its distinct, neither of those, but similar in ways. flavor has a lot of wheat to it, and this beer has a lot of body from it, i am thankful for the high carbonation, this wouldnt be as drinkable without it. the yuzu flavor is nice, peppercorn again for sure, esters from the yeast, a tea-like bitterness, and some sweetness to. interesting flavor, pretty dramatic really, but good, best when ice cold, i didnt love the way it warmed up. overall a bit of a head scratcher, but an enjoyable bottle of beer, yuzu in a cool context.
Aug 13, 2018

Ninjakillzu from Washington
4.75
/5
rDev
+26%
look: 4.75 | smell: 4.75 | taste: 4.75 | feel: 4.75 | overall: 4.75
Poured into a Pint Defiance tulip. The body is a hazy golden yellow, with a finger white head. Aromas consist of wheat and citrus. Flavors are typical of a witbier, but there is also a slightly acidic and delicate (not in a bad way) yuzu flavor. Medium bodied with high carbonation.
Jul 07, 2018

Beginner2 from Illinois
3.75
/5
rDev
-0.5%
look: 3.25 | smell: 3.75 | taste: 3.75 | feel: 3.5 | overall: 4
Subtlety without a particularly good yeast is, I imagine, hard to achieve in a wit.
Kizakura's wit comes very close to that subtlety (and I can't imagine how a sake brewer isolated a Belgian yeast.)
While of average Looks, the Smells improve giving me malt and lemon. For Taste, I get as much coriander (or some substitute) as I get hops. The Wheat gives a very smooth finish... but it does seem thin.
OA: Kyoto White does its job. Refreshing on a warm day (in Hawaii) and it helped boost some average Japanese sides into a good lunch. If every ale could do that, the world would be a better place.
Jan 31, 2018

LiquidAmber from Washington
3.52
/5
rDev
-6.6%
look: 3.75 | smell: 3.5 | taste: 3.5 | feel: 3.5 | overall: 3.5
Poured into a Celebrator pokal. Pours a light to medium golden amber with a fine, two finger off white head with great retention and thick lacing. Aroma of pale malt, lemon, light orange, light molasses or corn syrup; more like a light lager than a wheat beer, but pleasant. Flavor is light pale malt, light wheat and lemon (yuzu?), with the same pale molasses or syrup note from the aroma. Flavor drops off rapidly into a watery malt and faint lemon and clove finish. Light to medium bodied with light carbonation. An odd take on a witbier; pleasant enough initial flavors, but quickly tastes somewhat watered down. Relates to a witbier in the same way an adjunct lager to a traditional lager; pleasant flavors, but attenuated and quite mild. The finish is underwhelming. Pleasant enough but slight.
Mar 08, 2017
Kyoto White Yuzu from Kizakura Sake Brewing Co., Ltd.
Beer rating:
83
out of
100
with
20
ratings