Binny's Beverage Depot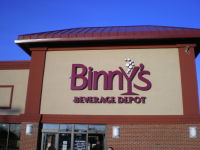 PLACE INFO
Type:
Store
1950 Lincoln Hwy
Saint Charles
,
Illinois
, 60174-1566
United States
(630) 377-1671 |
map
binnys.com
Notes:
No notes at this time.
Added by SurgeonGeneral on 07-24-2006
Reviews: 15 | Ratings: 29
4.24
/5
rDev
+2.4%
vibe: 3.5 | quality: 4.5 | service: 4 | selection: 4.5
This is my go-to Binny's. I can usually find stuff at this location that I can't find at other Binny's. It's a medium sized Binny's and the staff are helpful, you just need to ask them for help. Most of the limited releases are kept behind the service counter when you walk in.
280 characters
4.09
/5
rDev
-1.2%
vibe: 4 | quality: 3 | service: 5 | selection: 4.5
I go to this store about 3 to 4 times a month, and for good reason. This store has the best selection I've seen around the tri-cities area. Make your own 6 packs, about 3 isles of beer from the states, and a long isle of foreign beers. Always have Rochefort 10 on stock, along with many other Trappist options. As with most stores with a wide selection, you have to check dates, especially in the foreign section. The staff is extremely knowledgeable, and not only with beer. I think the store manager has had everything in the store. Also, you will never have to seek them out, they will come to you. A little bit pricier than other places I've been, but not enough to be off putting. If you do go, make sure you plan on being there a while.
742 characters

4.14
/5
rDev 0%
vibe: 4 | quality: 4 | service: 4 | selection: 4.5
Yet another Binny's visit. First time going to this location, though I should come more often!
I find that each Binny's is really generally the same in both selection and prices, though each one always seems to have a few different choices that the others do not. Not sure how that works distro-wise, but it does. This review is a few months late, but I still remember my visit well. I visited on an early satruday afternoon and it was surprisingly slow, a few people here and there, but nothing outrageous. I immediately perused the beer section and was generally impressed with what this location had. Like I said, they had a few different ones I have never seen in other locations, so I picked them up. 750mL bottles of Hanssens Oude Gueuze?! Yes please.
Overall, another solid Binny's location. They really never disappoint.
830 characters

4.44
/5
rDev
+7.2%
vibe: 4 | quality: 4.5 | service: 5 | selection: 4
I have been here a few times in the past when I was home for break. Now that I am permanently back, I thought I'd give it a proper review (especially after going here today).
Walking in on a Thursday at about two thirty, it was still a nice atmosphere. People were milling about, employees were helping customers, etc.
The quality of the store is like most (if not all) Binny's I have been to, pretty great. The store is clean, well lit, everything is easy to find, and a great beer wall section.
Service was amazing here. I met Pat, one of the beer guys, and he was just a badass. We BS'd for a few minutes and before I know it he is letting me have a bottle of the new Two Brothers Askew that he was going to purchase himself (since I just got back here from CA and missed this release). Pat knew his beer, was a true beer advocate, and went above and beyond to make me feel welcomed at this store. HUGE props to a great beer guy. I really enjoyed BSing with him and will for sure be back in the future.
The selection was pretty good – there are other Binny's out there that do have better selection but this one was not bad at all. I picked up 60+ dollars worth of beer here so that must tell you something (they just got in the 1882...so good!).
The value is like all other Binny's – not bad in the least.
Overall, I had an extremely pleasant experience and will say ask for Pat when you go and you won't be disappointed. Guy knows his stuff and has not problem talking about beer with you which I enjoy. Makes me feel right at home after only being here for less than a week.
1,603 characters

4.65
/5
rDev
+12.3%
This is my "go to" liquor store when in need of craft beer. This place has it all! They have a huge selection of crafts bombers and 750s, taking up an entire side of the store! Also, Binny's has a wide variety of craft six and four packs. They carry basically every brand of craft beer distributed to the Chicagoland area. The service is outstanding due to an incredibly knowledgeable staff. I have become buddies with the friendly staff over time and have been privileged enough to have them stash me the rare items as they come into the store. Love it! I would be out many big brews if it weren't for the awesome staff. The pricing is a bit much at times but constant savings and deals occur. You definitely get what you pay for here. If you find yourself in the area and are in search of craft, look no longer, this is your place.
833 characters
3.9
/5
rDev
-5.8%
After some traveling around, I found this place to be right off Randall in St. Charles (on my map) so I basically chose it as a closer meeting place for my in-person trade with orbitalr0x (thanks Don!).
If you didn't know it was there, you definitely wouldn't see if from Randall. It's tucked back behind the other building with no real clear signage. It's located in a decent building though. Once inside I walked directly to the right where most places carry their beer.
Sure enough, there it is, slightly hidden by pallets of booze. A large row of European imports lines the wall with almost all of it being bombers or large bottles. At the end was a tiny selection of American craft in large bottle formats. My heart almost stopped as I look around questioning if that was it.
Thankfully it wasn't but the segregation of beer sections didn't seem to make a whole lot of sense to me. I guess the store was just laid out awkwardly. I made my way to the back of the shop where all the American craft was. Much better selection of 6-packs than bombers. Also, the fridge selection was decent.
The only service interaction I had here was with some lady who looked like she was taking inventory which could be why she didn't really seem like she was in the mood to help me. Opposite the wall of beer was the vodka. I was looking for the cheapest stuff I could find to use for my airlock during fermentation. I asked if the one I found which I thought was the cheapest was and she took a quick look down the aisle and say, "yep, I think so" and went back to her work.
All in all, it's by far my least favorite Binny's location I've been to, but that's not saying a whole lot because it still trumps most beer stores anyway.
1,724 characters
4
/5
rDev
-3.4%
Binny's always fresh beer at the right price. The service is good. You can even try the beer before you buy it.
Binny's has the largest selection of anyone in the area. The wokers are always asking you if you need help, and they are quick to offer sugestions.
I've noticed that the Binny's in other counties (Will, Lake, DuPage) have larger selections. That must be due to funny games being played by distributors.
Get the Binny's Card as it can get you some discounts. Binny's could do more to give beer drinkers a break on the prices like they do for the wine drinkers. I assume the mark-up on wine is higher than beer.
624 characters
3.85
/5
rDev
-7%
Okay so this place is one of my favorite places to buy beer, but of course that could be said of most Binny's in general. This location sports a long aisle of single bottles, large sizes, and of course imports. The cases and 12 packs are back and there is some cold storage.
The service has been hit or miss. Often there is no one near the department to help. Often in the past I have just guessed or asked a fellow wander in the aisle, which has worked surprisingly well. The cashiers always are game for a wisecrack about not drinking a BMC product or being asked if my stout was as strong as Guinness. Its great for a good chuckle.
The selection is really good and to be honest the ability to make a rough shopping list from the website is handy but never foolproof. Enjoy and make sure to check the dates.
813 characters
4.05
/5
rDev
-2.2%
This Binnys was nestled behind a Jiffy Lube place, freestanding in the midst of parking lots with no other stores around. This location seemed to be one of the older ones. It was a Sunday about 20 minutes to close, and there weren't any staff on the floor. There was a person at a central info desk though, but I didn't approach with any beer questions. Checkout was quick and friendly.
Similar to many other suburban Binny's the "wall o' beer" starts on the right hand side and spills out into more short aisles and in the coolers to the back wall. Notable was the case plus of Flossmoor Shimkos Simcoes, with some in the cooler, and the "Beth's beer pick of the month" Redeye Coffee Porter from 2 Bros. (both solid local options). I was looking for Cantillon and sadly didn't see much in the way of lambics. There was a good range of Founders and Three Floyds, full lines from many midwest breweries. Didn't see anything on sale or clearance here, or singles as I was hoping to see in Kane Co. Pretty good quality and selection, all the bottles were clean and well organized. I might stop by again if I was going to the Kane Co. Flea Market...
1,147 characters
4
/5
rDev
-3.4%
This is the "go-to" beer store in the St. Charles area and one of the best chains in the Chicagoland area catering to craft beers and wine afficianados.
Q: The selection runs from BMC through Trappist Ales and all is stored in a very organized and well-thought out fashion. Singles are kept along the east wall, there's a large cooler on the north end, a bulk stock area for 12-packs, cases, and new releases, and an extra two aisles dedicated to six packs craft selections. BA reviews, as well as, weekly/monthly picks from store employees makes selection a bit easier. In addition, a four or five tiered shelf near the checkouts keeps some very fine clearance selections (2007 Old Stock Ale and 2007 Acadia Cereal Killer).
S: Usually you're greeted with a friendly hello upon entering the store. Depending on where or what the staff is doing, you are usually approached with the standard, "can I help you find anything?". I've had several nice conversations at the checkout and everyone is very kind and thoughtful. I've also seen several over-indulged patrons turned away when they try to purchase, which is a positive in my opinion.
Sel: I rated this lower because St. Charles always seems to be on the low end of the food chain when it comes to new releases. I was given different ship dates for KBS by three different employees, and St. Charles seems to receive lower case limits than other locations. Costs a couple dollars more than comparable locations, and I've seen employees purchase some limited releases before they were placed out to the public.
Overall: Really good store with employees that are knowledgeable and make some pretty good recommendations, but would like to see some of the limited releases a bit more quickly.
1,743 characters
4.15
/5
rDev
+0.2%
This place is in a sea of random parking lots but you can see the store from a good ways off. It is the typical Binny's look with clean modern building with big Binny's logo on top. Inside I saw the beer selection without even taking 2 steps in the door. The whole wall to my right was warm beer with cooler doors behind it. After I walked through the beer isle for the first perusal I thought this was a pretty good selection. Then in walking around the store I noticed that there is more beer in another few isles beside the cooler doors. What a bonus. It was good to see BA hang tags on somethings but it was interesting that they had multiple signs promoting the glassware selection on the other side of the store. I was hope to find some good glassware to pair with my beers but it only had a few martini glasses, a few odd pint glasses and a few odd hand painted glasses by a young artist.
The beer selection had lots to chose from from American craft beer and some good European selection. The staff was friendly and although they were busy unloading boxes I had several workers stop to ask if I need help. They also had a rack of discounted beers up front by the checkout, and I managed to wedge a few bottles into my already full arms. Binny's rarely lets me down and this was a nice surprise to see in this area that can be a bit sparse for beer hunting.
1,366 characters
4
/5
rDev
-3.4%
another day, another binny's
stopped in on a sunday afternoon on my way to the Q Center (gasp, if you have to ask, don't)
I enjoy the warehouse-style liquor stores - this place is massive but the beer selection didnt seem to match the south loop location. There is a wall of imports and bombers (moylans, southern tier specialties, etc etc). All the typical midwest fare is available, including breakfast stout and backwoods bastard. There was a fair number of seasonals around, but nothing too mind blowing. As with most other Binny's, refrigerated beer is minimal.
Not as good as the south-loop, but when in the st charles area, probably your best stop
658 characters
4.35
/5
rDev
+5.1%
Stopped in today, really big place and has its own mini grocery store for wines and cheeses. But I was here for the beer. Right when you walk in there is a row of shelves consisting of imported six packs with a mostly German focus followed by a long line of Belgian and domestic singles. The focus here is more on domestic it seems as opposed to a larger selection of imports at the Schaumburg Binny's. Its nice because they have things that I normally don't find at that location. Dreadnaught, Fantab Resp, Old Ruffian, the flying dog dopplebock. Further down the line there is a bank of coolers that stocks singles as well as an assortment of sixers and right behind these is a large bank of shelf space devoted to even more domestic micros, I think new holland was almost completly represented here along with most of the new bells selections to arrive.
I was looking for Gumballhead and I asked the guy working there that they were out due to the fact that there was a distribution info that prevented them from carrying that particular beer so I was a big sad about that but he really seemed to know his stuff. THe place is really clean, really big and all the beer looked new so nice all around.
1,202 characters
3.85
/5
rDev
-7%
a much nicer selection the binny's in naperville. service was helpful to the point of annoyance. i was asked to be helped about a dozen times. pretty much any beer i've ever seen for sale in illinois was available here. seems like they have good turnover on the beers, didn't notice any dusty bottles. ok prices on bombers, 3f's sixers were a buck more than at sam's. i saw beers here that i haven't seen elsewhere. also a very nice selection in the cooler. macros seemed to be an afterthought here. as with all binny's they will charge as much as they can get away with.
571 characters
4.2
/5
rDev
+1.4%
What can you say about Binny's Beverage Depot? Along with Sam's, there are very few Chicagoland liquor stores that offer such a wide range of beers at reasonable prices. The brand new St. Charles location is no exception. I've been to a few of the local Binny's and this one definitely has the largest beer selection of any I've been to. In addition to a large international & domestic craft brew offering, they house a four tiered shelf of ~15' in length of singles. Rogue, 3F, Founders, Bells, Bear Reupublic, Great Divide, Anderson Valley are well represented to name a few domestics; plenty of Belgian, German, English treats to be had as well.
Prices are a little better than average for the area. Two Hearted runs about $10/sixer at my other stop, here it is $8, HopDevil is $10 at the same unamed other liquor store, here it is $9. Plus, they offer free delivery for over $100, although I'd likely never use this as I live only .7 miles away (!)..
Service has been ok, I guess. I haven't really had any problems, but they haven't done anything extrodinary for me either. One thing that bothers me a bit- they have a policy where any unopened beer can be returned for a full refund. Presumably, this offer entices party throwers to over buy for their parties and be insured against any extra beer they may have purchased. Well, who's to say that this beer has been kept in decent conditions, not in the 160 degree trunk of someones car over the weekend? A minor conern, I guess.
Overall, hands down the best place to buy beer in the Fox Valley, and one of the best in Illinois.
1,594 characters
Binny's Beverage Depot in Saint Charles, IL
4.14
out of
5
based on
29
ratings.