Bête Noire
| AMB - Maître Brasseur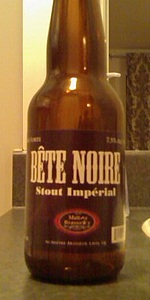 BEER INFO
Brewed by:
AMB - Maître Brasseur
Quebec
,
Canada
Style:
Russian Imperial Stout
Alcohol by volume (ABV):
7.50%
Availability:
Rotating
Notes / Commercial Description:
No notes at this time.
Added by papat444 on 02-17-2009
This beer is retired; no longer brewed.
Ratings: 6 | Reviews: 6
Reviews by SFLpunk:

2.8
/5
rDev
-16.4%
look: 3 | smell: 3 | taste: 3 | feel: 2 | overall: 2.5
341mL brown glass twist-top bottle. No date. Bought at Super Marché Rahman in Montreal.
Appearance: Pfft, goes the cap. Poured normally into an imperial pint to crackling carbonation and a rapidly fading head. No lacing, nothing. Black without any light passing through. Not looking good. (Head like Budweiser.)
Nose: Funky barn smells (manure not brett), old pot-o-coffee, cocoa beans, burnt sugar, smokey cream.
Palate: Crisp with lager-like hops and slight suggestion of acid (like coffee). Simple coffee notes on the palate, and rather thin and dry for the style. Burnt sugar and espresso roasted whole coffee beans on the light finish.
Notes: Not a good example of Imperial stout. This clocks in at 7.5% and drinks like a stout from a Macrobrewery. Might be better labeled as an export stout. I expect a lot better carbonation and better mouthfeel. This has the mouthfeel of a lager. Not impressed.
908 characters
More User Reviews:
3.65
/5
rDev
+9%
look: 4 | smell: 4 | taste: 3.5 | feel: 3.5 | overall: 3.5
A malty stout, in a word. Decent aroma. Black colour that had good lace. Taste some chocolate firstly, and coffee. Not that well integrated, but drinkable. Below Average mouthfeel for this style. A 1.5X stout, not up there with the imperials but a good try.
257 characters
3.25
/5
rDev
-3%
look: 3 | smell: 3 | taste: 3.5 | feel: 3.5 | overall: 3
A pretty aggressive pour yields almost no head (0.5 finger), which quickly dissipates down to the thinnest layer of foam. Zero lacing. A bit watery looking on the pour. Otherwise, it looks like a plain old stout: black and opaque. Not an exciting looking beer.
Not a whole lot of smell coming off this one. Mostly hops (oddly enough for a stout) and roasted malt. Hints of coffee, chocolate and some cigarette ash. A little astringent and sour. Not bad but not really good either.
More flavour than the smell would suggest, but it's not all that happening. Not very well balanced, it tastes like it's a bit all-over-the-place; like there's no bottom end to the flavour somehow (like music with no bass frequencies). There's a pretty strong coffee presence, some dark roasted malt, a hint of dark chocolate, some stale ash and some sour hops. The finish is sweet and dry. Smooth for 7.5% ABV.
Medium-light bodied for a stout. Medium carbonation. Not a terrible feel.
Meh. This isn't a horrible stout; there are just so many amazing stouts out there that average stouts just don't deserve anyone's time. Either make a wicked stout or don't make one at all, there's too much competition.
1,192 characters

3.25
/5
rDev
-3%
look: 3.5 | smell: 3.5 | taste: 3.5 | feel: 2 | overall: 3
Another beer from this brewery... they produce so many different beers it is hard to keep up.
I expected nothing more than an ordinary beer. This beer pours dark but more like in a porter darkish color than an imperial stout. The head is well formed up but disappear quite fast. The smell is dark chocolate with some cherry. Not bad, but I would prefer a more intense aroma. Taste wise, the beer is similar to the aroma (dark chocolate with some cherry). It is too effervescent to be pleasant for a stout. The bitterness is similar to an espresso coffee and the taste lingers in the mouth for a long time. A nice thing in an imperial stout. The alcohol warms up the body which make this one a sipper instead of a quencher.
Overall, I expected this one to be not too good but it was a good surprise. Glad I tasted it.
818 characters
3.47
/5
rDev
+3.6%
look: 3.5 | smell: 4 | taste: 3.5 | feel: 3 | overall: 3
Bête Noire is an expression meaning something that causes fear or has the potential to cause harm. Often used in hockey to describe a team that always seems to have the advantage over a particular team. Equivalent would be the expression "they have his number."
Enjoyed this last night with a piece of homemade chocolate cake while watching House.
Poured from a 341ml. bottle.
Appearance: Dense & opaque black body with thick 3 finger head that rapidly recedes to a thin ring, weird.
Smell: A bit metallic with chocolate and major coarse coffee, seriously like a fresh cup of coffee, very nice.
Taste: A little molasses & bittersweet chocolate. Licorice also and finishes with a bitter coffee taste. Balance is so-so. Ingredients are all there, taste is good but no real full-bodied RIS taste.
Mouthfeel: A bit light for the style, fades a little quick. Low carbonation which feels good.
Drinkability: Alcohol is well hidden which makes drinking easy but i wouldn't necessarily have it on a regular basis, more of once in a while.
Overall: There's missing something in this beer to make it really stand out, to elevate it to a level really representative of an RIS. A good effort but falls a little short. Just ok, not great.
1,234 characters

3.68
/5
rDev
+9.9%
look: 4 | smell: 3.5 | taste: 3.5 | feel: 4 | overall: 4
I like this stout, but it's not very Imperial. Perhaps more of an Export? Though it's as smooth as an oatmeal.
A: Black, tan head, some retention & lacing.
S: Chocolate, field berries, biscuity & hints of tobacco.
T: Bakers chocolate, coffee, molasses, biscuity malt, modest bitterness.
M: Moderate body is very smooth & almost creamy.
D: A good drinker.
359 characters
Bête Noire from AMB - Maître Brasseur
3.35
out of
5
based on
6
ratings.