Stout Impérial
| AMB - Maître Brasseur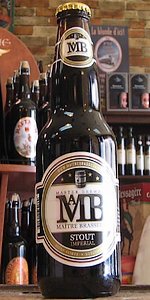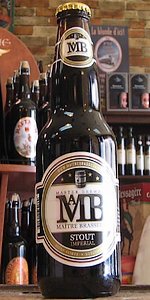 BEER INFO
Brewed by:
AMB - Maître Brasseur
Quebec
,
Canada
Style:
Russian Imperial Stout
Alcohol by volume (ABV):
7.50%
Availability:
Year-round
Notes / Commercial Description:
No notes at this time.
Added by Yoonisaykul on 06-14-2010
This beer is retired; no longer brewed.
HISTOGRAM
Ratings: 9 | Reviews: 6
Reviews by notdan:
3.92
/5
rDev
+6.8%
look: 3.5 | smell: 4 | taste: 4 | feel: 3.5 | overall: 4
Purchased this a couple months ago in Gatineau and had it sitting in the fridge for a few weeks.
Looks like a stout. The head is somewhat bubbly, cola-like in appearance but it stays around for a while giving plenty of time to take in the pleasant and unique aroma.
Roast is somewhat present in the smell, but there's a lot of floral and herbal things going on that make this pretty distinct from other stouts.
The taste is where the classic roast flavour really comes in, with a touch of dark chocolate and tart fruit, but the floral element is still strong there too. I want to say cardamom... In any case, it's working out well. A slight metallic note knocks a point off here, but it's really tasty. Aftertaste is bitter and relatively dry.
Mouthfeel is nice with plenty of carbonation but could be a touch fuller for an imperial stout (though I guess this one's only 7.5%).
The flavour intensity makes sense for a 7.5% beer, but it also does well at hiding the alcohol.
So far I've tried three of AMB's new line-up, and I'm liking their direction. I stayed away from them before because they had so many different beers and I never knew which were any good (and there were only a few, it seems). I will no longer be shying away from this brewery at the Gatineau stores.
1,279 characters
More User Reviews:
3.58
/5
rDev
-2.5%
look: 4 | smell: 3.5 | taste: 3.5 | feel: 4 | overall: 3.5
A- Nice, thick, chewy, frothy head. Thin halloweeny lacing offers good coverage. Darkest ruby-brown.
S- Chocolate vanilla wafer with a metallic hopiness. All good except for the metallic part. A bit of fresh fruit flesh. Pineapple maybe. Actually got a whiff of something reminding me of pina colada. Hops come out strong once warm enough, hiding or melding with the ferrous aspects which bothered me.
T- Took the tiniest sip - basically a drop, and tasted iron. Almost blood like. A real sip now: I really don't get much until I swallow. Really, it's like my taste-buds and nose are malfunctioning. Swallowing brings dark coffee and a rough cocoa bitterness as well some fresh, oily hop flavor.
M- Not exactly stout full but I still consider this a full mouthfeel. Medium but well dosed carbonation and dry finish. You really notice the hop oiliness and the gritting and puckering(due to alpha acids?) and it feels great.
D- Good. Had no trouble drinking this right before breakfast. Easy to drink but didn't really create a craving for the next sip.
I'm seeing a trend in the new AMB lineup. Good solid, accessible beers. Nothing to really blowyou away, nothing to really offend.
1,199 characters

3.86
/5
rDev
+5.2%
look: 4.5 | smell: 3.5 | taste: 4 | feel: 3.5 | overall: 4
Beer is very dark black color, just a notch below pitch black. The head is creamy, sticks to the glass and is beige. The look is indicative of a full body and creamy stout.
The aroma is chocolate with some roasted malts. Medium intensity, I would have guess this one would be more robust on the nose. It is too light for an imperial if you ask me. Still it is inviting for a sip. Alcohol is present in the nose too.
Taste wise, the beer presents notes of chocolate which transforms itself in coffee grains. Subtle licorice notes in the taste too. The taste is better than the aroma. Slightly warm in the mouth.
Full body beer. Easy to drink for an imperial stout. Tasty, simple. It is imperial due to the alcohol level, not the taste (pretty simple but still good).
Overall, a good beer.
791 characters

3.57
/5
rDev
-2.7%
look: 3.5 | smell: 4 | taste: 3.5 | feel: 3 | overall: 3.5
12oz Bottle
Appearance - The beer pours an opaque black/brown colour with a large frothy and foamy light brown coloured head. I can't see much carbonation due the darkness of the beer and there is some fair lacing on the sides of the glass. The head lasted for 3 minutes before it began to dissipate.
Smell - Chocolate, malts, grains, coffee, smoke
Taste & Mouth - The beer has a high amount of carbonation and its feels fairly thin on the tongue. Not really what I'm used to with Imperial Stouts. I can taste chocolate and coffee mixed with malts and a strong smokiness. There was also a but of a hop flavour. The beer finishes with a bitter chocolate smokey aftertaste.
Overall – The beer would benefit from a lower amount of carbonation for sure. The taste is fine, but it definitely won't blow you away. I wouldn't go out of my way to find this beer.
860 characters
3.55
/5
rDev
-3.3%
look: 4 | smell: 4 | taste: 3.5 | feel: 4.5 | overall: 2.5
A - Black with ruby notes. Tan head and really nice lacing.
S - Huge espresso notes. Baking spice. Tons of smokiness too.
T - Lot's of smoke and spices. Dusty? Coffee is there too.
M - Full and creamy in the mouth.
D - Nice but there is too much smoke for my tastes.
270 characters

3.8
/5
rDev
+3.5%
look: 3.5 | smell: 3.5 | taste: 4 | feel: 3.5 | overall: 4
black isthe color. brownish reflect, massive moka head foam, laces on the glass.
smell like roasted malt, chocolate, coffee, alcohol, nuts, caramal.
Taste like chocolate, roasted malt, coffee, a little bit of caramal and some alcohol, but nothing significative
Mouthfeel: round and pretty smooth for a 7,5% stout. carbonation is active, but not overwhelming. medium aftertaste of chocolate bitterness.
drinkability: easy to drink, flavors are well presented, well balanced, it fit with the style.
500 characters
Stout Impérial from AMB - Maître Brasseur
Beer rating:
3.67
out of
5
with
9
ratings