Porter Impérial
| AMB - Maître Brasseur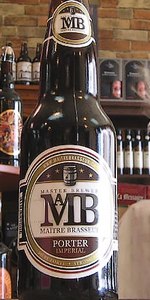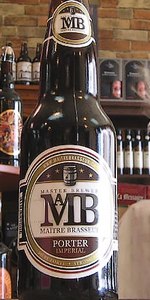 BEER INFO
Brewed by:
AMB - Maître Brasseur
Quebec
,
Canada
Style:
American Porter
Alcohol by volume (ABV):
8.50%
Availability:
Year-round
Notes / Commercial Description:
No notes at this time.
Added by Yoonisaykul on 06-15-2010
This beer is retired; no longer brewed.
Ratings: 12 | Reviews: 8
Reviews by duracell:

More User Reviews:
3.85
/5
rDev
+1%
look: 3.5 | smell: 3.5 | taste: 4 | feel: 4 | overall: 4
Poured into a wine glass which looks kind of weird.
A- Very dark brown. Slightly creamy beige head looks long lasting.
S-Popped open the bottle and it smells like great milk chocolate and a bit of coffee. In the glass now: Very strong iron hits me first but some nice chocolate milk backs it up. A 50-50 mix of good and bad.
T- Good alcohol with dark milk chocolate. A bit of bitter cocoa. This is good.
M- High aggressive carbonation. Medium mouthfeel. Considerably dry. Pretty good.
D- Very good. Lots of alcohol in here but you don't taste it. I'd probably try and drink two or three.
Good product. Pretty sure most wouldn't be disappointed trying this.
663 characters
3.45
/5
rDev
-9.4%
look: 3 | smell: 3 | taste: 3.5 | feel: 3.5 | overall: 4
Dark brown body with root beer highlights and tons of white sediment suspended throughout. Faint cover of off-white head, no lacing. The sediment is really not attractive and not something I've ever noticed in a porter before.
The nose is light, showing some dark chocoate, coffee, roasted malt and a hint of cardboard. Pretty low on aroma.
Flavour is much better than its appearance or nose, though it's still on the thin side of things. Fairly well-balanced, though possibly a bit too sweet. Lightly-roasted malt, caramel, cocoa, bit of coffee, earthy hops, light minerals and some alcohol (though it's smooth for 8.5%). Drying cocoa finish. Not too bad.
Body is a little thin. Medium-low carbonation. Okay feel.
This is definitely drinkable, I feel like I'm enjoying it more than the rest of the review would indicate. I'm not sure what's up with all the the sediment. I wouldn't necessarily recommend it but it's a decent imperial porter I would probably drink again.
979 characters
3.95
/5
rDev
+3.7%
look: 4 | smell: 4 | taste: 4 | feel: 3.5 | overall: 4
Bottle: Poured a deep black color porter with a medium size light brown foamy head with good retention and some light lacing. Aroma of deep black chocolate with light lactose notes is very enjoyable. Taste is also very enjoyable with great notes of black chocolate mix with sweet lactose-like note. Bitterness and roasted malt note is kept at a minimum. Body is a bit thin for style with good carbonation and no apparent alcohol. This is for sure a lot better then other offering from this brewer but still a bit thin for style.
528 characters

4.04
/5
rDev
+6%
look: 3.5 | smell: 4.5 | taste: 4 | feel: 3.5 | overall: 4
Ok, new look... lets see of this taste better.
Dark color porter with some reddish notes on the edge. Quite dark. Beige head which sticks well to the glass. Nice.
Aroma of chocolate, smoke and alcohol. On the taste, it is more dark chocolate with a metallic finish. Full body beer. The alcohol is not very present in the mouth. Easy to drink and the taste lingers in the mouth.
Overall a good beer, a good Porter and I would say it is their best offering.
458 characters

3.62
/5
rDev
-5%
look: 3.5 | smell: 4 | taste: 3.5 | feel: 3.5 | overall: 3.5
12oz Bottle
Appearance - The beer pours a dark brown/black colour with an above average size fizzy light brown coloured head. I can't see much carbonation due the darkness of the beer and there is some good lacing on the sides of the glass. The head lasted for 4 minutes before it was gone.
Smell - Chocolate, coffee, malts, smoke
Taste & Mouth - The beer has an average amount of carbonation. I can taste chocolate, coffee, and some malts. There is also some smoke/roasted notes and even some light hops. The beer ends with a smokey bitter aftertaste.
Overall – I found it to be a little thin compared to most of the other imperials I've had but the taste was will pretty decent. I could also taste the alcohol and it had a bit of a harshness to it. Perhaps some age would help. Worth trying.
799 characters
4.19
/5
rDev
+10%
look: 3.5 | smell: 4.5 | taste: 4 | feel: 4 | overall: 4.5
A - Nice off white pillowy head of one finger leaving lacing all around the snifter as it goes down to a thin cap. Black but lets some light through when held up to the light. Medium carbonation visible.
S - Big aroma as soon as I got this into the snifter. Tons of chocolate complimented by some nice coffee notes. I can get some mild dark fruits as well. Lovely.
T - All the elements in the aroma come out but the coffee dominates instead of the chocolate this time. Nice bitterness in the finish. Dark fruits come out alot when moved around in the mouth.
M - Carbonation is right where it should be. Very smooth with a medium to full body.
D - Oh ya. I could do alot of these. No traces of alcohol and a nice balance of coffee and chocolate that I can't say no to. Well done.
783 characters

3.7
/5
rDev
-2.9%
look: 4 | smell: 4 | taste: 3.5 | feel: 4 | overall: 3.5
Nice rocky mocha head that works down to a fine cap. good legs.
chocolate and leather on the nose. Flavor is dominated by sweetish maltiness with little hops. The body is pretty full but it hides the alcohol well.
A nice beer for sipping by the wood stove but I bet it would do well with dessert also. Although it is not terribly complex, it is pretty tasty.
361 characters

3.97
/5
rDev
+4.2%
look: 3.5 | smell: 4 | taste: 4 | feel: 4 | overall: 4
This is the first one I try out of the 12 mix box
I like porter in fall. kind of Irish weather..
Poured into a pint. not much head, about 1 finger of moka foam, now disapeared.
color is dark brown, almost opaque.
smells like malt with caramel, smoke, little bit of alcohol when its not very cold)
taste is elegant as it say on the bottle.
its malty, theres some caramel all around, smoky some chocolate/coffee, the brew is mild
mf: it is chewy, round and rich. texture is very smooth and balanced. some after-taste of chocolate. kind of low carb..
drinkability is good. it is an imperial porter
it is more than 8%abv you dont really taste the alcohol, 'cause everything so balanced and smooth,
body is rich..this brew is tasty
734 characters
Porter Impérial from AMB - Maître Brasseur
Beer rating:
58.3%
out of
100
with
12
ratings