India Pale Ale Classique
| AMB - Maître Brasseur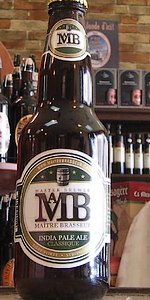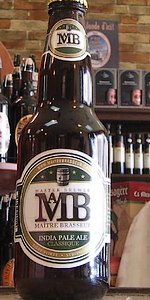 BEER INFO
Brewed by:
AMB - Maître Brasseur
Quebec
,
Canada
Style:
English India Pale Ale (IPA)
Alcohol by volume (ABV):
6.00%
Availability:
Year-round
Notes / Commercial Description:
No notes at this time.
Added by Yoonisaykul on 07-02-2010
This beer is retired; no longer brewed.
HISTOGRAM
Ratings: 13 | Reviews: 10
Reviews by Ralphus:
3.71
/5
rDev
+8.2%
look: 4.5 | smell: 3.5 | taste: 3.5 | feel: 4 | overall: 4
My first MB beer and I wasn't sure what to expect. These beers are fairly common in the stores I visit and when I read names like "Master Brewer" I actually tend to think the opposite. However this was a decent surprise.
It looks really good. It pours a hazy golden brown but with a superb whipped eggwhite consistency head. The head stuck around for the duration of the beer and left gobs of lacing down the side. Very nice.
The smell is a bit of an odd mix of over-ripe apple, earthy tones and hint of vanilla. The taste has a bit more of the over-ripe apple in the beginning, sweets malts and finishes to a lightly bitter, albeit somewhat earthy finish. Certainly more of an english IPA.. hops are there but not in your face. It's well balanced.
Mouthfeel is good.. medium bodied, smooth with the right amount of carbonation. Drinkability is also well done. My bottle went down quick and I would enjoy another. The balance is good enough that you could drink these without getting a hopache.
998 characters
More User Reviews:
3.6
/5
rDev
+5%
look: 4 | smell: 4 | taste: 3.5 | feel: 3 | overall: 3.5
341 ml served in a chilled glass
Apperance - beer pours a cloudy copper colour with a nice white head. The head is about 2 fingers in height and slowly goes down. There is some nice lacing occurring, held in light, carbonation levels are minimal.
Smell - I can smell some pine, caramel and citrus. The balance is well made, each of the above having its own value to the beer.
Taste - what one would expect from an IPA. This beer is piny at the start with a little bitterness at the end. The sweet caramel comes through early on in the tasting. Feel it hides the alcohol level.
Mouthfeel - added levels of carbonation have given to the bitterness a little more. I also feel the alcohol has come fwd in the mouthfeel. Beer maintains a nice thick mouthfeel.
Drinkability - Nice beer, not sure i am a massive fan of the english IPA however glad i was able to try this one.
873 characters
3.58
/5
rDev
+4.4%
look: 3.5 | smell: 3 | taste: 3.5 | feel: 4.5 | overall: 4
A- Kind of difficult to build the head but I managed to and it looked nice even though it didn't last very long. Very slightly hazy copper becomes very hazy with the addition of the yeast.
S- Sweet cantaloupe which I like but woody hops and brewer's yeast which I don't as much.
T- I'm very thirsty can't wait to taste this. Sweet red licorice and cantaloupe with with a harsh bitter finish. Not really harsh because it so bitter but just... harsh. Not the flavors I usually look for in an IPA. Pretty good after-taste.
M- Good full mouthfeel. Pretty high carbonation and dry finish. Almost syrupy when warm.
D- Good. Easy and fun to drink. I don't really like it but could probably drink a bunch.
After tasting the great Brewer's Selection from AMB, I'm kind of disappointed by this one and the American Pale ale from the Classiques pack. Don't think I'll buy it again but still think it's a good product.
921 characters
3.08
/5
rDev
-10.2%
look: 3.5 | smell: 3 | taste: 3 | feel: 3.5 | overall: 3
Opaque dark-copper coloured body with a thin cover of off white head. Some decent lacing.
Some citrusy hops and dusty minerals peek through on the nose, though it's mostly of sweet butter-toffee malt. Too much sweet maltiness for an IPA.
The flavour follows, being a bit too malty for the style. There is a decently high bitterness, but, though the hops might present a touch of pine, it is mostly without character. The 6% ABV is out in full force as well, and not in the most pleasant way. The finish presents some drying and lingering alcohol.
The feel is okay: slightly vicsous medium body with an acceptably moderate carbonation.
I just edited this review after opening up the second bottle of two from the mixed 12 pack; for some reason I was being overly harsh when I wrote the original review. I don't know if I catch too much similarity to an English IPA here, I'd be more inclined to guess that this is a too-malty take on an American IPA. There is a place on the label to list a best-before date but they didn't mark the date on this one. Maybe it's much better when fresh, though I wouldn't know if this one is fresh or not. It's not terrible but not an IPA I'd be interested in picking up again.
1,216 characters
3.5
/5
rDev
+2%
look: 3.5 | smell: 3.5 | taste: 3.5 | feel: 3.5 | overall: 3.5
Bottle: Poured a slightly hazy beige color ale with a rather large foamy head with good retention and some lacing. Aroma of bitter and lightly citrus notes with light caramel malt notes. Taste is also a mix between medium bitter hoppy notes with a quite dry caramel malt base. Body is about average with good carbonation. Interesting IPA veering towards the English style.
372 characters

3.55
/5
rDev
+3.5%
look: 3.5 | smell: 3.5 | taste: 3.5 | feel: 3 | overall: 4
Ok, all their past beer are retired, however they just renamed their beers with a new image. Some say they have tweak their recipes, I didn't dig a lot of their past beers and didn't know if I wanted to try the new ones. Well, why not try them before ditching them.
This one is copper looking. The head is made of small bubbles but disappear very fast. Low carbonation. The aroma presents some hops and caramel malts. The hops are citrusy. Average intensity for the aroma. On the taste side, it is earthy. Some faint notes of caramel malts too. Not bad. Dry finish. This isn't bad, however it is not very aggressive which isn't bad for an English India Pale Ale. I'll probably buy more in the future for day to day beer.
721 characters

3.33
/5
rDev
-2.9%
look: 4 | smell: 3.5 | taste: 3 | feel: 3.5 | overall: 3.5
341ml bottle poured into a pint glass
Appearance - a gorgeous shade of golden orange, a large frothy off white head. Average carbonation, and medium lacing.
Smell - hops, honey, malts, oranges
Taste & Mouth - lots of carbonation on the tongue, hops the whole way through. The alcohol is evident, and there is bitter finish
Drink - A beer worth trying, but there are better IPA's out there
393 characters
3.45
/5
rDev
+0.6%
look: 3.5 | smell: 3.5 | taste: 3 | feel: 4 | overall: 4
Pours a nice translucent amber with moderate head and some traces of lacing, but nothing too sticky.
Herbal, English-style hops in the nose, backed up with some caramel-like sweetness and bready malts. A touch of citrus (grapefruit/lemon).
At first, the taste is a nice balance between bready malts, some fruity sweetness (apple/melon), and zesty herbal hop flavour. Then the bitterness kicks in, especially in the aftertaste, though a residual sweetness, while pretty separate and not terribly tasty, balances things out.
Nice level of carbonation, not too aggressive. Mouthfeel is a little slick, which seems appropriate.
A solid basic, mostly English-style IPA. I could contently drink a few of these.
708 characters
3.37
/5
rDev
-1.7%
look: 4 | smell: 4.5 | taste: 3.5 | feel: 2.5 | overall: 2
A - Copper in colour with some sort of sediment. Lot's of carbonation. Not bright, murky not cloudy. Fizzy white head that went away but is leaving a cap. Interesting looking IPA.
S - Citrus and caramel. Well balanced aroma. Juicy hops. Maybe some toffee or burnt sugar also. The balance is right on.
T - Hops all the way through. Nice bitter, lingering finish that turns into some sort of soapy experiment gone wrong. Subdued in the malt department. I expect an English IPA to be nice and balanced much like the smell was here but this is all hops.
M - Really carbonated. Kinda scratchy going down. Medium mouthfeel.
D - This tastes alright but that scratchiness holds it back. The lingering bitterness also isn't the most pleasant sort.
743 characters
3.45
/5
rDev
+0.6%
look: 3.5 | smell: 3.5 | taste: 3.5 | feel: 3 | overall: 3.5
Pours a nice caramel color with a small amount of white head. Head settles down to a good cap and crown, and leaves sporadic lacing on the glass.
Scent consists of piney hops and caramel malts.
Taste starts out plenty bitter, with the pine tasting hops taking the forefront. It mellows out to some caramel malts near the end. Bitterness carries through to the aftertaste. Fairly thick feeling throughout.
Not sure if I would call this a 'Classic' English IPA. Hop levels and ABV are slightly higher than more typical instances. However, overall, it is a pretty decent IPA.
575 characters
India Pale Ale Classique from AMB - Maître Brasseur
Beer rating:
3.43
out of
5
with
13
ratings