Brandy Barrel Black Falls

Jackie O's Pub & Brewery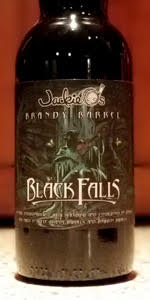 Write a Review
Beer Geek Stats:
| Print Shelf Talker
Style:

ABV:

13.5%

Score:

Avg:

4.39

| pDev:

5.92%

Reviews:

12

Ratings:

From:

Avail:

One-off

Wants

Gots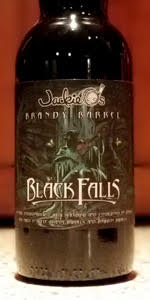 Notes: A continuation of the first collaboration between Burial and Jackie O's, Brandy Barrel Black Falls is the barrel-aged, high gravity iteration of an idea formed years ago. Brewed with North Carolina rye and Athens County spicebush berries, this Imperial Baltic Porter was laid to rest in apple brandy and bourbon barrels for 17 months, then conditioned on vanilla beans. After completing its journey, Brandy Barrel Black Falls exudes flavors of rich oak, deep caramel, rye spice, and wafts of sweet brandy.
4.3
/5
rDev
-2.1%
look: 4 | smell: 4 | taste: 4.5 | feel: 4.5 | overall: 4.25
Primarily Baltic character--light iodine and peat--alongside vanilla on the nose. The brandy notes come through loud and clear on the palate, however, with some bright fruit and substantial boozy oak balanced out by the vanilla. I would love to try the base beer for this, though.
280 characters

4.24
/5
rDev
-3.4%
look: 4 | smell: 4.25 | taste: 4.25 | feel: 4.25 | overall: 4.25
A - Dark brown with soapy toffee colored lacing.
S - Brandy, vanilla, oak, and toasted caramel aroma.
T - Toasted caramel, vanilla, oak, brandy, and bourbon with a lingering toasted caramel and bourbon.
M - Thick and silky with slight warming on the way down.
O - Aged in two different barrels, not overbearing, nicely blended and complex with "layer/layer/layer". Recommended.
384 characters
4.46
/5
rDev
+1.6%
look: 4.25 | smell: 4.5 | taste: 4.5 | feel: 4.25 | overall: 4.5
Beer number three of 2019's 25 Beers of Christmas. Poured into my big bowl snifter. Dark brown, thinning edges, minimal lacing. Smell is strong bourbon and brandy, vanilla and caramel notes, roasty malt. Taste is first off a big boozy bourbon barrel presence with mild vanilla, molasses, syrup, and brandy notes. Feel is big bodied, syrupy, thick, strong boozy presence. Pretty good barrel aged beer from two great breweries.
428 characters

4.31
/5
rDev
-1.8%
look: 4.25 | smell: 4.5 | taste: 4.25 | feel: 4.25 | overall: 4.25
Description: Glassy, jet black appearance with minimal head. Smell is sort of sweet-tart (not the candy, just the general aroma) with notes of dark fruit, sour cherry and, of course, brandy. Taste in similar as far as being sweet and tart with the added touch of vanilla and more wood/oak from the barrels. For a 13.5% ABV, it isn't too hot and the alcohol doesn't overwhelm it. Feel is more carbonated than might be normal for a porter but not by much. Same with the body: a little light but not outside the norm.
Overall: 4.25 (This beer is good and I would likely drink it again) As with most of Jackie O's dark beers, this is well made and a nice beer to sip on. The brandy was a nice change from bourbon barrel aging and added an appropriate amount of sweetness to the beer. That being said, $11.99/bottle (like all of JO's barrel-aged beers) is a little steep for this and I'd probably pass due to the pricing as opposed to the actual quality of the beer. So, if someone else buys you one, go for it!
1,016 characters

3.84
/5
rDev
-12.5%
look: 3.75 | smell: 4 | taste: 3.75 | feel: 4 | overall: 3.75
Released 7/19/19; drank 11/10/19 @ the Yarchives.
Black appearance.
An even pour yielded a small khaki head; minimal lace.
Chocolate, mild vanilla & faint booze heat notes in the nose.
Medium thick mouthfeel.
Chocolate syrup, vanilla & faint oak flavors up front; mild mint & booze heat notes on the finish.
A bit thin for all this flavor, and the finish wasn't ideal for me. Not terrible but not great, either.
423 characters

4.78
/5
rDev
+8.9%
look: 4 | smell: 4.75 | taste: 5 | feel: 4.5 | overall: 4.75
2019 bottling (12.7oz bottle) served in a snifter glass.
Appearance: Very dark brown on the pour, but black in the glass. Tan head died back to a tiny wisp at the ring of the glass. No persistent lacing as you would expect at a high ABV.
Smell: Brandy, bourbon, boozy, spicy, toffee, dark fruits - very very nice.
Taste: Brandy, bourbon, vanilla, spicy, caramel/toffee, and a partly sweet/bitter finish. An amazing combination of flavors.
Mouthfeel: Smooth, good thickness, very light carbonation, warming at the finish.
Overall / Drinkability: What an amazing beer - I've never had anything quite like it and it's quite enjoyable. Dangerously drinkable - I would not mind another glass but I would be hurting if I did. A definite slow sipping treat of a beer.
784 characters

4.61
/5
rDev
+5%
look: 4.25 | smell: 4.5 | taste: 4.75 | feel: 4.75 | overall: 4.5
A draft at Jackie O's.
Look- A super dark brown almost black. A thin light head that disappears quickly. A small amount of lacing.
Smell- Everything I expected was there. Vanilla, chocolate, caramel, and most impressively huge amounts of brandy and bourbon.
Taste- The flavor follows the smell. The vanilla really sets this one apart. The brandy and bourbon mix is phenomenal with no alcohol burn.
Mouthfeel- Light carbonation with a creamy feel. Never realized this was over 13% abv.
Overall- One of the best porters I've had. The brandy and vanilla put it at the next level.
590 characters

4.47
/5
rDev
+1.8%
look: 4 | smell: 4.5 | taste: 4.5 | feel: 4.5 | overall: 4.5
12.7 ounce bottle, 2019 vintage. Served in a Jackie O's snifter, the beer pours dark brown/black with about an inch tan head that didn't stick around for too long. There's a small amount of lacing. The brew smells like roasted malt, vanilla, brandy, fudge, caramel, oak and some spicy rye. For the most part I think the taste is pretty much just like the aroma, but there's also the addition of some dark fruit, bourbon, brown sugar and an earthy/spicy flavor (which I'm guessing is the Spicebush?) that's also noticeable. Mouthfeel/body is full, it's creamy and a bit coating with a moderate amount of carbonation. 13.5% ABV? Sure doesn't seem that way, the alcohol is well hidden here although I'm sure it'll catch up to me later. I liked this a lot, it's definitely worth picking up. I know I'd like to get another bottle or 2!
839 characters
4.61
/5
rDev
+5%
look: 4.25 | smell: 4.5 | taste: 4.75 | feel: 4.75 | overall: 4.5
Received in a trade and shared with JLindros.
A - Poured into a Kate the Great tulip a nice dark brown almost black with a thin off white head that fades to leave light lacing and thin wisps.
S - Big aromas of brandy and bourbon, light chocolate, vanilla, chocolate, light dark spices and caramel sauce. Aromatic and inviting.
T - Taste is similar to the nose with loads of slightly sweet caramel sauce. Tons of chocolate and coconut with excellent bourbon and slightly sweet brandy. Little bit of dark fruits and faint spices, great vanilla. No alcohol burn or heat.
M - Mouthfeel is lightly carbonated, creamy, silky, alcohol hidden just wonderfully.
O - Overall this was a very very good stout. Just incredible barrel notes going on here. Another world class stout from Jackie O's.
Serving Type: bottle
811 characters
4.61
/5
rDev
+5%
look: 4.25 | smell: 4.5 | taste: 4.75 | feel: 4.75 | overall: 4.5
Thanks to rudzud
Pours a dark but small fizzy head, little lacing, very dark basically black beer with fair legs
Nose tons of dark malts, roasty char and loads of dark chocolate, little marshmallow nougat like, fudgey bourbon and mild sweet apple brandy, roasty spices like anise notes and even some rye spice, big vanilla too
Taste super dark chocolate fudge, big vanilla ice cream, baking spice barrel, some spice with anise and a bit of spice tree but not a ton, light bourbon and apple brandy but some nice fruit with it, candied apple and mild dark fruits, light alcohol, light char and coffee roast with the super dark chocolate lingering late, light bitterness but more late,
Mouth is fuller rich bodied, chewy like but creamy smooth, medium carb and some warming alcohol but drinks much less
Overall very very nice, could have a bit more of the spices but otherwise great imperial porter and vanilla with great barrel notes too
940 characters

4.49
/5
rDev
+2.3%
look: 4.25 | smell: 4.5 | taste: 4.5 | feel: 4.5 | overall: 4.5
I saw this in the grocery store and went "hmmmm". Despite some past infection snafus, when I see Jackie O's and barrel aged, I'm pretty much hooked. Then I saw "Baltic Porter" and the hook was firmly set. And then a collab with Burial, I thought "isn't that the brewery in Asheville where all the denizens that lost it when Wicked Weed sold out said was better anyway?" Why yes it is!
So I'm thoroughly enjoying this and have to finish this write up so I can get offline and read and listen to music. There was almost no head when I poured it into a tulip so I nicked it for that aesthetic meaningless point. Otherwise just magnificently boozy vanilla smells and tastes along with other scents and flavors. I'll have to pick up another one of these to savor by itself on a crisp fall evening.
800 characters
3.57
/5
rDev
-18.7%
look: 4 | smell: 3.75 | taste: 3.5 | feel: 3.25 | overall: 3.5
Collaboration between Jackie O's of Athens, Ohio and Burial Beer of Asheville, Ohio. Per bottle label, Imperial Baltic Porter aged in apple brandy and bourbon barrels for 17 months.
Purchased in 12.7 ounce bottle and poured into snifter. Pours dark brown with minimal head. Nice aroma overall. Quite boozey. Decent beer overall, but would not purchase again as this bottle was $12.
383 characters
Brandy Barrel Black Falls from Jackie O's Pub & Brewery
Beer rating:
93
out of
100
with
32
ratings