Cab Cherry Man
| Jackie O's Pub & Brewery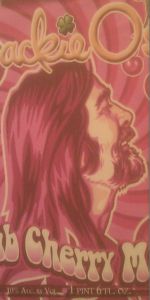 BEER INFO
Brewed by:
Jackie O's Pub & Brewery
Ohio
,
United States
jackieos.com
Style:
American Wild Ale
Alcohol by volume (ABV):
10.00%
Availability:
Rotating
Notes / Commercial Description:
"Cab Cherryman // 9-10% ABV
Cabernet barrel aged porter w/ cherries, brettanomyces & lacto"
Added by beveritt on 12-10-2009
Reviews: 59 | Ratings: 158
4.3
/5
rDev
+7.5%
look: 4 | smell: 4 | taste: 4.5 | feel: 4 | overall: 4.5
another of the great box of Jackie O bottles received from rhinos00 .... Alex... you're becoming a nice point of conversation in the Galt household.... You are a good man.
Out of all the bottles Alex shipped me and the bro, this is the one that I most wanted to share with the buddies.
Bottle #80/156.
Deep reddish brown in the glass.... descent tan head... okay retention... pretty.
The aroma is alot better than the chunga... vinous ... dark sweet cherries.... nice vinegar backdrop... oaky... some vanilla shows on later pours.
Flavor is very fruity... tons of deep cherry in the front.. tart tannic cherry skins pull out of the sweetness.. hints of chocolate and some roasty notes come through.. again.. the barrel shows in the middle to the finish.. elegant while still being a powerhouse... I can definitely see the wine barrel aspects.. better body than the chunga and the carbonation seemed about right... I could drink this for a very long time without getting bored.
Thanks again Alex... You hooked it up.
4/4/4.5/4/4.5
1,036 characters

4.15
/5
rDev
+3.8%
look: 4 | smell: 4 | taste: 4.5 | feel: 3.5 | overall: 4
A: Real dark red-brown body. Thin tan head. No real retention, just the lightest hints of lacing.
S: Dark cherries, red wine, oak. You can tell its going to be tart and sweet.
T: Yup. The nose was right. Sweet cherry flavors are pronounced from start to finish. The barrel aged treatment is apparent. Vinous with a nice underlying oaky current. Tart, but not overwhelming.
M: Full-medium bodied. A little undercarbonated. Nice lingering tartness, that is not distracting.
D: An interesting beer for sure. Not the most profound offering, but thoroughly deserving if you are looking for a vinous-cherry brew.
610 characters
4.55
/5
rDev
+13.8%
look: 4.5 | smell: 4.5 | taste: 4.5 | feel: 4 | overall: 5
Pours a dark mahogany with shades of crimson and amber. Thin tan head.
Nose has tart and sweet cherries, chocolate, roasty malts, molasses, oak, red wine and subtle barnyard funk.
Taste has fresh, mountain cherries up front and through the finish along with a dark malts, cocoa, farmyard funk and red wine barrels.
Clean body is full yet crisp and dry through the finish. Very nice soft carbonation.
Great balance, well done.
429 characters
4.39
/5
rDev
+9.7%
look: 3.5 | smell: 4.5 | taste: 4.5 | feel: 4 | overall: 4.5
Another rare growler from markwise.
A: pours an amberish shade of brown with a rather small off white head. No retention or lace.
S: Nice sweet cherry juice with hints of tartness. Light roasted chocolate malt and oak.
T: Sweet and tart cherries. Some sweet juice and some under cherries as well. Notes of red wine,vinegar, roasted malt and light oak.
M: Medium in body light on the carbonation.
D: Damn good beer.
419 characters

4.25
/5
rDev
+6.3%
look: 4 | smell: 4 | taste: 4.5 | feel: 4.5 | overall: 4
A: The pour is a dark mahogany color with plenty of red highlights and a thin tan colored head.
S: A definite cherry aroma to this. Plenty of sweet, dark cherries with just enough tartness to let you know it's there. There's a nice oak and vinous nature to the aroma.
T: A very nice sweet cherry flavor along with some sweet and mildly roasted malts. Like the nose, the tartness is not incredibly strong, but it does provide a nice depth. There is a flavor which I can only describe as cherry skins as well, and along with the oak, gives the beer some nice tannic dryness.
M: The body is quite full, especially if you consider this a "wild ale". The carbonation is low to moderate and there's a slight warmth without the beer being "hot".
D: This was a very good beer and one that I feel incredibly fortunate to have tried. Very interesting blend of sweet and tart and well balanced overall.
895 characters
4.32
/5
rDev
+8%
look: 4 | smell: 4.5 | taste: 4.5 | feel: 4 | overall: 4
Thanks to BMan1113VR for providing this bottle. Bottle 50 of 156.
Pours dark brown with an off-white head. The aroma is dark fruit with some coffee and roasted malt. Tons of cherry flavor with some roasted malt in the aftertaste. Some vanilla and oak notes as well. Medium mouthfeel and low carbonation.
304 characters

4.13
/5
rDev
+3.3%
look: 4.5 | smell: 4 | taste: 4 | feel: 4 | overall: 4.5
Bottle # 40/156 bottled on 11/30/2009, consumed on 12/19/2009, and poured into a snifter. The beer is dark brown with a crimson tinge and a creamy one finger beige head.
The aroma is of slightly sweet cherries and simultaneously tart cherry skins. Tannins are light and wood is evident. As the beer warms, the sweetness and oak become more apparent. Light chocolate notes are perceivable.
The flavor is sweet cherry flesh, then tart cherry skins...sweet cherry flesh, then tart cherry skins...sweet cherry flesh, then tart cherry skins...Back and forth, back and forth. Interesting. Light chocolate is, again, evident, and I detect a very light roasted malt character. Oak is noticeable in the finish, accompanied by light tannins. The less than modest 9% ABV imparts essentially no flavor, but a distinct warming in the finish signals the strength. Carbonation is at a light moderate level. The mouthfeel is smooth and creamy, while being somewhat thin at the same time.
I wasn't crazy about this at first, but it grew on me as it warmed past room temperature.
1,064 characters
4.02
/5
rDev
+0.5%
look: 3.5 | smell: 4 | taste: 4 | feel: 4.5 | overall: 4
Presentation: Poured from a 22 oz bomber into a wine glass. How cool is it to sit at home and pour Brad's beers from a bottle? Label is the barrel-aged one from recent bottling. Jackie O's written at top with two barrels flanked by leaves underneath. Bottled 11/22/2009. Bottle 98/156. I don't know a lot about this one, but it is listed as "Barrel Aged Cabernet Cherryman" on the website. No description.
Appearance: Pours with minimal head,just some flecks of light tan foam. This settles quickly, leaving what looks like a dark glass of wine. Medium brown in color with strong tint of red.
Smell: Strong sour cherry overtones with hints of dark candy sugar.
Taste: Nice, pleasant tartness upfront, followed by sour cherries and a slight sweetness in the middle. Slight vinous quality, though faint enough that I might just be influenced by the description. Finishes dry and mouth puckering.
Mouthfeel: Average carbonation level, good level to deliver the tartness without being too biting. Body is good.
Drinkability: Still learning about thee world of sours, but so far I have liked the sour level of beers I find at Jackie O's. Enough to be interesting and compliment the fruit flavors without tearing up my mouth or stomach. I would definitely have this one again, but with the number so f beers Brad is making, i seldom seem to get the same thing twice when I am down there.
1,397 characters
4
/5
rDev 0%
look: 4 | smell: 4 | taste: 4 | feel: 4 | overall: 4
Poured from a growler shared by Hophead22, not sure who sent it to him. The brewer stated in an email that this is a robust porter with 30 lbs of sour cherries added along with 30 lbs of sweet cherries and aged in a cabernet barrel.
I am confused by this beer as it is not dark like a porter, in fact without the red color picked up from the cherries this would be a very pale beer. Relatively clear and has a pink/red hue. Small white head that doesn't last.
Aroma is mostly cherry and a touch of roast and oak. Interesting.
Flavor is of sour cherry, wine, and a very slight roast. There are a few other flavors in there as well such as a sweetness that could be from any number of things. Also a faint hint of oak.
Body is thin to medium. A pretty drinkable and enjoyable beer overall but a bit strange.
818 characters
Cab Cherry Man from Jackie O's Pub & Brewery
4
out of
5
based on
158
ratings.