Mystic Mama
| Jackie O's Pub & Brewery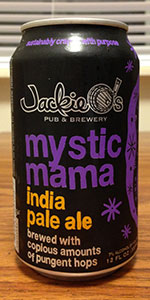 BEER INFO
Brewed by:
Jackie O's Pub & Brewery
Ohio
,
United States
jackieos.com
Style:
American IPA
Alcohol by volume (ABV):
7.00%
Availability:
Year-round
Notes / Commercial Description:
No notes at this time.
Added by boatshoes on 02-15-2010
Reviews: 131 | Ratings: 929
4.47
/5
rDev
+14%
look: 4 | smell: 4.5 | taste: 4.5 | feel: 4.5 | overall: 4.5
Like an earlier review said, a little watery for an IPA -- which I like -- not too much carbonation.
Almost a West Coast IPA taste, but I get just a touch of a little deeper, earthier taste here than classic WstCst brews.
A little "hard water" aftertaste that I really like.
Great beer.
Btw, I believe the page description is off on the ABV. I'm guessing more like the 7% Jackie O's claims.
---
ABV: 7%
Malts: American 2-row, Crystal 10, White Wheat
Hops: Centennial, Amarillo, Warrior, Simcoe, Columbus
511 characters
4.22
/5
rDev
+7.7%
look: 4 | smell: 4.5 | taste: 4 | feel: 4 | overall: 4.5
On tap into a snifter at the barrel aged fest...A light peach pour, good retention, but low lacing, a little watery...The aroma is lots of candied sugar, apricot, light hops...The taste is grapefruit on the front then a really nice strong hop flavor. A very good ipa, easy to drink.
282 characters
4.08
/5
rDev
+4.1%
look: 4.5 | smell: 4 | taste: 4 | feel: 4.5 | overall: 4
I had this on tap at the Jackie O's brewpub this weekend. It pours a light golden color, slightly hazy, with a poofy foam that lays nicely on the liquid.
The hops take the lead aromatically, to my nose a west coast / midwest blend of hops. Amarillo comes through strongest I think, but otherwise maybe Simcoe. Pine needles and grapefruit, exactly what you want in this style. The hops are the show-case flavor-wise too, leading with abrasive citrus tones and ending with an almost chalky bitterness that was a little much for me. A little diacetal might have been in there too, without which I'd score the taste even higher. At no point to the malts come close to balancing out the hops, which is great for an IPA to suit my tastes.
The body is creamy and a little sticky feeling, an almost resinous mouthfeel even at a low-ish ABV. I decided I'd spent too much on Jackie O's bottles to buy a growler of this, and now I regret the decision. When I get back to Athens I'm definitely picking up some of this to go.
1,015 characters

3.46
/5
rDev
-11.7%
look: 4 | smell: 3 | taste: 3.5 | feel: 5 | overall: 3
A: Hazy, amber. Nice lacing
S: Earthy and light malt.
T: Spicy bitterness and a touch of citrus hops
M: this is where it really kicks in. Smooth and creamy, though resinously hoppy. That is one balanced mouthfull. First beer at jackies, and it left a postive impression.
D: Flattens as you drink it. Not superb as a sessioner, great if a sample
348 characters

4.33
/5
rDev
+10.5%
look: 4.5 | smell: 4 | taste: 4.5 | feel: 4 | overall: 4.5
A- Pours a slightly hazy golden orange color with a white head. Head has great retention and left quite a bit of lacing behind.
S- Chalk board says this is their west coast IPA and yep they aren't kidding. A ton of tropical fruits all over the place. Just a touch of a malt back bone here.
T- Again dominated by tropical fruit with just a tiny bit of a malt back bone here. Very solid IPA, nice hoppy and bitter. I like it.
M- Medium in body and carbonation.
D- This is super easy to drink and very solid. I could of drank this one all day long.
553 characters

4.3
/5
rDev
+9.7%
look: 4 | smell: 4 | taste: 4.5 | feel: 4 | overall: 4.5
Made my first in-person trip down to Jackie O's this Valentine's weekend for my birthday. Needless to say, I was quite excited and encountered an impressive lineup.
Appearance- Pours a slightly hazy golden with about a finger of white head that sticks around for a bit before dying back to a thin coating. Some small amounts of lacing left.
Smell- Wow, smells like a west coast IPA here! Lots of huge grapefruit and pineapple notes dominate the nose. Smells very tropical and creamy.
Taste- Up front with lots of grapefruit rind and pineapple. Almost devoid of any notes of pine or resin from the hops, really dominated by a fruity juiciness that surprised me. Finishes with a nice drying hop punch.
Mouthfeel/Drinkability- Mouthfeel is creamy and smooth with a solid amount of carbonation. Drinkability is excellent and I could have sessioned this one if I hadn't want to try a variety of the other beers being offered.
Overall, possibly the best IPAs I've ever had at a small brewpub. Really quite good and paired with the Matriarch DIPA were probably the best beers of the evening.
1,099 characters
Mystic Mama from Jackie O's Pub & Brewery
3.92
out of
5
based on
929
ratings.