Der Pelikan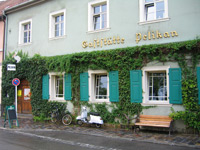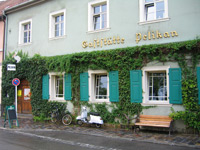 Bar
Untere Sandstr. 45
Bamberg
, 96049
Germany
(49) 0951 603 410 |
map
pelikan-bamberg.de
Notes:

Domingo from Colorado
3.95
/5
rDev
+2.3%
vibe: 3.5 | quality: 4 | service: 4 | selection: 4 | food: 4
This is a Thai-inspired restaurant on the edge of the old own area of Bamberg. It's on the way to Kaiserdom if you make that trek, too.
Der Pelikan is small restaurant with a lot of polished wood decor. There are about a half dozen 2-top tables for walk-ins, and a dozen or so larger tables for reservations. In addition, there's also a bar seating area. It's a little bit of a nitpick, but the German practice of "reserving" tables burns them a little as we saw several tables sitting there empty with reserved signs while a fair number of people were left waiting around. Luckily we arrived early and were able to grab a 2-top.
If you're familiar with most common (and not-so-common) Thai dishes like various curries and soups, you'll find the menu familiar, although there's an English option as well.
I found the menu to be large and diverse and both my wife and I enjoyed our dishes quite a bit. The flavors were authentic, properly spiced, and well priced. Portions were also pretty large.
For beers, they had several options including Herren Pils, Jever, Zirndorfer Hell, Singha, Guinness, Shlenkerla Rauchbier, and a few others. It appears as though they alternate items a little here and there as their website shows some items I don't recall seeing (like Tannenzapfle). Still, beers were fresh and they still have more than the usual 3-4 most places in town have. They also have a massive wine, spirits, and mixed drink list. Prices were affordable for everything.
Service was prompt for both drinks and food. Once you're seated, you'll get plenty of attention. Even getting the check is quick. Lots of places do that "reserved" thing, so I can't really blame them for it too much...but small places like this really should re-think it. I like the atmosphere, but they're getting a minor ding from me just because making people wait for 45 minutes while there are 3 empty tables is just a bad idea. Reservations should likely expire if someone doesn't show up within 15 minutes. Either that or just don't take reservations if your place is this small.
Good food, good beer options, good prices.
Franconian food is great, but I can only handle so much of it over the course of a few days! Der Pelikan is a perfect way to still have some great brews and get some solid spicy Thai food for a great price.
Definitely either show up early/late or make reservations, though. It's not a big place and it WILL fill up.
Jul 06, 2011
JohnW from England
3.73
/5
rDev
-3.4%
vibe: 4 | quality: 4 | service: 3.5 | selection: 3.5
The small restaurant/bar is just a couple minutes walk further along from Ambrosium, Pizzini etc, and is now mainly a Chinese Restaurant. However, there is a beer garden at rear which seemed popular with younger locals.
Inside the restaurant itself is a bar with stools, but also tables for diners - but if not too busy, then Ok for drinkers only too. Fairly dark inside, with minimul lighting. The Chinese food menu is very comprehensive, and is apparently highly thought of. The drinks menu is also comprehensive, with the pleasant Zirndorfer Landbeer - a maltly copper coloured lager, also Huppendorfer lager. Though there is also a long list of single Malt Whisky's, Brandy, Liquors and even Absinth! Also a decent selection of local wines, with the House wine being a local Bamberg wine, which we thought was very good. All at sensible prices too.
Service was friendly and attentive, though our visits were later in the evening when it was quieter after most diners had left.
Worth checking out, especially if you are looking for some Chinese food, and something different to drink later on!
John H
B'ham UK June 2011
Jun 07, 2011

UncleJimbo from Massachusetts
3.73
/5
rDev
-3.4%
vibe: 4 | quality: 4 | service: 4 | selection: 3
Located on Untere Sandstrasse, some blocks along the river from the altstadt, The Pelikan is a cozy tavern (or "kneipe" in German). You enter the outer door from the street, and then turn left through another door into the tavern. The bar is on your left as you enter. There are about 7 or 8 stools at the bar proper, and the rest of the place is filled with smll tables with candles and low lighting from hanging lights. A cozy and not overly noisy atmosphere. There was a flat screen tv behind the bar, but it was only turned on for a soccer match and was then turned off, and replaced with some latin jazz music.
Recently they had 4 beers on-tap: Zirndorfer Landbier, Huppendorfer Lager, Guinness Stout, and Keesman Pils. The prices were good at € 2.00-2.20 for 0.5 L. There were two bottled beers available: Keesman Pils and Stegaurach Lager, for € 2.40 per 0.5 L bottle. (I was told that they usually have 2-5 bottled beers available.) The beers were served in matching brewery logo glasses with brewery coasters. The bar also stocked a wide range of hard liquors as well as wine to complement the beer.
The service was friendly enough, though not overly friendly, as seems to be typical at Bamberg taverns.
They stay open late if business warrants it, possibly up to 03:00 on Saturday night, though during a recent visit they decided to close at 02:00.
Overall a comfortable bar where you can find a few beers from Franconia outside Bamberg. Worth a stop if you are in the altstadt, or if not in the altstadt, there is a bus stop right in front of the place where a bus will take you back to the ZOB. But one selling point of this beer bar is its late closing time, well after the buses stop running. Give it a try.
Sep 22, 2006
Der Pelikan in Bamberg, Germany
Place rating:
3.86
out of
5
with
4
ratings