Joe Beef Special Pils
| Bierbrier Brewing Inc.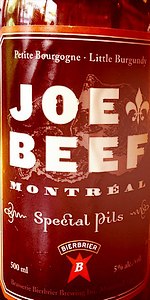 BEER INFO
Brewed by:
Bierbrier Brewing Inc.
Quebec
,
Canada
bierbrier.com
Style:
American Pale Lager
Alcohol by volume (ABV):
5.00%
Availability:
Year-round
Notes / Commercial Description:
Joe Beef Special Pils was created by Bierbrier for the renowned Montreal restaurant Joe Beef.
Chef-owners David McMillan and Fred Morin wanted a beer to capture the essence of their restaurant located in the heart of Little Burgundy. An homage to Charles "Joe-Beef" McKiernan, 19th century innkeeper and Montreal working class hero and a drunken crawl away from the Historic Atwater market.
The Joe Beef Special Pils is our distinctive crisp and thirst-quenching pilsner lager in a unique 500ml bottle with plenty of character.
Added by Sneers on 07-16-2012
Ratings: 14 | Reviews: 4
Reviews by wizo:
More User Reviews:
3.5
/5
rDev
+5.7%
look: 3.5 | smell: 3.5 | taste: 3.5 | feel: 3.5 | overall: 3.5
3.85
/5
rDev
+16.3%
Bierbrier "JOE BEEF Special Pils"
341 ml. brown glass bottle, black label, no apparent freshness date
$8 @ Joe Beef, 2491, rue Notre-Dame Ouest, Montréal, Québec
I made the mistake of not buying this at the Fromagerie du Marche Atwater earlier in the day, and just a few blocks away - I could have saved a fair amount of Canadian dollars, but OK, when you buy alcohol at a bar or restaurant you're also paying for the ambiance, so I can't complain (except that I just did so without saying it - except that I just did).
It's a decent enough beer, and better than the Bierbrier Premium Ale that I had on draft across the street at the Pub Burgundy Lion just prior. I still object to the price (but I'm not complaining ;) And I also feel that although it was OK, if Allison, David and Fred are so deeply entrenched in the gustatory arts why would they not have a beer in addition to this one? One that offered a little more character? If you can have only one, OK, I guess I can see that as Pils fits with all kinds of foods. But also, why not put it on tap?
Here are my notes: Clear golden body beneath a creamy bright white head that displays excellent head retention, slowly dropping to a solid surface covering, and then leaving spotty, broken lace behind (very good, but not excellent). The aroma and the flavor are basically one in the same, which is not unusual: clean, somewhat grainy malt and grassy/floral hops are balanced by a median bitterness. It's very rounded and balanced. It finishes dry with some malt followed by lingering grassy hops and bitterness. Overall: OK, good, perhaps better. It's fresh and clean. It's a quality beer but it's not that exciting - it doesn't make me want to try to burn down the firehouse.
1,738 characters

3.03
/5
rDev
-8.5%
look: 3 | smell: 3 | taste: 3 | feel: 3.25 | overall: 3
3.15
/5
rDev
-4.8%
look: 3.75 | smell: 3 | taste: 3.25 | feel: 3 | overall: 3
3.33
/5
rDev
+0.6%
look: 3.5 | smell: 3.5 | taste: 3.25 | feel: 3.25 | overall: 3.25
Bottle had at Joe Beef, with rudzud in an amazing dining experience.
Light fizzy head, very clear tan color, no lacing but bubbles rising up.
Nose typical pilsner to start, straw malts, grassy hay malt with grassy hop note as well. Quite fruity too, as well as sweet, light lager note.
Taste starts with more toasty pilsner, straw, little hay, grassy malt note and into grassy noble hops, little earthy note. Mild sulfur mineral lager note, light crisp lager but bit too sweet, and mild fruity note. Finish drier but still sweet, mild grassy hop, little mineral and sulfur like lager note.
Mouth is med to lighter bod, nice carb.
Overall meh, Glad the food was worlds... Galaxies better than this beer.
711 characters
3.25
/5
rDev
-1.8%
look: 3.25 | smell: 3.25 | taste: 3.25 | feel: 3.25 | overall: 3.25

3.5
/5
rDev
+5.7%
look: 3.5 | smell: 3.5 | taste: 3.5 | feel: 3.5 | overall: 3.5
3.29
/5
rDev
-0.6%
look: 3.5 | smell: 3.75 | taste: 3 | feel: 3.25 | overall: 3.25
Enjoyed this beer while on vacation in Montreal with JLindros, at Joe Beef.
A - Poured a nice crystal clear straw hue with a thin wispy head that fades to leave a light halo and thin wisps.
S - Aromas of sweet malts, lightly fruity, soft and grassy.
T - Taste is more sweet candy malts the grassiness is faint, mostly sweet malts with a faint mineral note. Not awful, but, to be expected.
M - Mouthfeel is brightly carbonated, crisp, but a sweet finish.
O - I knew going in to it this beer was not going to be all that good, so, it didn't disappoint. Still, even though it was $9 for the bottle it was an obligatory tick.
Serving Type: Bottle
648 characters

3.75
/5
rDev
+13.3%
look: 3.75 | smell: 3.75 | taste: 3.75 | feel: 3.75 | overall: 3.75

2.62
/5
rDev
-20.8%
look: 2.75 | smell: 2.5 | taste: 2.75 | feel: 2.5 | overall: 2.5
Clear straw color with a good amount of activity. Thick white 3 finger head, lasting around 5-10 minutes, with average legs.
Aromas of malty sweet grains and syrupy corn. Flavors of highly sweet grains and corn and some light citrus with an adjunct feel. Slightly grassy and bready with a hint of metal. Highly sugary with low sharpness.
Slick medium body with prickly carbonation. Faint and short finish, ending with some faint noble spices and roasted corn feel.
Overall below average craft having faint flavors and a thick syrupy feel. Good freshness but plagued with adjunct quality.
590 characters
Joe Beef Special Pils from Bierbrier Brewing Inc.
3.31
out of
5
based on
14
ratings.