Habanos & The Wine Seller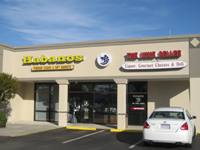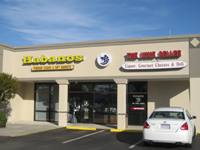 PLACE INFO
Type:
Eatery, Beer-to-go
1567 Gause Blvd
Slidell
,
Louisiana
, 70458-2244
United States
(985) 645-9463 |
map
Notes:
No notes at this time.
Added by BeerAdvocate on 07-29-2006
PLACE STATS
Reviews:

10

Ratings:

pDev:

13.44%
HISTOGRAM
Ratings: 11 | Reviews: 10
Reviews by EgadBananas:

3.45
/5
rDev
-10.9%
If you are in Slidell, this is one of the better places to get beer. The selection is not stellar, but they will order beer for you if they can get it.
The initial selection isnt bad though..
They have Anchor, Sierra Nevanda, Rogue, and Flying Dog... Though i have yet to see the Gonzo Imperial Porter from FD...
St. Peters and Corsondonk make the bill too.
They have stuff from Unibroue, north coast, and other things youd expect to see.
Like said before, they are willing to change up their lineup, so you will likely see new things everytime you go in there.
Price is reasonable compared to others...
611 characters
More User Reviews:
3.25
/5
rDev
-16%
Stopped in here in part to the good ratings on BA. I was a little disappointed. The store itself was pleasant enough, including a dining area in the middle. The staff were also friendly and helpful. Prices were fair, not great, but reasonable. Now the downside. The selection. It just wasn't all that great. Beer took up only a small section of the store, and while some good beers were in stock, it just seemed small to me. There was a shelf of bombers, a few imports, and mostly local craft, a very small selection of singles. Overall this is not a bad place if you live nearby, but not worth making an effort to get to.
622 characters

3.9
/5
rDev
+0.8%
vibe: 3.75 | quality: 4 | service: 4 | selection: 3.75
This is definitely the best place in Slidell to get beer. They don't have a huge selection, but they have stuff you certainly can't get anywhere else in Slidell. I haven't tried the food, but I've heard great things.
The staff is friendly and knowledgable on their selection and I've heard they will order things for you if you ask. They typically have all of the Stone releases, which is good because it is hard to find some of their stuff elsewhere in Slidell. Also a good variety of imports. All of the locals, and a good selection of bombers overall.
My one complaint is that there are a good deal of expired things sitting on the shelf, so I suggest checking the dates on the IPAs. Prices are pretty reasonable for the area, and actually some things are cheaper than I've found elsewhere.
Definitely worth checking out.
827 characters
4.06
/5
rDev
+4.9%
vibe: 4.5 | quality: 4 | service: 4.5 | selection: 3.5
Pretty decent selection for a small store. Basically have 1 two-sided shelf full of singles and half-wall full of less unique six-packs, plus a couple of extra singles and sampler kits places in miscellaneous locations. Prices were reasonable for beer, perhaps a little high on some. Their wine definitely had some fluff in the pricing, but that's not what I'm reviewing here and didn't include that in the rating. Atmosphere was very cool, a bunch of, excuse me, "old bitties", hanging out talking about the issues of the day, but very very helpful and courteous to the customers. I was pleasantly surprised by their selection. I had essentially tried everything my normal store had to offer and decided to look here for some variety, and seemed to find it as there were several new opportunities. Though, given my habit for trying new brews, the next time I go I might not find anything I haven't tried. They seem like the kind of bunch that would try to get things that you ask for though. Overall a good place to go.
Note: Beer is stored warm, but from my experience it seems to taste just as good once refrigerated--no spoiled experiences from the dozen or more drinks I've purchased.
1,190 characters
4.15
/5
rDev
+7.2%
Stopped in on the way back to Hattiesburg. This was my second time to visit, and I wasn't disappointed. The main focus of their stock is wine, which they have a massive selection of, but their beer selection is pretty adequate as well. While I was there, 3 different employees asked if I could be helped with anything, so service gets a good mark. The selection was good, far better than anything back home, but not as good as somewhere like Aquistapace's or Dorignac's. The prices were quite good as well. They had several Unibroue selections, Old Rasputin, several Rogues, several Belgian selections, Lindeman's, Anchor, Flying Dog, and many others.
All in all, a good place to shop for the beer poor residents of Mississippi.
729 characters
4.7
/5
rDev
+21.4%
This place is located in midtown center a great shopping region for many things.. The local music shop is next door as well. The service here is quite outstanding. The store itself consists of a small deli which serves short orders and daily lunches, they also specialize in cigars and tobacco. The wine selection here is quite overwhelming if you are looking for wine this is your place. When i started looking for my favorite beers I didn't have to search very hard. I found exactly what I was looking for. They regularly stock Aventinus, Rogue (all styles), Flying Dog, Anchor, Paulaner, Spaten (even in Optimator dopple bock), Heiner Brau, and many more. This is the place for specialty and craft beer in this area. THe shelves can run very low at times, however if you call they will gladly order any type of beer that they can get and will have it within one week. Exceptional service and quality all around.
914 characters
3.44
/5
rDev
-11.1%
vibe: 3 | quality: 3.5 | service: 3.5 | selection: 3.5
Headed back to my old hometown (Northshore High grad), I was happy to see at least one Beerfly for Slidell. Paid a visit on a quiet Monday afternoon - 1/14/08.
Located towards the back of a remodeled strip mall, a couple blocks west of I-10 (Gause Blvd. exit). Seems to be several business ideas rolled into one: a wine and liquor store, a cigar shop, a gift basket and gourmet foods store and a delicatessen. Sorta works, too...an interesting, albeit cluttered, hodgepodge of racks, displays, tables and chairs, painted murals, wood paneling and gaudy wallpaper.
Beers are confined to a relatively small area to the right, past the walk-in humidor (cigar smokers rejoice!) and a decent assortment of liquor bottles and sets. I scanned the shelves, looking at several rows of 6-packs and a few larger singles. They stock a fair range of craft brews (I'd put the total of different bottles at 50-60 range); domestic examples: 6 different Abitas, 4 Sierra Nevadas, 4 Flying Dogs, a couple Anchor, Rogue, Sam Adams and Shiner. International examples: several Chimays, Corsendonk, McChouffe, Unibroue Trois Pistoles, Duvel, Celebrator, Paulaner, Spaten, Kulmbacher, etc. Also a variety of Latin macro-type beers. All are stored at room temperature, under unprotected fluorescent lighting.
I found more beer to choose from in the small deli area, reaching into the center cooler to snag an Abita Christmas Ale to wash down a small tossed-greens salad. The choices here are more notably macro lagers, but there are still a few good finds (though none of the bigger/better imports). Salad was good and fresh, the company was similar - a couple chatty local guys at an adjacent table. One was the UPS driver for the area who spotted my 'Shamrock Run - Portland' and asked about running; the other was a scruffy, semi-toothless old character who wanted to talk NFL playoffs and false 9-1-1 calls (I don't recall how the two topics meshed in a 10 minute conversation!). If you have a few extra minutes, I recommend grabbing a sandwich or salad and a beer and meeting someone new...
Also on the beer side, a tiny area devoted to homebrewing supplies deserves a mention, though it looked haphazardly stocked...at best.
Service was fairly aloof, although the woman running the deli counter was likable enough. When I asked for my salad and showed her my Christmas Ale, I wondered aloud if the two would go together ok...her reply: "Honey, that's the good thing about beer...it goes with everything...". Preach it, sister.
All in all, HoS&TWS (fun acronym!) is a nice little store that, though it could always offer more, does deliver the best selection I've seen in Slidell. It's a place I'd return to next time I visit my family and a place I hope fellow BAs will continue to shop.
2,776 characters
2.9
/5
rDev
-25.1%
you aren't gong to find too many surprises here. they do have celebrator usually and they stock a couple rouges. a few flying dogs, abita, some german beers. hard to track down a porter or stout here though unless it's from a larger brewer (anchor porter).
i found their staff on both occasions to be aggressively helpful to the point of being a hindrance rather than help.
it's just ok to me. i'll go back, but only because it's the closest store of it's kind to me.
they do have a great wine selection and some gourmet cheeses. they are really set up more for that than beer anyway, so i guess the shelf space is appreciated.
630 characters
4.2
/5
rDev
+8.5%
I stopped by this place today. Mississippi outlaws beer over 6% ABV and this place is the nearest I have for decent big beers. The selection was basically the same as what I saw the last time I was hear about 6 months ago. Lots of Abita. As has already been said, it's decent, but not huge. It's a neat place though, lots of wine, some liquor, some nice cigars, and a nice little bistro type café in the back. The staff was very friendly, but you can tell they focus on wine rather than beer.
They also mentioned they have occasional tasting sessions for wine, beer, cigars, and other gourmet stuff.
Butch
615 characters
4
/5
rDev
+3.4%
This place is mostly a wine shop with some gourmet type foods that they sell. They do have a nice, albeit small and tucked away, beer selection. At the time of my visit, the beer shelves looked a little disheveled – rest of the store was in nice order though. I found a few micro beers (they had some Rogues, which is what I was looking for) as well as some Belgians.
The staff was very friendly but not very knowledgeable about beer – wine seemed to be their main business. They tried to help as much as possible, even suggesting other stores where I might find a decent selection. If in Slidell and looking for a good beer, I'd definitely recommend this place.
668 characters
Habanos & The Wine Seller in Slidell, LA
Place rating:
3.87
out of
5
with
11
ratings