Sesonette
| Piccolo Birrificio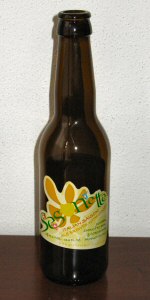 BEER INFO
Brewed by:
Piccolo Birrificio
Italy
piccolobirrificio.com
Style:
Saison / Farmhouse Ale
Alcohol by volume (ABV):
6.00%
Availability:
Year-round
Notes / Commercial Description:
No notes at this time.
Added by stcules on 12-27-2009
Ratings: 13 | Reviews: 6
Reviews by Patrick999:
4.59
/5
rDev
+21.4%
look: 4 | smell: 5 | taste: 4.5 | feel: 4.5 | overall: 4.5
This is one of the most sweetly floral saisons I've ever had. The first bottle I had of this, I wasn't able to review it, but now I'm at home. Poured into a big wine glass. Cloudy unfiltered gold with modest foam retention.
An amazing nose. Orange and a little spice, maybe even a little patchoul, lots of florals - lilac, lavender, slight undercurrent of mustiness.
Dry beer with good snap/crackle/pop. Rosewater, white pepper, clove, a little banana, hazelnut and a thick wheat backbone with a suggestion of sweet orange. Almost a saison/wit hybrid.
I think this is an excellent beer, but it's an expensive 12 oz.
620 characters
More User Reviews:
3.48
/5
rDev
-7.9%
look: 3 | smell: 3 | taste: 3.75 | feel: 3.25 | overall: 3.75
Thinking this is about two years old. Poured relatively flat, amber, apple juice color. Smelled like...apple juice, malt, hops. Not very potent smelling, again pretty old in my estimation but not positive. Surprising amount of bubbles, super white, creamy-thin head, that stuck around. Taste; very pleasant, aged well, agreeable to any palate. You could easily gulp this down with its low carbonation and sweet hop character. Any dull qualities are overshadowed by how easy this is to enjoy.
491 characters

4.27
/5
rDev
+13%
look: 3.5 | smell: 4 | taste: 4.5 | feel: 4 | overall: 4.5
Pours a dirty murky pale orange color with an airy white head that settles into a puffy ring around the glass.
The main aroma is of coriander but not too strong. There is some light citrus notes (orange), an herbal spice, and a light tart funk.
The taste starts of with a lemony sweetness, with some orange. This is followed by an array of herbal/spice notes. The coriander is the main spice note which ties this beer to its belgian hertiage and the juniper gives the brew a much needed bitter spruce flavor. There is also a tart flavor that helps offset the sweetness. Quite a bit going on here and all work well with each other.
The feel is light and fizzy. Starts off sweet on the palate but finishes slightly tart.
This is an unique saison; some traditional flavors mixed with some new. Drinks very light and refreshing. None of the flavors are bold but the work very well together.
890 characters


3.67
/5
rDev
-2.9%
look: 3 | smell: 3.5 | taste: 4 | feel: 3.5 | overall: 3.5
An unusual Saison. Not bad but far too pricy (9.99 for a 12 oz bottle). Poured a hazy dark straw color into a pint glass. Small, delicate bubbly head with less than average retention. Very little lacing.
Smell had citrus and coriander with some wheat bitterness as well. Fairly mild aroma.
Tastes good. Citrus (what would ordinarily be lemon zest), coriander, wheat and some bitterness (the chinotto?). A lot of good Saison qualities, but a bit subdued.
Mouthfeel is crisp but a little thin.
Overall a pretty good Saison, but not at that price!!!!
551 characters

4.24
/5
rDev
+12.2%
look: 5 | smell: 3.5 | taste: 4.5 | feel: 4 | overall: 4.5
Pours a lively pale sunshine with white foam that trails in clumps - something I've never seen. Soapy coriander and grain husk nose. Sweet pale malt and crystal sugar with citrus, herb and pine interweaved on top. Dry linger. Light, crisp and round.
A lighter version of Seson. Brewed with juniper, chinotto peel and coriander.
Supremely refreshing saison that still maintains a fascinating maze of flavors.
410 characters

2.75
/5
rDev
-27.2%
look: 3 | smell: 3 | taste: 2.5 | feel: 2.5 | overall: 3
Light amber color, with an average white foam.
In the smell juniper, coriander, and also the chinotto. Fresh smell.
The taste is a bit untied, you can feel the chinotto aroma, but not well amalgamated with the rest.
Watery, a bit too much, maybe.
Again coriander and juniper. A bit too fizzy.
Not bad, drinkable, but a bit boring in the end.
346 characters

Sesonette from Piccolo Birrificio
3.78
out of
5
based on
13
ratings.