New Star-Ell Liquor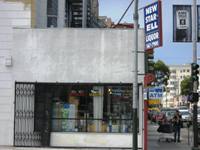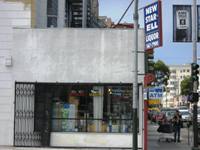 Store
501 Divisadero St.
San Francisco
,
California
, 94117
United States
(415) 567-7900 |
map
newstarell.com
Notes:
Recent ratings and reviews.
| Log in to view more ratings + sorting options.
Ratings by BrewerB:
Reviewed by BrewerB from North Carolina
4.18
/5
rDev
+4.2%
vibe: 3 | quality: 4.5 | service: 4 | selection: 4.5
For years I've driven past New Star-Ell as I zip down Divisadero. The "Kegs" sign in the window always caught my attention along with their neon signs advertising various craft brewers (macros, too).

I'd usually sneak a glance inside and wonder what's in store. Coolers were certainly visible, lining most of the left hand-side wall but from the road, who knows what they stock?

Finally, last week, I walked in...WOW. The selection of craft brews from around the US (heavy on the PacNW/California beer) and the world was impressive. Don't be fooled by the convenience store appearance, the beer selection here packs a wallop (and yes, they have Victory Hop Wallop). Whether you're chasing down the California greats, are in an east coast mood, looking for a Kolsch, British Bitter, or Belgian Strong Ales, you'll find something to suit your tastes.

Interaction with the cashier, though brief, was pleasant. He asked about the beers I'd picked and made a little small talk about his inventory.

Pricing is reasonable, slightly of the "convenience store" price level.
Mar 22, 2011
More User Ratings:
Reviewed by RblWthACoz from Pennsylvania
3.88
/5
rDev
-3.2%
vibe: 3 | quality: 4 | service: 3.5 | selection: 4.5
This is your standard corner store, but there is an absolute ton of beer in here. So much stuff that it will take you a while to get a view of it all. And I wouldn't be surprised if you find something in here that you haven't seen yet somewhere else. Service is pretty basic for a corner store kind of thing really, but someone clearly knows what they are doing. With so many options to choose from, it's worth a shot really.
Jan 11, 2013
Reviewed by kchannel9 from California
4.8
/5
rDev
+19.7%
vibe: 5 | quality: 5 | service: 5 | selection: 5 | food: 3
Best beer selection in San Francisco, hands down. A hidden gem, a diamond in the Panhandle. I'm not joking they had literally like 7 Ninkasi brews, you know, the Sumerian goddess of beer? Not to mention the easy 100+ different excellent beers they have at any given time. Anyways, I love these guys, they run a great store and they are always friendly and interesting to converse with. They also own a great restaurant across the street, Zyryab. I recommend the hummus and the falafel, both delicious!

P.S. Did I mention that they have an online menu: http://www.newstarell.com/beer.htm ? Well, they do, and they might just ship you beers if you ask nicely enough! Stellar.

P.P.S. The website in no way reflects the actual selection, there is soooo much more than what is listed! Just wanted to make that clear.
Feb 21, 2012

Reviewed by DaveHS from California
3.44
/5
rDev
-14.2%
vibe: 3 | quality: 3.5 | service: 3 | selection: 4
A- Typical corner store in many respects, though it's a bit bigger than most, with fridges running the whole length of the left wall. A bit cramped, very utilitarian.

Q-New Star has a large selection, and can be a great place to fin limited releases months after the fact. However, keep in mind that the storage conditions are not always optimum. I wouldn't trust many lighter beer styles from here, unless they are popular, high volume items. They still had Valley Brewing Company's Uberhoppy about a year and a half after the brewery had stopped producing it.

Service-Good enough. I've never been offered help, but then again I've never asked. It's primarily a corner store, so the guys behind the counter are mostly preoccupied with the cash register and stocking chips, sodas, etc.

Selection-Much better selection than your average corner store, but I wouldn't count on them to get every new limited release.
Jul 12, 2011
Reviewed by OBeerMeGreatOne from California
3.88
/5
rDev
-3.2%
vibe: 3 | quality: 4 | service: 3.5 | selection: 4.5
New Star-Ell looks like a typical corner store until you check out the beer (or booze) selection. They have a great Belgian selection and a pretty decent Cali Craft section (as well as some other interesting US Craft beer selection.). Though they do mark up the price they are on the lower end on a little bit pricy. Last time I went in I got a year old Victory Wild Devil for $11.99 (not bad, but can be found for $10), however it was stored correctly and was delicious. The service... well the person I talked to wasn't that into beer so, for now, a lower rating (though they were still pretty nice.)
Feb 25, 2011
Reviewed by CheeseTurds from California
4.2
/5
rDev
+4.7%
Great liquor store with a good variety of beers. They've got something for everybody- not just a specialty shop or an overpriced joint charging too much for a 12-pack of Tecate. They have a lot of 22 oz. single bottles for sale and everything is really fairly priced. A lot of the guys there have tried everything, too, so you can usually have a quick chat about what's on stock.

I also usually order my kegs here. They usually have a pretty good selection of standby kegs, but they claim they can "get anything" with a few days notice. I paid about $140 for a 1/2 bbl of Lagunitas Farmhouse Saison, which I think is a pretty good price.

I'm not on first-name terms with anyone there but they always treat me pretty well.

It should also be mentioned that their wine and booze wall is pretty massive, too.
Jan 08, 2009
Reviewed by koolchas from California
4.15
/5
rDev
+3.5%
This is a great spot to get bottles and is often overlooked and not mentioned much on BA threads. I was recommended to go here by the bartenders of Toronado. It was the first time I've heard of this place. Looks like your standard liquor store, but the selection is way above standard when it comes to beer. Many selections of craft brew, belgians, and other imports.

For those who are out of town and if you are at Toronado, this is place is close by if looking for bottles. They have a website too at which you can peek at their current selection:

http://www.newstarell.com/beer.htm

Prices are competitive too. I found them to be a dollar or two cheaper vs. other popular local bottles shops.

Cheers!
Apr 28, 2008
Reviewed by aforbes10 from Iowa
3.7
/5
rDev
-7.7%
Went in here on my rambling return from Toronado today. Nice selection, including green flash, ommegang, new belgium, stone, humbolt, many belgians, st. bernardus 60th, anchor special ale, speakeasy, full sail, alaskan, others. most of the beer is in the rear left part of the store, and 5 of the 6 racks are in coolers. Kind of seems like a place for winos to get their drinks, but surprizingly up-class in their beer selection. Prices very good, i thought. didnt end up buying much because i can't take much home with me, but i bought a Hemp beer as a novelty since i was so near the Haight.
Dec 11, 2007
Reviewed by clickpush from Pennsylvania
4.2
/5
rDev
+4.7%
I just moved into an apartment right across the street from this place. From the outside it looks the same as every corner liquor store in San Francisco (and believe me, there's a lot of them). On the inside, however, it's distinguished by its HUGE selection of imported beer. I mean, they have tons of domestics too, but their imports section goess pretty much unrivaled in San Francisco. I'd be willing to put it at #1 in the city for Belgians, and these selections rotate all the time.

It's got hundreds of choices from Russia and Eastern Europe, Belgium, France, Japan, Germany, UK, etc... At the moment it's got three choices from La Choulette, four from Profbrouwerij, an impressive selection of Belgian lambics, two or three choices from Hitachino, a couple Trappist selections, a couple from Brasserie de Blaugies...

Then add hundreds of California micros. Most of their domestics are from Cali, which is a down point, but they've got tons of them. Also missing from this selection are some of the more important California beers: Alesmith, Russian River, and North Coast. They've got the main line from North Coast but none of the Belgian series.

They keep the big 3 on the bottom shelves, tucked away and out of sight.

The guys that work in the store have tried pretty much every beer they carry and are always willing to chat it up, even if they don't know a whole lot about the brewing process or the details of the beers, they still are able to tell you what they like / dislike.

Highly recommended!
Aug 02, 2006
New Star-Ell Liquor in San Francisco, CA
Place rating:
4.01
out of
5
with
12
ratings