Classic Pale Ale
| Whistler Brewing Company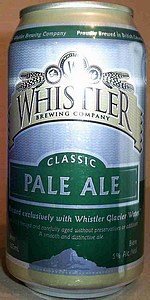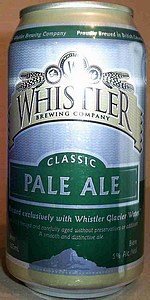 BEER INFO
Brewed by:
Whistler Brewing Company
British Columbia
,
Canada
whistlerbeer.com
Style:
English Pale Ale
Alcohol by volume (ABV):
5.00%
Availability:
Year-round
Notes / Commercial Description:
No notes at this time.
Added by BDTyre on 08-02-2006
HISTOGRAM
Ratings: 35 | Reviews: 28
3.57
/5
rDev
+8.8%
look: 3.5 | smell: 4 | taste: 3.5 | feel: 2 | overall: 4
A - poured from a 330ml bottle into a weizen glass. It pours clear amber with a foamy white head. The lace the head leaves is quite powdery.
S - smokey malt, leather and hops
T - slightly bitter malt, some coffee, smoked/roasted elements and a tannic hop finish
M - thin body, medium-light carbonation and a neutral finish
D - smokey smell and flavor, but a bit thin
370 characters
3.5
/5
rDev
+6.7%
look: 3.5 | smell: 3.5 | taste: 3.5 | feel: 3.5 | overall: 3.5
Variety pk,pours a copper with orange tinge,decent tan head and nice lacing,Nose is floral,caramel,mild grass and spices.Taste is hoppy,citrus,tangy and bitter,caramel and earthy tones coming through,medium mouth,very easily to down,not a bad brew at all,well worth a try,will buy again but not the variety pk,just cause i don't care for the weisbier.
351 characters
3.95
/5
rDev
+20.4%
look: 4 | smell: 4 | taste: 4 | feel: 3.5 | overall: 4
The best beer of the three in the 12 pack sampler; there are still better pale ales out there than this one. However...
Looked great, nice color and clarity.
Smelt pretty good- I like more hops, but this was true to the style and the aroma hops were muted.
Tasted great. Nice flavors and balance. A bit of hoppiness. All was well.
Maybe it's the style that gets me. As noted, I like my hops and other pale ales have more hops so I like them better. I'd pick an IPA over a pale ale any day, and most ESBs I've had aren't especially bitter (irony!) so I like a hoppy pale ale over an extra-special bitter.
Sigh. Drinking beer is such hard work!
646 characters

3.8
/5
rDev
+15.9%
look: 3.5 | smell: 3.5 | taste: 4 | feel: 3.5 | overall: 4
This beer is showing up more and more as the Olympics gets closer. Turns out this is what OK Springs Pale Ale should have been. A mid dark gold beer with a fresh hoppy nose this is full flavoured and has enough complexity to make it interesting. there is still a softness to it which is an old BC trademark on pale ales but it has enough hops to make me want to buy it again.
375 characters

3
/5
rDev
-8.5%
look: 3.5 | smell: 3.5 | taste: 3 | feel: 2.5 | overall: 2.5
Pours out a transparent copper hue, foamy white head that slowly decends leaving some sticky lacing behind it.
Clean, sweet toffee malt on the nose, the hops really don't play through at all.
The malt becomes somewhat grainy in the flavour, almost a dry earthy note to it all by the middle. The hops do make an apprearance now, dry and grassy.
Mouthfeel is leaning towards the light side. However there is another curious phenomenon of it leaving this phantom clay-like, almost chalky texture in the mouth with the aftertaste.
Not a very memorable pale ale all things considered, it certainly has its set of kinks that could use some ironing out.
651 characters
3.78
/5
rDev
+15.2%
look: 4 | smell: 3.5 | taste: 4 | feel: 3 | overall: 4
A pale orange with just a slight haze. A thick white head on top. More lacing that almost any of the style that I've seen.
Earthy toffee sweetness and an herbal hop aroma hit the nose. Well balanced aroma.
Caramel and some bitterness are noted right away, and the finish is a mix of citrus and herbal hopping. All pleasant. Nothing overpowering.
Has just a hint of watery feeling, but otherwise the mouthfeel is alright. Sharp but not overdone carbonation.
This is a pub beer if I've ever had one. Easy sipping, lots of balance, and overall feels light.
565 characters

3.03
/5
rDev
-7.6%
look: 3.5 | smell: 3 | taste: 3 | feel: 3 | overall: 3
Found this on sale at the government liquor store on Vancouver. 6 pack of cans came with a small soft sided cooler. Label claims to be "Brewed exclusively with Whistler Glacier Water". No date code visible.
Clear, bronze/gold color, with 2 fingers of fluffy white foam. Decent retention thin string of lace. Smell of grassy hops, earthy rather than fruity,with slight caramel malt. Taste has good bitterness blended with biscuit malt. Chewy, grainy hop, with out the grapefruit and floweriness in other american pale ales. A decent british style ale. Medium body with good carbonation. Good, but I thought there was nothing to make it more than just average. (Maybe it was getting old, and that is why it was on sale)
Yep, that picture is of my can. They have since discontinued cans, but I was able to get one for my collection.
830 characters
4.07
/5
rDev
+24.1%
look: 3.5 | smell: 4 | taste: 4 | feel: 4 | overall: 4.5
This was quite a surprise from a small brewery. This smells and drinks like an IPA to me. Perhaps it's just my hop sensitive PACNW palate, but this is a really hoppy pale ale. Pours just liek an IPA. Decent head, leavind rings on the glass as I drink it. The aroma is dominated by hops. Not so much malt like some APA's may have. Tastes delicious. Like a SLIGHTLY toned down IPA. Retains the hoppy bitterness, but is lower in alcohol so the associated maltiness is not necessary to balance out. Perfect carbonation leads to this being a light feeling beer. Small bubbles and no syrupiness means this is one pleasant Pale Ale. I could definately see myself buying this one again. A six pack could suffice while watching a hockey game. Great stuff.
746 characters

4.01
/5
rDev
+22.3%
look: 4.5 | smell: 3.5 | taste: 4 | feel: 4 | overall: 4.5
"Brewed exclusively with Whistler Glacier Water".
A: Bronze, fluffy white head, great retention & lace.
S: Earthy hops, grass, a little bready malt & caramel, some fruity esters.
T: Earthy bitterness up front, a little orange & slightly grassy. Plenty of bitterness & a well-rouned hop profile, but it could perhaps use a little more hop flavour. Bready/biscuity malt, toffee, detectable grain, cotton-candy fruity esters. Crisp finish.
M: Moderate body & carbonation. Slight acidity.
D: Very good.
I was pleasantly surprised by this quality brew. I recommend it, and I may even give the lager a try!
619 characters
3.75
/5
rDev
+14.3%
look: 4 | smell: 4 | taste: 3.5 | feel: 3.5 | overall: 4
From notes taken in May.
Whistler Brewing Co. is closed...long live Whistler Brewing. Whistler Brewing, est. 1989 closed sometime ago but has now supposedly been revived by a BC businessman. For a time, WBC was owned by Big Rock, but was sold off to Bruce Dean in October 2005. The bottle lists a Whistler/Vancouver postal code (but no address or phone number) and the website is just a front page with non-working links and it suggests returning after May 15/06. (The site finally started working sometime in July!) Googling Whistler Brewing resulted in the prior information, plus the intersting tidbit that although the claim on the bottle of being brewed exclusively with Whistler glacier water is true, the beer itself is brewed in Kamloops (that's about a six hour drive). This means that Dean and his associates are still using the facilities that Big Rock used for WBC before shutting down production, although a Whistler based brewery is in the works.
This beer pours like a pale ale should: a nice light copper with a thick, white head. Smells is predominantly British malts, with a bit of hops. Hints of nuts, fresh bread and toffee.
Taste is decent pale ale. Mostly malt, a bit of hops. Doughy, slightly acidic and sour but not bad. Nothing spectacular, but one of the better BC brews I've tried. A little bit fizzy on the mouth, but overall very drinkable. i should have spent the extra money and bought a six pack. I look forward to trying their Export Lager.
1,484 characters
Classic Pale Ale from Whistler Brewing Company
Beer rating:
3.28
out of
5
with
35
ratings